These chocolate hot cross buns are stuffed with dried cherries and chopped dark chocolate – a fun chocolate twist on the classic treat eaten on Good Friday! (Jump directly to the recipe.)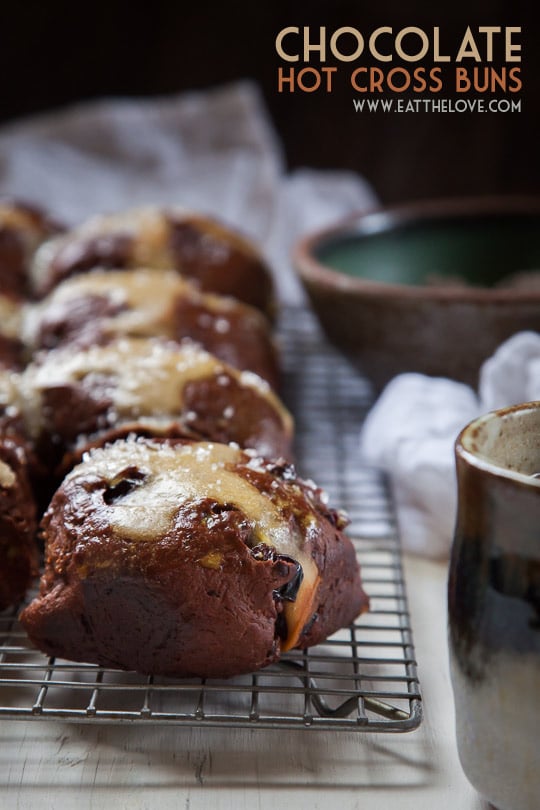 I've been tinkering with a hot cross bun recipe for some time now. It's a strange little baking project for me, a Taiwanese-American boy who was born and raised in St. Louis, Missouri. Hot cross buns seemed like something only British (or Australian) folks ate though I'm sure other folks ate them as well. But because of the symbolism behind the cross and the spices in the bread, I figure if you were America and ate hot cross buns, you were probably Catholic.
Now Protestant folks aren't really big on all the symbolism and ritual that the buns seem to represent. At least not the Presbyterian church that I went to growing up. The hot cross bun's spices were suppose to represent the spices used to embalm Jesus and the cross on top, well that seems self-explanatory. All of that symbolism wrapped up in a tasty yeasty sweet bread. I guess it makes much more sense than a rabbit running around giving out chocolate and laying multi-colored eggs.
Of course because I associate chocolate with Easter, I decided the world needed a chocolate hot cross bun. Apparently this is not an original idea (though I swear I thought it up first) with chocolate hot cross buns being quite popular over in Australia and New Zealand. Or at least that is what Wikipedia said when I decided to look up the origin of the hot cross bun. And if it's on the internet, it must be true right?
This recipe creates that ideal, soft and chewy bread texture that I love in fresh baked rolls. And the bittersweet chocolate soft bread paired with the subtle complex spices makes me pretty happy whenever I bite into them. I may not be joining the Catholic church anytime soon or moving to England or Australia but I'll certainly be making these buns again.
Chocolate Hot Cross Buns
By Irvin Lin
I use dried cherries and chopped semi-sweet chocolate chunks in these chocolate hot cross buns but feel free to use any sort of dried fruit you want. Just make sure the dried fruit is raisin size or smaller and moist. If the fruit is hard and dry, try softening it by putting it in a bowl of boiling water for 10 minutes ahead of time. You can also substitute chocolate chips if you like but chopped chocolate chunks work better as they melt a little in the baking and chocolate chips are designed to hold their shape at high heat.
Ingredients
Chocolate Dough
1/2 cup water
1/2 cup whole milk
4 1/2 teaspoons (2 packages or 14 grams) active dry yeast
7 tablespoons (100 grams) unsalted melted butter, cooled
1 1/2 teaspoon vanilla extract
1 teaspoon instant coffee
1 large egg yolk
3 cups (420 grams) all-purpose flour
1/2 cup (55 grams) natural cocoa powder (not Dutch-process)
1/2 cup (100 grams) white granulated sugar
3/4 teaspoon kosher salt
3/4 teaspoon ground cinnamon
1/4 teaspoon ground coriander
1/4 teaspoon ground ginger
1/4 teaspoon ground nutmeg
1/2 cup (75 grams) dried cherries
1/2 cup (90 grams) chopped semi-sweet chocolate chunks
Prep pan
1 tablespoon unsalted melted butter
Cross
1/2 cup (70 grams) all-purpose flour
2 tablespoons white granulated sugar
1/2 teaspoon vanilla extract
4 tablespoons water
Finish
1 egg yolk
1 tablespoon water
1 tablespoon sparkling sugar (optional)
Directions
1. Place the water and milk in a small saucepan and heat on the stove until lukewarm (anywhere from 90-100ºF). Immediately remove from heat and stir in the yeast until it dissolves. Set aside while you prep the rest of the ingredients.
2. Place the melted butter in a small bowl or liquid measuring cup. Stir in the vanilla extract and instant coffee. Beat in the egg yolk.
3. Place the flour, cocoa powder, sugar, salt and spices in the bowl of a stand mixer fitted with a dough hook attachment. Stir the dry ingredients together with a balloon whisk then make a well in the middle of the ingredients.
4. Combine the butter and yeasty milk together and then pour the liquid into the middle of the dry ingredients. Turn the mixer on and stir on slow speed until the dry ingredients are mostly absorbed. Increase the speed and knead the dough for 5 minutes at medium speed. If you don't have a mixer, you can knead the dough by hand on a clean, well floured, surface for 8 minutes, but keep in mind the dough is a little soft and sticky, so you will need to dust your hands with flour often.
5. Once the dough has been kneaded, add the dried cherries and chocolate chunks to the dough and knead for an additional 30 seconds to fully distribute them into the dough. Scrape the dough out of the bowl and spray the bowl with cooking oil, then form the dough into a ball and place the dough back into the bowl, rough side down. Cover with plastic wrap and let rise in a warm area for 90 minutes or until double in size.
6. Once double, grease a 9 x 13 inch baking pan (the kind you make brownies in) with the 1 tablespoon of melted butter. Divide the dough into 12 pieces and place them in the baking pan in a 3 x 4 inch grid. Cover with plastic wrap and let rise until the dough has risen to the top of the pan (about 1 hour).
7. About 15 minutes before the dough is ready, preheat the oven to 375ºF. Make the cross decoration by combining all the ingredients together until a paste forms. Scrape the paste into a quart-size freezer resealable zipper bag. Once the dough as risen completely, discard the plastic wrap and cut a tiny 1/4-inch corner off the zipper bag and squeeze a cross over each bun. Bake in the oven for 20 minutes.
8. While the buns are baking, beat the egg yolk with the water to form an egg wash. Once the 20 minutes are done, take the buns out, brush with egg wash and immediately sprinkle with the sugar. Place back in the oven and bake for an additional 5 minutes or until the internal temperature of a center bun is 190ºF on an instant read thermometer. Let cool in the pan on a wire rack.
Makes 12 buns.
Reader Interactions