This quick and easy grilled skirt steak is steeped overnight in a sangria-inspired honey marinade that infuses it with loads of flavor.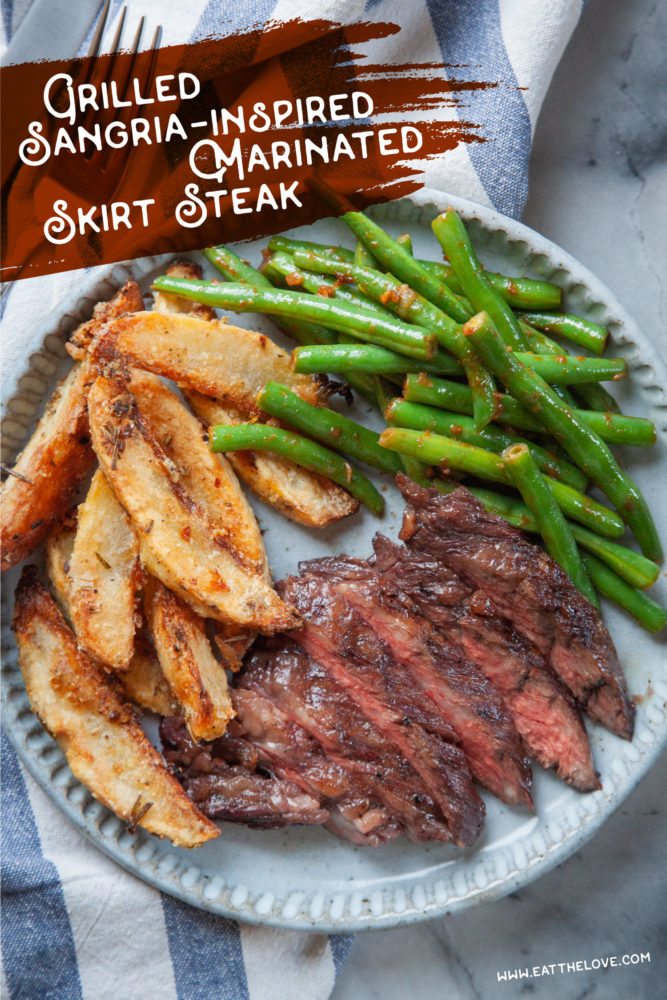 It's warming up here in San Francisco and that means I'm firing up the grill! I'm lucky to live in San Francisco, a city with a fairly temperate climate, so I can basically grill all year long. But something about warmer weather makes me want to get out of the kitchen and cook outdoors. When the weather gets nice, I find myself making double cheeseburgers, Korean BBQ chicken wings and, of course skirt steak with my all-purpose steak rub and chimichurri recipe.
But recently I decided to mix it up a bit and make this sangria-inspired marinated skirt steak. It's just barely adapted from the cookbook Big Love Cooking by Joey Campanaro and Theresa Gambacorta (<- affiliate link). It's a super easy recipe with the marinade lending tons of flavor to the steak. I often serve it with my crispy oven roasted potato wedges and green beans with thyme, shallots and pistachios or a big salad and dinner is done is less than an hour. Perfect for a weeknight meal.
How do you make this marinated skirt steak?
Making the marinade for this skirt steak requires minimal prep work. Slice up some shallots, coarsely chop some garlic and slice some oranges (I opted for blood oranges but regular Valencia or navel oranges work just as well).
Add them to some red wine, honey, and a few sprigs of fresh thyme.
Then place the skirt steak in a large ziplock bag, pour the marinade over it, and let it sit in the fridge to do its work overnight. Grill for a couple of minutes per side and dinner is done!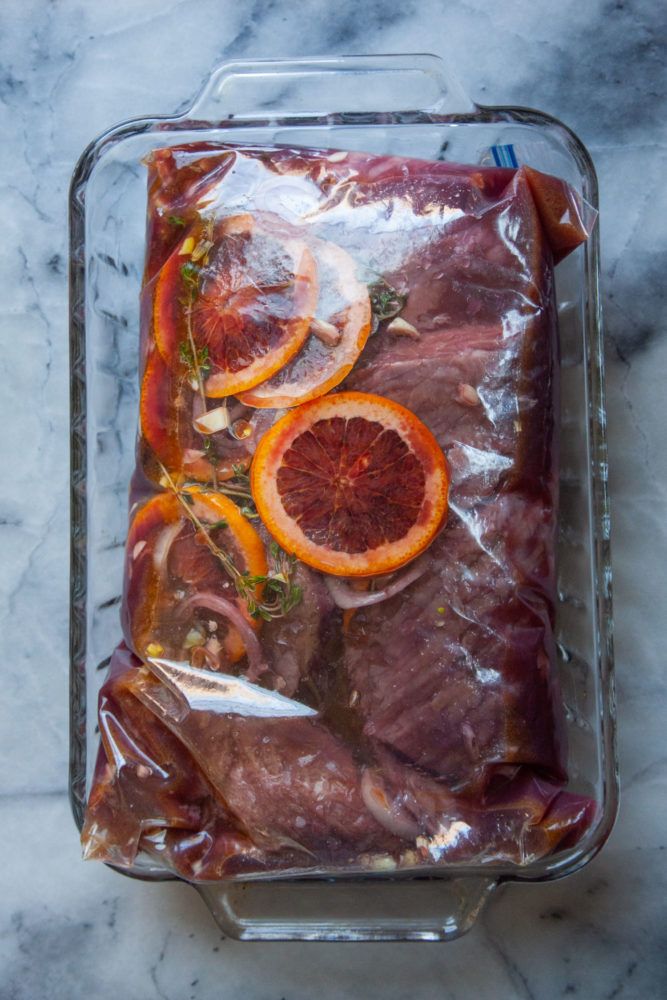 What is skirt steak?
Skirt steak is a long piece of beef that is located inside the chest and abdominal cavity of the cow. There's an inside and outside skirt steak but the most common skirt steak that you find at grocery stores is the outside skirt steak, which is transversus abdominis muscle of the cow. The inside skirt steak, which is the muscle that moves the diaphragm, usually ends up in commercial kitchens.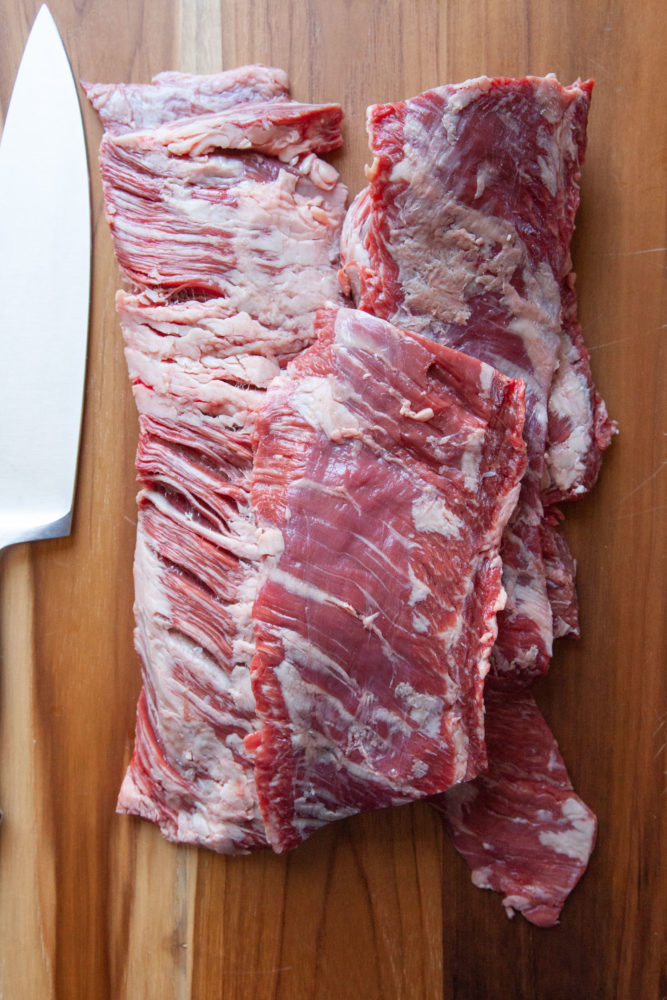 Because the skirt steak is close to internal organs like the liver, it has more robust flavor, almost offal like. But don't worry. It doesn't taste like liver! It just has more meaty "beef-iness" to it.
It's can be a tough piece of meat, but because it's thin, it cooks and grills fast and it soaks up marinades well. It also has fat in-between the muscle strands, which keep it from drying out when grilling. I recommend cooking the skirt steak to a medium rare, as anything more done will lead to a dry and tough piece of meat.
Can you substitute skirt steak with flank steak?
You'll often find recipes that tell you can you substitute flank steak for skirt steak. And you can. But keep in mind that flank steak is a thicker cut and marinades don't penetrate as quickly. The nature of the skirt steak allows the marinades to really soak in!
If you do choose to use flank steak instead of skirt steak, I'd recommend letting the steak marinade a full 12 hours to let the flavors penetrate. You will also need to cook the steak longer on the grill, as flank steak is a thicker cut of meat that skirt steak.
Can you broil or pan cook this steak?
Yes! Though my preferred method to cooking skirt steak is on the grill as it lends a smoky char to the meat and cooks it super fast, you can cook this indoors using a broiler or a heavy skillet like cast iron.
To broil, move the top oven rack so it's about 4 to 6 inch from the heat source at the top of the oven. Then place the steak on an aluminum foil lined pan and broil for about 4 minutes. Then flip the steak and broil for an additional 3 minutes. If your broiler has temperature option, pick high. You want the hottest heat possible when cooking skirt steak!
To pan cook it, cut the steak into 2 or 3 pieces, so they fit into the size of your skillet. Choose a heavy skillet if you have one. I like to use my cast iron to pan cook steak. Remove from the marinade and pat it dry with paper towels. Then heat the pan over high heat for about 2 to 3 minutes, until it's screaming hot. Add about 1 tablespoon of oil, then carefully place the steak in the hot pan with tongs. Press down with the tongs so that the entire steak has contact with the hot pan, and let it cook for about 2 minutes, or until the bottom side of the steak is golden brown and lifts up fairly easily from the pan. Flip the steak and cook for an additional 2 minutes.

How do you cut skirt steak?
Skirt steak is made up of long muscle fibers which soak up the marinade. But when you serve up the steak, you should be careful of cutting the steak because you want to cut against the grain, and not with the grain. This means you are cutting perpendicular to the long fibers, cutting them into short pieces.
If you cut the opposite direction with the grain, you end up with a piece of meat that is one long fiber. Chewing on that will be like chewing on a rubber band! Make sure to cut diagonally against the grain, and you'll be rewarded with meaty goodness.
What sort of red wine should be used in the marinade?
The old adage of "pick a wine you like to drink" certainly works with this recipe too. But, to be honest, I often will find the cheapest red wine that I'm willing to drink at the grocery store and use that. There's no need to use an expensive wine, as it just functions as a marinade, and has additional ingredients in it like honey, orange, shallots and garlic. I usually try to find a robust red wine, like an Argentine Malbec or Spanish Tempranillo for under $10 and use that in the recipe.
If you like this skirt steak recipe, check out some side dish recipes to go with it:
Grilled Sangria-inspired Marinated Skirt Steak
This grilled sangria-inspired marinated steak is packed with flavor. Just make sure to get the steak in the marinade early in the day or make it right before you go to bed. A quick cook on the grill and dinner is ready in minutes.
Ingredients
3

cups

red wine

1 bottle or 750 ml

1/4

cup

honey

75 g

1

medium-sized orange

Navel, Valencia, or Blood

2

small shallots

60 g

5

medium-sized garlic cloves

5

sprigs fresh thyme

6

tablespoons

olive oil

75 g

3

pounds

skirt steak

about 2 to 3 pieces

Salt and pepper
Instructions
Place the red wine and honey in a large bowl. Slice the oranges and shallots and add it to the marinade. Coarsely chop the garlic and add it as well. Add the thyme and olive oil and mix.

If the skirt steak is long, cut the steak into 2 or 3 manageable sized pieces. Then place them in a 2-gallon resealable freezer bag or a baking pan big enough to hold the steak and the marinade. Pour the marinade carefully into the resealable bag or baking pan. Seal it or cover the pan with plastic wrap and then marinade the meat for a minimum of 4 hours and up to 12 hours in the refrigerator.

Don't go over 12 hours as the acidity in the wine will start to break down the fibers of the steak.

Take the steak out of the fridge about an hour before you are ready to cook it, to let it come to room temperature. Once you are ready, preheat the grill on high for 10 minutes. Then remove the steak from the marinade, letting any excess marinade drip off. Salt and pepper the steak generously on both sides, then grill the steak for 2 minutes per side on the high heat.

If you forget to take the steak out of the fridge, don't stress. Just cook it for an additional minute or two per side.

Let the steak rest for 8 to 10 minutes before slicing the steak against the grain diagonally and serving.
Nutrition
Calories:
749
kcal
|
Carbohydrates:
20.5
g
|
Protein:
61.2
g
|
Fat:
36.9
g
|
Saturated Fat:
10.7
g
|
Cholesterol:
134
mg
|
Sodium:
180
mg
|
Potassium:
884
mg
|
Fiber:
0.9
g
|
Sugar:
15.4
g
|
Calcium:
56
mg
|
Iron:
7
mg