This awesome, fast and easy skirt steak recipe with all-purpose steak rub and chimichurri sauce can be made in 30 minutes or less, start to finish! (Jump directly to the recipe.)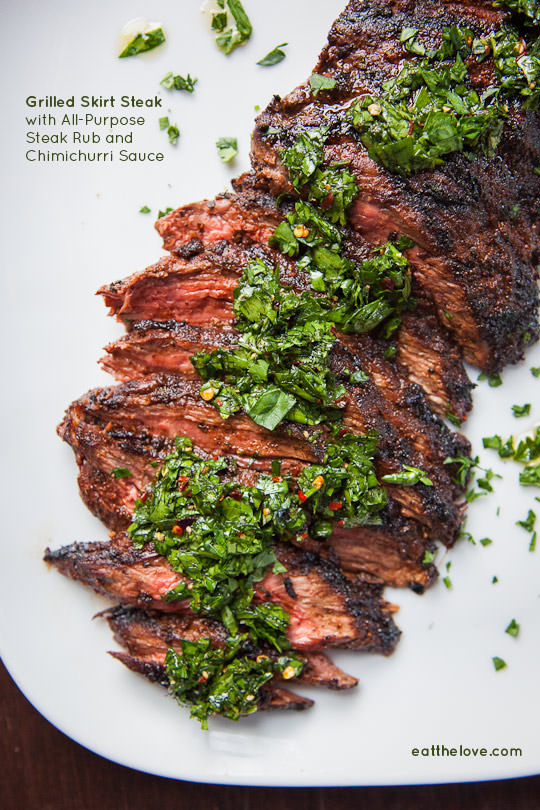 This blog probably makes the follow sentiment utterly unnecessary to write, but I love food. Most of my friends know this so I end up being the guy that a lot of people ask for restaurant recommendations in San Francisco. Hey Irvin, where should I eat when I'm in town? Hey let's get brunch, you decided on the place! Any suggestion for the best bakery in San Francisco? But what most people don't get is that as much as I love to sample food from around the city, I rarely do it. I tend to make food at home a lot, and with my freelance projects, this blog and the cookbook I'm writing, I'm always looking for food that I can make fast at home. Lately that means my simple steak rub recipe for a skirt steak and a little chimichurri sauce for AJ and me. Dinner in 30 minutes and a fancy looking one at that.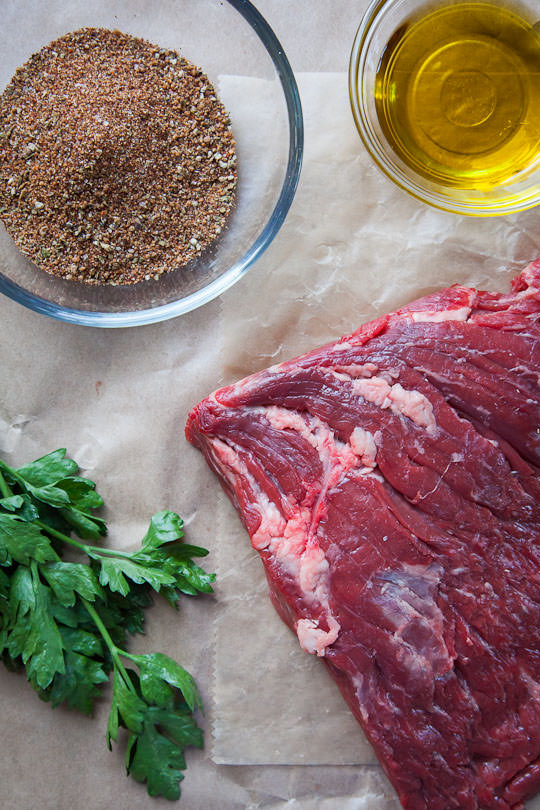 The best thing about this skirt steak recipe is that most of the ingredients for the rub are found in your pantry (or can be picked up at a regular grocery store) and made ahead of time if you really want to. In fact, I tend to double the rub recipe and save it in an empty spice jar or ziplock bag. It's super versatile and keeps for a while.
Of course, while the steak is grilling, the chimichurri sauce is pretty easy to make, but you can also make it ahead of time too. We tend to grill double the amount of steaks and save the leftovers steak for other meals. It's great in a sandwich or on a salad, which means I can whip up two or three meals for the week out of cooking dinner just once. Perfect for me since I've got to get back to baking that pie…for the fifth time in row.
Skirt Steak Recipe with All Purpose Steak Rub and Chimichurri Sauce
By Irvin Lin
This fast and easy steak rub recipe is my go to recipe for quick grilling, especially on cuts like skirt steak, flank steak and flap steak. Right now my favorite cut of beef is flap steak, sometimes called flap meat or bavette steak. It's becoming more common and I've seen it Whole Foods but if you can't find it, the more common skirt steak or flank steak works just as well. You may need to adjust the cook time though with the different steaks and their thicknesses. Don't overcook the meat though, as these cuts get pretty tough beyond medium rare.
[Editor's Note: Someone mentioned that the rub was way too spicy because of the large amount of chili powder. Chili powder comes in different strengths of heat. The one I use is a chili powder blend by McCormick, a commonly found brand at most grocery stores. It's is not very hot but has a nice savory note with a little bit of heat. Do not substitute cayenne powder or chili pepper flakes for the chili powder, it will be too spicy. You may want to add less chili powder first and add more after tasting if you are sensitive to spicy food.]
Ingredients
Steak Rub
1-2 tablespoons chili powder (see editor's note above)
1 tablespoon dark brown sugar or coconut palm sugar
1 1/2 teaspoons ground cumin
1 1/2 teaspoon dried oregano
1 teaspoon ground coriander
1 teaspoon garlic powder
1 teaspoon sea salt
1 teaspoon fresh cracked pepper
2 lbs skirt steak brought to room temperature
1 tablespoon olive oil
Chimichurri sauce
1/2 cup Italian parsley leaves
1/4 cup cilantro leaves
2 teaspoon red chili flakes
1/4 cup extra virgin olive oil
1 tablespoon balsamic vinegar
1 garlic clove, minced or forced through a press
1/2 teaspoon coarse sea salt
1/2 teaspoon coarse ground black pepper
Directions
1. Lightly oil your grill grates then heat the grill to high. Combine all the steak rub ingredients together in a medium bowl and toss with a fork until uniform in color. Taste the rub and adjust salt and pepper to taste. Drizzle half the olive oil over one side of the steak and rub steaks until they are shiny all over with oil. Sprinkle with half the rub generously on the steak and rub into the steak meat. Repeat on the other side.
2. Once the grill is heated up, place the steak on the grill and cover. Cook for 4-6 minutes per side or until medium rare (check out Simply Recipes guide on how to finger feel the doneness of meat). Try not to over cook the meat past medium rare. Take the meat off the grill and let it rest on a plate for 10 minutes before slicing into it.
3. While the steak is resting on the plate, make the chimichurri sauce by chopping the parsley and cilantro leaves finely. Place in a medium bowl and add the remaining ingredients and toss with a fork. Taste and adjust salt and pepper to taste. Serve the steak with the chimichurri sauce on the side or over it.
Serves 4 people.
If you like this grilled skirt steak recipe with chimichurri sauce check out these other great steak recipes from around the web:
The Wanderlust Kitchen's Skinny Vietnamese Steak Salad
Baked Bree's Flank Steak with Garlic Butter Sauce
Food Republic's Beer and Brown Sugar Ribeye Steak Recipe
My Man's Belly's Brazilian Flank Steak
No Recipe's Steak with Brie