This easy recipe for esquites, a Mexican corn salad, is basically a salad version of elote grilled Mexican corn on the cob. (Jump directly to the recipe.)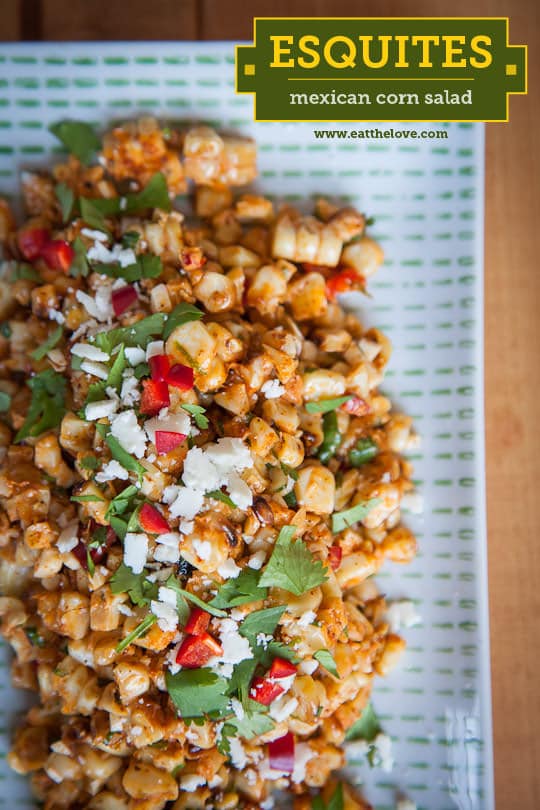 "What? How do you make this?" asked my French friend Sandrine. She took another healthy helping of the Mexican corn salad and was peppering me with questions about the recipe. Apparently she and her wife had become utterly obsessed with elote, Mexican style grilled corn on the cob while vacationing Mexico a few years ago. They would visit this one restaurant (really a shack), with a line down the sidewalk, each day just to get a taste of the grilled corn slathered with lime and Mexican cheese. Esquites, or Mexican corn salad is basically the same thing, just in salad form, as opposed to on the cob.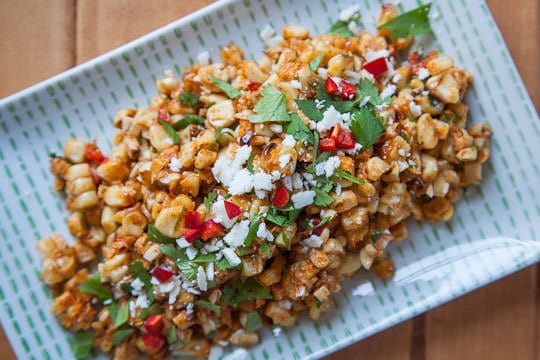 I had brought the corn salad up to a weekend picnic in Napa with Sandrine and friends. Being a Midwestern boy, corn was de rigueur when lunching al fresco. Though originally I had thought we could eat corn on the cob grilled at the picnic, I decided that it should be a salad instead to keep us all from gnawing at the cob in mixed company. Not that I am against that sort of thing, but it just seemed easier all the way around. Plus I've been wanting to make Esquites ever since I had it in Texas at my friend Kelly's home last summer.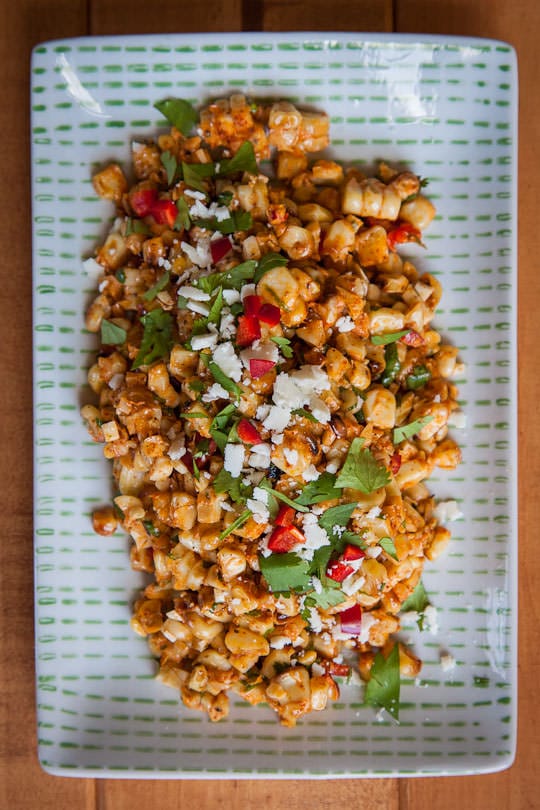 Sandrine was thrilled when I told her the recipe was dead easy, just some grilled corn (I used my broiler because our grill is dead and we haven't bought a new one) and mix in a few ingredients like lime, Cotija (Mexican cheese), a spoonful of mayo and some spices. She exclaimed that the corn salad was pretty much exactly how she remembered it to be like in Mexico…but without needing to wait in line or, you know, the passport (French OR American). That has, to be one of my favorite compliments when it comes to food…I just love being able to transport people to far away places with a simple forkful.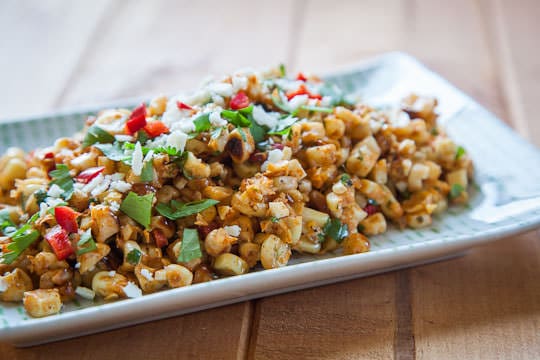 Esquites, otherwise known as Mexican Corn Salad
By Irvin Lin
This easy and tasty corn salad is basically Mexican grilled corn (elote) turned into a side dish. It relies on only a few ingredients but it's packed full of flavor. I like to grill the corn, to give the dish a tinge of smoke but if you don't have a grill, just use the broiler instead, placing the corn under the broiler for 5 minutes initially, or until it starts to char and then rotating the corn 90˚ and letting the other sides of the corn char in 2-3 minutes. Cotija, by the way, is a hard cow milk Mexican cheese that can be found in most grocery stores, but if you can't find it, feta will work in it's place.
Adapted from a recipe by The Kitchn
Ingredients
3 tablespoons olive oil
6 ears corn, husked
1 garlic clove
1-3 Serrano pepper (depending on your heat preference)
2 oz (1/4 cup) crumbled Cotija cheese (see note above)
2 tablespoon mayonnaise
3 tablespoon chopped cilantro
2 teaspoon chili powder
1/4 teaspoon smoked paprika
1/2 teaspoon dried oregano
1/2 teaspoon ground cumin
1 teaspoon sea salt
1/2 teaspoon black pepper
juice from 1 lime
zest from 1 lime
plus additional salt and pepper to taste
Directions
1. Turn your grill on high heat. While it heats up, husk the ears of corn and brush the oil onto them. Place the corn on the hot grill and let sit on the grill until the bottom side starts to char and then rotate the corn 90˚. Repeat until the entire ear of corn is charred, about 10 minutes on the grill. Remove and let cool. If you don't have a grill, see the headnote above about using the broiler.
2. While the corn is cooling, finely mince the garlic (or force the garlic through a garlic press) and place in a large bowl. Finely dice the Serrano pepper, leaving in the inside members and seeds if you like your food spicy hot and place in the bowl with the garlic. Add the cilantro to the bowl. Crumble the Cotjia cheese and add the mayonnaise, chili powder, paprika, oregano, cumin, salt and pepper in the bowl. Add the juice and zest of the lime to the bowl.
3. Once the corn has cooled enough to handle, cut the corn off the cob and add it to the bowl. Mix until all the ingredients are evenly distributed then taste and adjust seasoning with more salt and pepper if necessary.
Makes enough for 4 to 6 people as a side dish.
If you like this esquites (Mexican Corn Salad) recipe, check out my Spicy Guacamole with grilled avocados and grilled corn. And try these other Mexican recipes from around the web featuring corn:
Muy Bueno Cookbook's Zucchini and Corn Tamales
Verses from my Kitchen's Winter Mexican Corn Soup
Our Best Bites' Mexican Sweet Corn Cakes
Skinnytaste's Mexican Shrimp Cobb Salad
Recipe Girl's Creamy Mexican Turkey Soup