These luscious and easy to make white chocolate green tea brownies, made with matcha, were inspired by a Japanese Craft Beer tasting I went to recently. (Jump directly to the recipe.)
This sponsored post is part of the Drink in a New Language campaign for Japanese Craft Beer. I was compensated for this post. However, all opinions below are completely my own and not endorsed by Japanese Craft Beer. You can learn more about Japanese Craft Beer on their Instagram account or Facebook page.
"Irvin! I wasn't expecting to see you here!" said my friend Amy. She's a food writer and any time I go to a food event (which is more and more rare as I'm finding myself busy doing other non-food related things) she's there. But I told her that I'm trying to go to more things, thus my presence at the tasting and workshop on Japanese Craft Beer. In fact, I know little to nothing about beer or craft beer, much less Japanese Craft Beer. Other than taking a swig or two of AJ's major Japanese beer when we get ramen, I'm clueless about Japanese beer. But 2019 is the year I'm trying to push myself out of my comfort zone more so here I was, ready to learn.
It turns out Japanese beer is pretty fascinating. Japan is one of the largest producers of beer, even if they are one of the lowest per capita drinkers. Beer is part of their culture and they don't have open container laws. That's why you hear about beer vending machines in the streets of Tokyo (though those are as getting harder and harder to find from what I hear) and they often push a beer cart on the bullet train.
Unlike the US, it's illegal (even to this day) to home brew beer. But in 1994 Japanese law changed, allowing small beer producers to actually start brewing. The folks that had the most experience brewing alcohol were sake producers, so most of the smaller craft beers initially came from sake companies. Since sake is brewed in the winter, this allowed the companies to brew alcohol all year round.
Even though the Japanese were greatly influenced by the German (a large number of sake companies initially hired Germans to come over and help them start brewing beer as they had no idea where to start) I noticed that a lot of the beers I sampled seem much more subtle and nuanced in flavor than German beers that I'm familiar with. Japanese beers is often drunk before and with food, and so it makes sense that the beer would pair so well with the subtle delicate flavors of Japanese cuisine.
In the end, I realized that as much as I don't drink beer, I really enjoyed the Japanese craft beers I sampled. The Cyonmage "Pale Ale" was an example of beer that I was expecting to be bitter but it was less so than some of the other Pale Ales I've had. The Weiss beer by KARUIZAWA Brewery Ltd. came in a cool frosted green bottle and has a clean crisp fruity flavor, while the two Coedo beers were fairly different, the Coedo Ruri being slightly bitter and light, I could imagine it pairing with sushi, while heavier Coedo Beniaka was brewed with roasted sweet potatoes which I found fascinating. There was subtle caramel notes but totally dry, not sweet at all. I could see drinking it with Japanese yakitori skewers, or even American-style BBQ ribs. It was super smooth. The adorably cute Hitachino Nest White Ale by Kiuchi Brewery had some subtle and crisp baking spice notes in it, which makes sense as it was brewed with coriander, orange peel and nutmeg. And some of the beers used Japanese cuisine and ingredients in their brewing, like the Sorry! Umami IPA by YOHO Brewing which uses bonita flakes (a dried fermented smoked tuna that is full of umami – I use it in my ramen eggs marinade) but the flavor was subtle with almost a tropical note. I thought it paired really well with pizza! I was also into the Wabi-Sabi Japan Pale Ale which used green tea and wasabi in the brewing. I was expecting a wallop of flavor but instead I got a subtle herbal note with a slight undertone of spice.
In the end I was really inspired by the Wabi-Sabi Japan Pale Ale to make these green tea and white chocolate brownies. The white chocolate caramelizes slightly in the oven as you bake these brownies, making these brownies a great thing to eat while drinking the Coedo Beniaka or Hitachino Nest White Ale or the Wabi Sabi Japan Pale Ale. But even by themselves, these swirled brownies are great all on their own. But with Japanese craft beer getting wider and wider distribution here in the US, you'll be able to get some of these beers and try them yourself. Do it! I know I'm sold and will be tracking them down some more soon.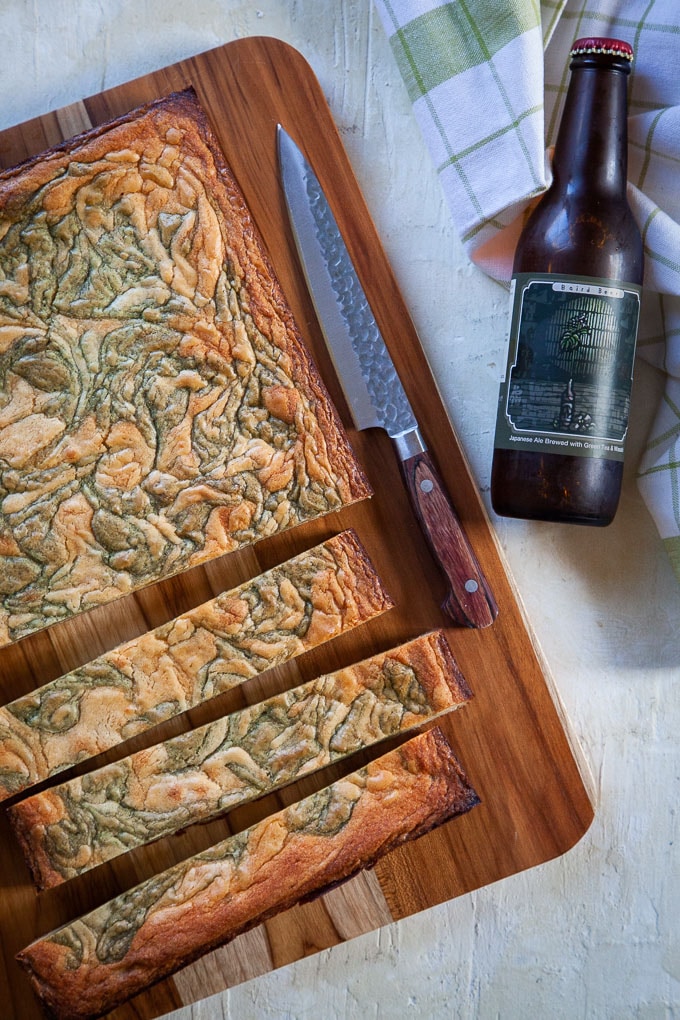 White Chocolate Green Tea Brownies
These brownies are made with white chocolate that caramelizes slightly in the brownie. The swirl of green tea is slightly herbal and bitter, balancing with the sweet butterscotch tones of the brownie. The brownie bar itself has a lovely chew and bite, like a soft dense cookie that will have you swoon with love. Pair with a Japanese craft beer or with a glass of green tea or coffee.
Ingredients
1 2/3

cups

chopped white chocolate

10 ounces or 285 g (see note below about quality)

3/4

cup

unsalted butter at room temperature

1 1/2 sticks, 6 ounces or 170 g

3/4

cup

granulated white sugar

150 g

3/4

cup

packed dark brown sugar

165 g

2

teaspoon

vanilla extract

1

teaspoon

baking powder

3/4

teaspoon

kosher salt

3

large eggs

1/2

cup

extra virgin olive oil

2 1/4

cup

all-purpose flour

315 g

1

tablespoon

matcha green tea powder

(see note below about quality)
Instructions
Preheat the oven to 350°F. Lightly spray a 9 x 13-inch baking pan with cooking oil, then line with parchment paper, making sure 1-inch of paper hangs over the edges

Melt the white chocolate in a microwave, cooking on high for 30 second increments, stirring thoroughly with a fork between intervals. Alternatively you can melt the chocolate in a double boiler (a metal bowl over a simmer pot of water).

Place the butter, both sugars, vanilla, baking powder and salt in the bowl of a stand mixer fitted with the paddle attachment. Beat on low speed until the mixture starts to look like a paste, then increase to medium speed until the mixture starts to cling to the side of the bowl about 2 minutes.

Add the eggs, one at a time, beating each into the mixture first, then scraping down the sides of the bowl before adding the next egg.

Add the olive oil to the mixture and beat to incorporate. Add the melted white chocolate and mix until the mixture thickens and start to look a bit like frosting. At this point some of the chocolate might solidify back into tiny chunks. Don't worry about that. Add the flour and mix. Once all the flour has been absorbed into the batter, scrape down the sides of the bowl to make sure everything is incorporated, mixing a little more if necessary.

Spoon all but 1/2 cup of the batter into the prepared baking pan. Spread evenly across the pan. Mix the matcha green tea powder into the remaining 1/2 cup of batter.

Drop small heaping teaspoons of green tea batter over the batter then swirl with a knife or chopstick decoratively. Don't overmix.

Bake in the oven for 23 to 25 minutes long, or until the edges of the brownie pan start to look golden brown. Let cool completely in the pan before lifting the entire brownies sheet out of the pan with the overhanging parchment paper and moving it to a cutting board. Peel away the paper and cut into squares.
Notes
Matcha is a powdered green tea that you can get at Japanese or Asian grocery stores, well stocked grocery stores (look in the tea section) or online. Don't bother getting the higher quality matcha, you can usually find culinary grade matcha at a lower price point.
When selecting white chocolate, I usually recommend looking at the ingredient list for the bar or bag and making sure that one of the first ingredients is cocoa butter. If it's vegetable oil, its subpar white chocolate and you'll be able to tell with the end product.
Nutrition