This festive holiday inspired Peppermint Texas Sheet Cake is a riff on the the classic potluck dessert that feeds a crowd! (Jump directly to the recipe.)
It's an annual tradition in our household to host a holiday dessert party but last year, because of all the touring and promotions for my cookbook Marbled, Swirled, and Layered, I sadly had to skip it. So this year we made it a priority to have our party and it made me realize how much I missed it! I geared up for our party by baking 17 desserts, which for most folks, probably sounded like a lot, but really was on the smaller end since I'm known to baking 20+ for our parties. Really the holiday shindig is just an excuse for me to bake a lot and try out a bunch of new and different recipes. And one of the most fun ones I made this year was a Peppermint Texas Sheet Cake.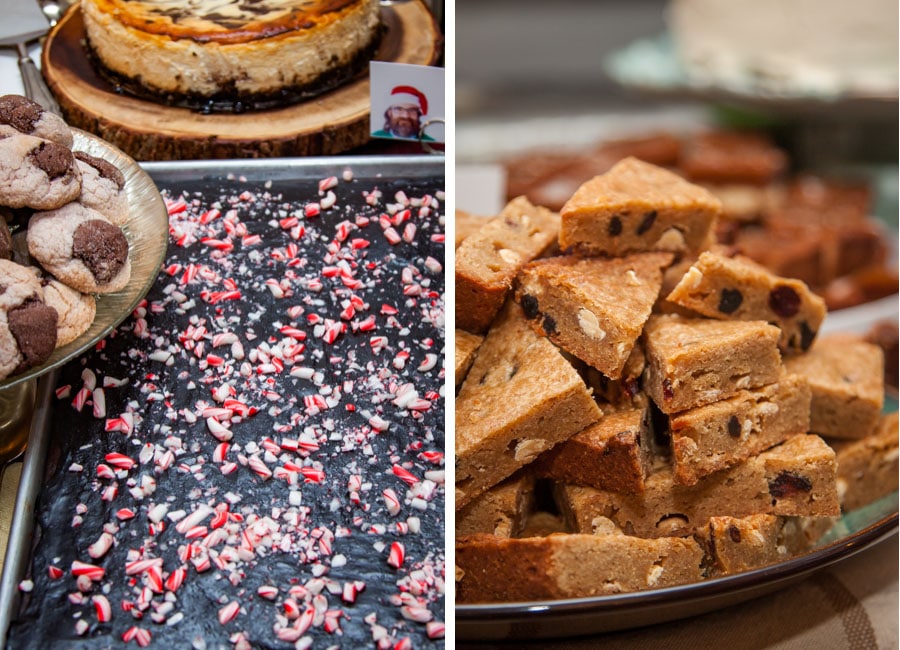 If you're not familiar with Texas sheet cake, it's a classic potluck and big party dish. I've made a version of it before on this blog (a Tex Mex Sheet Cake with cinnamon and candied spiced pecans on top) and I've also contributed a traditional version of the cake to an upcoming cookbook called Feed Your People that is due for release in April of next year. But if you're not familiar with it, think of Texas sheet cake as a cross between a cake and a brownie. Rich and fudgy, the dessert is thinner than a traditional cake, but more fluffy than a brownie. More importantly, you bake it in a 17 x 12 inch or 18 x 13 inch sheet pan, meaning you can feed a large crowd with it.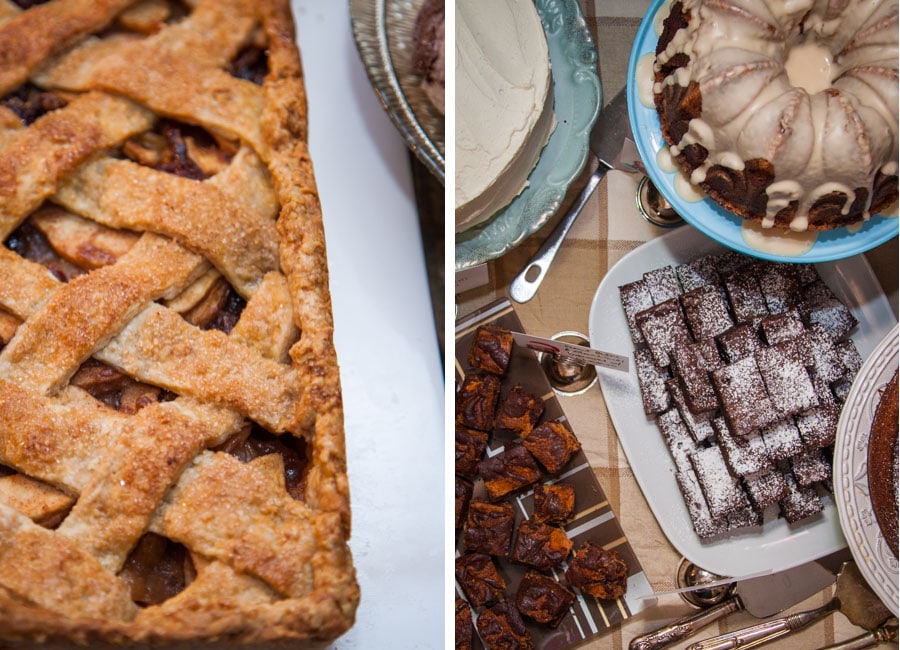 Of course, the party wasn't completely without a massive amount of people. After all, I need folks there to eat my food! The completely lists of desserts included Butterscotch and Pumpkin Bundt Cake; Red Velvet Cake; French Toast Cookies (a new recipe that I just came up based on my cinnamon roll cookies from my cookbook, I'm hoping to share it soon); Cookies and Cream Cheesecake; Citrus Olive Oil Cake; Fig and Walnut Cookies (another new recipe I can't wait to share with you after I tweak it a bit); Funky Blueberry and White Chocolate Cookie Bars; Orange and Cloves Brownies; Gingerbread M&M Cookies; Apple and Dried Fruit Slab Pie; Pear, Apple & Cranberry Cobbler with Pumpkin Biscuits; Blood Orange and Strawberry Shaker Tart; and Congo Bars. From my cookbook I made Peanut Butter Swirled Brownies, Raspberry Chocolate Marbled Cookies, Caramel Bars, and the Vanilla and Chocolate Marble Cake. Phew! Of course, my biggest fear is always that I don't have enough food for folks.
And, of course, AJ made his signature ham (which everyone always asks for) and the good folks at Kerrygold provided me plenty of cheese to serve to folks, as well as their new Kerrygold Irish Cream which I served at the party. People left stuffed from the party and everyone had a favorite dish that they loved. I had a number of folks rave about the Citrus Olive Oil cake, one I hadn't made in ages. It's an old recipe on the blog – one that I actually need to revisit by updating the recipe and photos. But for me, this Peppermint Texas Sheet cake was the one that I had a blast making. Maybe it was the crushing of all the peppermint canes, or maybe it's just the combination of peppermint and chocolate that I love so much. Either way, one bite of it, and it just felt like the holidays to me.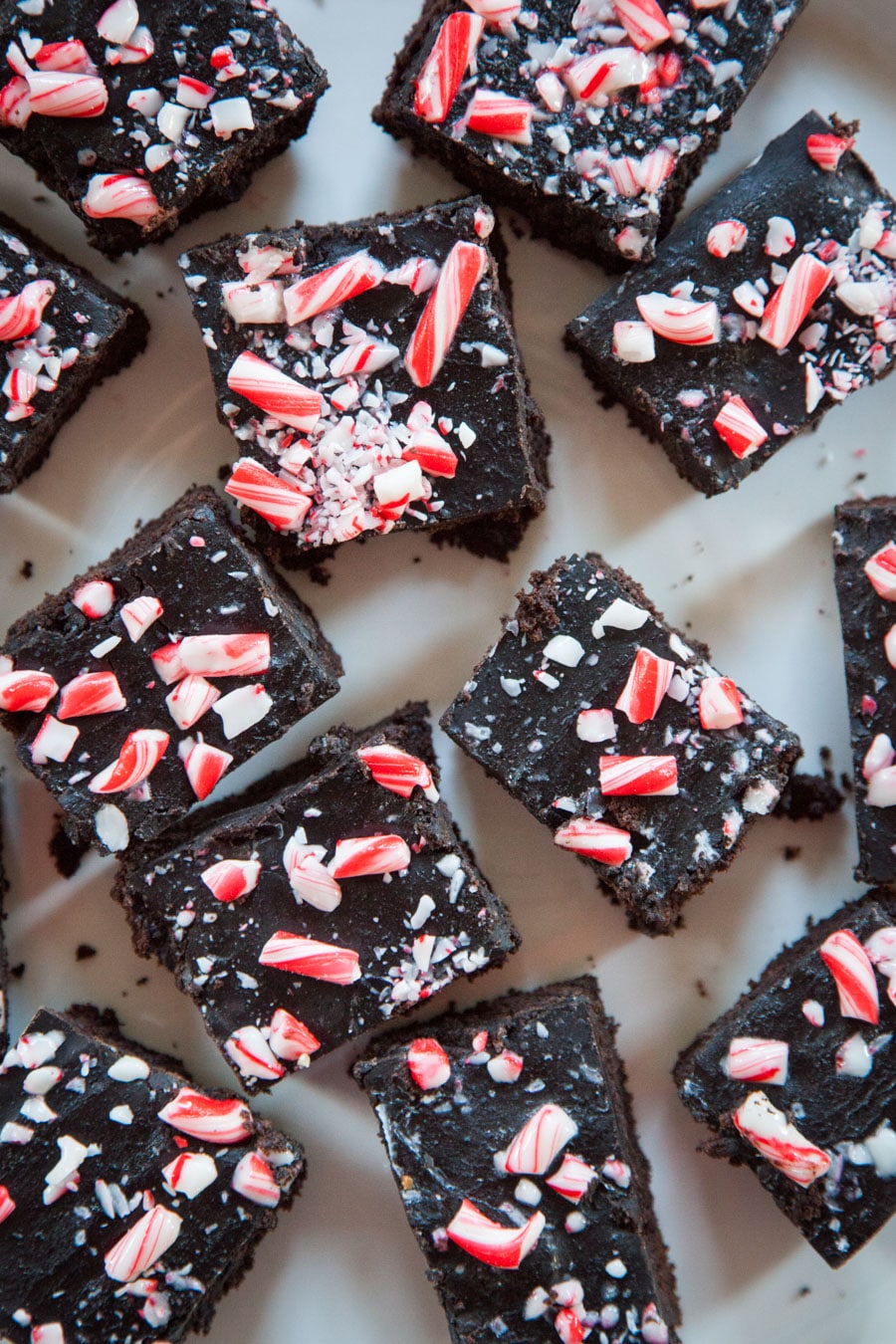 Peppermint Texas Sheet Cake
This festive holiday inspired Texas sheet cake is a cross between a brownie and a cake. Made in a large sheet pan, it can serve a large crowd and is easy to make. Remember to start making the frosting while the cake is still baking. You want to be able to pour the frosting onto the still warm cake, so it melts, making it extra fudgy. To crust the peppermint candy canes, place them in a freezer ziplock bag and tap them with a rolling pin until they are the size of small pebbles.
Ingredients
Cake Batter
2

cups

all-purpose flour

280 g

1 1/2

cups

white granulated sugar

300 g

1/4

cup

packed dark brown sugar

55 g

1/2

teaspoon

baking soda

2

large eggs

2

large egg yolks

1/4

cup

sour cream

1 1/2

teaspoon

peppermint extract

1/2

teaspoon

vanilla extract

8

oz

dark chocolate

chopped into 1/4 inch chunks, 225 g

3/4

cup

vegetable oil

3/4

cup

freshly brewed hot coffee

1/2

cup

Dutch processed cocoa

65 g

4

tablespoons

butter, unsalted

57 g
Icing
1/2

cup

butter, unsalted

115 g or 1 stick

1/2

cup

heavy cream

1/2

cup

Dutch process cocoa

1/4

teaspoon

kosher salt

1

tablespoon

light corn syrup

3

cups

confectioners' (powdered) sugar, sifted

340 g

1

teaspoon

peppermint extract
Topping
1/2 to 3/4

cup

crushed peppermint candy canes

see headnote above
Instructions
Make the cake by preheating the oven to 350˚F. Coat a 17 x 12 inch or 18 x 13 inch rimmed baking sheet with cooking spray. Place the flour, sugars, and baking soda in a large mixing bowl. Using a balloon whisk, vigorously stir the dry ingredients together until they are blended together. Place eggs, egg yolks, sour cream, peppermint and vanilla extract in a small bowl and beat together with a fork until smooth and well blended.

Place the chopped chocolate, oil, coffee, cocoa powder, butter, spices and salt together in a medium saucepan. Cook on medium heat for about 3 to 5 minutes, stirring constantly, until the chocolate melts and the mixture is smooth. Pour the chocolate into the dry ingredients bowl and mix with a large heatproof spatula to incorporate. Add the sour cream & egg mixture and mix to incorporate.

Pour the batter into the prepared rimmed baking sheet and spread the batter to the edges of the pan, smoothing it out. Bake for 17 to 19 minutes or until a toothpick in the middle of the pan comes out clean. Don't overbake.

About 10 minutes into the baking, make the icing. Place the butter, cream, cocoa, sea salt and corn syrup in a medium saucepan and cook over medium heat, stirring constantly, until the butter has melted and the mixture is smooth. Turn the heat off, and stir in the sifted confectioners' sugar and vanilla extract. Once the cake has come out of the oven, while it is still hot, pour the icing over the cake and spread it evenly with a small offset spatula (or butter knife) to the edges of the cake, evenly icing the cake.

Sprinkle the crushed peppermint candy canes over the still warm icing, and gently press down on them to set them in the icing. Let the cake cool to room temperature (about an hour) on a wire rack then move the cake, uncovered, to the refrigerator to cool further for an hour more to let the icing set. Once the icing has set, you can cover it with aluminum foil or plastic wrap and keep it in the fridge for up to three or four days, but it's best served in the first couple of days.
Nutrition