These Rye Brownies have caramel and sea salt sprinkled on top, giving them a salty crunchy bite. Easy to make and seriously addictive! (Jump directly to the recipe.)
"Here it is…" said my friend Felisa as she gave everyone else around her suspicious looks and slyly pulled out a foil wrapper hidden from who knows where. She handed it to my friend Rita and they both giggled. We were into our second night at Lake Tahoe for our annual weekend ski reunion with friends (8 couples and 13 kids) and it had all been a bit of organized chaos throughout the trip. I gave her a curious glance, wondering what sort of contraband substance she had in her hand. Did she sneak some sort of special treat in for just for her and Rita? Was it a "medicinal" edible (highly unlikely but they both did spend some time living in San Francisco so who knows)? Was this sort of an inside joke? No to all that! It was my Rye Brownies with Caramel and Sea Salt that she set aside from the previous day. Felisa and Rita were both scared that they would be all gone by the next day and so they made a pact to store a couple away. Just. In. Case. I guess they were that good!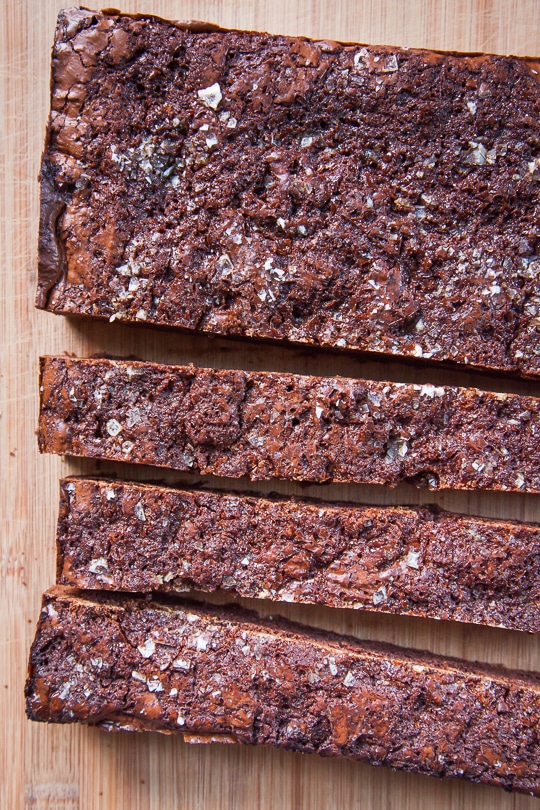 Our annual Tahoe happens, well, annually. It's been ongoing for years now. Several friends make the trek up all the way from Los Angeles, and the rest of the folks come from San Francisco or Davis in Northern California. Even as the years have passed and the couples have had kids, it just meant renting two homes instead of one to make room. We do big communal dinners that have people either bringing up food that they made at home (like bread or my homecured bacon and various brownies and blondies) as well as making massive quantities of food at the house. The madness of herding 13 kids and 18 adults to do anything together is pretty maddening but that's sort of the fun right?
I finally got back my ski legs back after taking a break from skiing for the past couple of years (I mean, California HAS been in a drought, so not much decent ski snow for us). But hitting the slopes is rough with my partner AJ who happens to be a hardcore cyclist. The man has some cardio stamina! I could barely keep up. Back at the house we ate up a storm, hung out until all hours at night and played a million games, something I love doing but rarely think about doing in San Francisco. By the time the weekend was over, it was hard to say goodbye to everyone and the kids were definitely bummed out about saying goodbye, almost as much as the adults!
I had been tinkering with this recipe for rye flour brownies that I found in The Violet Bakery Cookbook for awhile. It's an absolutely lovely cookbook, full of gorgeous photos and completely doable recipes but I hadn't made anything from it yet. Of course my weekend trip up to Tahoe with friends was the perfect excuse, allowing me to play in my home kitchen with abandon. To be honest, I've been a little burnt out on baking and developing dessert recipes. Writing a baking cookbook can do that to you with the repetitive testing. But with most of the book done now, and a bit of a break from the craziness of writing it all I found myself back in the kitchen baking up a storm. This is clearly evident from my back-to-back brookie recipes.
But these rye brownies! I decided that I needed to add a little bit extra to them so I went with making hard caramel using the microwave (it's insanely easy, don't worry) and then sprinkled the shards over brownie batter. The result was a pretty ugly brownie….so ugly that I almost trashed the recipe. That is, until my partner took a bite of one of them and declared them a winner. So I took them up to Tahoe (along with batches of both of my brookies) to get a second opinion. And it turns out the rye brownies were a fan favorite! So much so that friends like Rita and Felisa had to hide them from other folks in fear of not getting seconds. To me, that's the ultimate sign of approval. Hidden contraband brownies.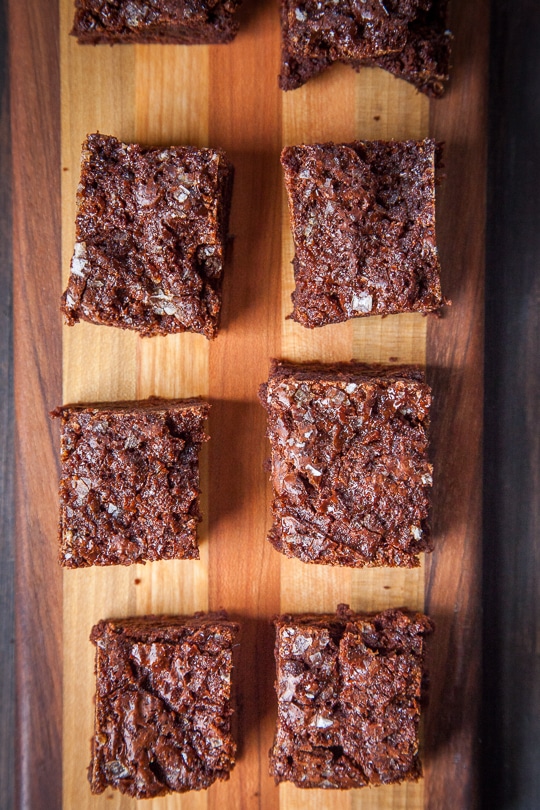 Rye Brownies with Caramel and Sea Salt
By Irvin Lin
It may sound a little weird to use rye flour in brownies but the earthier dark whole grain flour most associated with Pumpernickel bread works really well with chocolate. Rye has an almost malty milky richness that is surprising for folks who associate it with heavy pumpernickel or rye bread. The confusing thing about rye flour is it comes in a variety of types. Try to find dark rye flour, which is ground from the whole grain of the rye. It's the rye equivalent to whole wheat flour. Light rye flour has less flavor, as it has the bran and germ removed (similar to regular all-purpose flour) but it can be used too. Avoid Pumpernickel rye flour though, as it is a coarser grind. Finally if you don't have a microwave, you can make the caramel the old school way, on the stove. Just place the ingredients for the caramel in a skillet and cook it until it turns golden brown like the color of an old penny. Pour into the lined baking pan just as directed and let cool.
Adapted from The Violet Bakery Cookbook by Claire Ptak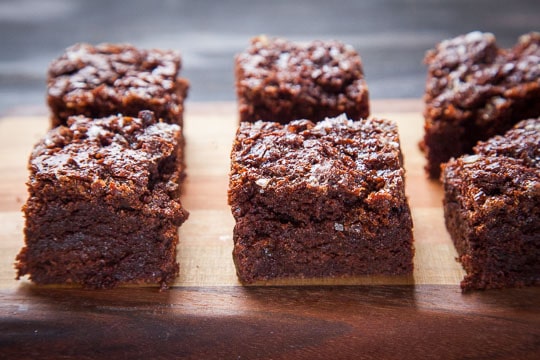 Ingredients
Caramel shard
3/4 cup (150 g) white granulated sugar
2 tablespoon water
1 tablespoon light corn syrup
Brownie batter
11 tablespoons (150 g) unsalted butter
8 ounces (230 g) semi-sweet chocolate (at least 54% cacao) chopped into 1/4-inch chunks
1/2 cup (50 g) natural cocoa powder (not Dutch-process)
1 1/3 cup (200 g) dark rye flour
1/2 teaspoon baking powder
1 teaspoon kosher salt
1 cup (200 g) white granulated sugar
3/4 cup (165 g) packed dark brown sugar
3 large eggs
1 large egg yolk
1 tablespoon vanilla extract
1 teaspoon Maldon or flakey sea salt
Directions
1. Make the caramel shards by lining a rimmed baking sheet with a piece of parchment paper. Place the sugar, water and corn syrup 2 cup glass heatproof measuring cup (or medium glass bowl). Stir together until the sugar is moistened. Place in the microwave and cook on high for 6 minutes. Pay close attention to the sugar through the window starting around 2 to 3 minutes, making sure to watch as the sugar starts to darken. Once the sugar starts to have a hint of brown darkness, remove it from the microwave and place it on a light colored heatproof pad (or place a piece of white paper on top of a heatproof pad). Watch the measuring cup or bowl as the sugar liquid darkens. Once it reaches the color of an old copper penny pour the caramel carefully onto the rimmed backing sheet into a thin pool. Let cool and harden.
2. Preheat the oven to 350ºF. Spray and line a 9 x 9 inch baking pan with parchment paper, making sure the edges of the paper overhand the edges by an inch or two. Place the butter and chocolate in the bowl of a medium glass bowl. Place in the microwave and cook for 30 seconds. Stir and repeat, cooking in 30 second intervals until melted. In the meawhile, place the rye flour, baking powder and salt in a medium bowl and stir with a balloon whisk until well blended and uniform in color.
3. Place both sugars in the bowl of a stand mixer fitted with a paddle attachment and add one egg. Beat until incorporated and repeat with the remaining eggs and egg yolk, making sure they are well blended before adding the next one. Add the vanilla and beat until incorporated. Add the melted chocolate butter to the bowl and beat until incorporated. Add the rye flour mixture and beat until the dry ingredients are just absorbed.
4. Move the parchment paper with the caramel on it to a cutting board and chop the caramel into bits. Add half the caramel bits to the brownie batter and stir until evenly distributed. Scrape the batter into the prepared pan and spread to evenly to the edges. Sprinkle the remaining caramel bits over the brownie batter. Sprinkle the Maldon salt over the batter and caramel as well.
5. Bake brownies in the oven 40 to 45 minutes or until a toothpick inserted in the middle of the pan comes out clean. Try not to over cook. The caramel will look a little weird and melty liquid on top but it will cool and pit the brownie surface. Don't worry, that's natural. Let the brownies cool in the pan completely before grabbing the parchment paper lining the pan and lifting straight up, moving the brownies to a cutting board. Cut and serve.
Makes 16 brownies.
If you like these rye brownies with caramel and sea salt, check out some of these other brownie recipes from around the web:
David Lebovitz' Dulce de Luche Brownies
Our Best Bites' Mississippi Mud Brownies
Something Swanky's Browned Butter Red Velvet Brownies
Simply Recipe's Best Chocolate Brownies
Crazy for Crust's Fudge Brownies with Orange Frosting