These beautiful peppermint cheesecake brownies are made with Kahlúa Peppermint mocha liqueur for an added depth of flavor! (Jump directly to the recipe.)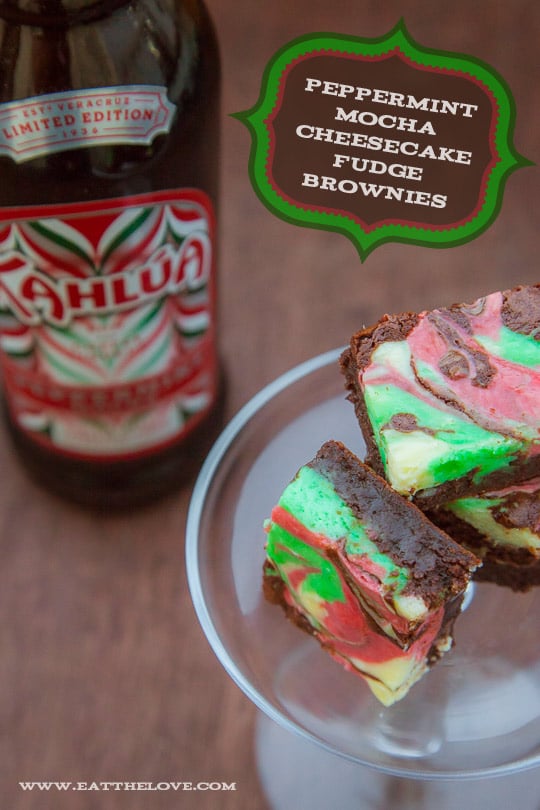 "I love chocolate, and I love mint, but I'm just not super fond of the combination…" said my partner AJ when I told him that I was making peppermint cheesecake brownies with Kahlúa Peppermint Mocha. There is often a dividing line between those people who love the combination of mint and chocolate and those who are purists about chocolate and crave it straight up without any adulteration. My partner AJ was a purist. But I'm not as strict. I have a deep-seated love for chocolate together with mint and so I was thrilled to start playing with the bottle of Kahlúa Peppermint Mocha in the kitchen when I received it.
The additional of Kahlúa in brownies is one of my favorites though. The deep rum flavor boosts the chocolate in the brownie and using the limited edition version adds a different dimension. Of course I understand if some people aren't super partial to the flavor combinations but for those who DO love it, these brownies are the best!
When I finally offered AJ some of the finished brownies, he nibbled at it suspiciously. I had already told him what they were as there are no food surprises in our household, I've been down that path before with disastrous consequences. Not that I could surprise him with the cheesecake swirls of green and red and white obviously showing him that hey were full of minty goodness. In the end, AJ had to admit that they were pretty good. Well, good, for a peppermint mocha brownie that is (it's all relative). No big deal though, that just means there's more for me!
This post was sponsored by Kahlúa. For the months of October, November and December I'm teaming up with Kahlua to bring you recipes and cocktails using their various Kahlua liqueur flavors. I was compensated for the post and for developing the recipe. However all opinions above (and below) are completely my own and not endorsed by Kahlúa. Visit Kahlúa's various social media pages (Facebook, Twitter, Instagram, Pinterest) for more cocktail and holiday entertainment ideas and join in on the fun by sharing your own Kahlúa creation using the hashtag #KahluaHoliday

Peppermint Cheesecake Brownies with Kahlúa Peppermint Mocha
By Irvin Lin
These dense fudgy brownies with minty cheesecake swirled into them are a perfect balance of chocolate, mint and rich cheesecake. If you like your brownies super minty, consider adding an additional 1/2 teaspoon to the cheesecake batter but I prefer to have a more subtle mint so it doesn't overpower the brownie. The secret to the balance of deep flavors is using the limited edition Kahlúa Peppermint Mocha in the brownie part. I used a little bit of food coloring in the cheesecake to get the red and green swirls but if you are food coloring adverse, skip that part as it's purely decorative. If you can't find the limited edition Kahlúa Peppermint Mocha, just use regular Kahlúa and add a 1/2 teaspoon of peppermint extract to the brownie mix instead. Note that the cheesecake batter calls for cream cheese at room temperature. If you use cold cream cheese the batter will be lumpy so plan accordingly or place the still foil wrapped cream cheese in warm water for a few minutes to help bring it up to room temperature.
I like to serve these brownies with a side of Kahlúa hot chocolate. Just heat up a cup of milk with a tablespoon of white sugar and 2 teaspoons of unsweetened cocoa powder. Once the solids have dissolved and the milk is hot, stir in 1 tablespoon of Kalhúa!
Ingredients
Mint cheesecake batter
8 oz (230 g or 1 brick) cream cheese at room temperature
1/4 cup (50 g) white granulated sugar
1 large egg yolk
1 tablespoon all-purpose flour
1 teaspoon peppermint extract
green and red food coloring (optional, see headnote above)
Brownie batter
1/2 cup (115 g or 1 stick) unsalted butter
3 oz (85 g) dark chocolate, chopped into 1/2-inch chunks
2 large eggs
1 cup (200 g) white granulated sugar
1/4 cup (55 g) dark brown sugar
1 teaspoon vanilla extract
2 tablespoons instant coffee
1/4 cup Kahlúa Peppermint Mocha (see headnote above)
3/4 cup (105 g) all-purpose flour
1/4 cup (25 g) natural cocoa powder (not Dutch-process)
1/4 teaspoon baking powder
1/4 teaspoon kosher salt
Directions
1. Preheat the oven to 350˚F. Spray a 9 x 9 inch baking pan with cooking spray then line it with a piece of parchment paper.
2. Make the mint cheesecake batter by placing the cream cheese and sugar in the bowl of stand mixer fitted with a paddle attachment. Beat on medium high speed until fluffy. Add the egg yolk, flour and peppermint extract. Beat to incorporate. If using the food coloring, scoop out and divide cheesecake batter into three bowls. In one bowl leave white, in another add 4 or 5 drops of liquid green food coloring and in the other bowl add 8 or 9 drops of liquid red food coloring. Stir to incorporate evenly.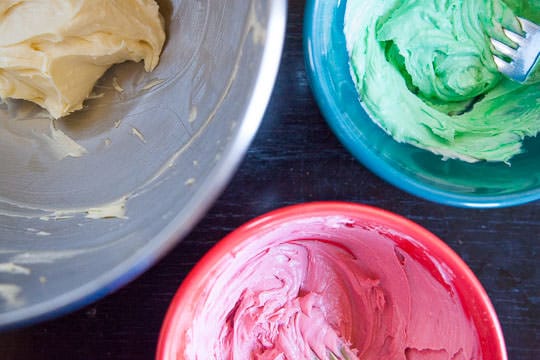 3. Make the brownie batter by placing the butter and dark chocolate in a microwave safe bowl. Microwave on high for 30 seconds. Stir and microwave again for 30 seconds. Stir and microwave for an additional 30 seconds if necessary. Stir until completely melted. If the chocolate is still not melted, microwave in 15 second intervals, stirring between each cook time.
4. Wipe out the bowl of the stand mixer and the paddle attachment with a clean paper towel but no need to wash them unless you want to. Place the eggs, sugar, vanilla, instant coffee and Kahlúa in the bowl. Beat together on medium speed until it starts to look lighter in color, about 30 seconds. Add the melted chocolate and butter to the bowl and beat to incorporate. Add the flour, cocoa powder, baking powder and salt and beat to incorporate.
5. Spoon all but two or three tablespoons of the brownie batter into the prepared baking pan, reserving that brownie batter for swirling. Spoon some of the cheesecake batter over the top of the brownie batter, alternating colors if you used the food coloring. Tap the pan on the counter to flatten out the batter and then swirl the cheesecake batter together with a butter knife making "figure eight" movements with your knife. Spoon some of the reserved brownie batter over the cheesecake batter as well and swirl that in as well. Tap the pan again on the counter to fill in any empty spaces.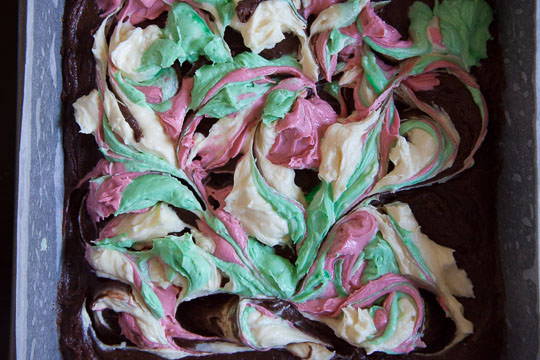 6. Bake in the oven for 30-35 minutes or until a toothpick inserted in the middle of the pan comes out clean. Let cool in the pan on a wire rack completely to room temperature then remove by grasping the sides of the parchment paper and lifting it straight up and moving to a cutting board to cut.
Makes 25 brownies.