These Chinese pearl meatballs (珍珠丸子) are a savory pork meatball coated with glutinous rice. It is an easy dish from the Hubei/Hunan region of China.
Growing up, my mom cooked all sorts of Chinese dishes that most folks associate with dim sum dishes. And though I have a number of Asian dishes on this site, including Taiwanese popcorn fried chicken, Japanese karaage, chicken char sui fried dumplings and Korean fried chicken, I have yet to really share any of the food that she made growing up. Pearl meatballs are one of the easiest dim sum dishes that you can make, as they have a similar savory pork filling similar to dim sum dumplings but don't require any folding or sealing of the wrappers. They're the perfect gateway dish to make if you are looking to get into making Chinese dim sum or Chinese food appetizers!
What is a pearl meatball?
Pearl meatballs are seasoned pork meatballs that rolled in glutinous rice then steamed. They originated in the Hubei/Hunan region of China and are often served on special occasion banquets or for holidays like Chinese/Lunar New Year.
They are similar to American porcupine meatballs but made with glutinous rice, pork and do not have the tomato sauce that is most commonly found with the porcupine meatball.
The name pearl meatballs comes from the glutinuous rice that coats the meatballs. The shiny sticky rice turns a shiny translucent white, looking almost like pearls embedded in the meat filling, forming what could be a large pearl if you squint your eyes.
How do you make pearl meatball?
Making pearl meatballs is super easy, but it does require a little bit of planning. The glutinous rice needs to soak for a minimum of 90 minutes to properly steam. That said, you can wash the rice and then let it soak overnight in the fridge if you like!
Once the rice has soaked, soak the dried shrimp and bamboo leaves (if using) in hot water and make the filling by combining the ground pork, chopped dried shrimp, chopped green onions, chopped water chestnuts, Shaoxing wine, cornstarch and seasonings like soy sauce, chopped ginger, sesame oil, salt and white pepper in a bowl. Traditionally you mix the filling in one direction only with chopsticks but I found that mixing it with a wooden spoon, paddle or stiff spatula in whatever manner you want totally works.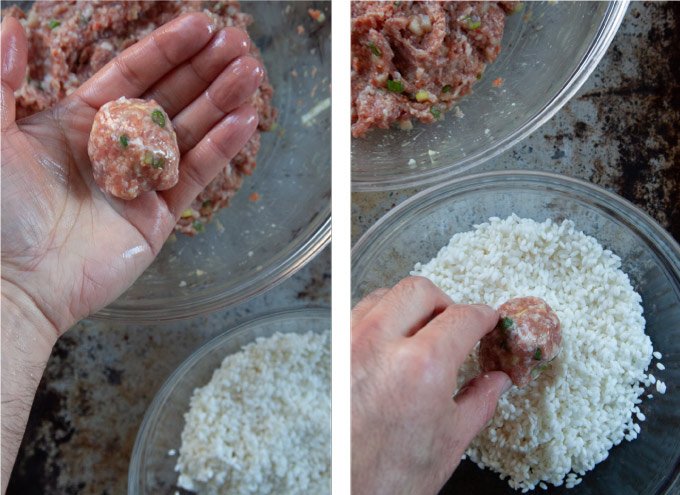 Once the meat filling is thoroughly mixed, form 1-inch balls and roll in the soaked glutinous rice then roll in your hands to make sure the rice sticks to the filling. Steam the balls and then eat!
Here's a video for the full process on how to make these pearl meatballs.
What is glutinous rice?
Glutinous rice, sometimes called sticky rice or sweet glutinous rice (a misnomer as it's not sweet by itself) is a variety of rice that is lacks amylose, and high in amylopectin (both of which are the components of starch). The amylopectin creates a highly sticky quality in the rice, higher than regular rice. When raw it is completely opaque, unlike regular rice, which is slightly translucent when raw. Once cooked, glutinous rice takes on a shiny transparent color and is very sticky.
Glutinous rice can be ground into flour, which is the primary component to Japanese mochi, as well as used in a variety of gluten free baking.
Despite its name, glutinous rice is gluten free. The name glutinous comes from the sticky "glue-like" quality of the rice once it is cooked. Because the rice is gluten free, these pearl meatballs are naturally gluten free if you use tamari gluten-free soy sauce and substitute the Shaoxing wine (which often has trace amounts of gluten in it) for sake or dry sherry (see section below).
You can find glutinous rice online, in Asian grocery stores or in well stocked grocery stores in the Asian section.
What is Shaoxing Wine?
Shaoxing cooking wine, sometimes written as shao xing wine or shaohsing wine, is a dark amber colored wine made from fermenting rice, water and a small amount of wheat. It originated from the Shaoxing region of eastern China. There are records of Shaoxing wine being made more than 2000 years ago. You can find Shaoxing wine in Asian grocery stores and online.
Though there are aged Shaoxing wines that are meant for drinking, most Shaoxing wine that you find at the Asian grocery store is meant for cooking and has a salty alcohol taste if drunk straight from the bottle. This salt is added to avoid the alcohol tax at grocery stores.
Shaoxing wine is relatively cheap (an "expensive" bottle is usually $5 to $6 while a more budget friendly one will run you $3). You can store an open bottle of Shaoxing wine in the pantry for up to 6 months or longer.
If you don't have access to Shaoxing wine, or don't feel like buying a bottle for this recipe, you can easily substitute an equal amount of sake (a lighter flavor), mirin (a sweeter flavor) or dry cooking sherry. If you are avoiding alcohol completely, just substitute chicken broth for the Shaoxing wine. Keep in mind with all those substitutes, that the final dish might taste slightly different.
Do I need to use a bamboo steamer?
Traditionally dim sum dumplings are steamed in bamboo steamers and these pearl meatballs is no different. But if you don't have bamboo steamers, you can steam them in a western style expandable metal steamer set over simmering water. Keep in mind that you won't fit as many meatballs in the metal steamer and will have to steam the meatballs in batches, removing the meatballs after they are done to cook more.
Do I need bamboo leaves to steam these?
Bamboo steamers are often lined with bamboo leaves to keep the steamed item from sticking. Bamboo leaves, unlike parchment paper, added and extra dimension and subtle earthy flavor to the pearl meatballs and dumplings.
But you can use cabbage leaves or parchment paper rounds in place of the bamboo leaves if you don't have them or don't have access to them. If you do use bamboo leaves, remember to soak the bamboo leaves ahead of time to make them pliable to fit in the steamer basket. Dry bamboo leaves are stiff and brittle and won't keep their shape or break if you try to bend them.
Can I make them ahead of time?
Like most dim sum, these pearl meatballs are best eaten right after they are cooked. But if you have leftovers, you can store them in an airtight container in the refrigerator for up to 3 days. Warm them up in the microwave (the time is dependent on how many you heat up and how strong your microwave is) or re-steam them for 6 to 8 minutes, or until they are heated thoroughly.
If you like these pearl meatballs, check out these other Asian dishes:
Pearl Meatballs
Pearl Meatballs are a traditional dish that comes from the Hubei/Hunan region of China. They are savory pork meatballs rolled and steamed with a glutinous rice coating. They're a great introduction to making dim sum as they don't require any folding of the dumpling skin, just a quick roll in the rice. This dish does require the rice to soak in water for a minimum of 90 minutes or overnight so plan accordingly.
Ingredients
1

cup

glutinous rice

210 g, see note above

1/4

cup

dried shrimp

30 g, optional but recommended, see note below recipe

6 to 8

bamboo leaves

optional, see note above for substitutions

1

pound

ground pork

455 g

1/3

cup

green onions

chopped, roughly 2 to 3 green onions

1/4

cup

minced water chestnuts

45 g

2

tablespoon

Shaoxing wine

see note above for substitutions

1

large egg

1

tablespoon

soy sauce

2

teaspoon

minced fresh ginger

2

teaspoons

cornstarch

2

teaspoon

toasted sesame oil

1/2

teaspoon

kosher salt

1/2

teaspoon

white pepper

or black pepper

1

large egg
Instructions
Rinse the glutinous rice under water until the water is clear. Place the glutinous rice in a medium sized bowl and cover with room temperature water. Cover and let soak for minimum 90 minutes or up to overnight.

Place the dried shrimp in a small bowl and cover with hot water (hot from the tap is fine) and let soak for 30 minutes. Drain the shrimp , then chop the dried shrimp.

Place the bamboo leaves in a large bowl or large pan of hot water, and place a mesh colander or plate on top to weigh them down. Let the leaves soak for at least 30 minutes. Line the inside of two bamboo steamer with the softened bamboo leaves. Trim any excess leaves that are hanging over the edge of the steamer.

Make the filling by mixing the ground pork, green onions, water chestnuts, Shaoxing wine, soy sauce, ginger, cornstarch, sesame oil, salt, pepper, large egg and chopped dried shrimp in a large bowl until the ingredients are evenly distributed and form a sticky paste.

Drain the glutinous rice and place in a medium bowl. Dampen your hands (run them under water and then shake the excess water off) and scoop up about a heaping tablespoon of the filling and form a ball, roughly 1-inch in diameter. Roll the ball of filling in the glutinous rice making sure the entire ball is coated in the raw rice. Roll the ball in your hands gently to press the rice into the filling, to make sure it sticks.

Move the ball to the lined bamboo steamer and repeat until all the filling is used up, making sure there is at least 1/2-inch space from each other.

Once the balls are made, fill a wok or pan with about 2 to 3 inches of water, high enough to create enough steam to cook the balls but not so high that it will touch the bamboo steamer when it is placed on the wok or pan.

Bring the water to a boil, then carefully place the filled bamboo steamers over the boiling water. Place the lid on top and steam the meatballs for 18 to 20 minutes or until the balls are firm and the center reads 165°F with an instant read thermometer. If you stack two steamers together, the top steamer will get less steam and may need an extra minute or two to cook the meatballs.
Notes
You can find dried shrimp in Asian grocery stores or online.