These sticky sweet and spicy General Tso's chicken wings are inspired by the classic Chinese-American General Tso's Chicken. Seriously addictive! (Jump directly to the recipe.)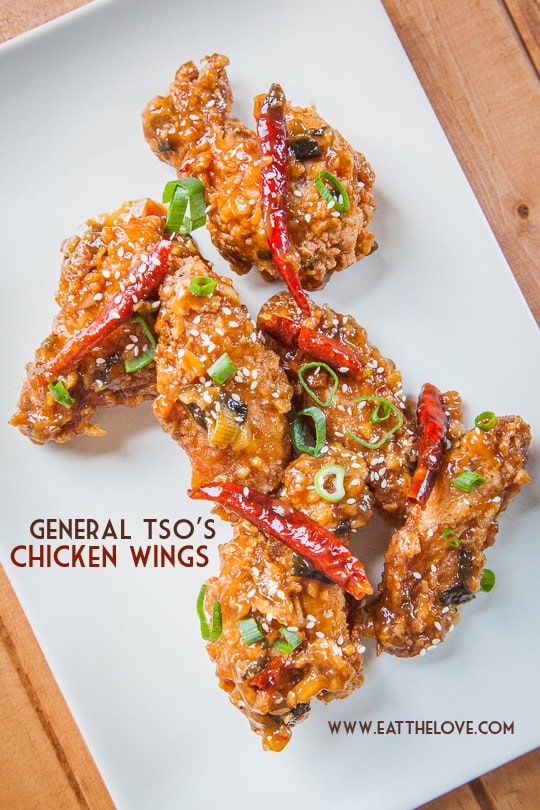 Years ago I read a book called The Fortune Cookie Chronicles which explores Chinese-American cuisine. I was fascinated by the stories about how Chinese-American cuisine that you get at a restaurant isn't really Chinese food. I knew that, since growing up my mom never made anything that resembled the food I would see or eat out. There was no Egg Foo Young, no Mongolian Beef and certainly no General Tso's Chicken. But that didn't mean I didn't love all those foods, especially General Tso's signature dish. So when I decided to do another Chicken Wings Week here on Eat the Love, I knew I wanted to make an ode to my childhood favorite, no matter how inauthentic is was. All I can say is that these General Tso's Chicken Wings are insanely addictive and perfect for anyone who loves Chinese-American food.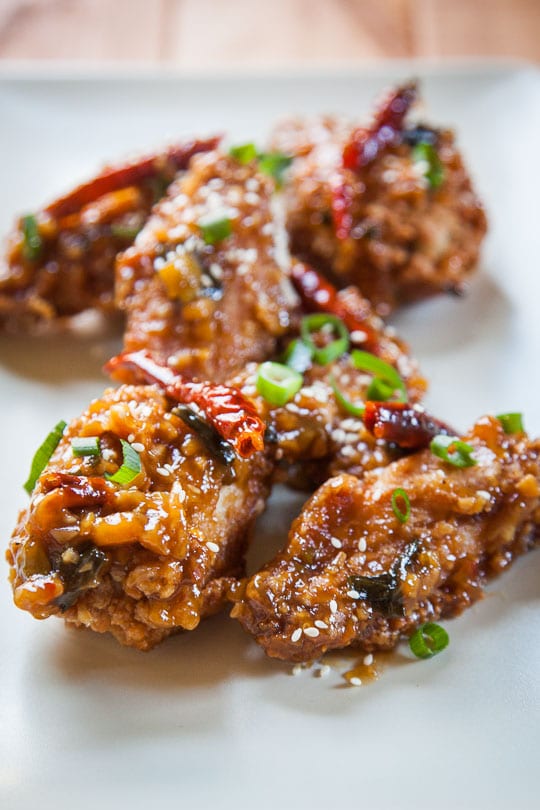 There's actually a whole chapter about General Tso's chicken in The Fortune Cookie Chronicles, and the author Jennifer 8 Lee has actually done a TED talk about it. She actually goes to General Tso's hometown and pokes around there, trying to track down the origin of the recipe. Spoiler alert, no one there has ever heard of the chicken! But that doesn't mean the spicy sweet savory chicken isn't pretty wonderfully tasty. Even as a kid, I used to beg my parents to go to the Chinese restaurant so I could order the stuff. They sneered at the stuff but they would occasionally break down and take the family anyway. It was magical to me.
These wings basically replicate the sticky sweet and spicy dish but in wings form. Perfect for a party or as an appetizer, it does require deep frying, which I know scares people. But wings are pretty easy to fry, as they are smaller than the bigger chicken pieces, which means they cook faster. Less oil is needed in the frying (you only need it deep enough for the small chicken wings to sit in). And the quick fry means the wings end up being crispy and juicy. Do it. Do it right now!
General Tso's Chicken Wings
By Irvin Lin
These highly addictive wings are inspired by the classic Chinese-American General Tso's Chicken dish. The wings are first marinated then coated and fried, then tossed in a spicy sweet and savory sauce. Don't be scared by the ingredients because it does come together pretty fast. Toss the wings in the sauce at the last minute before serving to keep them crisp, or thin the sauce with a 1/2 cup extra chicken stock and serve the sauce on the side for dipping!
Adapted from a Serious Eats recipe.
Ingredients
Marinade
2 egg whites
1/4 cup soy sauce
1/4 cup Shaoxing wine (or dry sherry)
1/4 cup vodka
1/2 teaspoon baking soda
6 tablespoons cornstarch
2 1/2 pounds chicken wings, broken into flats and drumettes (save the tips for stock or discard)
Coating
1 cup all-purpose flour
1 cup cornstarch
1 teaspoon baking powder
1 teaspoon kosher salt
Sauce
6 tablespoons soy sauce
1/4 cup Shaoxing wine (or dry sherry)
1/4 cup Chinese rice vinegar
1/2 cup chicken stock
1/4 cup white granulated sugar
2 teaspoon sesame seed oil
1 tablespoon cornstarch
1 tablespoon olive oil
1 tablespoon minced garlic
1 tablespoon minced fresh ginger
1 tablespoon chopped scallions
1 teaspoon dried chili flakes
12 dried chili pepper (Arbol or Thai)
vegetable oil for frying
1 teaspoon sesame seeds for garnish
1 tablespoon chopped scallion for garnish
Directions
1. Add the egg whites, soy sauce, wine or sherry and vodka in a medium bowl and beat until combined. Pour about 1/3 cup of the liquid out into a separate small bowl and set aside. To the large amount, add the baking soda and cornstarch. Stir to mix in.
2. Place the chicken wings in large bowl and pour the larger amount of cornstarch marinade over it. Toss the wings with a large spatula or wooden spoon until coated then cover with plastic wrap and set aside.
3. Make the coating by placing the dry ingredients together in a large bowl and stirring them vigorously with a balloon whisk. Drizzle the 1/3 cup reserve marinade liquid over the dry ingredients and toss together with a fork until some of the coatings start to clump up a bit into small bits.
4. Make the sauce by combining the soy sauce, wine or sherry, chicken stock, sugar, sesame oil and cornstarch together in a small bowl or glass measuring cup. Stir to dissolve the sugar and starch. Set aside.
5. Heat the olive oil in a large sauté pan and add the garlic, ginger, scallion, chile flakes and whole dried chilies. Cook over medium high heat until the garlic and ginger have softened and smell fragrant. Whisk the liquid to stir up any starch that settled to the bottom and pour into the pan with the garlic and ginger. Cook until the sauce comes to a boil and thickens in the pan, about 2 minutes. Set aside.
6. Pour the oil for frying into a large Dutch oven or work until it's about 1-inch deep. Bring the oil to 350ºF. Once the heat is reached, take one piece of chicken wing out of the marinade and dip it in the coating, making sure to coat the wing on all sides. Repeat with a few more of the wing pieces until you have enough to fry without crowding the pan you are using. Gently lower the coated chicken into the oil (don't drop it in, it'll splatter the oil!) and adjust the heat so it stays at about 350ºF. Flip the wing every now and then and move the pieces around with tongs to make sure they evenly cook for about 4 or 5 minutes or until they look golden brown and the chicken is cooked through. Transfer to a paper towel lined plate. Repeat with the remaining chicken.
7. Once the chicken is done frying, heat the sauce up again (it might have cooled a bit and gelled) and add the fried chicken wings to the pan. Toss and coat the chicken wings completely then move to a serving platter. Sprinkle with sesame seeds and chopped scallions and serve immediately.
Makes enough for 4 to 6 people as appetizers.
I'm going to be posting chicken wings recipes all this week, starting today and ending Friday, January 22, 2016! So be sure to come back this week for more chicken wing appetizer recipes!
In the meanwhile, check out some other chicken wings her on Eat the Love from my previous Chicken Wings Week:
Korean Fried Chicken Wings (Baked not Fried!)
Korean BBQ Chicken Wings
Mole Chicken Wings Marinated in Tequila Lime
Pok Pok Wings
Honey Fried Chicken Wings
And check out some of these other Chinese-American recipes from around the web:
Simply Recipes' Chinese Chicken Salad
Steamy Kitchen's Sweet and Sour Chicken with Cherries
Foodie Crush's Beef with Broccoli
Leite's Culinaria's Mama Chang's Hot and Sour Soup
Savory Sweet Life's Easy Kung Pao Recipe