These fried char-siu chicken dumplings (Chinese BBQ chicken dumplings) are an incredibly tasty appetizer recipe that is a fun weekend project to make. (Jump directly to the recipe.)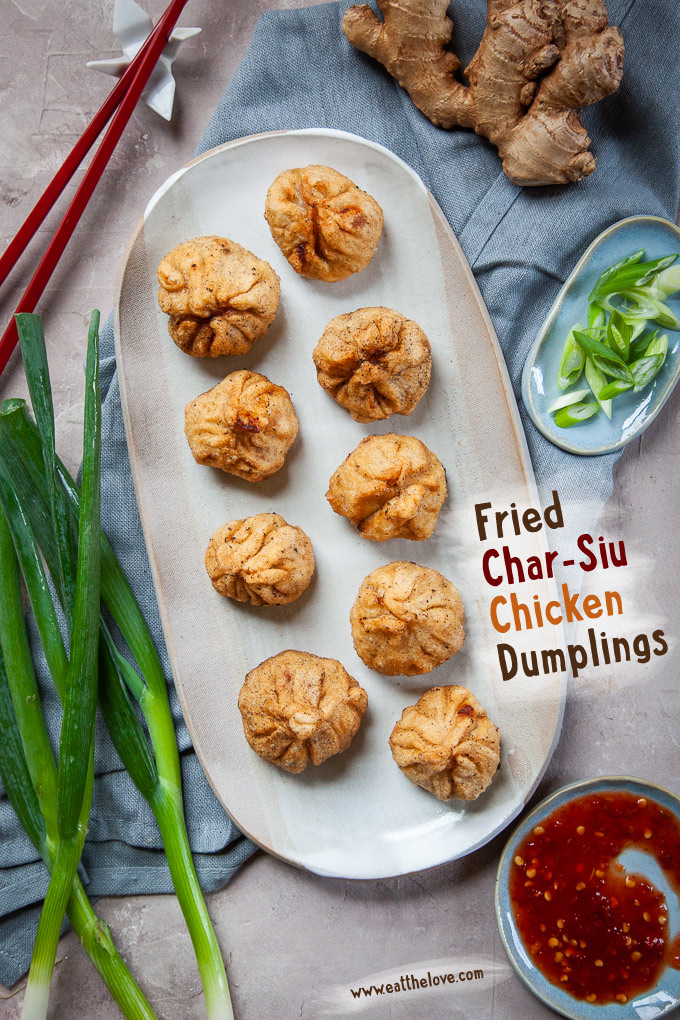 Some people just casually say to their significantly others "I think I'll make some dumplings today!" I'm sure of it. Because in their minds, dumplings are something you can just whip up at a moment's notice. I'm not one of those folks.
I don't make dumplings very often so when I do, I get myself ready for a weekend project. The truth is, dumplings aren't that difficult to make but I'm not a pro, so I need to give myself plenty of time to make them. And I also have to give myself permission that they won't look picture perfect Instagram worthy. I know dumplings are IG gold…but only if they look amazing. Mine never do. But I've come to terms with my mediocre pleating skills.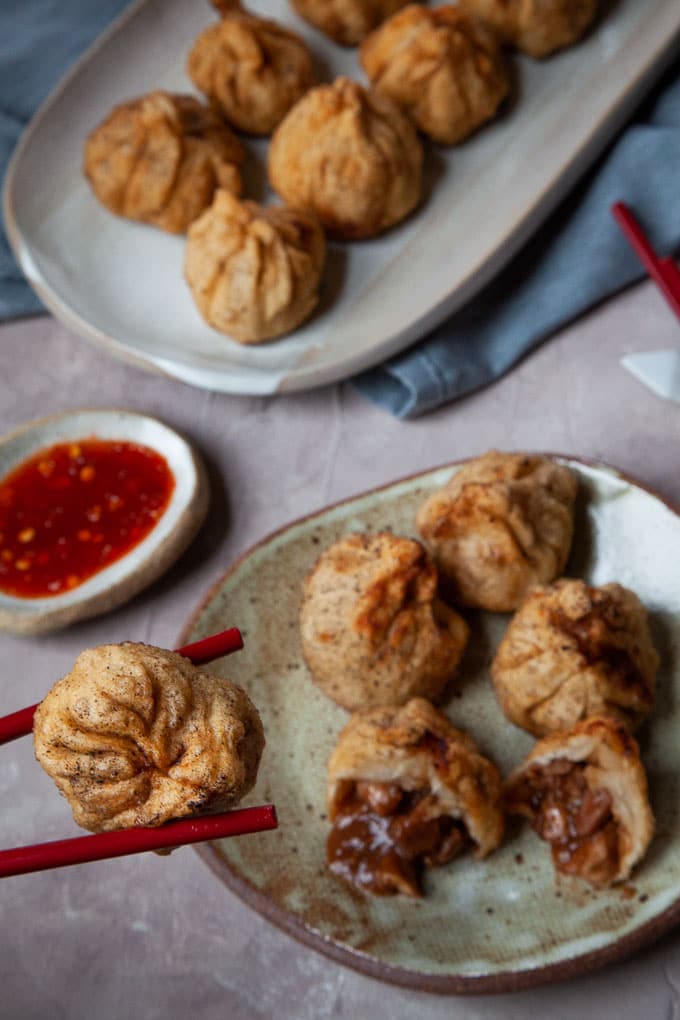 All that said, I came across a recipe for char siu chicken dumplings while flipping through a cookbook by Donna Hay that came out a few years ago and I knew I had to make them. Especially when I saw Andrea Nguyen's recipe for char-siu chicken on Simply Recipes. I'm a huge fan of both Andrea and Simply Recipes (though I'm a little bias as I'm a contributor to Simply Recipes and have met Andrea a few times at various food events) so I knew a mashup of their recipes would be a winning combination. One taste, and I knew my instincts were right.
The meaning of Char Siu
Char siu is a style of Chinese barbecue, literally translated to "fork roasted" or "fork burn". Cha means fork (named after the long forks that the meat is often skewered on) while siu means roasted or burned. Most associated with boneless pork, the char siu sauce is also often colored with red food coloring (as red is the color of good luck). I skipped the red coloring in this recipe (as does Andrea Nguyen) and went with chicken thighs, which are equally juicy and moist, but don't require the long marinade time. Though you can grill these thighs if you want the smoky charred flavor, I opted to roast them in the oven for convenience, as they're going to be used as a filling for the dumplings
Make it ahead of time
There a number of ways you can make components ahead of time. Consider making the marinade by itself a day or two beforehand. Just store it in the fridge covered or in a jar. It should last up to 48 hours covered and chilled. You can also marinade the chicken thighs ahead of time if you'd like, up to 8 hours or overnight. The meat will be more flavorful with a longer marinade time. But don't worry, 30 minutes is plenty of time for the marinade to give the thighs flavor. You can also marinade and cook the thighs ahead of time. Chop the cooked chicken and toss with the sauce. Cover and refrigerate. Then the next day all you need to do is make the dough, assemble the dumplings and fry!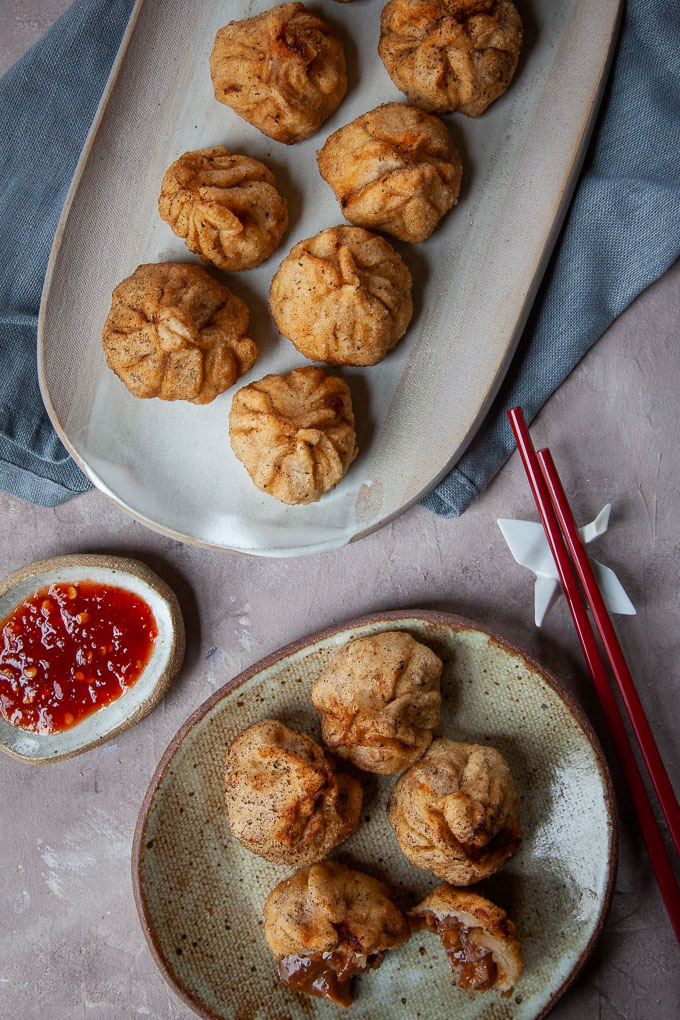 Where to find the Asian ingredients
Five spice, hoisin sauce and sesame oil are probably the most difficult ingredients to find. But they can be found at an Asian grocery store or online. Increasing common grocery stores across the country are stocking more and more ethnic ingredients. Look in the Asian/Ethnic section in your grocery store.
Shortcut these dumplings by using store-bought char siu sauce or wonton wrappers
If you really don't feel like making the sauce from scratch you can use 1/2 cup of store bought bottled char siu sauce if you'd like. You can even go the semi-homemade route and doctor the char siu sauce by adding 1 tablespoon of honey, 2 teaspoons of the sesame oil, 1/2 teaspoon of five spice, some grated ginger and/or green onions. Adding the additional ginger and green onions in particular will definitely perk up the commercial sauce.
You can also buy homemade wonton wrappers if you don't feel like making your own from scratch. But I really recommend the homemade ones. Not only do they taste better but they have a "stretchy" quality that make filling the dumplings easier! The store-bought wonton wrappers tear more easily and can be a little frustrating to use as they are made thinner. If you do go the store-bought wonton wrapper route, try using less filling in the beginning to make sure they don't tear and fry them a shorter amount of time (try 1 to 2 minutes or until golden brown) as the thin wrapper cooks fast.
Fried Char Siu Chicken Dumplings
These fried dumplings are a nice weekend project that can be streamlined if you make the filling ahead of time. Marinade and cook the chicken thighs one day, chop and store in the fridge and then make the dumpling wrappers, assemble and fry them up the next day!
You can also shortcut the recipe by using store-bought char siu sauce or wonton wrappers. Just adjust the fry time to be 1 to 2 minutes long as the wrappers are thinner. But if you can, I highly recommend making the sauce and the wrapper from scratch. The end result is worth it! Any leftover char siu chicken be saved and served as the main protein on a grain bowl or over rice for a quick meal. Or just snack on it, which is what I do!
Ingredients
Filling
3

tablespoons

honey

2 1/2

tablespoon

hoisin sauce

see note below

1 1/2

tablespoons

soy sauce

1

tablespoon

ketchup

2

teaspoon

sesame oil

see note below

3/4

teaspoon

Chinese Five Spice

see note below

2

green onions/scallions, trimmed and chopped

1-

inch

fresh ginger root, peeled and grated

1

large garlic clove, minced or forced through a press

4

medium boneless skinless chicken thighs

about 1 1/4 pounds
Wrapper
1 3/4

cups

all-purpose flour

245 g (plus more for rolling out the dough)

3/4

cup

warm water
To serve
Sambal oelek sauce, sriracha sauce or a hot Asian chili sauce of your choice
Instructions
Make the filling marinade by combining all the ingredients for the filling except for the chicken things together in a large bowl. Stir with a fork until blended.

Add the chicken thighs and toss to coat with the marinade. Cover and refrigerate for 30 minutes or up to 8 hours, overnight.

Meanwhile preheat an oven to 425°F. Line a small rimmed baking sheet with aluminum foil and lightly coat with cooking oil. Once the thighs have finished marinating, remove them from the bowl, letting any excess marinade drip back into the bowl, and place chicken flat on the prepared baking sheet.

Bake for 18 to 20 minutes, or until the thighs are cooked fully and there is no signs of pink on the inside. If you have an instant read thermometer, the temperature should read 165°F at the thickest part.


While the chicken is cooking, pour the marinade into a medium saucepan and bring to a boil. Cook for 1 minute at full boil to make sure it's safe to use in the filling, then set aside to cool. The sauce will thicken.

Once the thighs are done cooking, pull them from the oven and let them cool slightly. Pull them off the pan and cut them into 1/2-inch chunks. Add the chopped chicken into the pan with the cooked sauce. Scrape any juice and drippings from the baking pan into the saucepan with the sauce and chicken chunks as well and stir to coat and mix completely. Set aside to cool completely. You can refrigerate the filling at this point overnight if you want.

While the filling is cooling, making the wrapper dough by combining the flour and water together in a large bowl. Stir with a fork until a dough gathers.

Dust a clean surface and place the dough on it. Knead the dough with the heel of your hand, adding flour as it gets a little sticky. You want to knead the dough until it is smooth, about 4 to 5 minutes. Don't worry if the dough is still a little sticky once you are done.

Once done, divide the dough into 24 pieces. I do this by first dividing the dough in half, then each half into half again (turning them into 1/4 pieces of the whole). Then I divide each quarter into 6 pieces. Cover the dough with a damp paper towel or plastic wrap as you work to keep it from drying out. Dust the surface with flour and roll one small lump into a rough 4-inch circle.

Place 2 teaspoons of the filling into the center of the circle. Dip your finger into some water and wet the edge of the wrapper circle all the way around. Gather the dough together, pinching the edges together

Twist the top until the filling is completely enclosed in the dough. Set aside and repeat with the remaining dough and filling. Cover the dumplings with a damp paper towel or plastic wrap as you work to keep it from drying out.

Once all the dumplings are made, pour vegetable oil into a deep saute pan or Dutch oven up to 1 1/2-inches deep. Turn the heat to high and bring the oil to 350°F. Once the temperature is reached, pick up a dumpling and place it in the oil, releasing the dumpling after it has been placed in the oil. Do not drop the dumpling in the oil. If you drop the dumpling in the oil, it will splatter and you have a great chance of burning yourself. If you place the dumpling in the oil, then release it, it will slide into the oil without splashing.

Fry the dumpling in batches, trying not to add too many dumplings at once into the oil, as that will crowd the oil and drop the temperature too fast. Fry until golden brown about 4 to 5 minutes. Remove and place on a wire rack with a rimmed baking sheet underneath, or a large platter with paper towels to absorb any oil.

Serve with your choice of hot chili sauce or Asian hot sauce.
Nutrition