This step-by-step tea smoke shrimp recipe makes for an impressive salad with ribbons of carrot, parsnip and broccoli dressed with an Asian pesto dressing. (Jump directly to the recipe.)
Tea smoking shrimp sounds pretty labor intensive, invoke visions of wizened-faced elderly Asian women perpetually bent over. Each movement by them completely deliberate, as they walk around their kitchen, barely visible, hidden in the blue-gray smoke that blows over and around the rack of seafood that they cook. Every motion they make is in slow motion, almost as if they were practicing tai-chi. But it turns out tea smoked shrimp is insanely easy for pretty much anyone, old or young, Asian or not. Once I read the smoked shrimp recipe technique, I found myself mentally building a carrot salad around it, though I threw in a few other vegetables (parsnip and broccoli stem) and a little Asian inspired pesto as dressing. I couldn't wait to make it.
Of course, after I made the salad in my final day at the Le Cordon Bleu class I took, I told myself I needed to figure out how to make it at home, without the use of the crazy high power vent that they have over every burner. My solution, in my tiny one bedroom apartment, was to close off the kitchen door (so the rest of the apartment wouldn't smell like a smokehouse) and open the back door leading to the fire escape as well as the kitchen window with a fan propped up in it turned on full blast. Because I'm classy that way.
Classy or not, the salad was worth it and just as great as I remember it. None of the components are particularly hard to make, but combined together it's the sort of dish that you could easily serve to company to impress. The fragrant smoke mingles with the sweet briney shrimp and is a great foil to the Asian herb inspired pesto and the ribbons of carrot, parsnip and broccoli stems. Now if only I can figure out how to get the faint residual lingering smoke smell out from my kitchen…
I'm sharing recipes and tips I learned from the Le Cordon Bleu Techniques I class all this week. Be sure to come and check them all out!

Tea Smoked Shrimp Vegetable Ribbon Salad and Asian Pesto Recipe

(naturally gluten free, paleo friendly)

By Irvin Lin

Don't be scared by the tea smoking method, it's super straightforward and surprisingly easy though you should definitely open a window and/or make sure your stove vent is on high (I suggest both). Each component for this recipe is easy to make and all of it can be made ahead of time if you want to serve it as a starter for an impressive dinner. But don't wait for a special occasion to make this salad, as it's one of those unusual dishes that is great on any warm evening. This recipe makes more pesto than necessary. The pesto should keep for about a week in the fridge. Any longer, you can freeze it (in ice cube trays for easy defrosting).

Tea smoked shrimp recipe adapted from Fine Cooking.
Ribbon salad inspired by a carrot salad recipe from Roots by Diane Morgan.
Asian Pesto inspired from a Ming Tsai recipe.
Ingredients
Tea smoked shrimp
3/4 lb jumbo shrimp (about 12)
1/4 cup (65 g) long grain rice (I used jasmine)
1/4 cup (18 g or about 10-12 bags) loose black tea (any will do)
2 tablespoons (25 g) dark brown sugar
1 teaspoon vegetable oil
Vegetable Ribbon Salad
2 garlic cloves
2 medium carrots
1 medium parsnip
1 medium broccoli stem (longer the better)
Salt to taste
Asian Pesto
4 garlic cloves, peeled
1-inch knob of ginger, peeled
1/2 cup (70 g) roasted peanuts (unsalted is better but used salted if that's all you have)
1/2 cup packed basil
1/4 cup packed fresh mint
1/4 cup packed cilantro
1/4 cup packed parsley
2 tablespoon fresh squeezed lemon juice
1 teaspoon fish sauce
1/2 cup olive oil
2 tablespoons toasted sesame oil
salt and pepper to taste
Special equipment
12-inch flat bottomed wok
Aluminum foil
10-inch wire cake rack
12 inch lid (optional)
Directions
1. Prep the wok for smoking by first lining the bottom and sides of the work with one large piece of aluminium foil. The sheet should be large enough to fit down into the work and up the sides overhanging by an inch or two. Make sure the foil is touching the metal, with no air pockets or it won't get hot enough to smoke. Place a second piece of the same size foil crosswise over the first piece to make sure the wok is completely covered.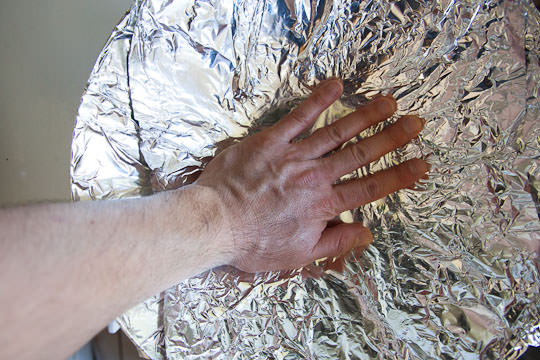 2. Sprinkle the jasmine rice over the bottom of the wok. Sprinkle the black tea over the rice. Sprinkle the dark brown sugar over the black tea. Place the wire cake rack inside the wok, on top of the foil (you'll notice in the photo I have two racks in the wok. I was worried that my shrimp was too small and would fall in, but one rack would have been fine.). Fold up a single piece of paper towel and pour the vegetable oil on it. Rub the wire rack with the oiled towel to grease it so the shrimp doesn't stick.
2. Peel and devein the shrimp, leaving the tails on. Place the shrimp on the wire rack. Cover the wok with a lid. If you don't have a lid, use some aluminum foil and seal the top of the wok, making sure the foil isn't touching the shrimp as you need enough space for the smoke to circulate over the shrimp. Turn the heat to high for a minute or two until the dry ingredients start to smoke (you should be able to smell it a bit), lower the heat to medium low and let the shrimp smoke for 8 minutes. The shrimp should be bright orange and firm to the touch but if they aren't, smoke for another minute or two. Remove the rack with the shrimp still on it and place it on a plate to cool. When the dry smoking ingredients are cool, you can just remove the foil with it in it, and throw it away.
3. Make the vegetable ribbon salad by peeling and mincing the garlic. Peel the carrots, parsnip and trim the broccoli stem so the outside is smooth, cutting away any odd sized branches. Using a carrot peeler, make long ribbons the length of the entire vegetable for both carrots, parsnip and broccoli. Fill a large pot with water and add enough salt to make it taste like the ocean. Turn the heat to high and bring it to a boil. Take a medium bowl and fill it with water and a tray of ice cubes. Once the water is boiling, add the garlic and the vegetable ribbons. Cook for 1 minute. Using tongs, remove the vegetable ribbons from water and immediately dunk in the ice water. Leave in the ice water for 2 minutes or more. Drain and place a damp paper towel over the top of the vegetable ribbons.
4. Make the pesto by placing all the ingredients (other than the salt and pepper) in a food processor and processing until a smooth paste is formed. Add salt and pepper to taste. Assemble the salad by placing the blanched ribbons on a plate, adding dollops of pesto and topping with shrimp.
May be made a day ahead. Store the vegetables in an airtight container with a damp paper towel. Assemble before serving.
Makes 4 servings for starter course.
If you like this Tea Smoked Shrimp Vegetable Ribbon Salad with Asian Pesto Recipe, check out some of these other shrimp recipes from around the web:
Skinny Taste's Cilantro Lime Shrimp
No Recipe's Coconut Shrimp with Spicy Orange Sauce
Simply Recipes' Shrimp and Grits
A Thought for Food's Chimichurri Shrimp with Lime-Herb Rice
Steamy Kitchen's Miso Butter Shrimp Recipe