This easy fried chicken recipe uses 3 cups of oil and is finished in the oven. It's insanely juicy, tender and packed with flavor as well! (Jump directly to the recipe.)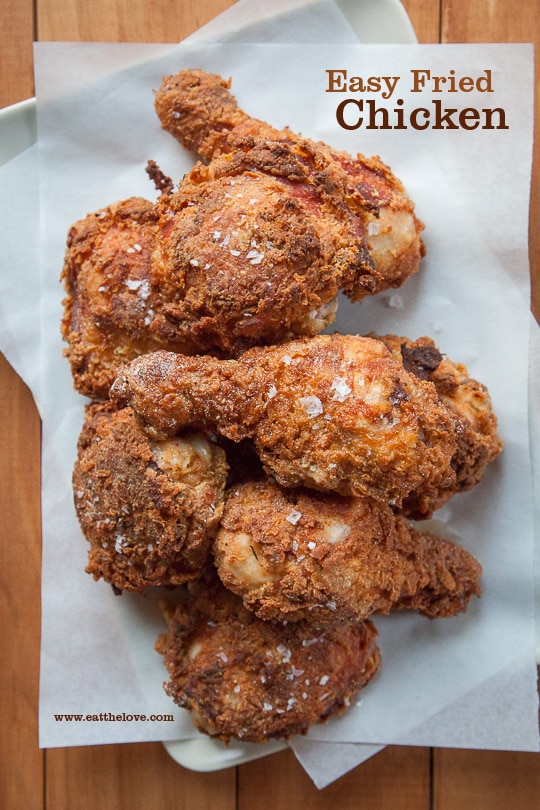 It's with some sadness that I won't be making my easy fried chicken as much as I used to. True, fried chicken is one of those treats that you aren't suppose to have too often. But in our household, at least up until recently, we were having it fairly frequently. Like WAY too frequently. But that's what happens when your significant other bicycles 250 miles a week. Not only can he eat with impunity, but he craves high protein meals like this easy fried chicken recipe. About once or twice a month my partner AJ would announce to me his craving for fried chicken, and how could I refuse his adorable face? But it looks like AJ won't be cycling for awhile now, so we're going to curb our fried chicken intake.
It all started when AJ and I were heading to New York for a little vacation. I was speaking at the big BlogHer conference and we figured it was a good excuse to make a little vacation out of it. AJ hadn't been to New York for about 15 years and I wanted to show him the city that I love to visit. We had grandiose plans to walk all over the island of Manhattan (with possible day trips into Brooklyn), visit all the museums, see a Broadway show and eat our way through every bakery I could drag him to. On the days that I was speaking or attending BlogHer, AJ had planned to go cycling. He's cycles 250 miles a week and the idea of going for a period of time without cycling was totally foreign to him. He had found a website called SpinLister which basically is like AirBnB for bikes. He rented a really great road bike for minimal amounts of money and had already mapped out some routes in New Jersey to cycle in.
But, as is often the case, things didn't go quite as planned. The day before the conference, he went to swap out the pedals at a bike shop so for his special cleat shoes he had brought with him. A quick trip around the block to test out the peddles wasn't so quick. I got a phone call form him and about 15 minutes after he left. He had gotten into an accident. A car had cut him off in the bike lane.
I dashed out the door in a panic state. This, of course, is the phone call I always dread when he goes cycling. We missed each other on the streets, as AJ walked back four blocks back to our friend's apartment and I ran to where he was went down. After another phone call, I sprinted back through the streets of New York only to see AJ faint on the sidewalk with his bike. Things just got real.
A call for the ambulance, a trip to the ER with the paramedics, a bunch of blood tests and a couple of x-rays later, it was determined AJ was fine. Well fine, except for the dislocated shoulder and broken ankle that is. The mental image of seeing a team of doctors nurses and other staff members pulling and yanking at my partner's arm to try to put it back in place will forever be seared into my brain. And no, I did not instagram that scene. Some things just don't need to be shared on social media thank you very much.
The next day my talk at BlogHer on branding for creatives was well received. We got great feedback from folks and people were tweeting soundbites about our session. My friend and co-presenter Shauna Sever was a rockstar! We had case studies on awesome bloggers with solid brands, gave 5 questions that every blogger needs to ask themselves to find out what their brand is all about and I even did a good job of embarrassing myself when my cell phone went off in the middle of the session because I had forgotten to turn it off. Go me! I even got a chance to say hi to my pal Amanda of I am Baker. In the meanwhile, AJ was back at our friend's place, on plenty of painkillers. I hurried back to take care of him afterwards.
In the aftermath of all this, we scrambled to find a new place to stay as the original place I had booked was in a 5-story walk up. Thankfully our friend Sang was out of town and his place, in a high rise, had an elevator. His place is GORGEOUS and the view is spectacular. Equally awesome was the new Samsonite luggage that I got for the trip, because lemme tell you, there's no way I could have lugged that luggage all by myself if I had to use my old crappy bags.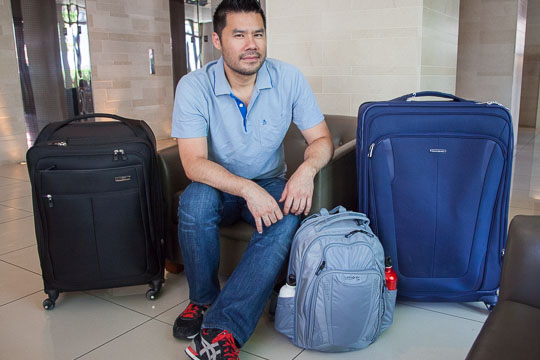 We enjoyed the rest of our New York trip as much as we could but AJ probably won't be going back there anytime soon. In the aftermath, we're slowly getting our lives back on track at home. AJ had surgery on his shoulder and the long slow process of healing has begun. He won't be back on his bike for awhile, probably 4 to 6 months if the estimates are correct, depending on physical therapy. And that means we'll also be taking a bit of a break from this fried chicken as well. But at least we all have something to look forward to when AJ is finally healed. Cycling and fried chicken. It can't come soon enough.
Full disclosure: I've teamed up with Samsonite for this blog post as well as their ongoing blog campaign "The New Business" where I discuss what I do for living. Samsonite sent me the luggage for this trip as well as monetarily compensated me for this blog post. That said, all opinions stated above are completely my own.

Easy Fried Chicken Recipe
By Irvin Lin
This easy fried chicken recipe involves slightly less oil than true deep-frying fried chicken. The chicken is then finished in the oven, leading to less oil to dispose of but still the crispness of true deep frying. I buy whole legs and cut them in half for my fried chicken, as they are cheaper and I prefer dark meat. The salted buttermilk brine in the beginning is key to making sure the chicken legs and thighs are super tender and juicy after frying. I add a couple of teaspoons of fish sauce because it really bumps up the meaty umami of the fried chicken (it's smelly stuff but you don't taste it! Trust me) but if you don't have it or it freaks you out, just skip it. I also add corn flour to my breading because it's adds a super crispness to that I adore. If you don't have it or don't feel like tracking it down, just substitute in all-purpose flour or cornmeal in it's place. If you want to use chicken breasts just make sure to use skin on bone on chicken breasts and check the internal temperature of the chicken breasts after you bake them in the oven. White meat should read at 160˚F while dark meat should be at 175˚F.
Adapted from Cook's Illustrated recipe.
Ingredients
Chicken
5 whole chicken legs , skin on
Brine
1 1/4 cup buttermilk
1 tablespoon kosher salt
2 teaspoon fish sauce (optional but recommended, see note above)
1 teaspoon hot sauce
1 teaspoon fresh ground black pepper
1/4 teaspoon granulated garlic
1/4 teaspoon paprika
1/4 teaspoon cayenne pepper
Breading
2 cups (280 g) all-purpose flour
1/2 cup (80 g) corn flour or cornmeal (not cornstarch, see note above)
2 teaspoon baking powder
2 teaspoon fresh ground black pepper
1 teaspoon kosher salt
1 teaspoon herbs de provence (optional)
1 teaspoon granulated garlic
1 teaspoon paprika
1 teaspoon rubbed sage
1/2 teaspoon dried oregano
1/2 teaspoon ground cumin
1/2 teaspoon ground coriander
1/4 teaspoon cayenne pepper
To Fry
3 cup frying oil (rice bran, peanut or your favorite oil to fry with)
To Finish
1/2 teaspoon flaky salt like Maldon (optional but recommended)
Directions
1. Cut the whole chicken legs into individual legs and thighs by placing the legs so the side that only has the meat and not the skin side up. Place a finger near the "fat line" and press down, until you find the joint of the attaches the two pieces. You should feel an indentation where the joints meet. Slice down, following the fat line. The legs and thigh should easily separate into two. Place all the individual pieces in a large 9 x 13 glass casserole dish.
2. Stir all the ingredients for the brine together in large glass measuring cup or medium bowl until well blended. Pour the brine over the chicken and turn the chicken over to make sure all the pieces are coated. Cover with plastic wrap and refrigerate for a minimum of an hour up to 4 hours.
3. Once the chicken is done in the brine, preheat the oven to 400˚F and place a wire rack on a rimmed baking sheet. Pour the oil into an 11-inch wide Dutch oven and heat the oil to 375˚F. While the oil is heating, place the ingredients for the crust in a large bowl. Using a balloon whisk, vigorously stir the dry ingredients together until they are uniform in color. Take a leg and roll it in the buttermilk again to make sure it's completely coated, then dip and roll it in the mixed crust ingredients. Make sure it's completely coated, then place on a clean baking sheet. Repeat with the remaining chicken legs.
4. Once the oil is at the right temperature, place the coated legs in the oil and fry for 4 to 5 minutes on one side, until the crust is golden brown (and looks like you think fried chicken is suppose to look like). Flip the legs and fry the other side for 4 to 5 minutes. Once both sides are fried, move the chicken legs to the wire rack on the baking sheet. Let the oil come back up to 375˚F.
5. While the oil is heating up again, roll and coat the chicken thighs like you did with the legs. Fry the legs in the same manner, 4 to 5 minutes each side, then move them to the wire rack on the baking sheet. Once all the chicken is fried, place the baking sheet with the chicken in the oven and bake for 15 to 20 minutes, or until a thermometer inserted in the middle of a piece of chicken reads 175˚F. Sprinkle with flaky salt and serve while hot.
Makes 10 fried chicken pieces, enough for 4 to 5 people.
If you like this easy fried chicken recipe, why don't you check out some of my other chicken recipes like:
Korean Fried Chicken (they're baked not fried)
Taiwanese Popcorn Fried Chicken
Korean BBQ Chicken Wings
Pok Pok Fried Chicken Wings
Fried Chicken Skins
And check out some of these other fried chicken recipes from around the web:
Gluten Free Girl's Tokyo Fried Chicken
Life's Ambrosia's Sriracha Fried Chicken
Food Republic's Hot Bird Mexican Fried Chicken
What's Gaby Cooking's Fried Chicken Sliders with Pickles and Slaw
Running to the Kitchen's Goat Cheese Fried Chicken with Cherry Tarragon Sauce