This tangy, sweet and spicy BBQ Chicken Wings Recipe is super easy to make in the oven, even if the BBQ sauce itself is made from scratch! (Jump directly to the recipe.)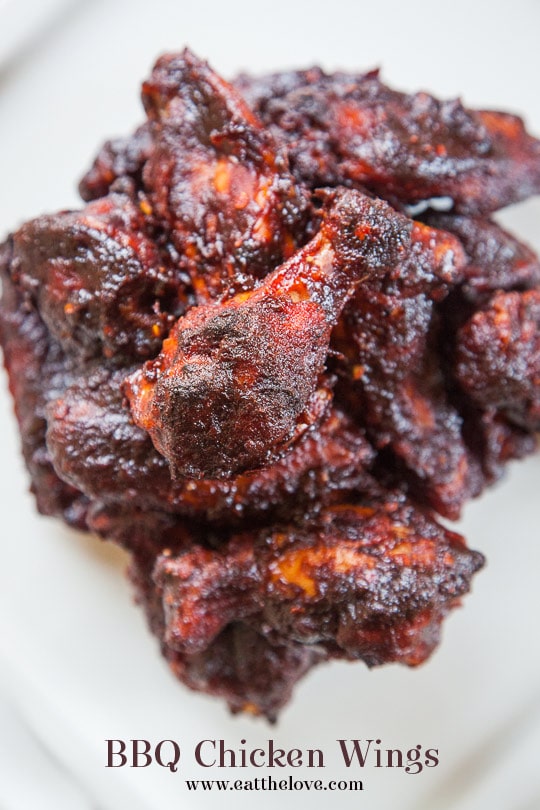 "Aren't you sick of wings yet?" I asked AJ. He looked at me as if I were crazy and said "Of course not!" I was on day four of wings week and was testing my BBQ Chicken Wings Recipe. He reached for a third helping of barbecue wing just to prove a point. And then a fourth. When he was done, his face was smeared with thick red sticky sweet sauce in that sort of adorable child-like way and I kind of fell in love with him all over again.
I have a soft spot for barbecue, having grown up in St. Louis. According to Wikipedia, St. Louis consumes more barbecue sauce than any other city in the US. And if it's in Wikipedia, it must be true! Ha! But honestly I can believe it. Growing up, barbecue was everywhere and friends were always grilling out.
The traditional St. Louis style BBQ sauce is tangy and sweet with tomato and no smoke in it. I've actually never tried to replicate or make it at home, just preferring to buy it when I lived in St. Louis. When I moved to California I found that it was impossible to get it and, in the end, I usually like to make my own food from scratch anyway. This version of BBQ sauce isn't exactly a St. Louis style sauce, though it does share some similarities, including the sweet tomato base, the slightly acidity from the balsamic vinegar and the lack of smoke. But the one thing it DOES have in common with St. Louis style barbecue sauce is how awesome it tastes. Just ask my BBQ smeared boyfriend. He can attest to how tasty they are. If he isn't too busy shoving them into his mouth that is.
BBQ Chicken Wings Recipe
By Irvin Lin
Don't be scared by the long list of ingredients in the barbecue sauce as this recipe is super easy to make! Most of the ingredients can be found in a well-stocked pantry. If you don't have fish sauce, you can skip it or add an additional tablespoon of soy sauce but the fish sauce really does adds this great subtle depth to the sauce. And you can't taste it! But feel free to also substitute 2 cups of your own favorite barbecue sauce (homemade or storebought) if you don't want to make this sauce.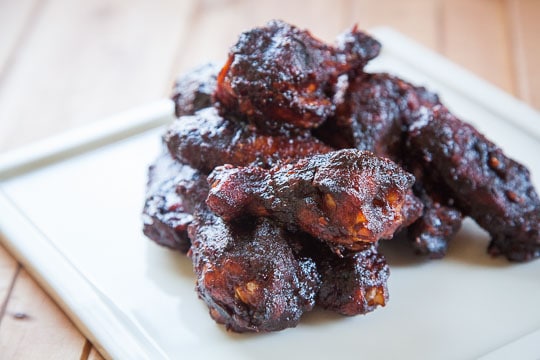 Ingredients
Wings
2 tablespoon vegetable oil
2 teaspoons kosher salt
1 1/2 teaspoon fresh ground pepper
1/2 teaspoon smoked paprika
2 1/2 pounds chicken wings, broken into flats and drumettes (save the tips for stock or discard)
Barbecue Sauce
3/4 cup beer
1/3 cup blackstrap molasses
1/4 cup honey
1/4 cup bourbon
1/4 cup balsamic vinegar
10 tablespoons (170 g or 6 ounces) tomato paste
1 tablespoon fresh minced ginger
1 tablespoon fresh minced garlic
1 tablespoon fish sauce
1 tablespoon soy sauce
1 tablespoon red pepper flakes (optional if you like it spicy)
2 teaspoon kosher salt
1 teaspoon smoked paprika
1 teaspoon fresh ground pepper
1/2 teaspoon ground cumin
1/2 teaspoon ground coriander
Directions
1. Preheat the oven to 425˚F. Place a metal wire rack on a rimmed baking sheet. Brush the wire rack with the vegetable oil. Set aside.
2. Place the salt, pepper and paprika in a small bowl and stir to mix. Sprinkle half the seasoning over the chicken wings, then flip them over and sprinkle rest of the seasoning over the other side. Place the wings on the oiled wire rack on the baking sheet. Place in the oven and bake for 30 minutes.
3. While the wings are baking, place all the ingredients for the barbecue sauce in a large sauté pan and whisk to break up the tomato paste and blend all the ingredients. Turn the heat to medium high and bring the sauce to a boil. Lower heat so the sauce is at a simmer and cook until the wings have baked for 30 minutes.
4. Once the wings have done baking, remove them from the oven and remove the sauce from the heat. Using tongs, dip, coat and turn a wing in the barbecue sauce until completely coated. Place back on the wire rack and repeat with the remaining wings. Once coated, place back in the oven and bake for an additional 15 minutes. While the wings are baking, bring the barbecue sauce back to a boil and cook on medium high heat, stirring constantly until the sauce has thickened and darkened, about 5 to 10 minutes. Serve wings with the extra sauce on the side for dipping.
Makes enough for 4 to 6 people as appetizers.
I'm going to be posting chicken wings recipes all this week! So be sure to come back this week for more recipes.
In the meanwhile, if you like this BBQ Chicken Wings Recipe, check out some other BBQ recipes from around the web:
Gimme Some Oven's Barbecue Chicken Enchiladas
Life's Ambrosia's BBQ Pulled Pork Tailgate Fries
Oh Sweet Basil's BBQ Beef Sandwich
Recipe Girl's Honey Barbecue Sausage Meatloaf
Emily Bites' Bacon BBQ Cheeseburger Quesadillas
Cooking With Amy's Peach Barbecue Sauce