You need this Pok Pok Wings Recipe, based on the much beloved Pok Pok Wings! Crisp and tasty wings packed full of sweet, spicy, umami flavor in every bite! (Jump directly to the recipe.)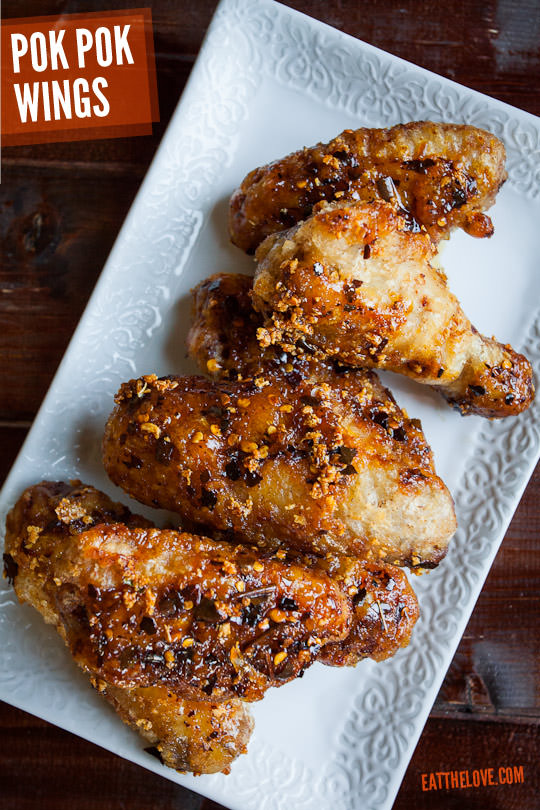 "So I think I'm going to do a chicken wings week here on Eat the Love…" I said to AJ, floating the idea by him to get his feedback. I had taken last week off from blogging, mostly because I've been feeling a bit under the weather (darn sinus infection) and I need a break from the blog. AJ's response was "I think I like that project!" not surprising as AJ has a minor obsession with wings. I figured he'd be up for it. First up on my recipe list was tackling the awesome Pok Pok wings recipe. Based on the famed Thai restaurant in Portland Oregon, the Pok Pok wings are what made Pok Pok so insanely popular. The funny thing about it was they aren't even Thai, the wings recipe is based on a Vietnamese street food recipe.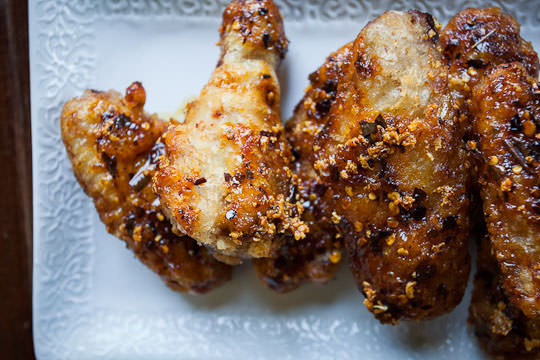 I'm not one to quibble about country origin for a recipe. Some people will argue about the origin of where a recipe comes from and what it should be called. All I really care about is whether the chicken wings are fabulous. I had them up in Portland way back in 2010 when I first visited my friend Sue and Tony. AJ and I were instructed by many a friends to go to Pok Pok and it definitely didn't disappoint. Of course, I was happy to get their wings again when I went up this past September for the fabulous Feast Portland Event. You can't go wrong with the salty, sweet and spicy chicken wings.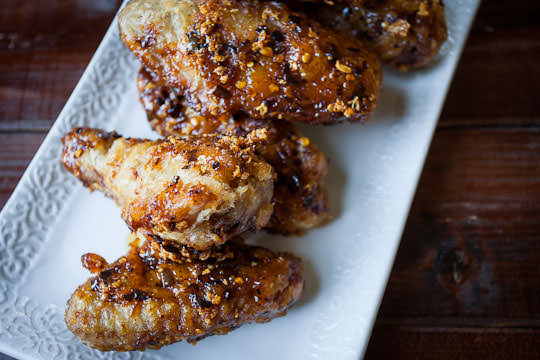 Luckily Andy Ricker, owner of Pok Pok had released a cookbook with his famed wings recipe in it. Not that it's hard to find the recipe, as it's all over the internet. But the cookbook itself is pretty awesome – full of gorgeous photos and other great recipes. Of course, after making the recipe as is from the book I realized I needed to do a little tweaking for my own tastes. The result was a recipe you can make at home that were darn good, so good that AJ declared them the favorite of the bunch that I made for my Chicken Wings week. Of course, he also said that about pretty much every batch of wings I made for the week. He's fickle that way.
Be sure to visit Eat the Love all this week. I'll be posting a new chicken wings recipe each day from today until Friday, January 24, 2014.
Pok Pok Wings Recipe
By Irvin Lin
These tiny wings pack a punch of salty, sweet, umami and spicy all into one little bite. The secret is the fish sauce. You can get fish sauce in Asian grocery stores. While you're there, be sure to pick up a jar of Naam Phrik Phao (roasted chile paste) or some dried Thai Chilis to make your own Naam Phrik Phao (a recipe is also included below) as well as some rice flour. Asian rice flour tends to be ground finer than the ones you can get at the regular grocery store. If you can't get finely ground rice flour, just use cornstarch in its place. Finally, keep in mind that you need to marinate these chicken wings overnight so take that into account if you plan on serving them.
Recipe adapted from the Pok Pok cookbook by Andy Ricker and Serious Eats
Ingredients
8 medium cloves of garlic
2 1/2 teaspoon sea salt, divided
1/4 cup warm water
1/2 cup fish sauce
1/2 cup granulate white sugar
2 lbs chicken wings, broken into drumettes and flats if necessary
3/4 cup super finely ground rice flour (not glutinous rice), divided
1 teaspoon baking powder, divided
1/2 cup all-purpose flour
1/2 cup cold water
1/2 cup vodka
2 teaspoons Naam Phrik Phao, divided (roasted chile paste, store bought or homemade – recipe below)
Oil for frying
Directions
1. Press the garlic through a garlic press into a small bowl, or finely mince the garlic and place it in a small bowl. Sprinkle 1/2 teaspoon of salt over it and then add the warm water to the bowl and stir. Let sit for 5 minutes. Pour the garlic and juice through a fine sieve, stirring and mashing the garlic to extract as much liquid as possible into a glass liquid measuring cup, reserving the solid garlic in the original small bowl, covered with plastic wrap in the refrigerator. Stir the fish sauce and the sugar into measuring cup, stirring until the sugar is dissolved. You should have 1 cup but if you don't add enough water to reach 1 cup.
2. Place the chicken wings pieces in a 9 x 13 glass baking pan. Pour 1/2 cup of the fish sauce marinade over the wings, reserving the remaining 1/2 cup in the measuring cup. Cover the measuring cup with plastic wrap and refrigerate. Cover the baking pan with plastic wrap and refrigerate for at least 4 hours or overnight (turning the chicken every couple of hours if you can).
3. Once the chicken wings are done marinating, place a wire rack on a rimmed baking sheet. Place 1 teaspoon salt, 1/4 cup rice flour and 1/2 teaspoon baking powder in medium bowl. Using a balloon whisk, stir the dry ingredients together until well blended. Take the chicken wings out, one at a time, and use a paper towel to dry it off. Place the dry wing in the rice flour mixture and coat. Place on the wire rack and repeat with the remaining chicken wings, using fresh paper towels when necessary. Let sit to dry on the rack.
4. As the wings dry on the rack, place 1/2 cup of oil in a small pot and heat up on high. Line a heat-proof bowl with a paper towel. Drop a little bit of the reserved garlic in the oil. If it bubbles immediately add the remaining garlic, but if it doesn't, wait a bit and add another bit of garlic, repeating until it does. Fry the garlic in the oil until it turns golden brown. Once done, scoop out the garlic with a fine mesh sieve strainer and dump the garlic into the paper towel lined bowl. Reserve the oil in the pot for another use (it's great for stir fry, using for roasting vegetables or garlic infused salad dressing).
5. Add enough oil (I use rice bran or peanut but you can use whatever you feel comfortable with) to a heavy Dutch oven so it's about 1" deep. Heat the oven to 350˚F. Place the remaining 1/2 cup rice flour, 1/2 teaspoon baking powder, all-purpose flour and salt in a large bowl. Using a balloon whisk, stir the dry ingredients together until well blended. Add water and vodka to the bowl and whisk until you get a smooth thin batter. The batter should have the constancy of half and half, just barely thick enough to coat a chicken wing but still see the chicken wing skin underneath. Dip a chicken wing into the batter, and see if it's thin enough. If it isn't, add a tablespoon of water at a time until it is.
6. Place a clean wire rack over a rimmed baking sheet lined with paper towels. Once the oil is heated up, dip and coat 1/2 of the chicken wings (I used chopsticks because I'm Asian like that) and fry in the oil for 8 minutes or until golden brown. Use a fine mesh spoon, spider spoon or tongs agitate the and stir the chicken wings, flipping them now and then to make sure they fry up evenly. Once cooked, move the wings to the fresh wire rack and repeat with the remaining raw wings.
7. Once all the wings are fried, take the reserved fish sauce (not the one used to marinate the chicken, the one still in the measuring cup!) and pour half of it (1/4 cup) into a wok or a large sauté pan. Add 1 teaspoon of Naam Phrik Phao and turn the heat to high. Cook the sauce for about 30-45 seconds until it has reduced and thickened to half. Add half the chicken wings and toss with the sauce until it starts to cling to the chicken, about 30 seconds more. Sprinkle half the fried garlic over the chicken wings and toss for about 30 seconds more, or until the wings start to darken a bit. Remove from the wok and place back on the wire rack. Repeat with the other half of the chicken. Serve immediately.
Makes about 12-16 medium sized wings, enough for 4 to 6 people as appetizers.
Naam Phrik Phao, roasted chile paste
You can buy Naam Phrik Phao at an Asian grocery store but if you can't source it, it's pretty easy to make at home. If you can't find dried Thai chiles, you can substitute dried Chile de Arbol, dried Chile Japones or dried Serrano chiles instead.
Adapted from Pok Pok by Andy Ricker
Ingredients
1/4 cup extra virgin olive oil
1 ounce (about 1 cup) dried Thai chili (see substitution note above)
1/2 teaspoon sesame oil
Directions
1. Place the oil in a large frying pan and heat on high until it starts to shimmer. Add the dried chilis and reduce the heat to medium. Cook the chilis until they turn dark brown (but not black) about 5 to 10 minutes. Turn the heat off.
2. Scoop the chilis out of the oil and into a food processor, leaving the hot oil in the pan. Process the chilis, adding a tablespoon of the olive oil at a time until you have a coarse chunky chili paste. Drizzle in the sesame oil and pulse a few more times.
3. Store the Naam Phrik Phao in an airtight container for up to three months in the refrigerator.
If you like these Pok Pok Wings, check out these other Vietnamese inspired chicken dishes
Cookin' Canuck's Vietnamese Caramel Ginger Chicken
White on Rice Couple's Garlic Chicken Spring Rolls
Chez Us' Vietnamese Cabbage and Chicken Salad
Foodie Crush's Pho Ga Vietnamese Chicken Noodle Soup
Closet Cooking's Grilled Lemongrass Chicken