Korean Japchae is basically Korean pasta salad made with chewy, naturally gluten free sweet potato noodles. This tasty japchae recipe is super easy to make. (Jump directly to the recipe.)
My partner AJ and I love to visit Los Angeles as often as possible. We have some great friends down there which we adore and try to see at least two or three times a year. But the biggest draw for us (sorry friends) is the food! Japanese ramen, though SF's ramen scene is finally getting better, Thai food which SF is still lagging behind but catching up and Korean food. Korean food in particular is a love of ours and though I can find some decent Korean food here in SF (I said decent, not stellar) I need to start making it at home more often. One of my favorite dishes to make at home is a Korean Japchae recipe. The equivalent to a Korean pasta salad, japchae is extremely versatile, something you can make with whatever you have in your fridge, almost like fried rice.
One of the downside (or upsides if you look at it that way) is Japchae is tough to make small amounts of it. The packages of sweet potato noodles that you use usually comes in about 1 lb packages and by the time you add in everything else, you've got enough Japchae to feed a small army. This, of course, is ideal if you are going to a potluck or feeding a huge crowd of people. Or if you happen to like Japchae a lot and want to have a lot of leftovers, which is what happened in our household.
If you want to make japchae, you will need to get a few ingredients at the Asian grocery store. Obviously sweet potato noodles is a must. It's the backbone of japchae. But the rest of the ingredients are fairly straightforward. Toasted sesame oil isn't hard to find, most well stocked regular grocery stores carry it, along with the soy sauce. The only other ingredient that may be harder to find is fresh Shiitake mushrooms. If you can't find fresh, dried Shiitakes will work. I make a note of that in the recipe below on how to use those.
Japchae Recipe
By Irvin Lin
Japchae is basically a Korean pasta salad. It's often served as a side dish or part of the banchan (the small appetizer dishes that come before the meal). But I often make huge batches of it (it's practically impossible to make small amounts) and just eat it for an easy main dish, much like fried rice. The main item in japchae is sweet potato noodles, a super chewy (and naturally gluten free) noodles that you can find in the Asian grocery store. My Korean japchae recipe below uses fresh Shiitake mushrooms but if you can't find them, you can use dried ones. Just make sure to soak the dried mushrooms overnight in water. You can do a quicker soak of 4 hours with hot boiling water over the mushrooms but sometimes they don't hydrate fast enough. Just keep in mind the soak time if you use the dried ones.
Adapted from Maangchi, one of my favorite sources for Korean food recipes!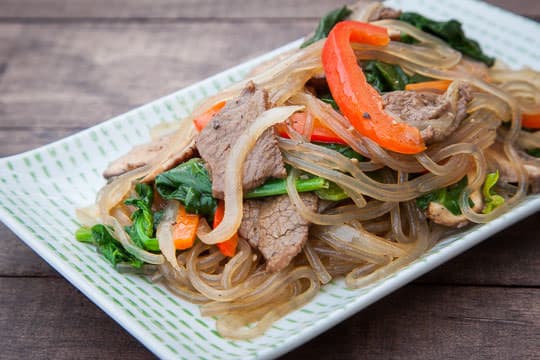 Ingredients
Marinated Beef and Mushrooms
6 ounces sirloin or ribeye steak, placed in the freezer for 1 hour
6 fresh Shiitake mushrooms, or dried Shiitake mushrooms (see headnote above to prep)
2 tablespoon soy sauce (use gluten-free Tamari if that is a concern)
1 1/2 teaspoon toasted sesame oil
2 cloves garlic, minced or forced through a press
1 tablespoon dark brown sugar or coconut palm sugar
1/2 teaspoon fresh ground pepper
1 tablespoon olive oil
Noodles
8 ounces sweet potato noodles
2 teaspoon toasted sesame oil
1 teaspoon soy sauce
1 teaspoon white granulated sugar
Vegetable Stir Fry
1 tablespoon olive oil
1/2 medium yellow onion, sliced
4 green onions, cut into 1 inch pieces
1 large carrot, sliced into matchsticks or grated through the large hole on a box grater
1/2 red bell pepper, sliced thin
1 bunch spinach leaves, cleaned
To Finish
1 tablespoon soy sauce (use gluten-free Tamari if that is a concern)
1 tablespoon dark brown sugar or coconut palm sugar
1 tablespoon sesame oil
1 tablespoon sesame seeds
Salt and pepper to taste
Directions
1. Place the steak in the freezer for 1 hour, this will make slicing it thin easier. Once the steak is partially frozen, take it out and slice it a thin as you can with a sharp chef knife. Place it in a large bowl. Cut the mushrooms in to 1/4-inch thick slices and place in the same bowl. Add the soy sauce, sesame oil, garlic, sugar, ground pepper and stir to mix thoroughly. Cover with plastic wrap and place aside to marinate as you prep the other ingredients.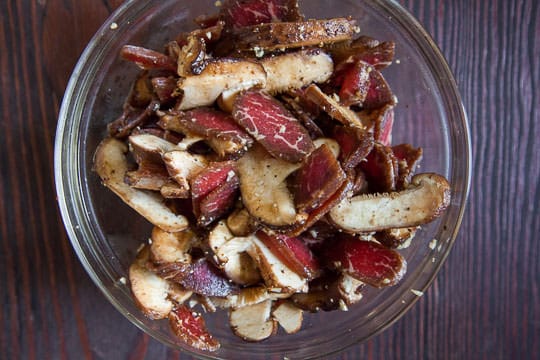 2. Bring a large pot or Dutch oven filled 3/4 full of water. Once at a rolling boil, add the noodles and cook for 7 minutes. Drain and place the noodles in a large bowl. Drizzle the sesame oil and soy sauce over the noodles, then sprinkle the sugar over the noodles. Toss together to coat and set aside.
3. Heat the olive oil in a large skillet. Once it starts to shimmer, add both onions, carrot and red bell peppers. Cook for 5 minutes, or until the onions turned golden yellow and have softened. Add the spinach and continue to cook for 30 second or until they are wilted. Pour cooked vegetables into the bowl with the noodles.
4. Cook the marinated beef and mushrooms by adding the tablespoon of olive oil to the pan and heat until it shimmers. Add the marinated beef and mushrooms (as well as any liquid at the bottom of the bowl) in the pan. Cook on medium high heat, stirring frequently until the mushrooms feel tender and look shiny and the beef is cooked thoroughly about 3 or 4 minutes. Add the beef, mushrooms and any accumulated juices in the pan to the bowl with noodles.
5. Finish the japchae by sprinkling the soy sauce, brown sugar, sesame oil and sesame seeds over the bowl with all the cooked ingredients. Toss together and season with salt and pepper to taste. Serve immediately.
Makes enough for 6 servings.
If you like this Korean japchae recipe check out some other Korean inspired dishes here at Eat the Love.
Korean BBQ Chicken Wings
Korean Fried Chicken Wing (baked not fried)
And check out some of these other Korean dishes from around the web:
Use Real Butter's Korean BBQ Pork Lettuce Wraps
Savory Sweet Life's Authentic Kalbi Recipe
Simply Recipe's Korean Spicy Cold Noodles
David Lebovitz' Korean Scallion Pancakes
Steamy Kitchen's Korean Style Tacos with Kogi BBQ Sauce