This deep, dark, rich, and moist Guinness chocolate bundt cake has an Irish whiskey chocolate ganache glaze and is surprisingly easy to make!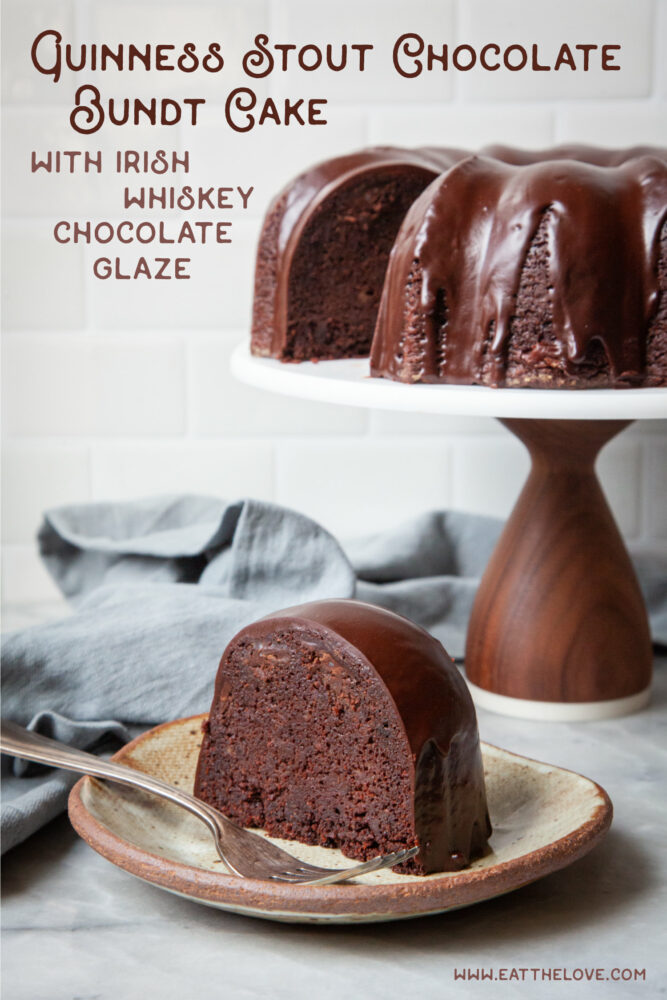 I adore Irish-inspired food, like my Irish meatballs with whiskey BBQ sauce, my Guinness beef stew, and my lamb shepherd's pie. And when Spring came around I found myself spontaneously buying a six pack of Guinness Stout beer. I use it a lot to make desserts like my Irish Drunken Cake or my holiday Gingerbread Stout Cake. But this Spring I decided I wanted to make a more easy streamlined Guinness Chocolate Bundt Cake with an Irish Whiskey Ganache Glaze. I'd say this is the perfect dessert for St. Patrick's day, but why limited yourself to once a year? This is a year-round dessert!
How do you make this cake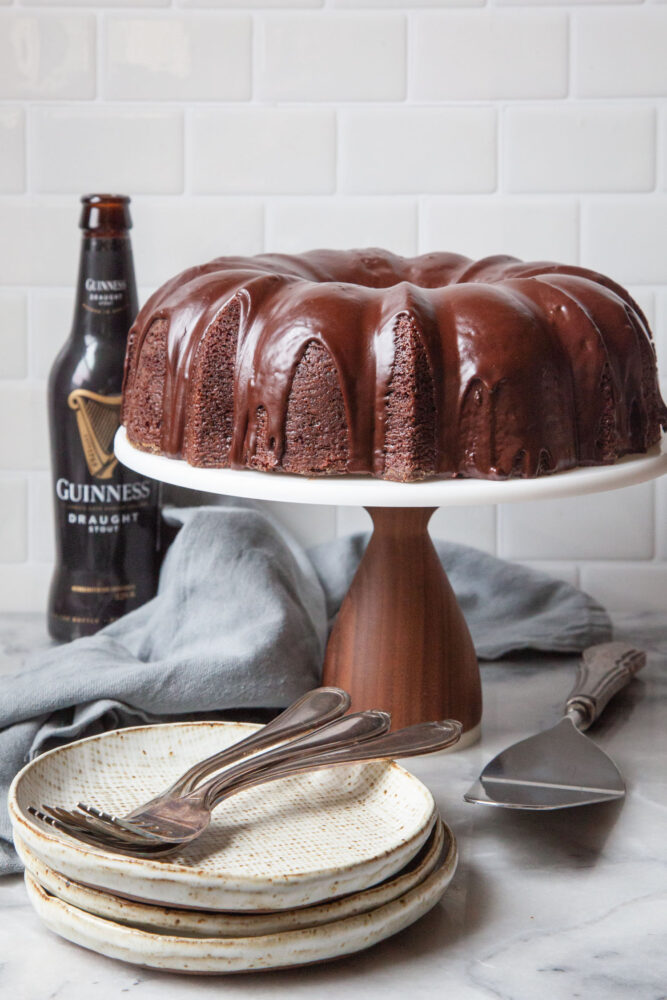 This is a fairly easy cake to make but it does require you to let it cool completely before you glaze it so plan accordingly.
First whisk together brown sugar, white sugar, melted butter, cooking oil, sour cream, vanilla, eggs, salt, baking powder, baking soda, espresso powder, and a bottle of Guinness in a bowl.
Fold in flour and cocoa powder then fold in chopped chocolate.
Butter and flour a bundt pan, then pour the batter into the pan. Bake in the oven, let it cool slightly when done, and then unmold on a wire rack to cool to room temperature.
Once the cake is completely cool, make the ganache by heating up chopped chocolate in a microwave until melted. Add heavy cream and Irish whiskey. Stir until a fluid ganache forms. Drizzle over the cooled cake and serve.
Substitutions and Variations
Guinness Beer: Guinness is an Irish dry stout beer that has a dark malty flavor. You don't really taste the beer in the resulting cake but it lends a malty flavor that really accentuates the chocolate, creating a deeper and richer flavor and texture. You can easily swap another stout beer if you'd like but I wouldn't recommend any type of beer for this recipe. If you're looking to make this nonalcoholic, you can use non-alcoholic Guinness or try nitro coffee, which has the same texture as Guinness. Just omit the espresso powder, as the nitro coffee supplies plenty of coffee flavor.
Irish Whiskey: I use Irish whiskey in the glaze but you can swap that out for an American whiskey, a rye whiskey or bourbon if you'd like. You can even swap out a dark rum for the whiskey. You can also use Irish cream, like Bailey's if you'd like. Just increase the Irish cream to 4 tablespoons instead of 3. If you want something nonalcoholic, just omit the whiskey and add in an additional 2 tablespoons of heavy cream.
Chocolate: I use chopped dark chocolate to help bring the chocolate flavor more forward, but if you don't like chocolate chunks in a cake, feel free to omit it. You can also swap out various types of chocolate, from white, milk or super dark chocolate if you wish. Feel free to use chocolate chips instead of chopped chocolate if that is what you have on hand.
Nuts: If you like nuts in your cake, feel free add in up to 1 cup of chopped walnuts, pecans, pistachios, hazelnuts or almonds into this cake. If you want a nutty texture, but are allergic to nuts, try roasted cacao nibs! They have a crunchy texture like nuts, but are made from cacao beans, which makes chocolate. The resulting cake will even more chocolate flavor.
Tips and tricks for bundt pans
A bundt pan is a large pan with a hole in the middle, shaped similar to a giant donut. The traditional bundt pan has decorative indentions, but there are a myriad of variations of bundt pans, some that have more intricate designed than others. They are also notorious for being difficult for the cake to release, with the cake sometimes sticking to the pan. Here are a few tips to help you release the cake.
Choose the best pan: I prefer a thick heavy metal pan, one with a nonstick coating, to help with release. The thicker metal helps retain heat, which means the outside of the cake browns a little more, making it easier to release. I don't really like silicone pans, as they never seem to brown evenly. And I also tend to replace my bundt pans once they start sticking or have seen some use. Battle scarred bundt pans that have been around the block tend to stick more than newer ones, with their pristine nonstick coating. My favorite pans are made by Nordicware (<- affiliate link).
Grease thoroughly: I melt shortening, coconut oil or ghee, then brush it on to the pan to make sure every single crevice and corner gets covered. I've used regular butter before as well but I've had better luck with shortening, coconut oil or ghee. But if butter is all you have, no worries! Just make sure to use plenty of it.
Choose the right coating: I have had good luck using regular plain flour to coat my bundt pans, but a lot of folks swear by bread crumbs, nut flour (like almond flour) or granulated sugar. If you use granulated sugar however, you should release the pan fairly soon after you take it out of the oven, which doesn't work for delicate cakes. So keep that in mind.
Release at the right time: I like to let the cake cool a bit in my pan. This allows it to set and firm up. But I never let the cake completely cool, as it tends to solidify and stick more often. I wait anywhere from 20 to 30 minutes to release the cake, about the amount of time that it takes for you to be able to pick up the pan with your hands. It should still be warm, but not so hot that it will burn your hands. Invert onto a rack, remove pan. However, if you use granulated sugar as your coating, let the cake cool for 5 minutes, then invert it onto a wire rack and let cool for an additional 5 minutes. Then release. The granulated sugar should still be semi-fluid and should release nicely. If you let the cake cool too long, it will stick.
Use a thin knife: If the cake is sticking, gently slide a thin knife around the sides, trying to help nudge the cake out.
Last resort tricks: Finally, if your cake sticks and has some small blemishes, don't stress. Just use a thick glaze to help cover up anything not ideal. However, if your cake has large chunks missing, you might need to start over. But save the broken cake for another purpose, like a trifle or an ice cream sundae base. Or slice the cake and serve the slices individually!
How do I store it?
This moist and dense cake stores well. Just keep it at room temperature, under a cake dome or in an airtight container for 3 to 5 days. You can also freeze the cake, either whole or individual slices. Freeze individual slices on a sheet pan, then once frozen solid, store in an airtight container or in a heavy-duty resealable Ziploc bag. I do recommend freezing the cake without the ganache if possible, as the ganache tends to freeze and shrink, breaking off the cake.
If you like this Guinness Chocolate Bundt Cake, check out these other chocolate recipes:
Guinness Chocolate Bundt Cake with Irish Whiskey Ganache Glaze
Don't be scared off by the longer list of ingredients in this recipe as it's super easy to make, all in one bowl. The deep, rich, and super moist chocolate bundt cake gets an underlying earthy malty flavor from Guinness stout beer. It's also a great sophisticated cake to serve for St. Patrick's Day but it's also amazing all year round. I use a touch of Irish Whiskey in the ganache glaze as well, as it goes so well with chocolate and Guinness. Keep in mind that the bundt cake does need to cool completely before glazing, so plan accordingly.
Ingredients
Cake batter
1 1/2

cups

packed dark brown sugar

330 g

1/2

cup

white sugar

100 g

1

cup

melted unsalted butter

2 sticks or 227 g

1/2

cup

vegetable oil

3/4

cup

sour cream

200 g

3

large eggs

1

tablespoon

vanilla extract

1/2

teaspoon

espresso powder or instant coffee

optional but recommended

1/2

teaspoon

kosher salt

12

ounces

Guinness Stout Beer

1 bottle

1 3/4

teaspoons

baking soda

1/4

teaspoon

baking powder

2

cups

all-purpose flour

280 g

3/4

cup

Dutch-processed cocoa powder

85 g

1

cup

chopped chocolate chunks

210 g
For pan
2

tablespoons

unsalted butter

melted

1

tablespoon

all-purpose flour
Glaze
1

cup

chopped chocolate chunks

210 g

1/2

cup

heavy cream

105 g

3

tablespoons

Irish whiskey
Instructions
Preheat the oven to 350°F.

Whisk together the brown sugar, white sugar, melted butter, oil, sour cream, eggs, vanilla, instant espresso (if using), and salt in a large bowl using a balloon whisk. Stir in Guinness beer, then stir in the baking soda and baking powder.

Add the flour and cocoa and fold together with a large spatula. Fold in the chopped chocolate.

Take the melted butter and brush it all over the inside of a 10 or 12-cup bundt pan, making sure to get all the crevices. Dust with flour. Pour the cake batter into the pan

Bake cake for 65 to 75 minutes, or until the middle of the cake is firm and a toothpick inserted comes out clean. The sides of the cake should have pulled away slightly from the cake pan. If you have an instant read thermometer, the cake should read 200°F to 205°F.

Let the cake cool for 30 minutes, then invert the still warm cake onto a wire rack and release it. Let the cake cool completely to room temperature, about 2 to 3 hours.

Once cooled, make the ganache by placing the chocolate into a microwave safe bowl and cooking it in the microwave in 30 second bursts, stirring in-between each cook cycle, until melted. Add the heavy cream and Irish whiskey, stirring until a smooth melted ganache forms. If the ganache seems too thick, microwave in 15 second increments, stirring until fluid and pourable. If the ganache seems too thin, let it sit on the counter for 5 minutes and stir again, checking consistency. You want it the thickness of honey.

Place the cake (on the wire rack) over a rimmed baking sheet. Drizzle and pour the ganache over cake, letting any excess ganache fall under the cake into the baking sheet. Let the ganache cool and harden, then move the cake to a serving plate or cake stand.
Nutrition
Calories:
500
kcal
|
Carbohydrates:
48
g
|
Protein:
5.7
g
|
Fat:
31.3
g
|
Saturated Fat:
16.8
g
|
Cholesterol:
84
mg
|
Sodium:
344
mg
|
Potassium:
258
mg
|
Fiber:
2.3
g
|
Sugar:
30.6
g
|
Calcium:
85
mg
|
Iron:
2
mg