This gingerbread stout cake uses stout beer for a complex depth of flavor. It's balanced with a tangy cream cheese frosting and crystallized ginger on top!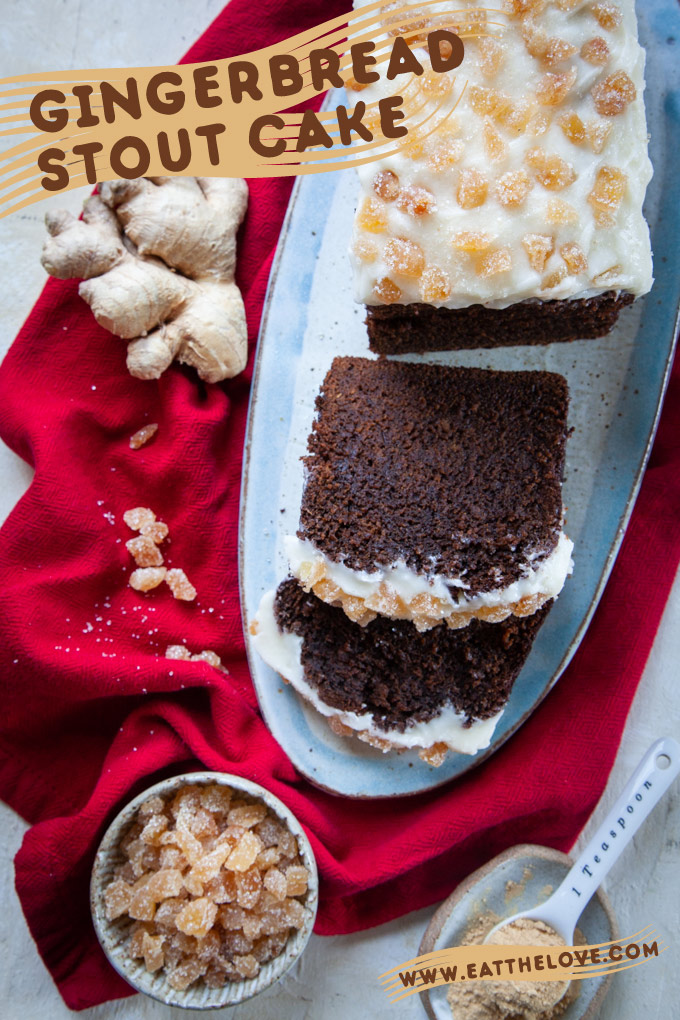 I've been seeing Claudia Flemings' cookbook The Last Course pop up all over the place lately. It's an older cookbook by the pastry chef from the famed Gramercy Tavern in NY and it has sadly been out-of-print for awhile. But thankfully the publisher has brought it back and everyone seems to be raving about the new edition! I haven't gotten a copy of it (it's on my Christmas list!) but I have seen her gingerbread stout cake show up a lot on my social feed and I couldn't wait to make a version of it.
I've use stout beer in recipes like my Irish Drunken Cake and my pumpkin eclairs as well as beer in my baked goods like my Mexican chocolate pecan pie and my Apple Brown Betty with IPA beer. Heck I even have my beer cheese dip on constant rotation for parties. But the idea of using a stout in a gingerbread sounded genius! The bitter heaviness of stout plays so well with the warm winter spices. Think of slices of this cake like a better, more adult version of the Starbucks gingerbread loaf.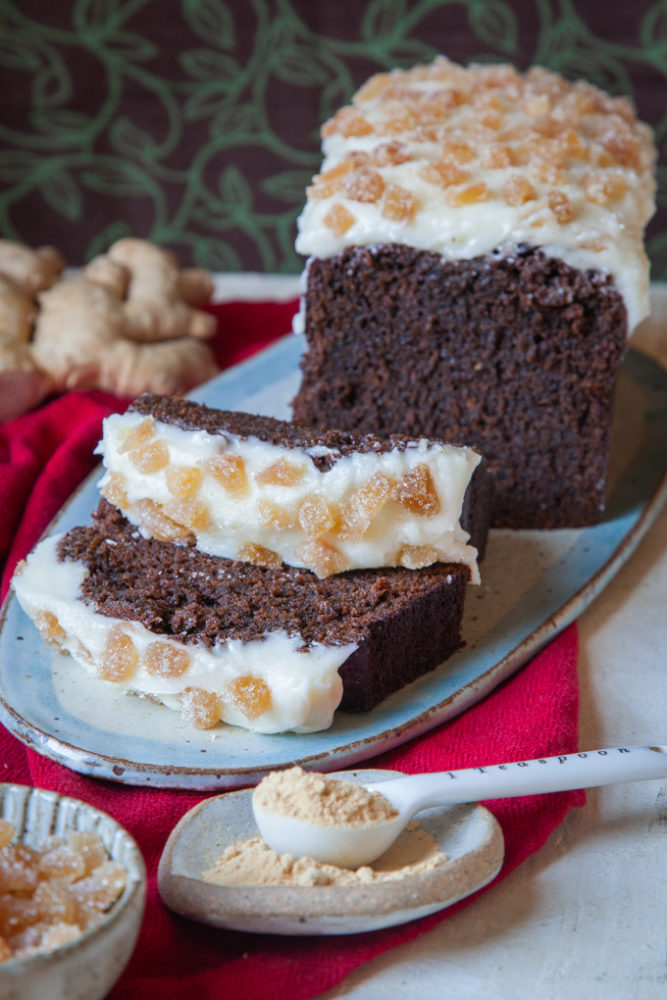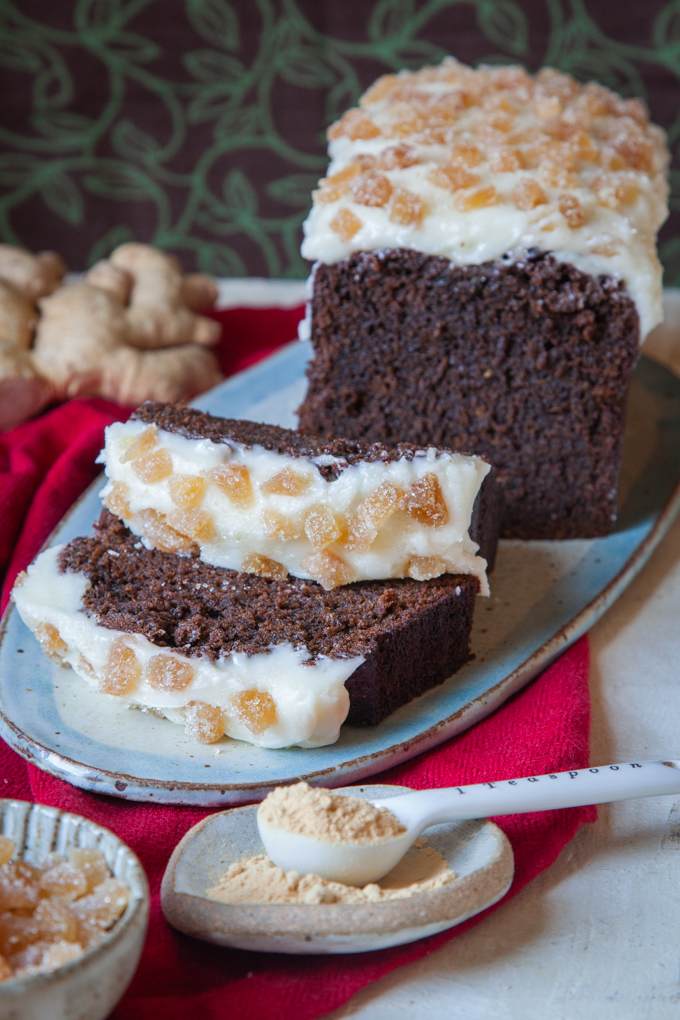 How do you make gingerbread stout cake recipe?
Making the cake is fairly simple. You heat up the stout beer and molasses together, then stir in baking soda. Then you combine the spices with the oil. Stir in the dark brown sugar, eggs, and grated ginger. Then pour in the stout beer and molasses mixture. Add the baking powder and flour, then bake!
While it bakes, you make the cream cheese frosting by mixing the cream cheese with powdered sugar and a pinch of salt. Once the cake is cooled, frost the top of the cake and then sprinkle crystallized candied ginger over the frosting!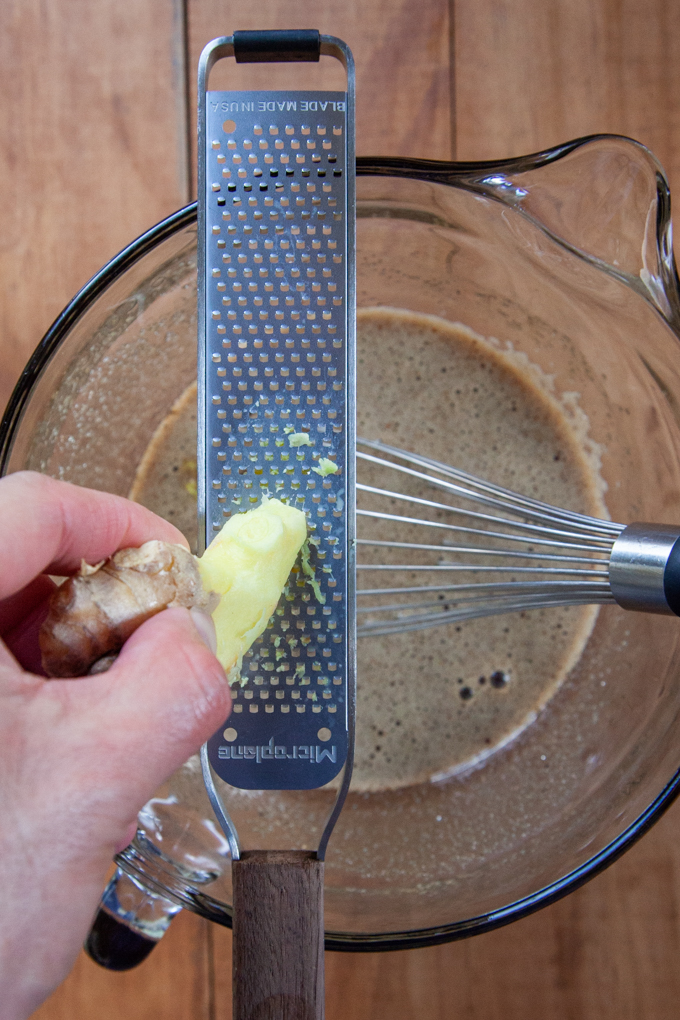 What makes this recipe different than Fleming's original recipe?
I've adapted Claudia's recipe slightly, reducing the amount of molasses used, removed the white sugar and used all brown sugar, as well as added a few more spices to give an even more layered and complex flavor profile to the cake.
I also streamlined some of the steps, including combining the spices with the oils first. Combining oils and fats with spices helps activate the flavor compounds in the spices more, leading to a more robust flavored cake.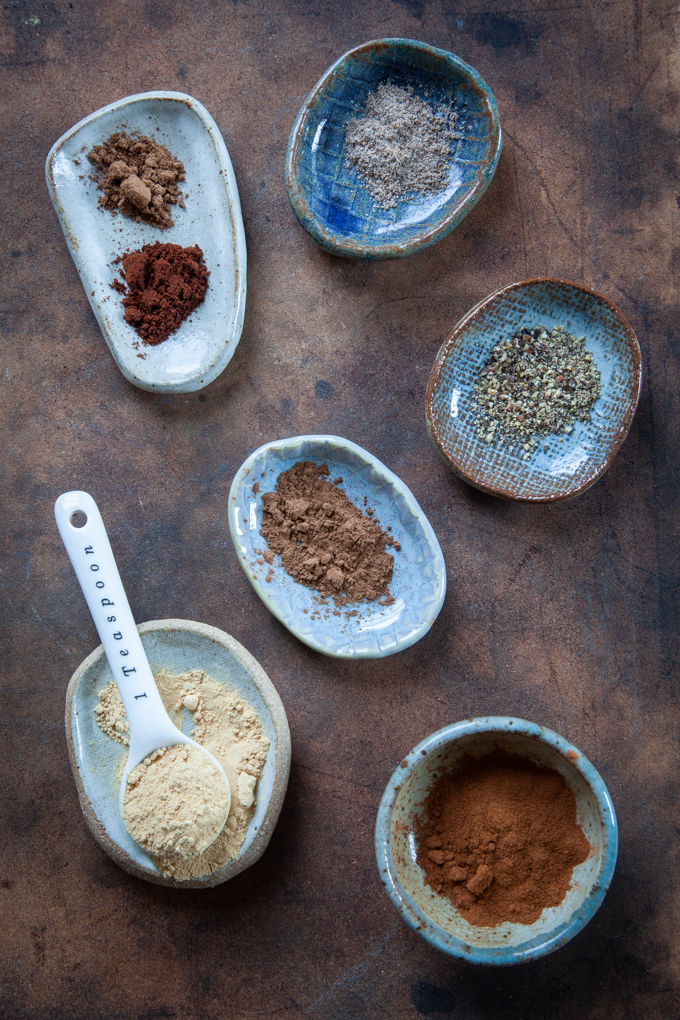 I also created a sweet and tangy cream cheese frosting, which balances the bitter gingerbread cake, and used in total three types of ginger: ground, fresh and crystallized. Three types of ginger means a triple punch of ginger!
Finally, this cake is baked in a loaf pan, unlike Fleming's original version which is baked in a bundt pan or as a layer cake, like Deb of Smitten Kitchen does. The loaf pan makes this cake more casual and easier to make than a layer cake, and also means you can easily remove the cake from the pan, unlike the bundt pan, where the nooks and crannies of the pan tend to stick with heavy dense cake like this.
What sort of pan should I use for this cake?
This recipe is designed for a 9 x 3 inch pan that is 4-inches tall. This is yields a particularly tall loaf, which makes for a great presentation. But loaf pans come in all sorts of sizes. If you don't have a 4-inch tall pan, you can bake it in the loaf pan of your choice. Just fill the pan up to about 3/4 up the height of the pan. Any leftover batter can be baked off in a muffin tin for a chef's treat. Keep in mind that smaller loaf pans (and muffin tins) will bake in shorter periods of time so adjust accordingly).
How do you store this cake?
The best way to store this cake is at room temperature in an airtight container or under a cake dome. Store at room temperature, the cake will keep for 3 to 5 days. In fact, the cake improves after a day or two, as the spices have time to release their flavor more as it sits.
You can also freeze the cake! I recommend slicing the cake first, for easy defrosting. Store the cake slices between pieces of parchment or wax paper in an airtight container. Remove from the freezer and let sit at room temperature for about an hour to defrost before serving. If stored properly, the cake will keep for up to 2 months in the freezer.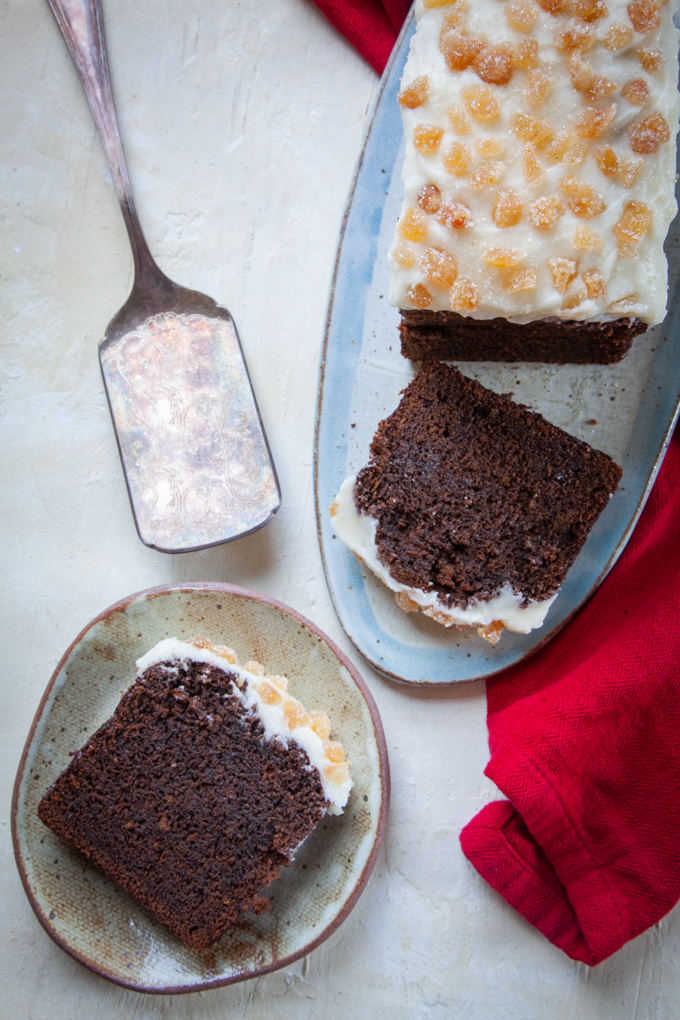 Can I make this cake without the stout or without alcohol?
The stout in this cake helps contribute the deeper flavor with an extra dimension of bitterness. But if you don't have any stout, you can substitute a different beer of your choice for the stout.
If you are looking to make this recipe non-alcoholic, you can also swap out the beer for apple cider, non-alcoholic beer, ginger beer or even plain boiling water. Keep in mind that with any substitutions, the resulting gingerbread cake will be equally tasty, albeit slightly different in flavor.
What sort of molasses should you use in this recipe?
Molasses comes in different flavors and it's a little confusing, especially since each brand has their own classifications. You can basically use any type of molasses except for blackstrap molasses in this recipe. Blackstrap molasses is extremely bitter and would overpower the flavor of this cake. Light, dark or robust molasses is acceptable though! Keep in mind that the dark and robust molasses will give the gingerbread cake a little bit more of a bitter edge to it.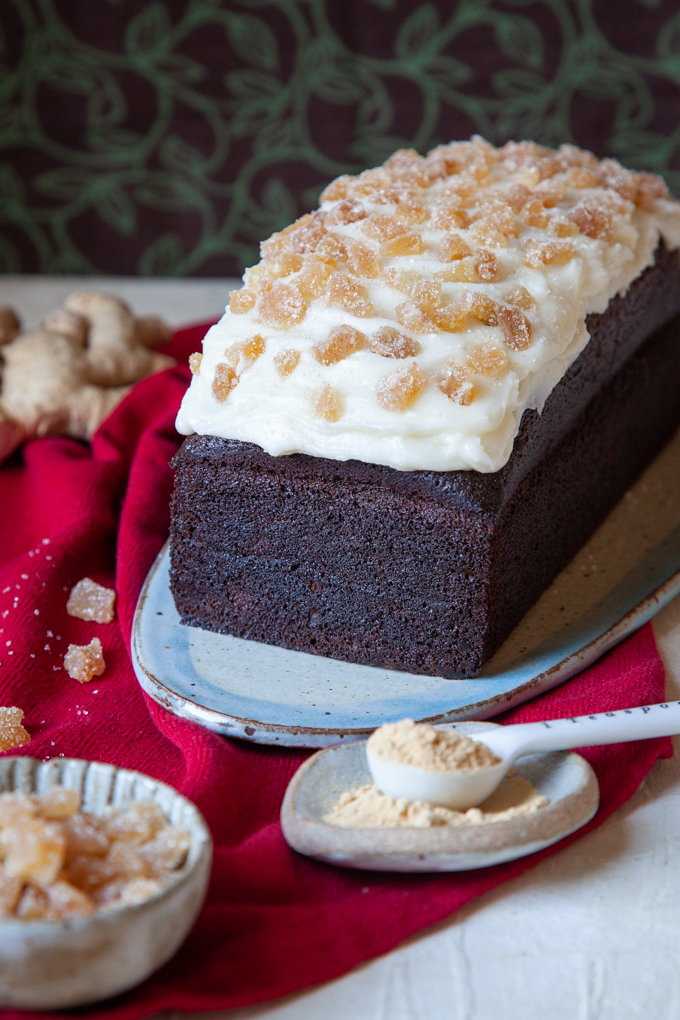 If you like this recipe, check out these other warm winter spiced desserts and treats:
Gingerbread Stout Cake
This dark robust flavored spice cake uses three types of ginger, along with an array of warm wintery spices, for an extra punch of flavor. The stout beer in the cake adds a deep layer of bitterness that plays well with the molasses and the spices. Bake the cake in tall loaf pan if you have one. If you have a more standard size loaf pan just pour the batter so it only goes to about 3/4 the height of the pan. Any leftover batter should be baked off in a muffin tin for a chef's treat. Keep in mind smaller pans might need less time to bake, which is why the bake time has a wide range in this recipe.
Ingredients
Cake batter
1

cup

stout beer

like Guinness beer

3/4

cup

molasses

not blackstrap

1/2

teaspoon

baking soda

3/4

cup

vegetable oil

2

tablespoons

ground ginger

2

teaspoons

vanilla extract

3/4

teaspoon

ground cinnamon

1/2

teaspoon

ground cloves

1/2

teaspoon

kosher salt

1/4

teaspoon

ground nutmeg

1/8

teaspoon

ground cardamom

1/8

teaspoon

ground black pepper

1

cup

packed dark brown sugar

3

large eggs

1

tablespoon

fresh grated ginger

about 1-inch peeled gingerroot

1 1/2

teaspoon

baking powder

2

cups

all-purpose flour
Cream Cheese Frosting
4

ounces

cream cheese

at room temperature, 115 g

1 1/2

cups

powdered sugar

sifted, 175 g

1/2

teaspoon

vanilla extract
To finish
2

tablespoons

crystallized ginger

chopped into 1/4-inch pieces
Instructions
Preheat the oven to 350°F. Spray a 9 x 5 x 4 inch loaf pan with cooking oil. Line the pan with parchment paper, making sure the long side of the pan has about 1-inch of overhanging paper.

Place the stout beer and molasses in a medium saucepan. Heat until the liquid starts to boil. Remove from heat and stir in the baking soda. Set aside.

Place the oil, ginger, vanilla, cinnamon, cloves, salt, nutmeg, cardamom, and black pepper in a large mixing bowl. Stir together with a whisk until uniform in color.

Add the brown sugar stir until it is incorporated. Add the eggs and repeat.

Stir in the grated ginger, then pour in the molasses and stout liquid.

Stir in the baking powder then the flour.

Pour the batter into the prepared loaf pan and bake in the oven for 55 to 65 minutes, or until a skewer inserted into the center of the loaf comes out clean. If you have an instant read thermometer the center of the cake should be 185°F.

Let the loaf cake cool in the pan for 10 to 15 minutes then remove it from the pan by using the overhanging parchment paper. Place the cake on a wire rack until it's completely cool.

While the cake is cooling, making the cream cheese frosting by placing cream cheese in the bowl of a stand mixer fitted with a paddle attachment. Sift the powdered sugar over it. Don't skip sifting! It seems fussy, but powdered sugar clumps and once you have a clump in the frosting it is difficult to get out. Add the vanilla extract.

Mix until the powdered sugar is absorbed and the frosting is creamy and smooth. Cover the bowl with plastic wrap or a damp towel to keep it from drying out until use.

Once the cake has completely cooled to room temperature, frost the top of the cake with a butter knife or small offset spatula. Sprinkle the top with the crysallized ginger.
Nutrition