These easy-to-make double chocolate chip muffins aren't too sugary but are packed with chocolate chips to satisfy your chocolate craving.
I've casually mentioned my friend Rita on this blog in the past. She's that one friend who is obsessed with chocolate. OBSESSED. We all have that one friend (or perhaps YOU are that one friend). Either way, I developed my chocolate banana bread recipe with her in mind, and every time I bake with chocolate, from my bakery-style chocolate chips cookies, to my chunky shortbread chocolate chip cookies, I think of her. So, when I needed to create an easy chocolate chip muffin recipe for a client of mine, I also thought of giving it an extra chocolate muffin spin, a double chocolate chip muffin that adds rich cocoa powder to the muffin batter.
And though I know Rita devoured a test batch of these muffins when I made it for her, I have to admit, I'm pretty fond of them myself. When I went to make another batch of them at home, they were gone lickety-split. Tender yet sturdy muffins, with burst of dark chocolate chips speckled throughout, and absolutely not too sweet (they're muffins, not cupcakes), these double chocolate chip muffins are a great breakfast for those chocolate lovers who want chocolate 24/7.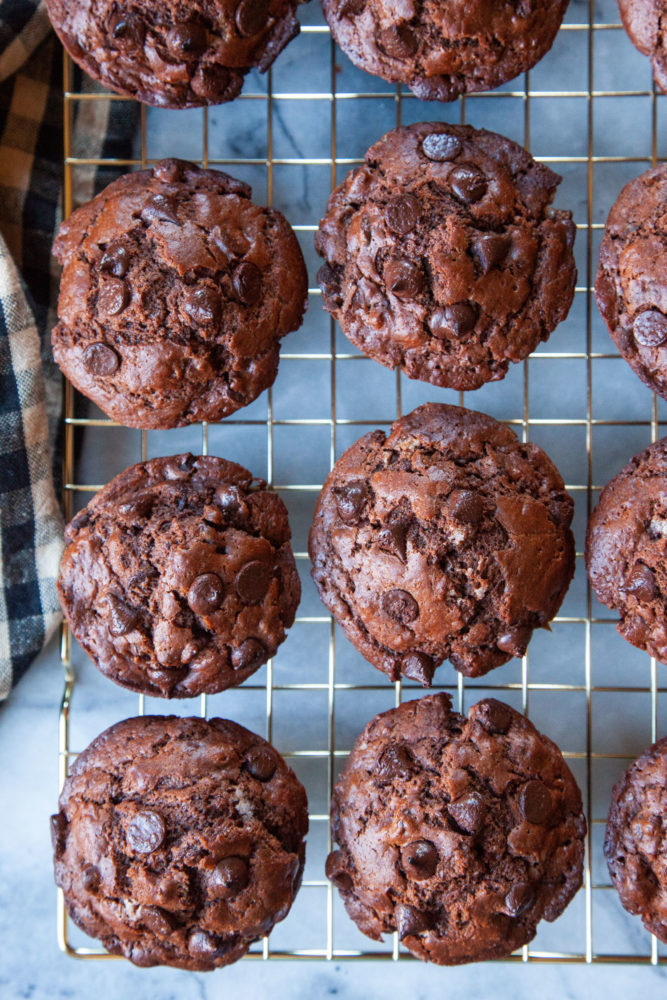 How do you make these muffins?
Making these muffins aren't any different from other muffins. Combine the dry ingredients like any other muffin recipe by whisking together the dry ingredients like flour, cocoa powder, baking powder, baking soda, and salt.
Then whisk together the wet ingredients like melted butter, yogurt, vanilla and eggs along with white and brown sugar. Once combined together, fold the dry ingredients into the wet ingredients, stirring until most of the dry ingredients are absorbed.
Add the chocolate chip and mix to distribute.
Divide in a muffin pan and bake! Pro tip: I like to add a few extra chocolate chips on top of the batter, because it makes the muffins look Instagram worthy. Ha!
What sort of chocolate chips to use?
Use the sort of chocolate chips that you prefer to eat. I tend to lean toward a semi-sweet chocolate chip, one that is around 55% cacao. But feel free to us a darker bittersweet chocolate that leans more to 72%, or a milk chocolate or even white chocolate chips. Keep in mind milk and white chocolate chips are sweeter and darker chocolate less sweet, so that will affect the muffin flavor.
You can also use chopped chocolate if you wish. You want roughly 9 ounces of chocolate. Make sure to chop the chocolate into pieces that are roughly the size of chocolate chips before using.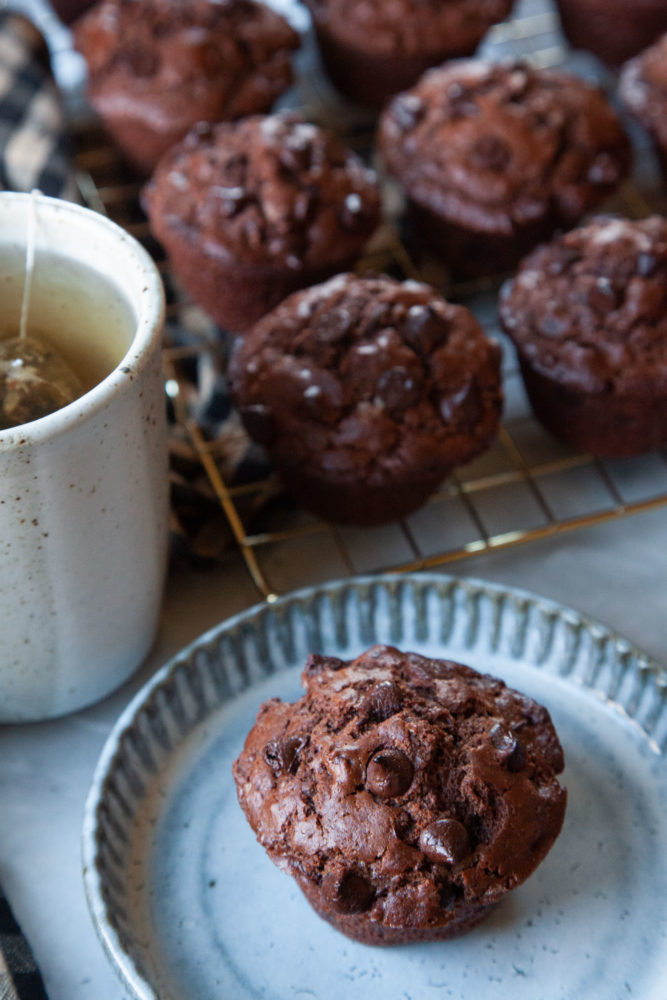 How do you substitute for buttermilk?
This recipe calls for buttermilk but not everyone has that on hand. If you don't have buttermilk on hand, just stir 1 cup and 3 tablespoons of whole milk (or whatever milk you have on hand) with 1 tablespoon of white or apple cider vinegar. Then let the milk sit for 5 to 10 minutes to thicken a bit. Use that in place of the buttermilk.
Make it your own!
The base recipe for these muffins is a great starting point to adapt and create your own variation. Try swapping out some or all of the chocolate chips for
Chopped nuts: Add in pistachios, walnuts, macadamia nuts, pecans, hazelnuts or almonds
Dried fruit: try adding in some raisins, dried blueberries, dried strawberries, dried cherries, dried cranberries.
Dried ginger: Dried candied ginger would give the muffins a slight sweet heat to them. Try adding 1/2 teaspoon of five-spice blend to give it an Asian twist.
Use a different flavored candy chip: Play around with different candy chips like mint, peanut butter, butterscotch, or cinnamon
Try adding some warm spices: Add 1/2 teaspoon of cinnamon and 1/4 teaspoon of nutmeg if you want to add a little more dimension to the chocolate muffin. Or try playing around with spices like black pepper, cardamom, ground ginger, pumpkin pie spice blend, or even ground coriander to give the muffin a little twist.
Make it holiday seasonal: Give it a holiday twist by adding in fresh cranberries and orange zest.
Give it some sweet crunch: Sprinkle some turbinado sugar on top to give these muffins a little extra crunch.
Make an easy crumb topping: Combine 1/2 cup all-purpose flour, 1/4 cup brown sugar, 1/4 cup white sugar, 6 tablespoons softened butter, 1/2 teaspoon cinnamon and a pinch of salt in a bowl. Mix with a fork until crumbs form and sprinkle over the muffin batter right before baking.
How do you store these?
These muffins store best at room temperature for 2 to 3 days in an airtight container. I don't recommend storing them in the refrigerator, as they will get stale and drier faster. But you can freeze them if you can't eat them before they dry out. Just let them cool completely and store them in a labeled freezer bag. Frozen muffins will last up to 3 months in the freezer. Just thaw them out on the counter or kitchen table for about 2 hours before eating.
If you like these double chocolate chip muffins, check out these other muffin and a breakfast baked good recipes:
Double Chocolate Chip Muffins
These double chocolate chip muffins aren't too sugary but are packed with loads of chocolate chips. The addition of the cocoa powder in the muffin batter adds an earthy richness without being greasy or sweet. Use a darker bittersweet chocolate chip if you want to keep these muffins less sweet or make them a little bit more of a treat by using semi-sweet or milk chocolate chips instead.
Ingredients
To prepare muffin pan
4

tablespoons

unsalted butter, melted
Muffin Batter
2

cups

all-purpose flour

280 g

1/2

cup

cocoa powder

natural not Dutch-processed

2

teaspoons

baking powder

1/2

teaspoon

baking soda

1

teaspoon

kosher salt

1/2

cup

unsalted butter, melted

115 g

3/4

cup

white sugar

150 g

2

tablespoons

brown sugar

1 1/4

cups

buttermilk

2

teaspoons

vanilla extract

2

large eggs

1 1/2

cups

bittersweet chocolate chips

265 g
Instructions
Preheat the oven to 400°F and brush a standard 12 cup muffin tin with some melted butter.

Place the flour, cocoa powder, baking powder, baking soda, and salt in a medium sized bowl. Using a balloon whisk, stir the ingredients together until they are uniform in color and well blended.

Place the butter, white sugar, brown sugar, buttermilk, vanilla, and eggs in a large bowl. Stir with a whisk until combined and smooth.

Add the wet ingredients to the bowl with the dry ingredients. Slowly fold together the ingredients with a large spatula, stirring until most, but not all, of the dry ingredients are absorbed.

Add the chocolate chips and fold them into the batter, slowly stirring until they are evenly distributed.

Divide the batter into the muffin cups. The batter will fill the cup almost to the top of each cup. Sprinkle a few extra chocolate chips on top to make the muffins look bakery fresh.

Bake in the oven 15 to 20 minutes, or until a toothpick inserted in the middle of a muffin comes out clean and the edges of the top of the muffin are turning golden brown. If you have an instant-read thermometer, it should be about 205°F. Let the muffins cool in the pan for 10 minutes. Then careful run a thin knife around the edge of each muffin, releasing it, and moving them all to the wire rack to cool completely.
Nutrition
Calories:
375
kcal
|
Carbohydrates:
46.1
g
|
Protein:
6.4
g
|
Fat:
19.5
g
|
Saturated Fat:
12.4
g
|
Cholesterol:
67
mg
|
Sodium:
385
mg
|
Potassium:
330
mg
|
Fiber:
2.4
g
|
Sugar:
26.3
g
|
Calcium:
122
mg
|
Iron:
2
mg