These carrot muffins are loosely adapted from the classic morning glory muffin and are packed with California Prunes, pecans, and sunflower seeds!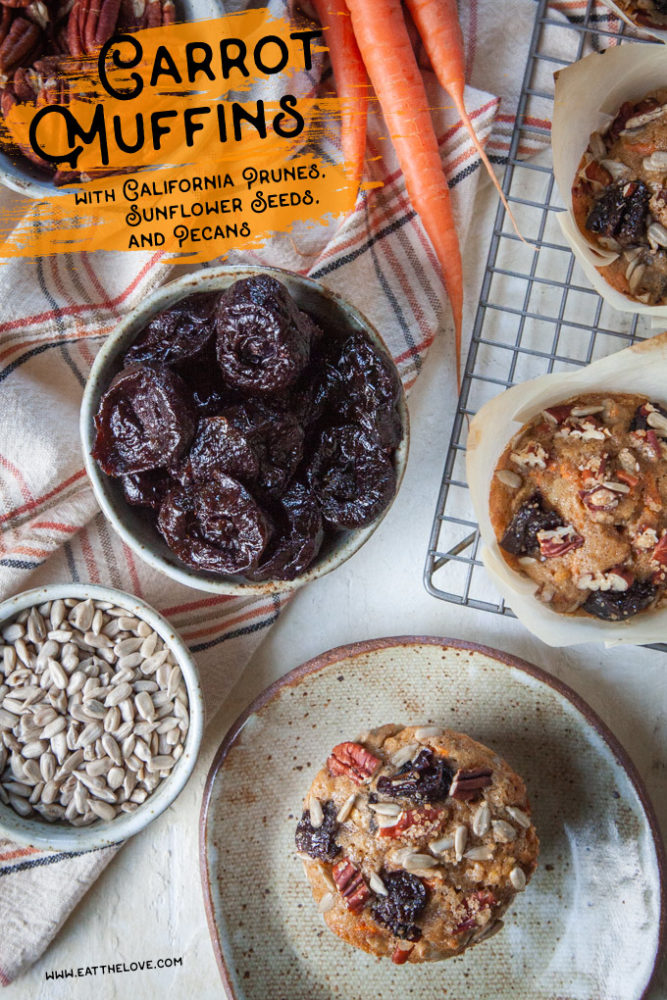 This post is sponsored by California Prunes. I was compensated for this post and for developing the recipe. However, all opinions below are completely my own.
My love of muffins knows no bounds. I've shared recipes for banana and green tea muffins, blueberry muffins with blood orange, whole wheat blackberry muffins and many other muffins. But somehow, I have neglected to share a recipe for carrot muffins like this one, packed with sunflower seeds, chopped pecans, and best of all, California Prunes! Prunes are one of those secret weapon dried fruits that folks don't reach for nearly enough. I was the same way until I went on a farm tour to learn more about the French plums that are harvested and dried into prunes last year.
I've talked about the prunes and the tour in my recipe for a classic lamb and prunes tagine. They're a standard pantry staple in other countries but sadly not as much here in the US, even though we grow some of the best prunes in the world. But something I discovered in the months after that tour, playing around in the kitchen, is that California Prunes are a great tasty addition to dishes I normally would use other dried fruit in. For instance, I now add it to my granola recipe!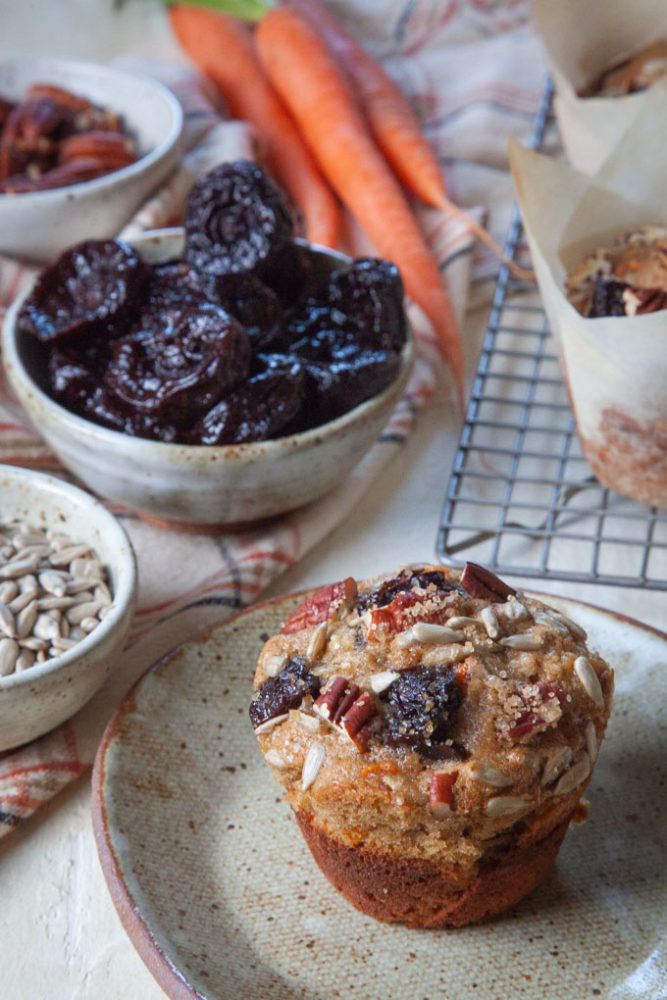 How are these carrot muffins different than morning glory muffins?
The original morning glory muffin was created by Chef Pam McKinstry back in 1978 for her restaurant on Cape Cod. The recipe was later published in 1981 for Gourmet magazine. The original recipe uses pineapple chunks, coconut and raisins along with grated carrots, apples and chopped nuts.
I've drastically changed the recipe, reducing the sugar, swapping out some of the all-purpose flour for whole wheat, removing the coconut and pineapple as well as adding sunflower seeds for texture and additional protein. But one of the biggest differences is my swap of California Prunes for raisins. Using prunes lowers the sweetness of the muffin, increases dietary fiber, and adds natural moisture to the muffins, something the raisins didn't.
How do you make these muffins?
Like all muffins you want to first combine all the dry ingredients together in one bowl and all the wet ingredients in a separate bowl. Stir in the shredded carrots and grated apple to the wet ingredients, as well as half the pecans, sunflower seeds and chopped prunes.
Then add the dry ingredients to the bowl and gently mix and fold it all together, making sure not to over mix as that will lead to a tough and heavy muffin.
Portion out the batter into a muffin tin and then sprinkle the top of the muffin with the reserve pecans, sunflower seeds and prunes. Sprinkle the top with a little bit of turbinado sugar for added crunch and sweetness. Then bake!
How do you store these carrot muffins?
Carrot muffins improve in flavor and texture overnight. Store them at room temperature for up to 3 days in an airtight container.
Can you freeze these muffins?
These carrot muffins freeze great! Allow them to cool completely to room temperature, then place them in a resealable bag or airtight container before placing them in the freezer. They will keep up to 2 months in the freezer. Just thaw them overnight on the counter.
If you like these carrot muffins, check out some of my other breakfast baked goods:
Be sure to check out California Prunes online at www.CaliforniaPrunes.org and on social media @CAprunes for more information about prunes.
Carrot Muffins with California Prunes, Pecans and Sunflower Seeds
These carrot muffins are a great way to start your day and even better pick-me-up midday snack. These muffins aren't too sweet and are packed with shredded carrots, apples, chopped pecans, sunflower seeds and California Prunes. Note that I use white whole wheat flour in this recipe, which is a variant of whole wheat flour made from a soft wheat grain. It can be found at well stocked grocery stores, but you can substitute regular whole wheat flour, or plain all-purpose flour and the muffins will still come out great! Feel free to leave off the final sprinkling of Turbinado sugar (sometimes called Sugar in the Raw). I added it for an additional hint of sweetness and crunch on top but the muffins are also great without it.
Ingredients
1 1/2

cups

all-purpose flour

210 g

3/4

cup

white whole wheat flour

85 g

1 1/2

teaspoon

ground cinnamon

1

teaspoon

baking powder

1/2

teaspoon

baking soda

1/2

teaspoon

kosher salt

3/4

cup

whole milk

3/4

cup

packed dark brown sugar

165 g

2

large eggs

1/2

cup

extra virgin olive oil

1

teaspoon

vanilla extract

1 1/2

cup

shredded carrots

150 g or about 4 medium carrots

1

cup

grated firm apple

150 g or about 1 medium apple

3/4

cup

chopped pecans

90 g divided

1/2

cup

raw sunflower seeds

60 g divided

1

cup

chopped California Prunes

190 g divided

2

tablespoons

Turbinado Sugar

or granulated white sugar (optional)
Instructions
Preheat the oven to 350°F. Line a standard muffin tin with paper liners or spray with cooking oil.

Place both flours, cinnamon, baking powder, baking soda, and salt in a mixing bowl. Using a balloon whisk, stir vigorously until the dry ingredients are evenly mixed and uniform in color.

Place the milk, brown sugar, eggs, olive oil and vanilla extra in a different bowl and beat together with a balloon whisk.

Stir in the carrots and apple to the bowl with the wet ingredients, as well as half the pecans, sunflower seeds and prunes, reserving the other half for the top of the muffins.

Pour the dry ingredients into the bowl. Stir and fold the ingredients together with a large spatula, making sure not to overmix. You want the batter to just get wet. The more you mix it, the tougher and heavier the muffin will be.

Portion out the batter into the muffin tin. The batter will fill up each muffin cup fairly close to the top. Don't worry about it, as these muffins don't rise a huge amount. Sprinkle the top of each muffin with a little bit of the reserve pecans, sunflower seeds and prunes. Then sprinkle a little bit of Turbinado sugar on top as well (if you're using it).

Bake in the oven for 23 to 27 minutes, or until a toothpick comes out of the muffin cleanly. If you have an instant read thermometer, the internal temperature of the muffin should be 210°F.

Let cool in the muffin tin for 5 minutes, then move to a wire rack to cool completely.
Nutrition