This homemade blueberry muffins recipe is easy to make and uses a blood orange to give a nice subtle citrus flavor to each bite! (Jump directly to the recipe.)
It's been ongoing for the past two weeks but I've been craving blueberry muffins like no one's business. And yes, I know blueberries are completely out of season right now (unless you live in Chile). But that doesn't mean I don't crave those tasty little muffins…enough to sneak out of the apartment and head over to a bakery, an upscale grocery store or even the sad coffee shop across the street that I really don't like because they serve really bad coffee. All for my blueberry muffin fix. Finally I just broke down and realized that I needed to bake me up a batch at home. So the end result was a homemade blueberry muffins recipe with blood orange. These were going to be trouble for me.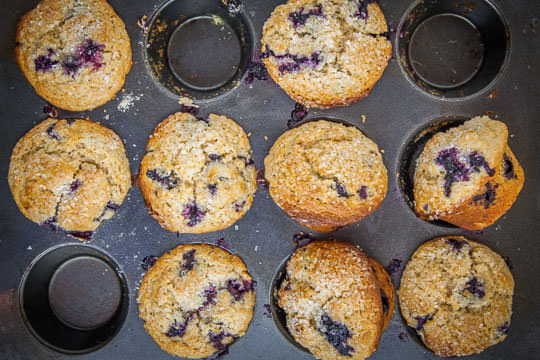 The main issue with making a batch of homemade blueberry muffins, and the reason I don't make them that often, is that I will eat the heck out of them. In fact, I utterly devour them, which is something I don't usually do with my baked goods. In fact, it's a running joke with my partner AJ and my friends that I love to bake but I don't really love to eat my baked goods. Sure I'll nibble a bit or take a bite to see how the baked goods turns out (after all, I have to make sure it lives up to my standards). But I usuall let others eat my baked goods, taking pleasure in just making it for them.
But these blueberry muffins, oh they were going to be trouble. I could tell the minute I pulled them out of the oven. Fluffy and soft, with just a hint of the blood orange scent to go with the blueberries that I broke down and bought even though they were imported from South America. Yeah I could have bought frozen ones but the fresh ones were on sale for some reason. I ended up eating 3 muffins while they were still warm from the oven which is not really what my waistline needs. Multiple muffins are going to a major muffin top for me. But at least it'll save me from the bad coffee across the street and the $2.50 muffin of disappointment. Because nothing beats a homemade blueberry muffin. Waistline be damned!

Blueberry Muffins Recipe with Blood Orange
By Irvin Lin
The blood orange in these homemade blueberry muffins adds a nice citrus edge to the muffin but is pretty subtle. Blood oranges are a brilliant deep red color when you cut into them and can be found at upscale grocery stores and farmer's markets. If you can't ind them or want a more traditional orange flavor try using a regular Navel or Valencia orange in it's place or add a tablespoon of Cointreau or Grand Marnier to the muffin batter with the Greek style yogurt. I also use almond meal in this recipe, to add rich moisture and a subtle nuttiness to the muffin as well as protect the muffin from overmixing and becoming too heavy when they bake. If you don't have almond meal, you can either grind a 1/3 cup of regular almonds in a blender or food processor until it is powder and use that in place or just skip the almond meal and use 1/4 cup all-purpose flour in place. No big deal. But if you have almond meal or flour around, use it. You'll be surprised at what it the small amount adds to the muffin recipe.
Take note that I have you preheat the oven to a high 425˚F then reduce the heat to 375˚F after 5 minutes. The initial high heat gives the muffins a bit of a jump start in rising, allowing to give a nice domed top like a bakery style muffin you'd buy at coffee shop. Make sure to reduce the heat or you might burn you muffins!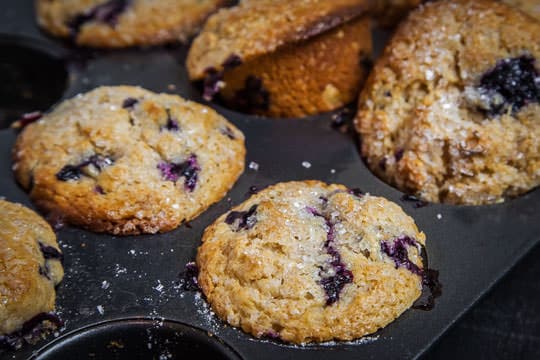 Ingredients
2 cups (280 g) all-purpose flour
1/4 cup (30 g) almond flour or meal (see note above for substitutions)
1 tablespoon baking powder
1/2 teaspoon ground cinnamon
2 large eggs
1/2 teaspoon kosher salt
zest of 1 medium blood orange (see note above)
6 tablespoon cooking oil (something neutral in flavor like corn or canola)
1 cup (200 g) white granulated sugar
1 cup (250 g) Greek-style yogurt
juice from 1 medium blood orange
1 teaspoon vanilla extract
1/2 teaspoon almond extract
1 1/2 cups fresh blueberries
sparkling sugar for top (optional) or white granulated sugar
Directions
1. Preheat an oven to 425˚F and spray a regular 12 cup muffin tin with cooking spray. Or you can use muffin cups if you prefer (though I kind of like my muffins without the paper cups). Place the flour, almond flour, baking powder and cinnamon in a large bowl. Using a balloon whisk, vigorously stir the dry ingredients together until they evenly distributed and uniform in color.
2. Place the eggs and salt in the medium bowl and beat together with a fork until uniform in color. Add the zest of the orange, and cooking oil and beat together to incorporate. Add the sugar and beat to incorporate. Add the yogurt, orange juice, vanilla and almond extract and beat together until everything is incorporated and uniform in color.
3. Pour the wet ingredients into the large bowl with the dry ingredients. Using a large spatula, fold the wet ingredients into the dry ones three times (drag the spatula down the side of the bowl then lift the dry ingredients up and "fold" it over the wet ingredients, repeating this three times). Add the blueberries and then continue to fold the dry ingredients into the wet until most of the batter is formed. Don't overmix the batter though, it's ok if there are some small pockets of dry flour, just no huge streaks of dry ingredients.
4. Evenly distribute the muffin batter into the muffin tin. Sprinkle sparkling sugar (or regular white granulated sugar) on top of muffins. Bake in the oven for 5 minutes then lower the heat of the oven to 375˚F and make an additional 18-20 minutes, or until a toothpick inserted into the center of the muffin comes out clean. Remove from the oven and let rest in the pan for 20 minutes then carefully remove them from the pan and move them to a wire rack to cool completely.
Makes 12 muffins.
If you like this homemade blueberry muffins recipe, check out some of my other muffin recipes:
Blackberry Muffins Recipe with Whole Wheat, Honey and Fresh Mint
Buttermilk Biscuit Muffins with Ginger Plum Jam
Banana and Green Tea with Milk Chocolate Chunk Muffins
Cherry Pistachio and Meyer Lemon Cornmeal Muffins with Streusel Topping
Pear and Dried Cherry Butterscotch Muffins
And check out some other muffins recipes from around the web:
101 Cookbooks' Oatmeal Muffins
Orangette's Nutmeg Donut Muffins
Fannetastic Food's Zesty Lemon Zucchini Muffins
Crazy for Crust's Pumpkin Cream Cheese Muffins
SkinnyTaste's Low Fat Peanut Butter Banana Muffins
Oh and here's a gluten free one for you all!
Gluten Free Girl's Gluten Free Rhubarb Muffins