"Hand me the old person cereal…" said AJ as he stuck out his hand. I rummaged through my backpack and found the heavy duty freezer ziplock bag of granola that I had made a few days ago. AJ and I were in Yosemite National Park and had decided on doing what we optimistically thought was a moderate hike. Turns out when the guide books tell you that the hike is "challenging" you should believe it – even if you are from San Francisco, a city known for their hills. Nevertheless hiking to the top of the Upper Yosemite Falls was worth it, though we probably wouldn't have made it if we hadn't brought along plenty of water and snacks, including our favorite super insanely easy customizable homemade granola for power snacking. (Jump directly to the recipe.)
AJ and had actually talked about going to Yosemite for years. I had gone when I had first moved to SF with my first roommate while AJ had gone with friends, but we had never really made it over there together. This past year we decided to put it off no longer. We live in California, a state that has 25 national parks and countless other national treasure. We need to start taking advantage of where we live.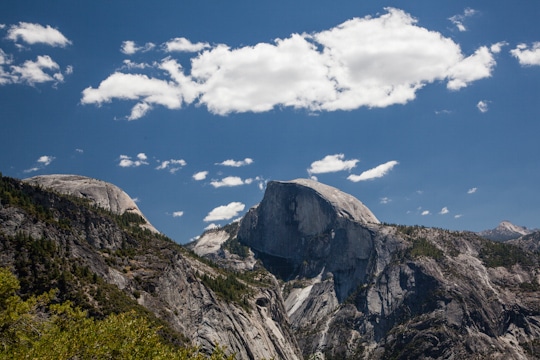 Of course, Yosemite isn't just your average national park (if there is such a creature). It's truly one of the crown jewels of the national park system, and it's fairly impossible to visit there and not be utterly swept away by the landscape and the scenery. AJ and I joked that you could basically just point a camera in any single directions and you've got a spectacular picture. Lord knows we certainly did exactly that.
We were lucky to stay in the valley, where we could wake up to sheer beauty. It was especially interesting for me, as I had absolutely no cell signal in the valley (nor anywhere in the park now that I think of it), which mean I couldn't tweet, facebook or instagram a single thing. Being the social media crazed maniac that I am, it was hard not to share my scenery in real time with my virtual friends, but I learned to let go a bit and enjoy the unplugged disconnect from the world. It's very rare, in this modern world, to get a chance to really just be in your surroundings without a care. I need to do it more often.
The hike to the top of the Yosemite falls was spectacular. Exhausting yes, slightly scary at times absolutely (apparently I am NOT comfortable scrambling over sheer rocks the way AJ is), but oh so worth it. Sure we ended up slightly dehydrated from not bringing enough water (thank goodness for that hidden bottle at the bottom of my bag) and slightly sunburned (I knew I should have applied more often). But at the end of the day I have no regrets. How could I? I was at the top of Yosemite Falls, looking out over the valley, and just basking in the beauty. I never thought I would be that person, the one that goes on trips to hike and look at nature. Turns out, I am that person. And what a great way to discover it.
How to Make Granola

(or super insanely easy customizable homemade granola), with vegan & gluten free options

By Irvin Lin

I wasn't planning on blogging about my granola, as recipes can be found all over the web for making granola. What the food blogosphere does NOT need is another granola recipe, regardless of how easy or great mine is. But ever since I've made it, AJ has eaten it for breakfast pretty much every single day, slowly weaning himself off of prepackaged cereal. Partly it's because he's been trying to eat less processed food, partly he's found that the breakfast cereals out there (including the pre-packaged granola that we've found) is too sweet. I guess our tastes have shifted a bit as we've aged, and hence our self-deprecating nickname for it – old person cereal. "You have to blog about it!" he's said to me numerous times, and what I love about his insistence is that he's right. I do. Because this is probably the easiest recipe for granola that I've seen out there short of just buying it at the store. In fact, it's probably the ONLY recipe for granola you'll ever need.

That's because it's totally customizable to what your tastes are. I make this recipe with less sugar than regular granola, but if you like it sweeter, just add more sugar of either the dry sweetener or wet sweetener. If you love coconut in your granola, just add it in with the fruit at the end. Hate pistachios? Use chopped cashews or another nut of your preference. No cardamom in your cupboard? Use more nutmeg instead. Don't like maple syrup? Try honey or agave nectar instead. Gluten sensitive? Use gluten free certified oats instead of the multigrain rolled cereal I use. Vegan or allergic to eggs? Leave out the egg whites (which are used to bind the granola to make it chunky) or substitute in 2 tablespoons of ground flaxseeds mixed with two tablespoons of water to make as slurry. I've added suggestions on what I use in the recipe, but do what you want. This granola is YOUR granola. Make it how you like it.
Ingredients
3 cups (350 g) rolled cereal – I use a five-grain mix of rolled oats, rolled rye, rolled barley and rolled triticale
2 cups (125 g) nuts – I use half slivered almonds, half chopped pistachios
1 1/3 cups (200 g) seeds – I use 1/2 cup raw sunflower seeds, 1/2 cup flax seeds, 1/3 cup raw pumpkin seeds
2 1/4 teaspoon spices – I use 1 teaspoon ground cinnamon, 3/4 teaspoon ground cardamom, 1/2 teaspoon ground nutmeg
1 teaspoon sea salt
1/4 cup dry sweetener – I used coconut palm sugar or dark brown sugar
1/4 cup wet sweetener – I used Grade B Maple Syrup
1/3 cup oil or fat – I use Extra Virgin Olive Oil or melted Coconut Oil
2 teaspoons vanilla extract
2 large egg whites (Optional. See headnote above.)
1 1/2 cups (225 g) dried fruit – I use a mix of dried cherries and golden raisins
Special equipment
Rimmed 18 x 12 baking sheet
Directions
1. Preheat the oven to 300˚F.
2. Place the cereal, nuts, seeds, spices and salt in a large bowl. Place the sweeteners, oil and vanilla in a small pan and heat on medium until the dry sweetener has dissolved into the wet sweetener. Pour over the cereal, nuts and spices combo, folding to coat evenly with a large spatula. Add the egg whites or egg subsitute (if using) and fold to coat evenly.
3. Pour the granola onto the rimmed baking sheet. Spread the granola out until it's flat and evenly distributed. Bake in the oven for 20 minutes. Take out and sprinkle the dried fruit in the middle of the pan. Using a heatproof spatula, "pull" the granola from the edges of the pan to the center, creating a heaping pile over the dried fruit. Then press down and spread the granola with the fruit mixed in, over the pan again until even and flat. You may need to pack the granola in tightly with the spatula. Bake for an additional 15 minutes. Take out of the oven and let cool in the pan until absolutely at room temperature (if you start picking it apart, the granola won't stay chunky). Store in an airproof jar.
Makes 7 to 8 cups of granola, give or take.