These super easy-to-make soft sourdough pretzels can be made with active sourdough starter only, with sourdough discard and/or some active dry yeast!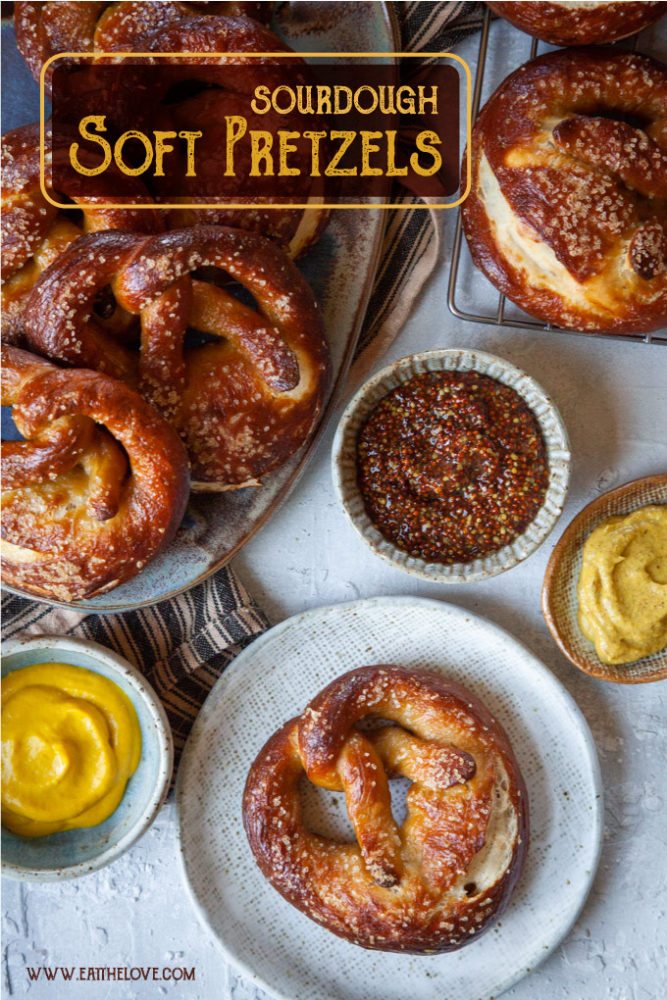 I'm not one of those folks that will talk incessantly about my sourdough starter. I haven't named it a cute punny name like "Eww, Doughvid" or "Breadly Cooper". But like most folks with a starter, I love the ritual of feeding it on a regular basis and watching it rhythmically rise and fall throughout the day. One of the first things I learned to make with it was these easy soft sourdough pretzels! They're an adaptation from homemade rye soft pretzels, similar to my soft beer pretzel twists and pretzel buns but they use the sourdough starter instead of active dry yeast. If you're looking for a super easy sourdough recipe to dip your toe into the world of sourdough baking, this is the one!
How do you make sourdough pretzels?
Unlike sourdough bread dough that is often very wet and requires you to proof the dough in long stages, sourdough pretzels are easy-to-make with the dough rising just once.
To make the pretzels, first stir in some malt syrup (or another sweetener like honey or brown sugar) to warm water. Stir in the active sourdough starter. Then add in flour, melted butter and salt. Knead the entire dough together until it's smooth and elastic.
Set the dough aside to rise until double. Once it's risen, divide the dough into 10 pieces, roll each piece out into a long rope, and form the pretzel shape.
Boil the pretzels in a baking soda solution, brush them with an egg wash, sprinkle with coarse salt, and bake!
How do I make the shape of the pretzel?
Forming a pretzel shape seems intimidating but it's not! It's actually my favorite part of the recipe and once you get the hang of it, you'll find it fun to do.
First you roll out a portion of the dough into a long rope, roughly 20 to 22 inches long. If you want a more traditional German or Bavarian shape, leave the center of the rope fatter than the ends.
Then you form a "U" shape with the rope. Then cross the "legs" over once.
Cross the legs over one more time, then flip the ends down and seal the pretzel ends to the belly!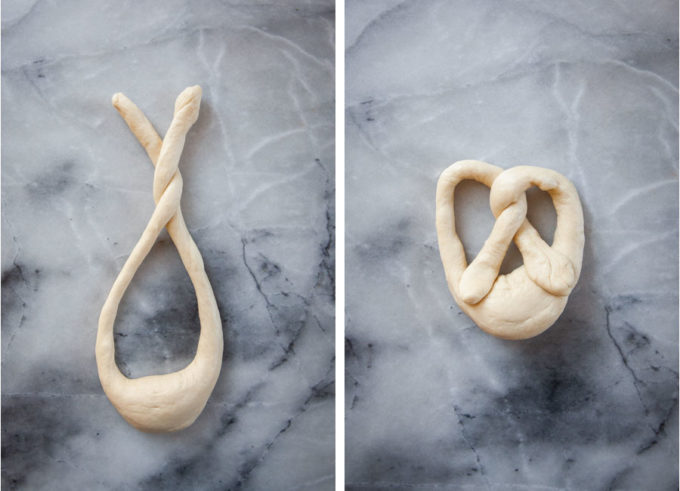 Where do you get the sourdough starter?
If you don't already have a sourdough starter, you can either make your own, get some from a friend or buy some. Making it from scratch is easy, though it does take a bit of time (it's mostly just waiting around for it to build up, none of it is active time).
There are plenty of instructions online on how to make a sourdough starter from scratch. I love the guide over at The Perfect Loaf but both King Arthur Flour and The Kitchn also have guides on creating a starter from scratch. The main thing about working with a sourdough starter is knowing it's often not as robust as the dry yeast you get at the grocery store. And you have to pay attention to how it rises and falls so you know when to use it.
That said, if you don't want to build up a starter from scratch you can ask your friends or neighbors if they would be willing to share some with you. Facebook or Next Door are both great places to ask around. Most folks are totally willing to share some starter, as the stuff multiples pretty fast.
Or you can also just buy some! King Arthur flour has some for sale, though demand is fairly high, so you'll have to check often if they are sold out. My friend Amanda of Heartbeet Kitchen also sells her amazing sourdough starter (with origins in Australia!) so if King Arthur's starter isn't available, check her site.
What the best time for me to use my sourdough starter for these pretzels?
This recipe calls for an active fed starter, not the starter discard. Once you've fed the starter, it needs to be at its peak activity, when it's double in size. The top of the starter should be bulging and rounded, not falling down and it should smell ripe and fruity with scents of yeast and summertime stone fruit. The other way to check if the starter is ready to use it to add a tiny spoonful of the starter to a glass of water. If the starter floats in the water, it's ready to use! If it sinks, wait longer for it to be fully active.
So, plan accordingly to that. If you use the starter at a less than ideal point in its cycle, it will most likely still work, but it will take longer for the dough to rise because it won't be as active and your final product might be a little more dense (which isn't a huge problem with pretzels as they are naturally dense, but you don't want them to be hard as a rock).
But I'm impatient! Can I just use the sourdough discard or use a starter that isn't super active?
Actually, yes you can TOTALLY use the sourdough discard in this recipe. But it will take a lot longer for the dough to rise (as the discard isn't as active). Let the dough sit in a warm place to rise until double. This will take anywhere from 8 hours to 12 hours with just the discard, depending on how robust your discard is, and how long you've left it around.
That said you can "cheat" by using some store-bought yeast if you want! If you have active dry yeast, dissolve anywhere from 1/4 teaspoon to 1 teaspoon of active dry yeast in the warm water, depending on where you are in the starter cycle and how fast you want to make pretzels. In the baking industry, using active dry yeast is called "spiking the dough". For some it's considering cheating, but as long as it tastes great, who cares?
I like to use a full 1 teaspoon of active dry yeast when I'm just using old sourdough discard and a scant 1/4 teaspoon of active dry yeast if I'm being impatient and just want to "spike" the sourdough starter a bit to get it going faster. Once the dry yeast has dissolved, just add in the starter and stir to dissolve it in the yeasty water.
The active dry yeast will do most of the heavy lifting and usually cuts the rise time down to just 1 1/2 to 2 hours from the initial 3 to 4 hours with just the active starter, while the starter discard will provide some sourdough flavor.
Keep in mind that active dry yeast has a different flavor from sourdough, and the resulting pretzel won't taste quite as tangy and sourdough-ish if you use the active dry yeast. But the sourdough flavor will be there, and you'll notice a much more complex flavor from the pretzel than if you had just made the pretzels with active dry yeast.
Regardless, whatever method you use, with or without the active dry yeast, proceed with the recipe as written once the dough has doubled in size.
Do I need a scale for this recipe?
Most bread bakers will talk about how you ABSOLUTELY NEED TO BUY A SCALE to bake. And though I totally agree that a scale is important, if you don't have one for this recipe, don't worry. Unlike a sourdough loaf of bread, soft pretzel dough is pretty forgiving. You can follow the instructions in my recipe using measuring cups!
That said, a scale gives you accurate measurements when baking, which is why bakers love to use them. Accurate measurements means a higher chance of succeeding! But again, don't stress if you only have measuring cups. I've given plenty of visual instructions and photos on how to make the proper dough.
One thing to note, if you are adding ingredients, you might want to add 1/2 cup less flour than the recipe calls for. Then slowly add in more flour to the wet dough until it is the correct consistency. It's always easier to add in more flour than add in more liquid to a dough. So start off wet, and add flour!
And if you find that you're not having success with this recipe or other sourdough baking recipes and are using measuring cups, it might be time to cave and buy a scale. You'll find your baking results improve immensely.
Can I knead the dough by hand or do I need a stand mixer?
The recipe below has instructions for using a stand mixer fitted with a dough hook attachment to knead the dough. But you can totally make this dough by hand if you don't have a stand mixer or your mixer isn't powerful enough to knead the dough.
Mix the ingredients all together in a large bowl with a wooden spoon until a shaggy dough has formed and most of the dry ingredients have been incorporated.
Then dump the dough (and any remaining dry ingredients) onto a clean surface. No need to flour it. Just make sure it's clean.
Then knead the dough! Fold the dough over (trying to capture as much of the loose dry ingredients as you can inside the fold) and press down with the heel of your hand. Fold it over again, and press down again, repeating with each hand, do small folds and rotations with the dough.
The dough will initially be very lumpy and sticky in spots, but as you knead it, the water and flour consistency will even out. There's something super rhythmic and meditative about hand kneading dough. And though a lot of sourdough bread has a high hydration and requires a different sort of handling (stretch and fold or coil folding being the two most popular methods for wet dough) this pretzel dough is a significantly lower in hydration and can be handled in a more traditional kneading method.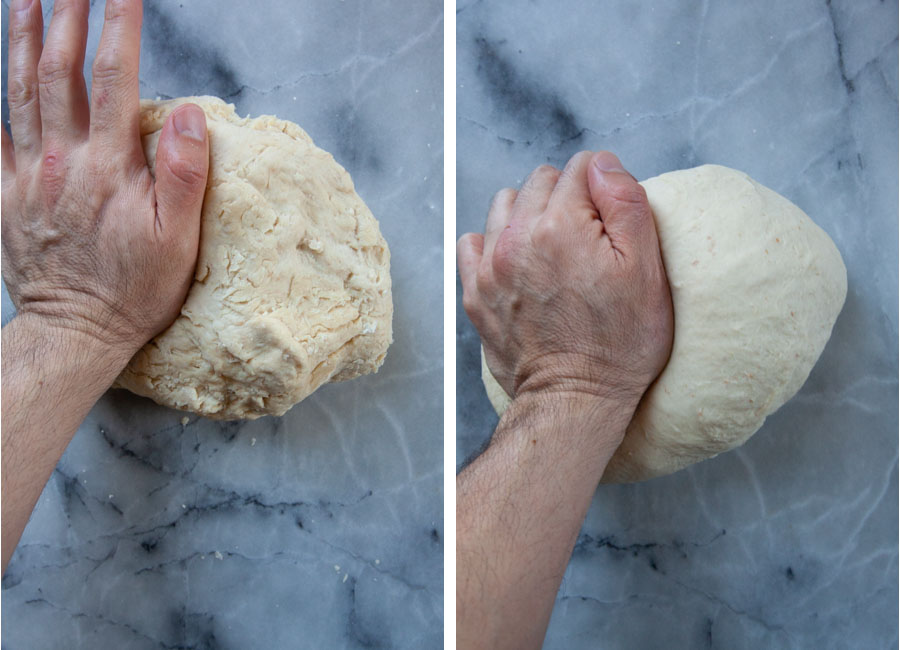 Once the dough is smooth and elastic, about 5 to 7 minutes, continue with the recipe as instructed.
Do I need to use lye to dip the pretzels in? Can I use baking soda?
Traditional pretzels are dipped in a strong alkaline base solution made of lye. You can order lye from various online sources. But I use baking soda because it's much easier to find and safer to use.
There are various recipes online that also recommend baking or roasting the baking soda in the oven before using it for pretzels. Baking soda's chemical name is Sodium Bicarbonate and when heated up (like in an oven) it breaks down into Sodium Carbonate, which is an even stronger alkaline base than Sodium Bicarbonate. Stronger base = more pretzel flavor!
If you want to try this technique you can spread baking soda in a large pan and roast it in the oven for 2 hours, stirring the baking soda every 30 minutes to make sure all of the baking soda gets heated and breaks down. Personally, I find this method a bit fussy and don't bother with it. I use a large amount of baking soda (2/3 cup or 170 grams) in my solution as well as boil the pretzels for 90 seconds, which is longer than other recipes out there. The pretzels themselves get a pretty nice brown pretzel flavor without the baking of the baking soda.
What is malt syrup? Can I substitute it?
Malt syrup is a sweetener made from barley malt grain. It is traditional used in baking and in pretzels as well as bagels. It helps feed the yeast, gives the dough a very slight sweetness that is associated with soft pretzels and helps promote the browning in the crust of the pretzel.
If you don't have access to malt syrup, you can substitute an equal amount of honey or brown sugar. Again, realize when you substitute for the malt syrup, your pretzels will shift slightly in flavor and won't taste quite as "pretzel-y" nor will they be quite as brown as if you had used the barley malt syrup.
Frequently Asked Questions
Can I use active dry yeast or store bought yeast instead of a sourdough starter?
If you don't have a starter and don't want to get one, I'd recommend checking out my homemade soft pretzels as a recipe to use. It's the one that I've based this recipe on, and it uses store bought active dry yeast instead of a sourdough starter in this one.
How long do sourdough pretzels keep?
Sourdough pretzels keep for up to 2 to 3 days at room temperature, stored in an airtight container or resealable Ziploc bag. But if you want to keep them fresh for longer, I recommend freezing them.
Can I freeze sourdough pretzels?
Yes! I love to freeze batches of sourdough pretzels. Just store them in an airtight container or a resealable Ziploc gallon bag for up to 2 months. To thaw, just place the frozen pretzel on a plate and leave at room temperature on the counter for about an hour. Or toast the pretzel directly from the freezer either in the toaster oven (5 to 6 minutes at 350°F) or in a bagel toaster.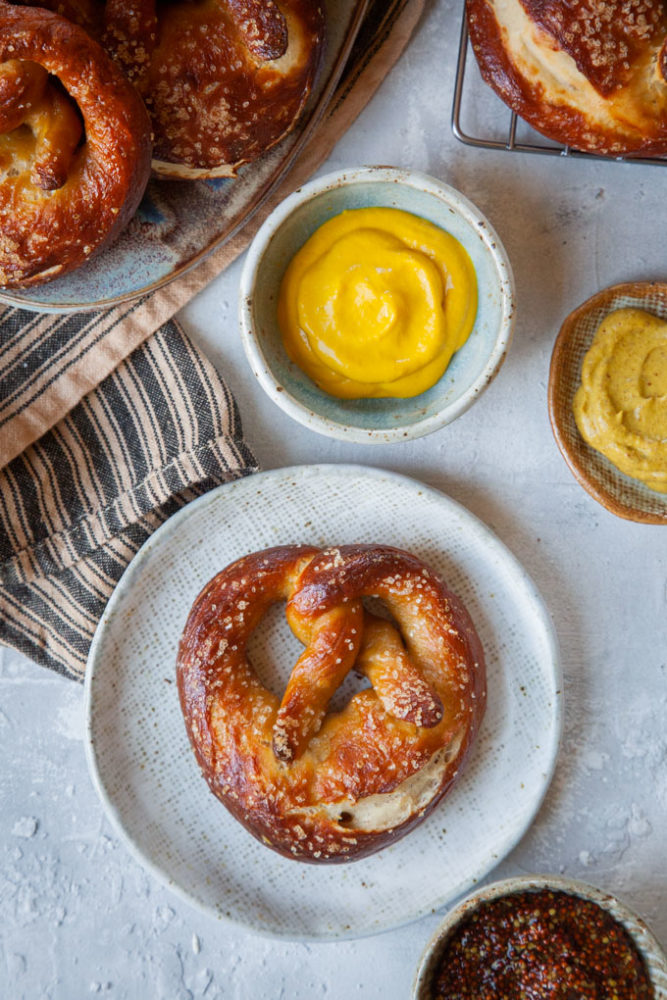 If you like these sourdough pretzels, check out some of these other recipes that use sourdough starter and discard:
And try serving the sourdough pretzels with
mustard, yellow, stoneground or whole grain
Sourdough Soft Pretzels
These sourdough soft pretzels use natural wild yeast from a sourdough starter to leaven the pretzels, to produce a naturally tangy and complex soft pretzel that is better than anything you'll get at a mall or airport! Use active sourdough starter, at its peak of activity when it's doubled in size, usually 4 to 6 hours after you've fed it, but it will depend on how strong your starter is and the warmth and environment you have the starter in. If you want to just use the sourdough discard, see my section above on how to do that as well as how to speed up the rise process by "spiking" the dough with active dry yeast.
Ingredients
Dough
Baking soda bath
2/3

cup

baking soda

170 g

10

cups

water
Instructions
Place the water and malt syrup (or other sweetener) in the bowl of a stand mixer fitted with a dough hook. Stir with a fork until the sweetener is dissolved in the water. Add the sourdough starter to the liquid and stir until the starter has loosened and incorporated the water.

Add the flour, butter and salt to the bowl. If you are measuring by volume cups and not weight, use 3 1/2 cups of flour to start. Turn the mixer on slow and stir the ingredients until a shaggy dough forms. You may need to scrape down the sides of the bowl to get all the ingredients to incorporate.

Once a dough forms, increase the speed to medium and knead the dough until it is smooth and elastic, about 4 to 5 minutes. If you are using measuring cups, add additional flour, 1 tablespoon at a time, as needed to get the dough into a smooth and elastic dough. Keep in mind that it's easier to add flour to a wet dough than add water to a dry dough, so be cautious and just add the dough near the end of the kneading, as the dough has become more consistent in texture.

If you are mixing by hand, you can combine the water, sweetener, and starter in a large bowl and stir with a large wooden spoon. Add the flour, butter and salt and stir until a shaggy dough forms. Then hand knead the dough on a lightly floured surface, until smooth and elastic. To knead, place the dough on a clean, lightly floured, surface, and pressing down with the heel of your hand into the dough. Fold the dough over, rotate the dough 90º then repeat pressing down with your heel on the folded dough. Continue this process, for 5 to 7 minutes, or until the dough is smooth and elastic.

Coat a bowl with cooking spray. Stretch the dough into a ball, gathering the rough edges of the dough into one side and then place in the bowl, with the rough edges down. Cover with plastic wrap and let sit to rise until the dough has doubled, about 3 to 4 hours.

Once the dough has doubled, preheat the oven to 450º. Line two baking sheets with silicon mats or parchment paper that has been lightly greased with cooking oil. Divide the dough into 10 even pieces. If you have a scale, the dough should be roughly 4 ounces or 110 g each. Cover the pieces with plastic wrap or a damp towel to keep them from drying out.

Roll one piece into a long rope, about 20 inches/50 cm long. If you are looking to form a more traditional Bavarian or German style shape, make sure the center of the rope is thicker than the ends.

Form a "U" shape with the rope, then lay the top of the rope over each other in an "X" formation. Then twist one more time, so the top of the rope is twisted together.

Flip the "leg" ends down to form a pretzel shape. Repeat with the remaining pieces and place on the baking sheet.

Place the water and baking soda in a large stockpot or Dutch oven. Bring to a boil, stirring to make sure the baking soda has dissolved. Boil three or four of them (depending on how wide your pan is) in the baking soda water for 45 seconds. Flip the pretzels upside down and boil for an additional 45 seconds. Remove the pretzels from the water and place back on the baking sheet. Repeat with the remaining pretzels.

Beat the egg yolk and water together and brush the top of each pretzel with the egg wash.

Sprinkle the coarse salt on top of the pretzels. The egg wash will help the salt to stick. To make these look more traditionally German or Bavarian, you can also take a sharp knife and slice the "belly" of the pretzel, so it splits there as it bakes.

Bake in the oven for 17 to 20 minutes or until the pretzels are a dark brown. Rotating the pans once during the baking. Let cool on the baking sheet for 10 minutes before moving them to a wire cooling rack.
Notes
You can turn these into pretzel buns by shaping round balls of the dough instead of forming the pretzels. Boil the dough balls, brush with the egg wash, and sprinkle with sesame seeds instead of salt. Cut a cross on the top of the balls and then bake as directed.
Nutrition