This deceptively fast and easy olive beer bread recipe with green onions and cheese uses Linsday Organic Kalamata olives and tastes amazing! (Jump directly to the recipe.)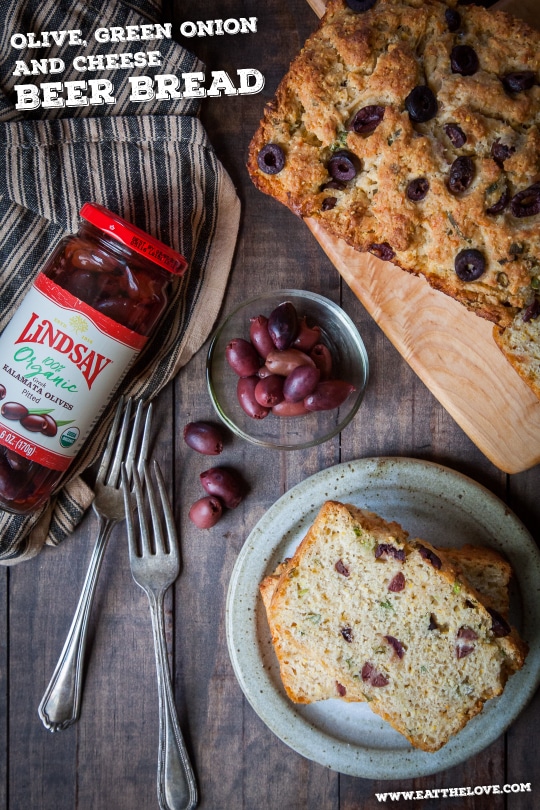 This post was sponsored by the Lindsay Olives. I was compensated for this post and for developing the recipe. However all opinions below are completely my own and not endorsed by Lindsay Olives.
There are a few "secret ingredient" weapons in my pantry. Most chefs will talk about how fish sauce adds a subtle umami punch to everything (like my not-bolognese sauce). Pastry chefs will occasionally add milk powder to bake goods giving it an extra boost of goodness (like my cookies and cream cookies). But both of those specialty ingredients are exactly that. Specialty. My go-to secret ingredient weapon is something much more basic and standard. Olives! Like Lindsay's Kalamata olives which take a basic beer bread and turn it into something amazing ridiculously good.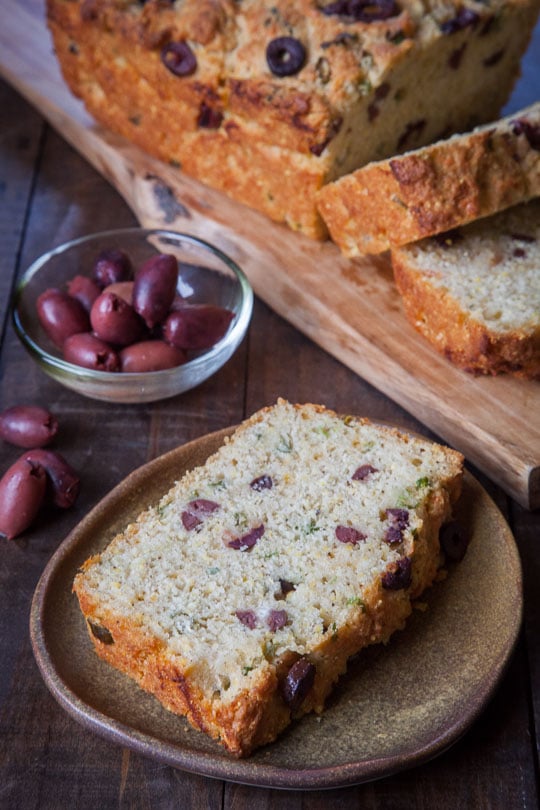 I'll be completely honest and tell you that I have a habit of skipping those "easy and fast" recipes that I see all over the place and going directly to the long and laborious recipes that I know will give me maximum flavor. Why spend $4 on a product when I can spend 12 hours in the kitchen and $25 for ingredients and equipment to get the same thing? Ha! But I have to admit that beer bread is one of the few things that I absolutely adore that falls into the "easy and fast" category. And when I came up with an olive beer bread recipe, I knew that I had a winner.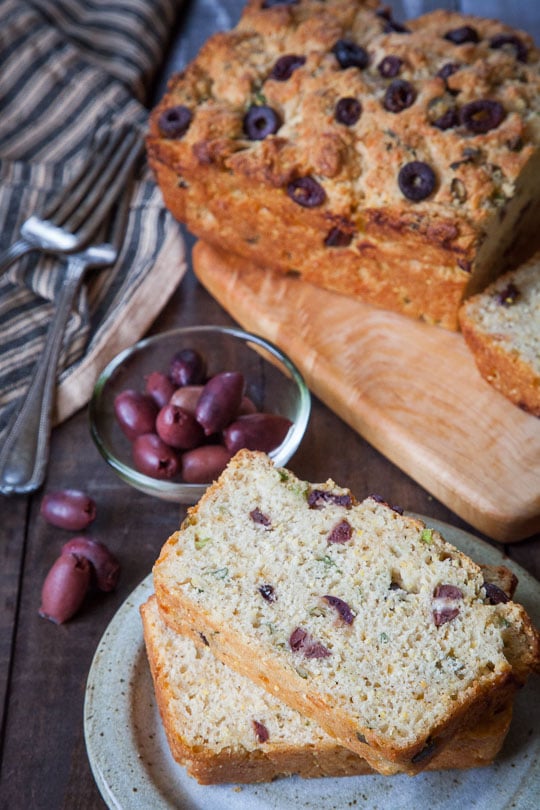 Nothing is as tasty and as easy as beer bread! Beer bread has the ease of quick bread (think Irish Soda bread) but the yeasty flavor of tradition risen bread (thanks to the yeast in the beer). And though this beer bread version may take a few more steps (chopping the olives and green onions) that's really all the extra labor involved. Trust me when I say that this beer bread recipe needs to be made.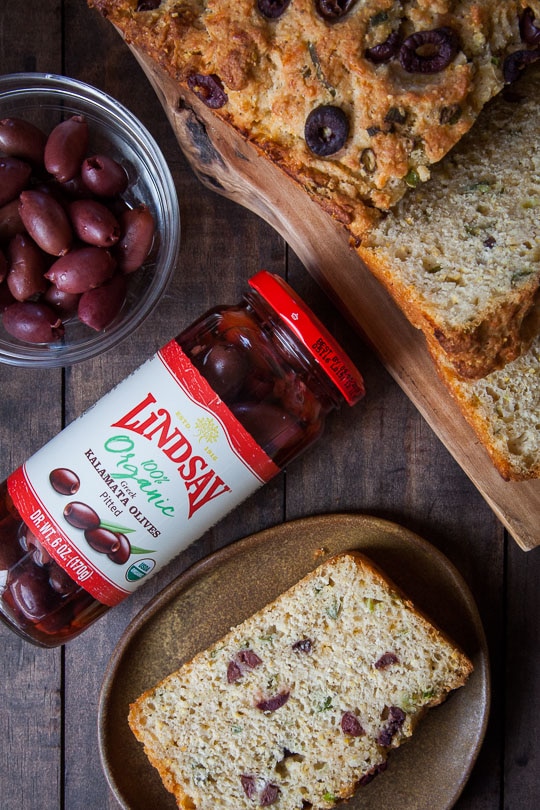 Olive, Green Onion and Cheese Beer Bread
By Irvin Lin
The secret to this easy and fast recipe are the nice and meaty olives like the Kalamata ones from Lindsay. They add a punchy salty briny burst of flavor whenever you bite into them. They also happen to go really well with green onions, cheese and beer. Everything together in a quick bread (no yeast, no rise time), it's pretty much magical.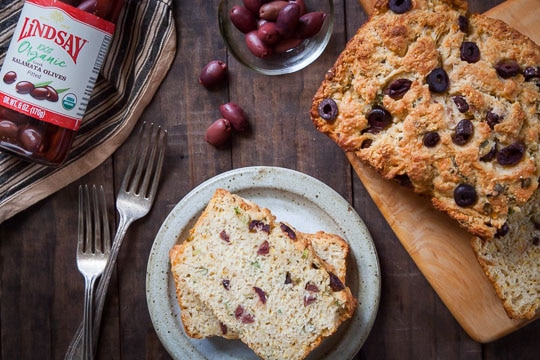 Ingredients
1/4 cup (57 g or 1/2 stick) unsalted butter, melted
2 1/2 cups (400 g) bread flour or 2 3/4 cup all-purpose flour
1/2 cup (85 g) cornmeal
2 tablespoon white granulated sugar
1 tablespoon baking powder
1 teaspoon garlic powder
1 teaspoon fresh ground pepper
1 teaspoon kosher salt
1/2 cup (70 g) Lindsay Organic Kalamata Olives, roughly sliced
1/2 cup (50 g) finely grated medium cheddar cheese
1/4 cup chopped green onions (about 3 medium sized ones)
1 1/2 cups (12 fluid ounces or 355 ml) beer
Directions
1. Preheat the oven to 375ºF. Brush a 9 x 5 inch loaf pan with half the melted butter.
2. Place the flour, cornmeal, sugar, baking powder, garlic powder, pepper and salt in a large bowl. Stir vigorously with a balloon whisk until all the dry ingredients are evenly distributed and uniform in color. Add the Lindsay Kalamata olives, cheese and green onions and mix with a large spatula until blended.
3. Pour the beer into the middle of the bowl on top of the dry ingredients and stir together with large spatula until a dough forms. Fight the urge to overmix and leave a few dry spots here and there. Scrape into the prepared loaf pan and then brush the remaining butter over the dough.
4. Bake in the oven 40 to 50 minutes or until a toothpick inserted in the middle of the loaf comes out clean. Let cool in the pan for 10 minutes, then invert on a wire rack and remove from pan. Let cool completely before serving.
Makes 1 loaf, serves 8 people.
Reader Interactions