These easy-to-make pretzel buns use baking soda to "pretzel-fy" the dough. They're my favorite burger buns! (Jump directly to the recipe.)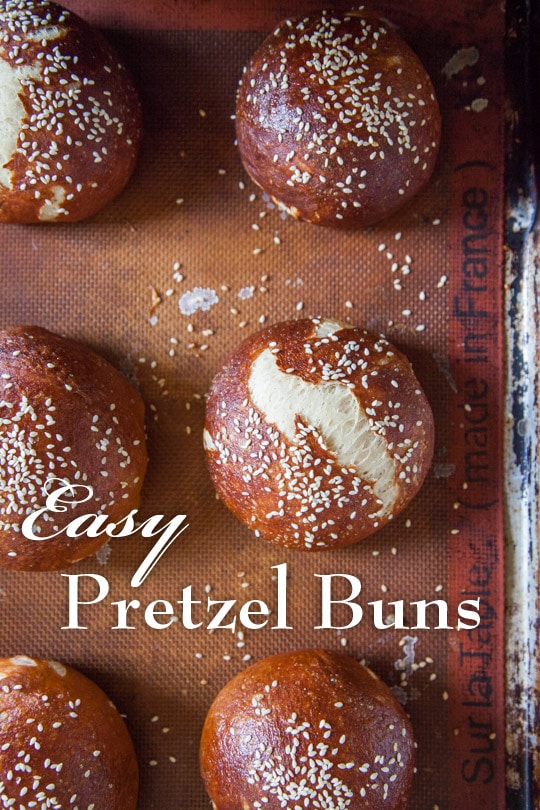 This whole food blogging thing came about accidentally for me. When people ask me how I became a recipe developer, food writer and photographer I usually tell them that I stumbled into it. I was former a graphic designer at a dead end job that I didn't really care for. I started my food blog years ago, as a way to distract myself from the unhappiness of my day job. And if you look at my early blog posts, like the one for my Pretzel Buns, they're a little embarrassing, like looking at an old high school yearbook where you had bad hair and poor fashion choices. And trust me when I tell you had I REALLY bad hair and made some poor fashion choices.
But these pretzel buns! I made them years ago and blogged about them while I still had a day job. Years and years ago. And I though I stand by the recipe, as it's solid, it's a little embarrassing for me to give the link out to folks. So, after making them one day (and also sharing the recipe on Snapchat) I finally decided it was time to post about them again.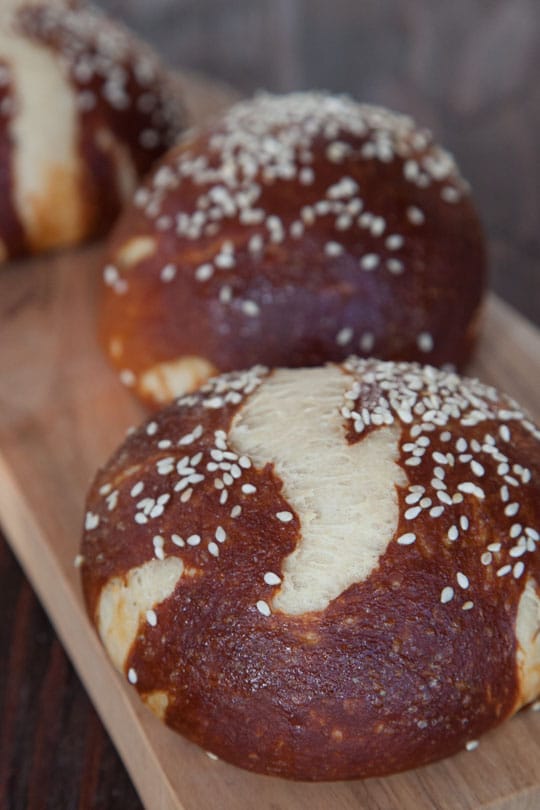 Now if you are hardcore, you probably will dismiss these buns because they are made with baking soda, instead of the more traditional lye that pretzels are made with. I get it. I'm sure the lye versions are better than these. But I ALWAYS have baking soda in the house. And a lot of it (I buy the Costco size bag, which lasts me forever). But I rarely have lye in the house, unless it is in the form of a Drano for my clogged pipes. And though I've heard actual stories of pastry chefs using Drano when they ran out of food safe dye, that's an experiment I don't want to really do. Nope, I'll stick with my baking soda.
But if you want to check out my friend Jenni's recipe for her pretzel buns, please do! She's pretty active on Snapchat, and recently got some food safe lye. She swears that she will never go back to baking soda. And maybe one of these days I'll break down and order some online. And then I'll be forced to blog about these pretzel buns for a third time! But for now, here's an updated recipe for the pretzel buns. They're so good, they're worth blogging about twice.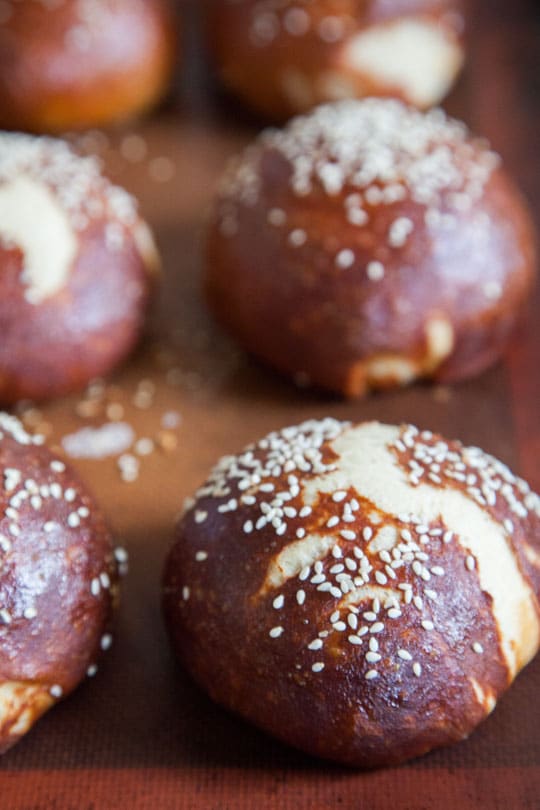 Pretzel Buns
By Irvin Lin
These pretzel buns are soft and pretzel-y. The slightly bitter shiny smooth outside crust (a product of first boiling the dough in an alkaline solution made of water and baking soda) and soft fluffy inside makes them the perfect vehicle for a burger. I've blogged about them before but I love them so much that I felt I had to blog about them again! If you want, you can also freeze the finished buns in a resealable ziplock bag. Just make sure to cool them completely and split them first by slicing them horizontally before freezing. You can let them thaw to room temperature by leaving them out on the counter or toast them frozen.
Slightly adapted from an Alton Brown soft pretzel recipe. Originally blogged about in an older blog post here on Eat the Love.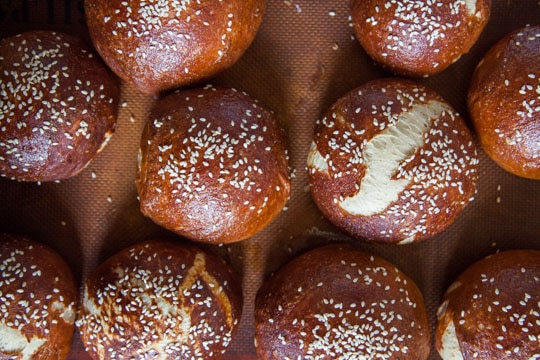 Ingredients
1 1/2 cups warm water (110 -115ºF)
1 tablespoon barley malt syrup or honey
2 1/4 teaspoon (7 g or 1 package) active dry yeast
4 1/4 cups (637 g) bread flour
1/4 cup (57 g or 1/2 stick) unsalted butter, melted
2 teaspoon kosher salt
10 cups water
2/3 cup baking soda
To finish
1 large egg yolk
1 tablespoon water
1 tablespoon sesame seed
Directions
1. Place the warm water and barley malt syrup (or honey) in the bowl of a stand mixer fitted with the dough hook. Stir the liquid together to dissolve the sweetener. Sprinkle the yeast over the top of the liquid and stir with a fork to dissolve. Let sit for 5 minutes to proof. The top of the liquid should be foamy. If it isn't discard and start over with fresh yeast.
2. Once the yeast has proofed, add the flour, butter and salt to the liquid and stir it with the dough hook on slow speed until the liquid has absorbed all the dry ingredients. Increase the speed to medium and knead the dough for 5 minutes or until the dough is smooth and pulls away cleanly from the side of the bowl.
3. Pull the dough off the hook and out of the bowl, and coat the bowl with cooking spray. Stretch the dough into a ball, gathering the rough edges of the dough into one side and then place in the bowl, with the rough edges down. Cover with plastic wrap and let sit to rise until the dough has doubled, about 50 to 60 minutes.
4. Once the dough has doubled, preheat the oven to 450ºF. Line two baking sheets with silicon mats or parchment paper. Place the water and baking soda in a large stockpot or Dutch oven. Bring to a boil, stirring to make sure the baking soda has dissolved.
5. Once the water has been brough to a boil, divide the dough into 10 even pieces. Form each piece into a ball, then boil half the balls in the baking soda water for 45 seconds. Flip the ball upside down and boil for an additional 45 seconds. Remove the balls from the water and place on the prepared baking sheet. Repeat with the remaining balls of dough.
6. Beat the egg yolk and water together and brush the top of each bun with the egg wash. Sprinkle the sesame seeds on top of the buns. The egg wash will help the sesame seeds to stick. Bake in the oven for 14 to 16 minutes or until the buns are a dark pretzel brown. Rotating the pans once during the baking. Let cool on the baking sheet for 10 minutes before moving them to a wire cooling rack.
Makes 10 buns.