I've always been slightly suspicious of zucchini bread. Sure I see people wax poetically about the best zucchini bread recipes ever, the marvels of zucchini muffins and how fabulous zucchini loaves are, but I look at these blogs posts and tweets with a squinted sideways eye glare, unsure what the love is all about. I love zucchini, mostly grilled, in pasta or stirfry, but the idea of putting it in a baked good seemed counter intuitive to me. It's a relatively benign vegetable, and though it can produce a nice moist loaf of quick bread, often times that's about it, a little bit more on the boring side than the bombastic or worse, a leaden pasty loaf, too heavy and sticky to eat. If you've read this blog at all, you know that I love my food with a little bit of punch and a whole lot of flavor. So, of course, with this in mind, I decided to tackle the problem of a recipe for zucchini bread head on and make one that was packed flavor.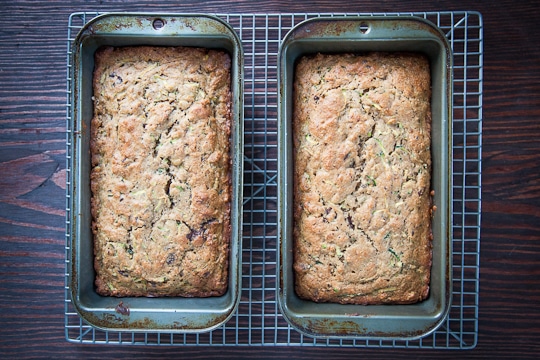 I wasn't the only one who was dubious of zucchini bread. It turns out AJ is not a fan of either zucchini bread or even zucchinis themselves. Bland, boring, flavorless seemed to be the words that he most associated with zucchini. Well that and asparagus, as apparently he kept on mixing the two up (don't ask me how, they clearly worlds apart and he actually likes asparagus). This, of course, is the result of a growing up in a family that did not eat vegetables growing up. I was incredulous when he told me this, but then I witnessed going out to dinner with his parents, where AJ ordered a steak (because that's what you do in the Midwest, you order a steak at a restaurant) and the server asked him what two sides he wanted to go with it. Obviously one was a baked potato (again we're in the midwest), but when AJ ordered broccoli as well, his mom looked at him as if had grown two heads. "Why would you order broccoli?" she asked in that accusatorial way that mom's have when they disapprove of something, then proceeded to make a gagging noise, not unlike the sound a cat makes when trying to hack up a hairball. AJ just rolled his eyes as a son does when a parental figure asks a ridiculously obvious question. True story.
So, as an added challenge, I had to figure out how make this zucchini loaf AJ worthy. Turns out it was pretty easy to do, especially since AJ's weakness is chocolate. I went with an addition of dark chocolate chunks and for added security, I also added a handful of pistachios. AJ loves the bright green nuts and I have to admit, they are lately becoming a favorite of mine. The sweet salty nut plays well with the chocolate and the vegetable zucchini flavor. A touch of orange juice and zest rounded out the quick batter bread with a nice little acidity and sweetness and the funky flours I used (Whole wheat! Barley! Cornmeal!) gave the zucchini bread an added punch of flavor, texture and goodness. I was sold on the loaf and I think AJ was too. Just don't tell his mom.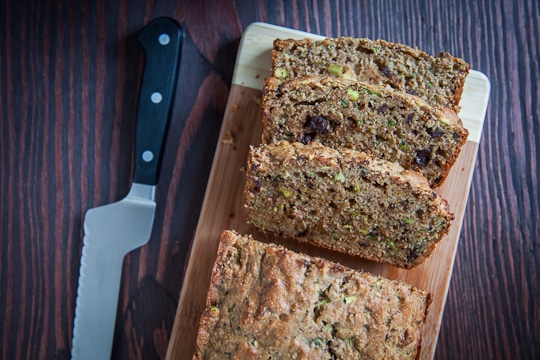 Special thanks to Full Circle, an organic delivery CSA service that has recently started delivering in the San Francisco Bay Area, for providing me these gorgeous zucchinis. They're pretty awesome (and I'm not just saying that because they gave me a complimentary box of produce to try out). If you live in their delivery area (Washington, Idaho, Alaska and the San Francisco Bay Area) check them out. Though I did receive a complimentary box of produce and groceries from them, all the opinions I stated above are my own.
Zucchini Bread with Pistachios and Chocolate Chunks
By Irvin Lin
The ingredient lists seems ridiculously long for something that is suppose to be a "quick batter bread" but stick with me for a minute here. You can easily substitute out some or all of the specialty flours with just all-purpose if you want to (though if you have corn meal, I would tell you to add that in, as it does give a nice texture to the final loaf and opens up the crumb, keeping the bread from getting too gummy or pasty which is a problem with most zucchini bread). But if you have those crazy flours lying around, use them because they lend a nice texture and flavor to the bread. Use whatever spices you have on hand, I went with cinnamon, cardamom and nutmeg, but I totally could see ginger, cloves, all spice or even black pepper replacing part or all of those spices, or if you want your bread to be less zippy, just omit them. If you have it, definitely use the almond extract though. It's not absolutely necessary but it really does add a nice underlying note to the bread and helps boost the pistachio nut flavor. This recipe makes two 9" x 5" loaves, but each loaf freezes well (cool it completely, slice it beforehand so you can defrost one or two slices at a time, wrap tightly in plastic wrap, then a gallon ziplock bag to maintain freshness) for future breakfasts and tea breaks.
Ingredients
1 cup (160 g) whole wheat flour
1 cup (160 g) bread flour
1/2 cup (70 g) barley flour
1/2 cup (85 g) corn meal
2 teaspoon cinnamon
1/2 teaspoon cardamom
1/4 teaspoon nutmeg
1 teaspoon baking soda
1 teaspoon baking powder
1/2 teaspoon sea salt
zest of 2 oranges
2 1/2 cups (375 g) grated zucchini (about 2 medium sized 12-14 oz total)
2 large eggs
1 cup plain yogurt
1/2 cup (113 g) melted unsalted butter
1/3 cup orange juice
1 packed cup (220 g) brown sugar
2 teaspoon vanilla
1 teaspoon almond extract
4 oz (113 g) chopped dark chocolate or semi-sweet chocolate chips
1/2 cup (70 g) pistachios, chopped
1. Preheat the oven to 350˚F and generously spray two 9 x 5 inch loaf pans with cooking spray.
2. Place the flours, cornmeal, spices, baking soda, baking powder, salt and orange zest in a medium mixing bowl. Using a balloon whisk, vigorously stir the dry ingredients together until they are mixed and uniform in color. Add the zucchini to the dry ingredients and toss to coat.
2. Place the eggs, yogurt, melted butter, orange juice, sugar, vanilla and almond extract in a large mixing bowl. Beat with a fork (or whisk) until smooth, with all the ingredients incorporated. Add the dry ingredients to the bowl and fold together, until there are a few pockets of dry ingredients left – don't over mix. Add the chopped chocolate chips and pistachios to the batter and fold to incorporate. You should have the chocolate and pistachios evenly distributed and there should be no more pockets of dry ingredients, but again do not over mix. Fold until just incorporated.
3. Divide the batter into the two loaf pans evenly and place on a baking sheet (to facilitate easy removal from oven). Bake for 40 to 45 minutes or until a toothpick inserted in the middle of the loaves comes out clean. Let cool in the pan for 15 minutes before removing and cooling completely on wire rack.
Makes two 9×5 bread loaves