This homemade ramen egg recipe creates the sort of eggs you find at a Japanese ramen shop's noodle bowl, ready-to-eat for a snack at home! (Jump directly to the recipe.)
"So what's your favorite way to have eggs?" asked Mrs. Spring, my kindergarten teacher, as I sat there staring up at her. I was 4 years old (young for my grade) and listened as my classmates gave their answers. Hard-boiled! Fried over easy! Deviled eggs! When it came to my turn I proudly said "Brown eggs!" which made my teacher laugh. "No Irvin, how do you liked them cooked? Not what color egg!" But I looked at her funny and said "No, that's what my mom calls them. They're brown eggs. They're cooked and turn brown afterwards. That's why they're brown eggs." Mrs. Spring looked at me slightly suspiciously, as if I was pulling her leg, and said "Well you'll have to get the recipe from your mom, because I've never even heard of that!" and then she moved on to my friend Kendra, who promptly told her she liked scrambled eggs. All the kids immediately started to change their answers to scrambled.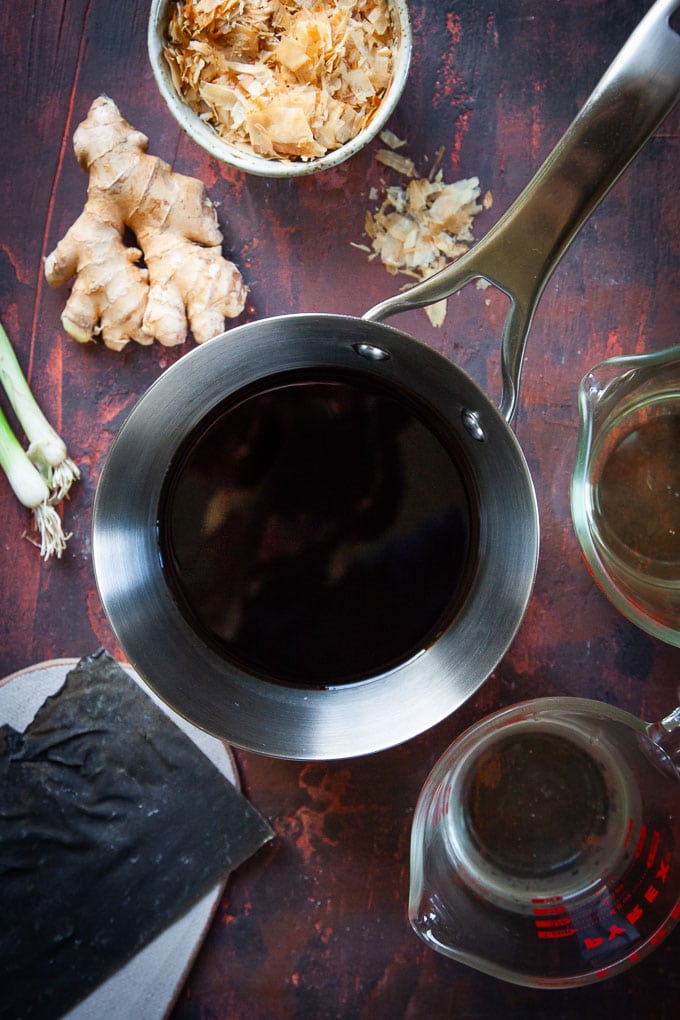 I never did give my kindergarten teacher my mom's recipe for brown eggs. Her version, which includes cooking the boiled and peeled eggs in a soy sauce beef stew like sauce isn't something that my mom makes often anymore. I keep on meaning to get the recipe from her, but it slips my mind everytime we hang out. One of these days I will. Meanwhile I discovered that there's a whole range of "brown egg" recipes out there, from marbled tea eggs, to the ramen egg to soy sauce eggs. Mrs. Spring may have never heard of brown eggs in the late 1970s when I was her student, but I'd be really surprised if she hadn't had them by now, even in the suburbs of St. Louis.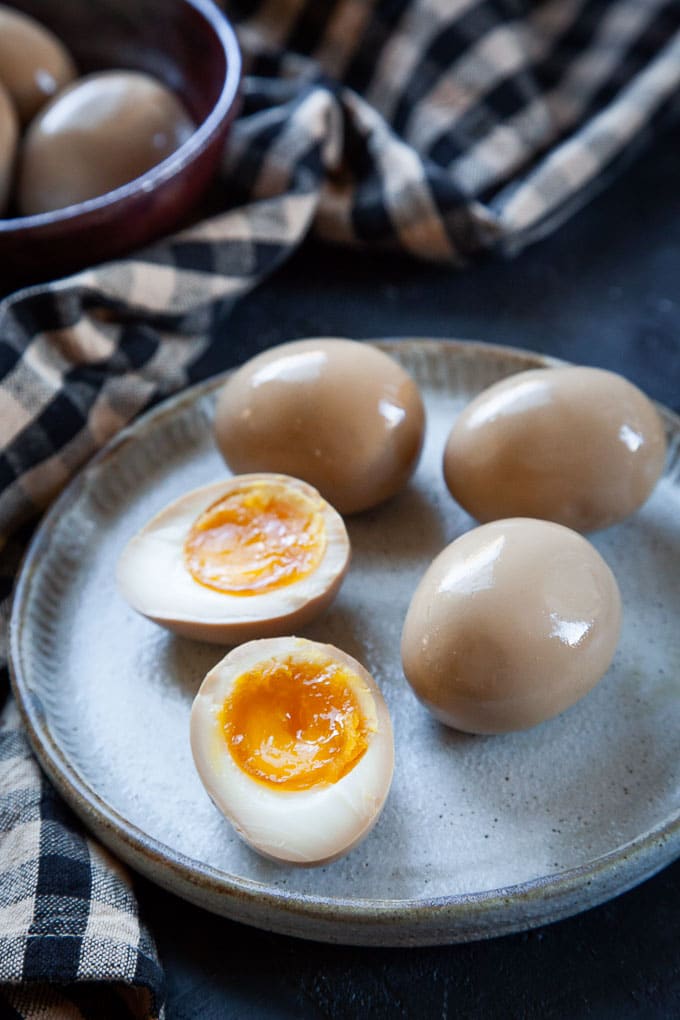 AJ is a bit of an egg fanatic. He soft cooks them by the dozen and snacks on them when he gets the chance. But once I started making soy sauce ramen eggs out of his soft cooked eggs, it was game over. If you've ever been to a classic Japanese style ramen shop, you know what these soy sauce ramen eggs are all about. Packed with umami, fully of savory flavor and slightly salty from the soy sauce, these are the eggs that AJ saves to eat last in the bowl of ramen. And now, since I make them at home, AJ goes through eggs even faster. Mrs. Spring, if you're reading this, I'm sorry I never got you the recipe for my mom's brown eggs. But these are my partner AJ's favorite way to eat eggs. I hope that will do.
Ramen Egg Recipe
There are simpler recipes for soy sauce and ramen eggs out there on the web. But none are as good as these (trust me, I've tried them all). The key is creating a complex, umami packed, sauce to marinate the eggs in. I use a combination of bonito flakes which is a dried, fermented, smoked tuna that is a common ingredient Japanese ingredient, as well as kombu which is a seaweed used to make stock, to give the sauce a double dose of umami goodness. You can find both of those ingredients online (I have affiliate links below in my recipe) or you can go to an Asian grocery store or a well-stocked high-end grocery store with an "ethnic" food aisle to find them. Other ingredients that might be difficult to source include mirin (which is a slightly sweet rice wine) and dry sake (since you're using it to cook, no need to use the expensive top shelf stuff). And yes, you can try substituting ingredients like sweet marsala wine for the mirin or dry sherry for either the mirin or the sake but it's not going to be quite the same. I definitely recommend tracking all the ingredients down to make these eggs.
One more thing to note. I use a sous-vide circulator because I own one (and because it means I can eat the eggs faster). But I've also included instructions on how to make the eggs without a sous-vide machine. So don't worry if you don't have a fancy piece of equipment. It's not necessary for these eggs. But keep in mind that if you do it without the sous-vide machine, you need to let the eggs marinated overnight in the fridge.
Ingredients
1

cup

low sodium soy sauce

1/2

cup

bonito flakes

see headnote above

1

large piece

kombu seaweed

see headnote above

1/2

cup

mirin

see headnote above

1/2

cup

dry sake

see headnote above

2

medium green onions

sliced

1/2-

inch

fresh ginger root

washed and sliced

8

cloves

fresh garlic

crushed
Instructions
Combine the all ingredients except for the eggs in a medium saucepan. Bring to a boil, then reduce to a simmer. Cover and let simmer for 15 minutes.

While the sauce is simmering, peel the soft cooked eggs. I find that if you crack the eggs all the way around, placing them in a large bowl of water as you crack them, the water will penetrate the egg shells and help lubricate the egg itself, making it easier to peel. Once I've cracked all 12 eggs and placed them in the water, I go back to the very first egg I have cracked, that has been soaking in the water the longest, and try to peel it in a different bowl filled with water. I submerge the egg underwater and peel. This usually results in a easier peel.

Place all the peeled eggs into a gallon ziplock bag carefully. Once the sauce has finished simmering for 15 minutes, strain the liquid into the ziplock bag over the eggs.

At this point, if you have a sous-vide machine, submerge the bag filled with eggs and sauce into a water bath, to remove as much air as possible. Then turn the sous-vide machine onto 147°F (64° C). Sous vide the eggs for 1 hour, then let it cool in the bag. Remove eggs from the liquid and store in an airtight container in the refrigerator. Eat within 2 to 3 days.

If you don't have a sous-vide machine, no worries! Just move the ziplock bag with the eggs and sauce in it into a large bowl. Place the bowl in the fridge and let the eggs marinate for 8 hours. Taste an egg, and if the flavor isn't as strong as you'd like, continue to let the eggs marinate in the sauce for up to 24 hours. Once the eggs are flavored to your liking, remove them from the liquid, and store in the fridge for up to 2 to 3 days.
Notes
Use your favorite method to soft cook your eggs ahead of time. Or you can use my foolproof method for perfect soft cooked eggs.
Nutrition