Looking for a make-ahead breakfast or brunch recipe? These breakfast fried grits are loaded with sausage, onions and cheddar cheese. (Jump directly to the recipe.)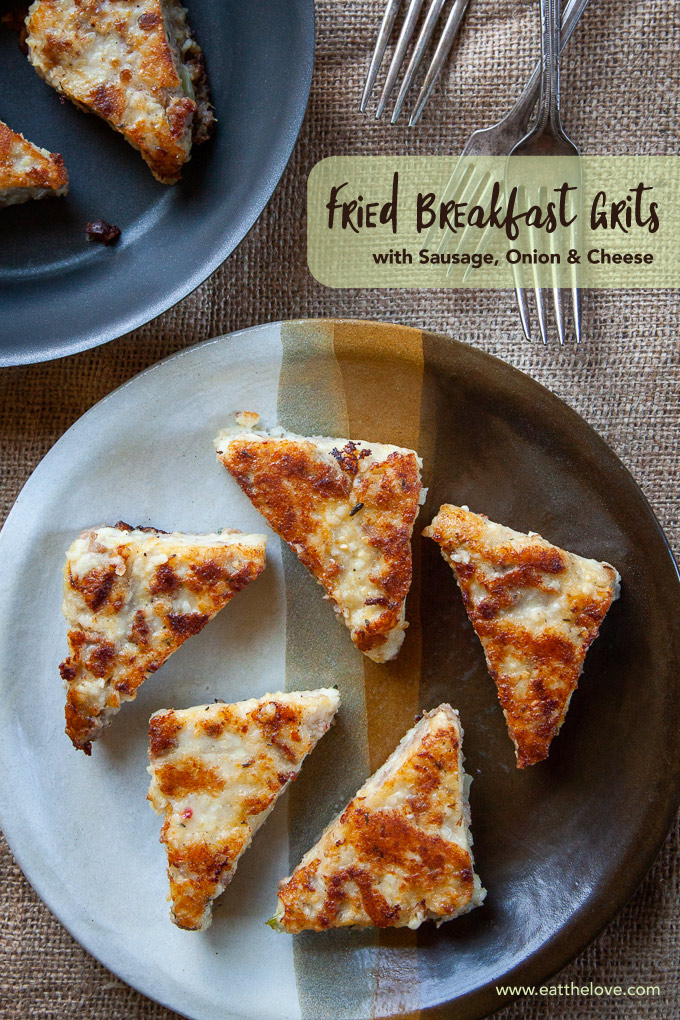 It's been like the 1990s are back in my household as of late. It all started when I realized all the bands and artists that I listened to in college were doing reunions and recording new albums or re-releasing 25-year anniversary version of their classic albums. From Liz Phair's Exile to Guyville to the Breeders and Belly reforming in their classic lineup and releasing new albums, to the third act of Tracey Thorn's musical career (she's amazing) my playlist looks like the mix tapes I made back in sophomore year of college. Then I realized TV shows were doing reboots of themselves, from X-Files to Will and Grace to the rumored Mad About You revival (they better bring back Cyndi Lauper and Ursula Buffay). Soon you'll see me wearing stone washed jeans and flannel shirts (actually I started wearing this exact outfit about two years ago when I started taking ceramics at my community college, so that ship has sailed).
So it only makes sense that I would start revisiting the food from my college. And no, I'm not talking about instant ramen and grilled cheese (though I still have a soft spot for individually wrapped sliced cheese but don't tell anyone that). I'm talking about the food that I would get post going out to the bars and clubs like waffles, biscuits and gravy, southern style grits and bacon. Total diner food that is so bad for you but also so very good. I don't eat it much (just like I don't go out the bars and clubs anymore) but I still have a nostalgia for it.
Then I had my mom over for brunch. I rarely have anyone over because our apartment is tiny. "Entertaining" someone with a meal usually means setting up the card table in the middle of our living room and covering it with a tablecloth I found at Marshall's. Because we're fancy like that. But it's my mom and I had been meaning to having her over for awhile. Making brunch also means making a Brunch menu plan. And thus, I ended up making updated versions of the food from my college days. But better. Because I'm not getting any younger.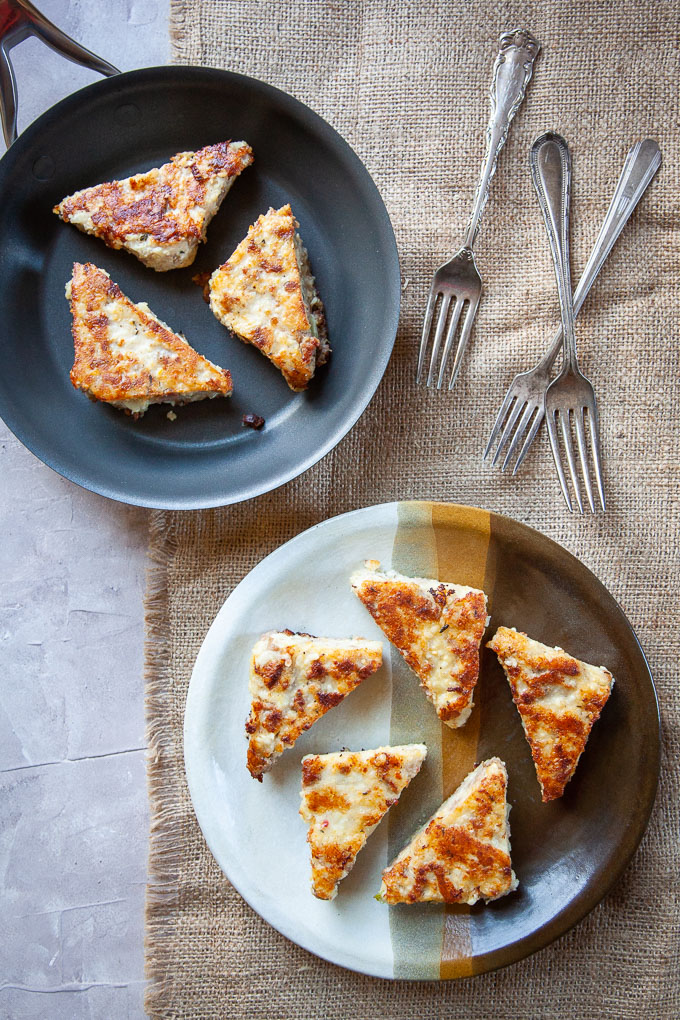 One of my favorite dishes that I made included fried grits. They're adapted from a recipe in the cookbook One Good Dish from David Tanis. His original recipe was inspired by scrapple, a pan fried meat dish found in the Midwest and the East coast. He interpreted it using Italian sausage and polenta. I took it back to its breakfast roots, using stone ground grits and breakfast sausage. It's my new favorite breakfast/brunch dish because it is mostly made ahead of time, with a quick pan fry right before serving. Like Tracey Thorn's latest album Record, it's a new classic with old school roots.
Pan Fried Grits with Breakfast Sausage
The idea of griddle frying grits isn't new. You can find it all over the internet and in restaurants and cafes in the South. The hardest part of making this dish is the time in cooking stoneground grits ahead of time. You might be tempted to use instant grits but I implore you to skip them as they have all the flavor of kindergarten paste. You can find stoneground grits at well stocked grocery stores as well as online. It may take longer to make but you'll be rewarded with actual flavor.
Ingredients
1

cup

stoneground grits

not instant – see headnote above

2

cups

chicken stock or broth

2

cups

water

1/2

teaspoon

kosher salt

1/2

teaspoon

fresh ground pepper

2

tablespoon

unsalted butter

1

cup

whole milk

1

tablespoon

olive oil

2

medium garlic cloves

minced

1/2

medium yellow onion

chopped

3/4

pound

bulk breakfast pork sausage

or remove from casing if necessary

1/2

cup

shredded Dubliner or Cheddar Cheese

1

teaspoon

fresh thyme leaves

Salt and pepper to taste
To finish
2 to 4

tablespoons

olive oil
Instructions
Place the grits, chicken stock, water, salt, pepper and butter in a medium to large pan. Bring to a boil, then reduce heat to a simmer and cover, cooking 30 minutes, stirring regularly to make sure the grits aren't sticking to the bottom of the pan. Add the milk and continue to cook another 45 minutes, continuing to stir, increasing the frequency of stirring near the end of the cook time as the grits thicken. The grits porridge should be thick in the end, but tender and cooked completely through.

While the grits cook, place the oil in a pan with the garlic and onions. Cook on medium heat until the onions have softened and start to turn translucent, about 3 minutes. Add the breakfast sausage and cook until brown and no pink remains. Set aside to cool.

Once the grits are done cooking, removed from heat. Add the cheese, thyme and the cooked sausage, garlic and onion mixture to the grits. Stir to combine and taste (careful it will still be hot!) then add more salt and pepper to taste.

Lightly spray a 9 x 9 inch baking pan with cooking oil. Pour the grits into the pan and smooth out evenly. Let cool to room temperature then cover with aluminum foil and place in the fridge overnight.

The next morning, invert the pan onto a large cutting board. Cut into 9 square pieces (3 x 3) then cut each square in half into triangles. Heat 2 tablespoons of the olive oil in a large skillet until it starts to shimmer then carefully place half the grits triangles in the pan. Reduce heat to medium then fry until golden brown on one side, then flip over and fry the other side until the same color. Move to a warm plate, cover with aluminum foil to keep warm and repeat with the remaining triangles of grits. Add more oil if the pan looks dry while pan frying
Nutrition