This double olive pizza with sausage and arugula is a great and easy weeknight dinner when you make it with store-bought pizza dough! (Jump directly to the recipe.)
This post was sponsored by the Lindsay Olives. I was compensated for this post and for developing the recipe. However, all opinions below are completely my own and not endorsed by Lindsay Olives.
If you follow me on Instagram you know that I have mixed feelings about the month of September. It's marks the end of Summer official and the start of Autumn. Perhaps if I lived in a city with deciduous trees that changed their leaves into glorious brilliant colors I would be more excited. But since I live in San Francisco, all I really get is shorter daylight. But September leads into October and that's the beginning of all things fall and the holiday season. October may be one of my absolutely favorite months, and not because it also happens to have my birthday in it. Nope, October ALSO happens to be National Pizza Month which seems like the best made-up holiday month ever. EVER.
In truth, I'm not a big "food holiday" person. But National Pizza Month is something I can TOTALLY get behind because pizza is one of my favorite foods. I'm going to guess it's one of yours too because who doesn't love pizza? Of course, if you're one of those odd folks who don't like pizza, I might have to reconsider our relationship. Or maybe not, because that just means more pizza for me. Deal? Deal.
So when the San Francisco bay-area based Lindsay Olives reached out to me to develop a pizza recipe, it was the easiest YES PLEASE I've ever said. Olives happen to be one of my favorite pizza toppings, and Lindsay's olives are so great they also happen to be a lot of professional chef's go-to olive as well. I kind of love how Lindsay olives bridge the gap between the normal folks (that would be you and me – the kind that goes to the local grocery store) and professional chefs that have access to all the fancy pant ingredients. If Lindsay's Ripe Olives are good enough for the back-of-the-house professionals, it's good enough for me!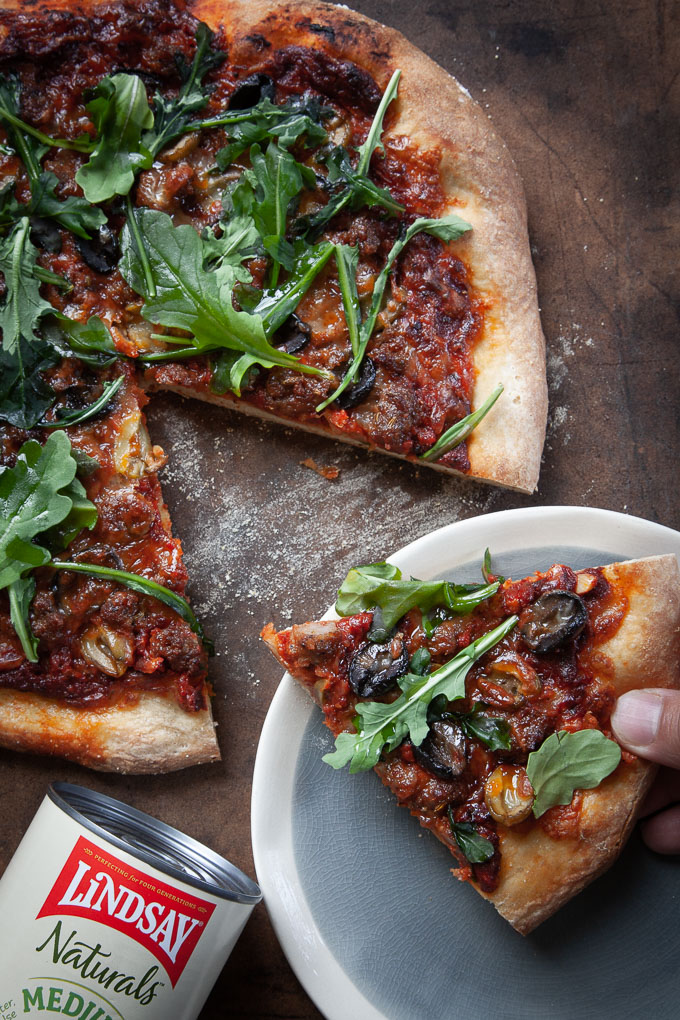 So now that the weather has cooled off, crank up the oven, pull out that heavy baking steel/pizza stone/battle-scarred baking sheet and grab a can of olives. Or, in my case, two different cans of olives. Because one type of olive isn't enough for me.
Double Olive Pizza with Sausage and Arugula
This easy pizza uses both Lindsay ripe black olives and Lindsay Naturals olives which are more buttery. The salty olives offset the natural richness of the sausage and spicy arugula brightens up the pizza. A drizzle of Lindsay's Robust olive oil ties it all together. I used store-bought pizza dough making this pizza a great weeknight dinner but if you have a favorite homemade dough, feel free to use that instead!
Ingredients
Pizza sauce
1

tablespoon

Lindsay Robust Extra Virgin Olive Oil

3

medium cloves garlic

minced or forced through a press

3/4

teaspoon

dried basil

1/2

teaspoon

dried oregano

1/2

teaspoon

kosher salt

1/2

teaspoon

fresh ground pepper

1/8

teaspoon

red pepper flakes

optional

1

cup

tomato sauce

2

tablespoon

double concentrated tomato paste

the kind that comes from a tube (or 3 tablespoons regular tomato paste)
To assemble
3

tablespoons

all-purpose flour

1

tablespoon

yellow cornmeal

14 to 16

ounce

store-bought pizza dough

or use your favorite homemade pizza dough recipe
Instructions
Place a pizza stone, baking steel or large baking sheet the oven and preheat it to 500°F.

Make the sauce by placing olive oil and garlic in a medium saute pan. Heat on medium high, stirring frequently until the garlic starts to smell fragrant and sizzle, about 30 seconds to a minute. Add the basil, oregano, salt, pepper and red pepper flakes (if using) to the pan with the garlic and cook for an additional 30 seconds.

Stir in the tomato sauce and tomato paste and bring the tomato sauce to a simmer. Reduce heat to a low, and let the tomato sauce cook for about 10 minutes, stirring frequently, until the sauce has thickened and darkened in color. Remove from heat and let cool slightly.

While the pizza sauce is simmering, place the sausage in medium sized skillet and turn the heat to medium. Cook the sausage, breaking it up into small bits with a wooden spoon, until it has browned and no pink remains. Remove from heat and let cool.

Assemble the pizza by first combining the flour and cornmeal in a small bowl with a fork. Sprinkle the flour and cornmeal liberally on a pizza peel (or a large wooden cutting board, rimless baking sheet or the back of a rimmed baking sheet). Start to stretch the pizza dough into a flat round circle with your hands, then place the circle on the pizza peel (or whatever you are using), making sure there is enough flour cornmeal mixture underneath it to keep the dough from sticking. Using your fingers, press and pull the dough into a larger flat circle, about 14-inches in diameter. Shimmy the peel (or whatever) every now and then to make sure the dough is not sticking. If it starts to stick, lift up the dough in the problem area, and sprinkle more flour cornmeal underneath. Once the dough stretches out, start to assemble the pizza.

First sprinkle 3 ounces of the cheese over the pizza dough. Then carefully spoon and spread the pizza sauce over the cheese with the back of the spoon.

Distribute the cooked sausage and both olives over the top of the pizza evenly. Then sprinkle the remaining cheese over the toppings.

Now open up the oven, and, with one quick jerking movement, slide the pizza onto the hot pizza stone/steel/baking sheet. You want to do this with confidence, as the pizza can sense your fear! Bake the pizza for 13 to 15 minutes long, or until the edges of the pizza dough are golden brown and the cheese on top starts to brown a bit. Pull the pizza out by quickly sliding the pizza peel under pizza. If you don't have a peel, use the same surface you used to make the pizza on, and pull the pizza onto it with a spatula.

Finish the pizza cutting it into 8 pieces. Then add the arugula on top and drizzle the olive oil over the arugula and pizza top. Serve immediately.
Nutrition