Everything bagel seasoning is easy to buy at the store but it's even easier to make at home with everyday pantry ingredients!
Jump to Recipe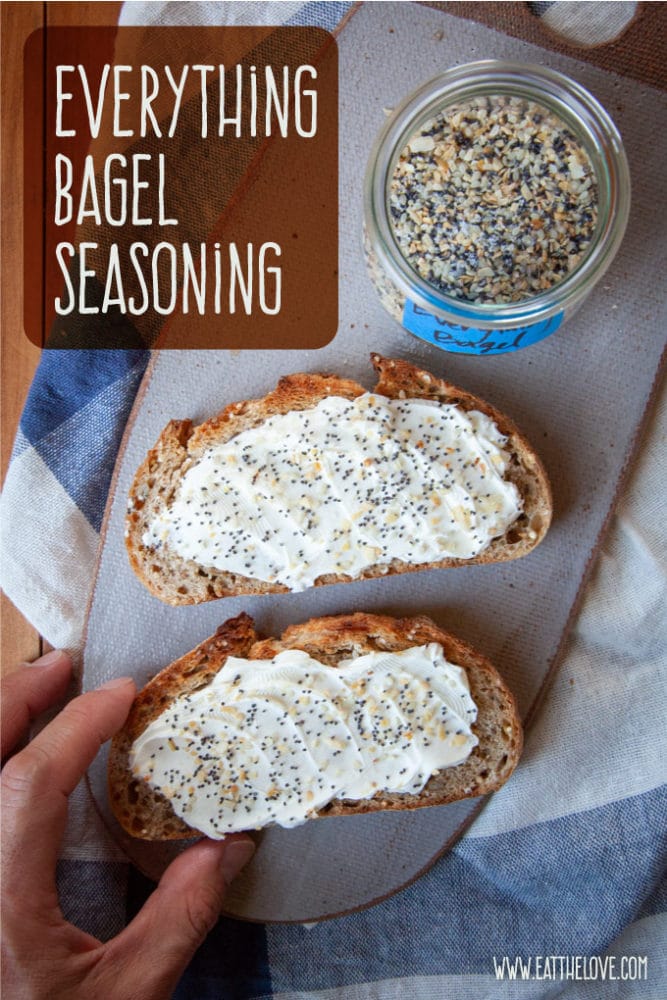 It took me a long while to get on the everything bagel seasoning bandwagon. I mean, everything bagels are one of those bagels that stared at me at the bagel shop, next to the sesame and the poppy seed. I always gave them the side-eye because I just assumed it was the toppings combination that happened when all the other seasonings fell off their single flavor bagels. Why would I want these discards?
But then the world discovered everything bagel seasoning and folks started to buy the actually seasoning by itself, removed from the bagel. Even Trader Joe's got in on that act and started selling "Everything but the Bagel" seasoning in the stores. And I thought, I should really give it a go. I regretted not trying it sooner! And though I know I could buy it at a store pre-mixed, like my pumpkin spice blend, I also knew that I probably had all the components in my pantry and why buy something when I can make it at home for cheaper?
What's in Everything Bagel Seasoning?
Everything bagel seasoning is a combination of traditional single flavor seasonings for bagels. Though seasonings and proportions vary per bakery, the usual combination is one of sesame seeds, poppy seeds, dehydrated/minced onion flakes, dried minced garlic and kosher salt. Other less common ingredients that are sometimes added include caraway seeds and black sesame seeds.
What's nice about making your own seasoning blend is you can customize it to you own taste. So if you happen to love garlic, you can increase the garlic in the seasoning. If you love caraway, you can add that into the mix. Omit or increase ingredients to your own taste!
What do I put everything bagel seasoning on?
You, of course, can put it on homemade bagels or use it over homemade bialys. But even if you buy store-bought bagels, you can basically convert ANY plain bagel into an everything bagel by first giving it a smear of cream cheese, then sprinkling the seasoning over the cream cheese! The spice blend sticks to the cream cheese and make the bagel taste like an everything bagel.
You can even do the same thing with toast, smearing some plain cream cheese over it and sprinkling the mix all over the cream cheese. Instant everything bagel flavor!
Of course, beyond bagels and toast, you can use the seasoning in all sorts of places. Try some of these suggestions:
Sprinkle it over homemade (or store-bought) hummus
In fact, sprinkle it over ANY dip, homemade or not. It would be a great addition to French onion dip or guacamole
Sprinkle it over avocado toast
Blend some of the seasoning into bread crumbs. Then dip chicken breasts or thighs with an egg wash and then coat in the bread crumbs. Pan fry for an easy main course.
Sprinkle it over your cooked eggs (I like it sprinkled over soft-boiled eggs)
Sprinkle it over your favorite salad for an added touch of savory flavor
Toss it over some buttery popcorn
Add it to some oven-roasted potatoes or store-bought frozen fries
Sprinkle some of the seasoning over roasted vegetables like carrots or Brussel sprouts
Use it on top of homemade pretzels or pretzel buns
When making homemade pizza (or even store-bought frozen), brush some water on the crust of your pizza crust, then sprinkle the edges with the seasoning before baking it. Giving "pizza bagels" a whole new meaning!
Is Everything Bagel Seasoning keto friendly, Whole 30, paleo or gluten free?
Yes it is! The seasoning is a combination of dried seasonings like dried onion and garlic as well as seeds like sesame seeds and poppy seeds. All of which are gluten free and ok within those special diets.
How long will everything bagel seasoning last?
The shelf life of your everything bagel seasoning blend is dependent on how old your seasoning ingredients are! Ideally, if they are fresh, the seasoning should last up to 1 year. But I usually try to use it up within 3 to 6 months for optimum freshness. Usually this isn't an issue for me!
How do I store everything bagel seasoning?
I store my seasoning in an airtight container, like a mason jar with a tight lid. But you can also keep it in a resealable bag or a plastic container with a fitted lid.
If you like this easy recipe for everything bagel seasoning, check out these other recipes for specialty pantry ingredients:
Everything Bagel Seasoning
Skip the store-bought everything bagel seasoning! You can make it at home with pantry ingredients you probably already have. I've left a few notes on the bottom on how to customize if you want.
Ingredients
2

tablespoons

poppy seeds

2

tablespoons

sesame seeds

1 1/2

tablespoons

dried minced onions

1 1/2

tablespoons

dried minced garlic

1

tablespoon

kosher salt
Instructions
Place all the ingredients in a medium mixing bowl. Combine with a fork. Store in an airtight container.
Notes
To customize the everything bagel seasoning, sprinkle a little bit of the seasoning on a cream cheese smeared piece of toast to taste. Adjust the seasonings by increasing the ingredients that you want to have a more prominent flavor.

Consider adding black sesame seeds, caraway seeds or cracked black pepper to the mix. Black sesame will darken the mix along with the poppy seeds. Caraway seeds add a distinctive peppery anise licorice flavor that some folks love and others don't care for. It blends nicely with the other ingredients. Black pepper has an earthy heat to the mix. Try to use larger cracked pepper as the finely ground pepper will lose its potency as it sits in the jar.
Nutrition