Sweet and charred flavored smoked honey is easy to make in your home kitchen without a smoker, with this step-by-step instructions recipe! (Jump directly to the recipe.)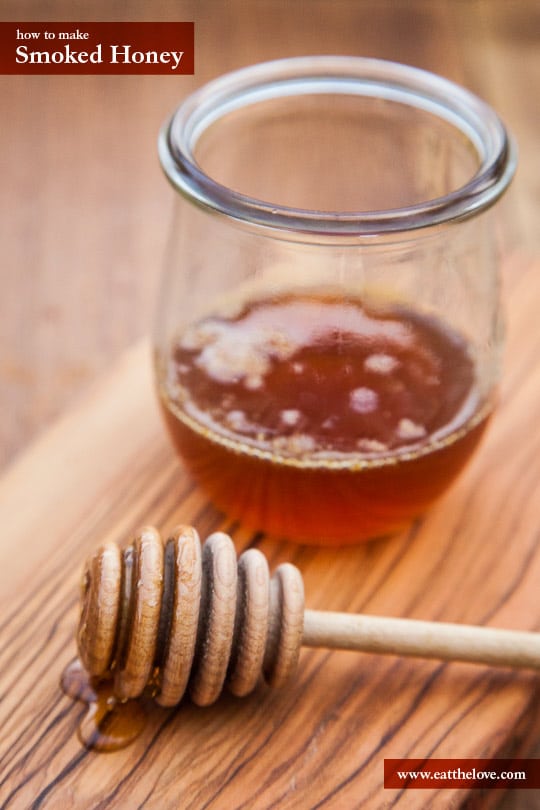 So I'm just going to say it out loud. I'm not a fan of Las Vegas. It's not one single thing that I don't like about the city. I don't specifically have a problem with gambling or neon lights or glitzy overpriced shows. I don't even have an issue with crowds or celebrity restaurants or showgirls (not the campy movie, the actual women parading up and down the strip with large feathers strapped to their rear ends). I think it might be just a combination of all of the above that made me realize that Vegas just isn't the city for me. But one thing that I can credit Vegas for introducing me to is the glorious nectar called smoked honey.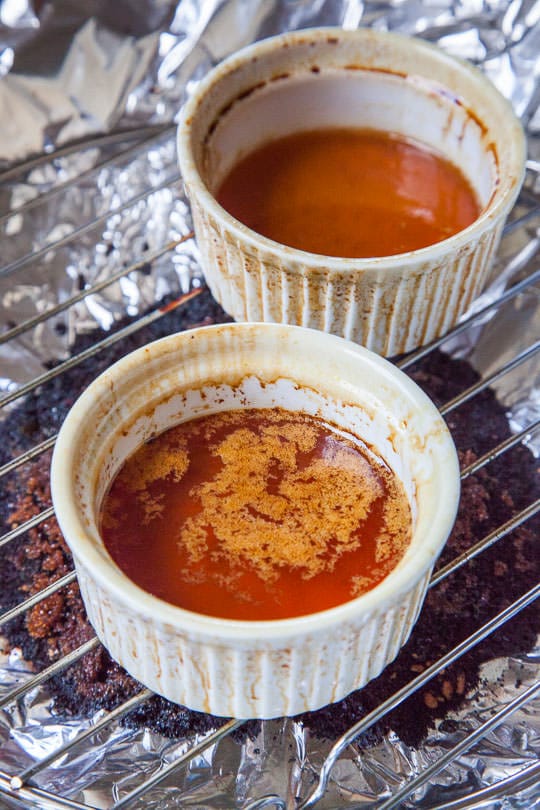 I was in Las Vegas for the Food Fight Write conference, where I was presenting on two topics, How to Make Money as a Blogger and Introduction to Graphic Design for Food Bloggers. It was a fun conference and I got to see a lot of friends that I hadn't really seen before. But the biggest draw, to me, was the chance to go to Las Vegas. After living on the West Coast for 17 years, I still hadn't properly visited Las Vegas and now I had an excuse to go.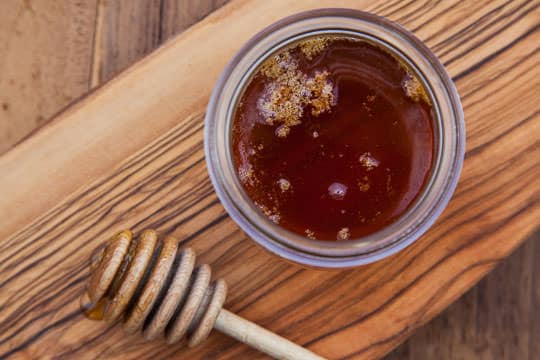 Vegas was pretty much what I expected it to be shiny, bright and very very crowded. I was staying at the conference hotel downtown, away from the Strip and my partner AJ had flown down there to hang out with me as well, so we made a few trips down to the Strip so I could really experience Vegas in all it's glory. But the day before he flew down, I had dinner at small gem of a restaurant, called Carson Kitchen in downtown Las Vegas with my friend and fellow blogger Sean of Hedonia and Punk Domestics. The dinner was excellent but it one appetizer that got both of use so excited, and it was served with a side of smoked honey. I was immediately enamored and vowed to make it at home. Turns out it wasn't as hard as I thought, even though I don't even own a smoker. The solution…tea smoking with a wok. I am so making this all the time now.

Smoked Honey
By Irvin Lin
Smoked honey is ridiculous good, with a deep grilled sticky sweet flavor that is perfect to use to glaze a ham or salmon, as an ingredient to pump up your smoky barbecue sauce (mmm ribs!), in a sweet and smoky vinaigrette or as a condiment, drizzled over fried chicken, pears or even ice cream. Endlessly useful, use it whenever you would use honey but want a little touch of outdoor smokeiness. If you have a smoker, you can probably smoke the honey that way, or if you are feel like a shortcut, you can probably just mix in some liquid smoke to any honey but I'm not a fan of liquid smoke. It comes across as chemically tasting to me (though perhaps I just haven't tasted the right brand). Since I don't have a smoker, I opted to tea smoke the honey, like I did with my tea-smoked shrimp, using rice, black tea and brown sugar. Just make sure you have your windows open or the hood over your stove is turned on when you make this. Otherwise you're fire alarm is liable to go off!
By the way, this recipe makes 1/2 cup of smoked honey but you can double it by using 1 whole cup of honey, and dividing it into 4 ramekins, 1/4 cup of honey per ramekin. All the remaining ingredients and instructions should remain the same, just make sure the ramekins aren't touching each other on the wire rack.
Inspired by a dish from Carson Kitchen in Las Vegas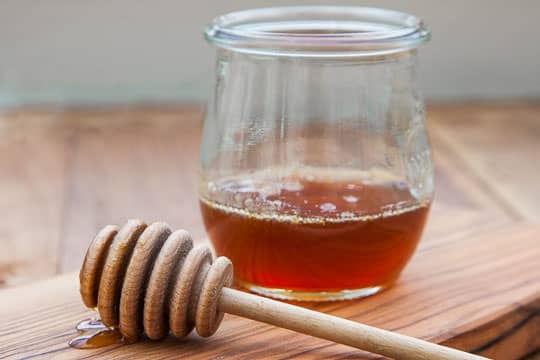 Ingredients
1/4 cup (65 g) uncooked white rice (any type will work)
1/4 cup (18 g or about 10-12 bags) black tea
2 tablespoons (25 g) dark brown sugar
1/2 cup honey, divided
Special Equipment
13" wide flat bottom wok, preferably one with a lid
9" round wire rack
2 heat-proof 6 oz ramekins
Directions
1. Prep the wok for smoking by first lining the bottom and sides of the wok with one large piece of aluminum foil. The sheet should be large enough to fit down into the wok and up the sides overhanging by an inch or two. Make sure the wok is touching the metal with no air pockets or it won't get hot enough to smoke. Place a second piece of same size foil crosswise over the first piece to make sure the wok is completely covered.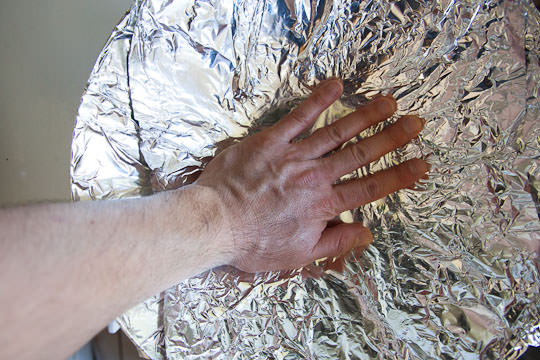 2. Sprinkle the rice over the bottom of the wok. Sprinkle the black tea over the rice. Sprinkle the brown sugar over the black tea. Place the wire rack inside the work so it hovers over the rice/black tea/brown sugar. Divide the honey into the two ramekins and place the ramekins on the rack.
3. Tightly cover the wok with a lid if you have one that fits or use more aluminum foil to tightly seal the top of the wok. Place on top of the stove and turn the heat to high for 1 to 2 minutes or until you can see or smell a whiff of smoke. Then lower the heat to medium low and continue to smoke the honey for 20-30 minutes, depending on how smoky you want it. I went a full 30 minutes to give it a really smokey flavor. This is when you want to have your window or overhead hood turned on.
4. Once the time is up, turn the heat off and leave the lid on the work for another 5 minutes to let the heat dissipate before uncovering. The honey will be thin and runny from the heat but don't worry, it'll thicken as it cools. Let it cool completely in the wok on the rack before removing and pouring into a clean jar for storage and use.
Makes 1/2 cup of smoked honey.
If you like this smoked honey recipe, check out some other recipes I have that use honey.
Pear Cake with Honey, Walnuts and Blue Cheese
Honey Fried Chicken, Mississippi style
Blackberry Muffins with Whole Wheat, Honey and Fresh Mint
Honey and Thyme British Style Scones
Bergamot Orange and Thyme Semolina Olive Oil Cake with Honey Vodka Glaze
Haunted Honey Caramel (a wordless recipe!)
And check out some other honey recipes from around the web (that I bet would be even more awesome using smoked honey).
Broke Ass Gourmet's Jalapeno Honey Chicken
Lottie and Doof's Salted Honey Pie
Oh Sweet Basil's Honey Avocado Wrap
David Lebovitz' Honey Almond Squares
Recipe Girl's Honey Walnut Shrimp