Spicy Cinnamon Mexican Chocolate Pecan Pie is the perfect complement to the holidays (and a cold Negra Modelo beer!). (Jump directly to the recipe.)
I'm partnering with Negra Modelo for their The Perfect Complement campaign this holiday season. I've created this custom Mexican Chocolate Pecan Pie recipe to pair with Negra Modelo beer, one of my all time favorite beers. I was compensated for developing this recipe and this post but all opinions above are totally my own and not endorsed by Negra Modelo. Follow Negra Modelo on their Instagram or Twitter accounts and search for their #ThePerfectComplement hashtag on their social media channels for more ideas of awesome recipes that go well with Negra Modelo over the holidays!
"This is the best pecan pie I've ever had!" exclaimed my partner after he took a bite of the Mexican Chocolate Pecan Pie I had just cut into. He had just come into the kitchen from a workout and I had offered him a taste of my latest creation. I've made different versions of pecan pie before but I've always felt like they were a bit one-note. Sugary sweetness and pecans, that's about it. But this pie, oh this pie was different. Maybe it was the cinnamon infused Mexican chocolate I used or the touch of Negra Modelo beer I added but this pie had depth and dimension. It was clearly the perfect complement to both the holidays and Negra Modelo beer itself. AJ certainly agreed with me, as he took another bite of the pie, standing around in his work out clothes trying to figure out if he should go and shower up first or finish off the slice.
It turns out that AJ really loves pecan pie. Which is funny because I didn't know that about him. After being with someone for over 15 years, you'd think that I would know his likes and dislikes inside out. But he constantly surprises me. When I think about it, I probably should have figured it out. He love nuts of all sort and is a fan of pies in general. But since I don't bother to make pecan pie all that often at home, I guess I never really see him reach for a slice or two. And I've never really seen him consume a slice of pie as fast as he consumed this Mexican chocolate pecan pie.
I offered him some Negra Modelo beer as well, to go with the pie. I told him the caramelized malty flavor would really go well with the pie but he didn't really need any convincing. He grabbed the cold glass to help wash down the last bite of the pecan pie and then he looked back guilty at me. "Hope it's OK I finished this slice off…" he said sheepishly. I assured him that it wasn't a big deal. After all, I had the rest of the pie still in the pan. He nodded and scurried off to shower. But I could see him eyeing the pie, wondering if he could sneak another bite without me noticing…
Mexican Chocolate Pecan Pie
By Irvin Lin
The spicy cinnamon flavor of Mexican Chocolate works well with both the toasty nutty pecans and the malty caramel flavor of Negra Modelo beer in this pie. It's a sophisticated twist on a classic holiday dessert and a nice twist on traditional fare for the end of the year. I like to toast my pecans before adding them to the pie for an extra bit of nutty flavor.
Ingredients
Crust
1 1/4 cups (175 g) all-purpose flour
1/4 teaspoon kosher salt
10 tablespoons (140 g) cold unsalted butter, European style preferred
2 to 4 tablespoon ice cold water
Filling
2 cups (300 g) pecan halves
3.1 ounces (90 g or 1 tablet) Mexican chocolate, chopped into 1/4-inch chunks
4 tablespoon unsalted butter
2 tablespoon unsweetened cocoa powder
1 teaspoon cinnamon
1/2 teaspoon kosher salt
1/4 cup Negro Modelo beer
1 teaspoon vanilla extract
3/4 cup dark corn syrup
1/2 cup dark brown sugar
4 large eggs
Directions
1. Make the crust by placing the flour and salt in a large bowl and stirring them together with a balloon whisk. Cut the butter into 1/2-inch chunks and sprinkle over the flour. Using your fingers, smash the butter into small bits and pieces, flattening the butter as much as possible. Once the butter is in pieces about the size of peas, sprinkle 2 tablespoons of water over the mixture and toss to incorporate until a dough forms. If the dough seems dry add more water, 1 tablespoon at a time. Once a dough forms, gather it together and flatten it into a round disk about 1-inch thick. Wrap tightly with plastic wrap and put in the refrigerator to chill for 1 hour or overnight.
2. Once the dough has chilled, roll the dough out to a 12-inch circle. Fit the dough into a 9-inch pie pan. Crimp the edges of the dough decoratively and place in the refrigerator for 15 minutes. Meanwhile preheat the oven to 375˚F.
3. Once the 15 minute are up, prick the bottom of the pie crust with a fork all over, then line with parchment paper and pour pie weights, dry beans or uncooked rice inside and bake in the oven for 25 minutes. Remove the paper with the weights and place the pie crust back in the oven for 5 to 10 minutes more, or until the bottom of the crust starts to look dry.
4. Let the pie crust cool to room temperature. Place the pecan halves on a rimmed baking sheet. Toast for 5 to 7 minutes or until the pecans start to smelly nutty (you don't want them to darken too much, so start checking on the earlier side). Let the nuts cool until you can handle them, then chop half of them.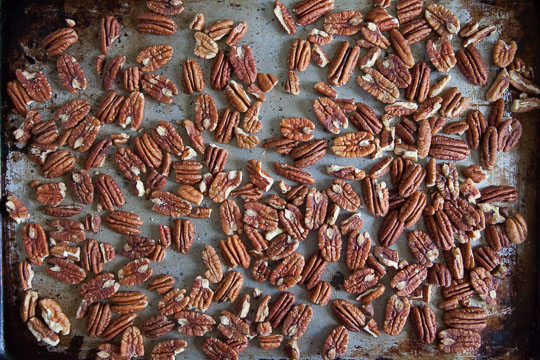 5. Place the chocolate and butter in a medium sized microwave safe bowl and cook on high power for 30 seconds. Stir and cook for another 30 seconds. Stir until the chocolate is completely melted and smooth. If you need to, cook in the microwave for additional 15 seconds intervals, stirring between cooking. Once melted, add the cocoa powder, cinnamon and salt and stir to dissolve.
6. Add the beer, vanilla extract, corn syrup and brown sugar to the chocolate and stir to incorporate. Add the eggs, one at a time, beating to make sure each egg is incorporated, before adding the next one.
7. Place the chopped pecans in the cooled pie crust then pour the filling over the pecans. Place the whole pecans on top of the filling, "tucking" them into the filling to make sure they are securely in place.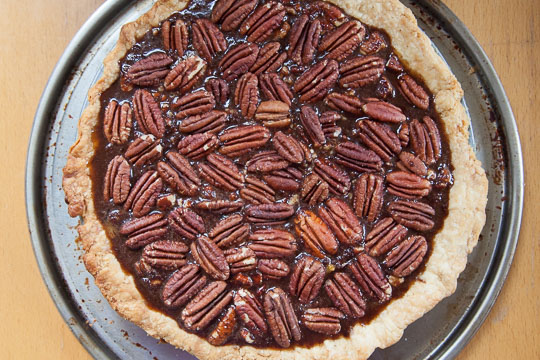 8,  Place on a rimmed baking sheet and bake in the oven for 10 minutes, then reduce the temperature to 350˚F and bake an additional 40 to 50 minutes or until the pie just barely jiggles in the middle of the pan. Let cool to room temperature before serving.
Makes 1 9-inch pie, serves 6 people.
Reader Interactions