This easy-to-make Strawberry Meyer Lemon Cream Pie is the epitome of summertime refreshment, using fresh strawberries and sweet tart Meyer lemonds! (Jump directly to the recipe.)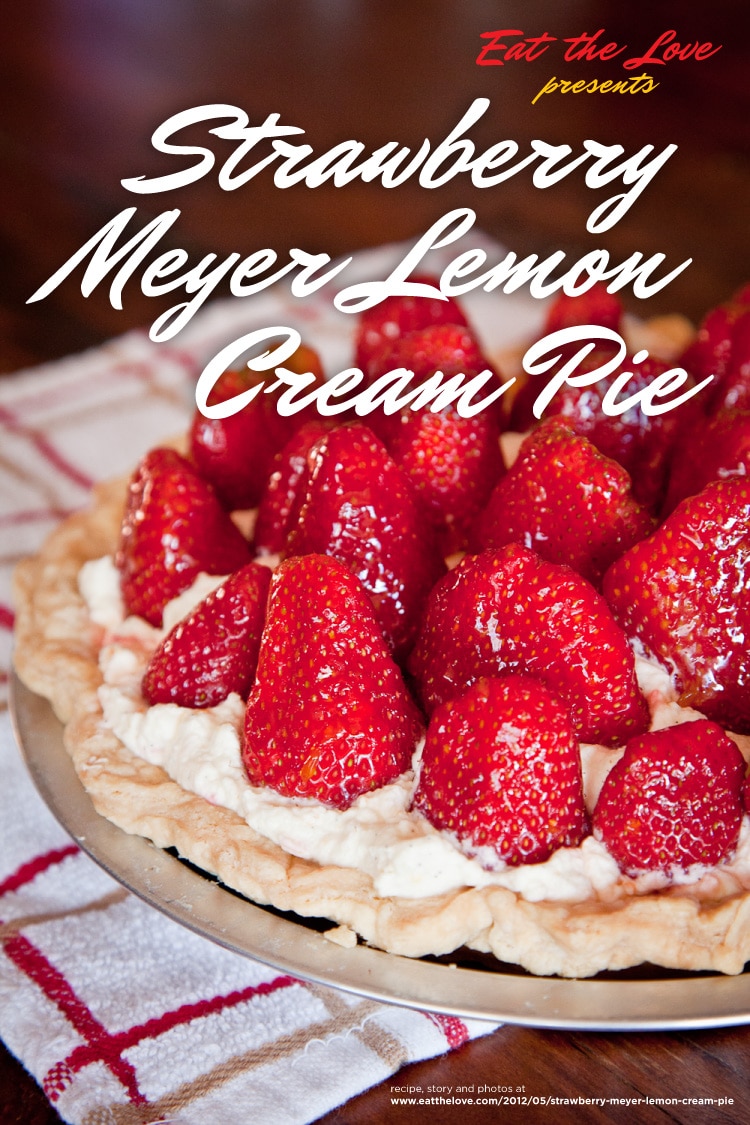 Spring is nearly over and summer is right around the corner. Summer in my household is clearly delineated when AJ gives his final exams, turns in his grades and then takes a week off to bike down to LA for the AIDS Lifecycle (please go and donate to this awesome cause. My man is biking 545 miles!). This also means that the summer fruit starts coming into season and I slowly start turning into a frugivore, subsisting only on berries and stone fruit. Of course, to highlight this fruit obsession, I'm co-hosting another DIY Dessert event at 18 Reasons on June 3rd from 2-4 pm with my friend Melanie. This time the theme is PIE and to prove to you that the phrase "easy as pie" really does make sense, I present to you my Strawberry Meyer Lemon Cream Pie.
The Strawberry Meyer Lemon Cream Pie was created when I was in a panic state that I was going to have a gathering of friends and not enough pie for all of them. You'll remember that I was down in LA a few months ago, visiting my friends Rita and Damon and we decided to host a pie and pie party. AJ made a huge amount of pizza and I made four pies for that event in the fear that there wasn't going to be enough pie to go around for everyone coming.
The Banana Coconut Cream Pie was easy to make ahead of time, but there were a lot of components to it. The Southern Comfort Pear Almond Frangipane Pie was wonderfully complex but took a little bit of time to make. I won't go into the third pie, as it wasn't all that great, but by the time I got to the fourth pie, I was running out of time. I had an extra pie crust though, so I figure, why not whip up a fast, simple pie for everyone?
That's when I created this pie. As long as you have a pre-baked pie crust (and you can totally cheat and use a store bought pie crust, I won't tell) it's insanely easy to make. Of course, even though I give you permission to use a store bough crust, I highly recommend a homemade crust. I know people are scared of making pie crust, but trust me, it's way easier than it seems – especially if you use the vodka method which gives you an easy rollable crust, almost as if it's store bought. From there, just let the crust cool from baking, whip some cream, cut up some strawberries, squeeze a little juice and you're done.
I'll be at 18 Reasons this Sunday between 2pm and 4pm, enjoying pie with friends (some new, some old). Please stop by and bring a pie with you, or just bring a healthy appetite for pie! After all pie taste better when you're sharing it with friends. And I'm going to tell myself that since it's mostly fruit, it's healthy for me. Right? Right.

Strawberry Meyer Lemon Cream Pie
By Irvin Lin
The beauty of this pie is twofold. Not only is it super easy to make (bake crust, whip cream, assemble) but when the weather turns warm, you can bake the crust at night when it is cool, and then make the whip cream in the afternoon right before you serve it, and you don't have to turn the oven on during the daytime. Meyer lemons can be hard to find in the summer time, so feel free to substitute either regular lemon, regular orange (or even a combination of the two).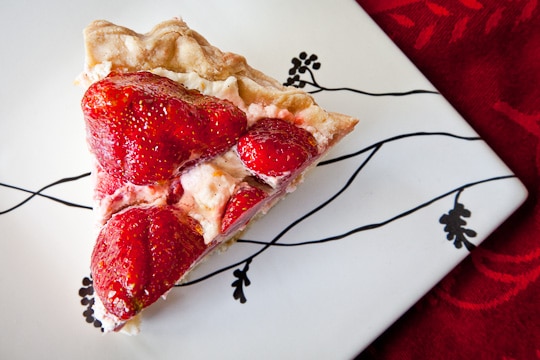 Ingredients
Crust
245 g (1 3/4 cups) all purpose flour
1/2 teaspoon sea salt
150 g (1/2 cup + 3 tablespoons) unsalted butter, cold
3 tablespoons ice cold water
3 tablespoons vodka
Filling
1 1/2 cups heavy whipping cream, cold
1/4 cup confectioners' sugar (powdered sugar)
zest of 1 Meyer lemon
1/4 teaspoon sea salt
2 pints strawberries, divided
1 tablespoon of Meyer lemon juice
2 tablespoons apricot jam
Special Equipment
Rolling pin
9 inch pie tin
parchment paper
pie weights, dry beans or uncooked rice
zester or microplane grater
pastry brush
Directions
1. Make the crust dough by placing the flour and salt in a large mixing bowl. Cut up the butter into 1/2 inch chunks, sprinkle over flour and toss to coat. Flatten the cubes of butter with your fingers until all the butter has been smashed. Start rubbing and squeezing the butter together with your fingers, until the ingredients start to clump together. Sprinkle the water and vodka over the mixture and toss with a fork until it forms a dough. If the dough seems too wet, add a little more flour and fold it in, but the dough is meant to be moist. Gather the dough and flatten into a large 1/2 inch thick disk. Wrap tightly with plastic wrap and place in the refrigerator for an hour or overnight.
2. Once the dough has chilled, preheat the oven to 375˚F (190˚C, Gas Mark 5). Roll out the chilled dough on a generously floured surface. The nice thing about this dough is that you can use as much flour as you need. It's very forgiving. Roll it out to 10 inches and then fit it into a 9 inch pie pan. Decoratively flute the edges of the crust.
3. Prick the bottom of the crust with a fork all over. Line the bottom of the pie crust with a piece of parchment paper. Fill it with pie weights, dry beans or uncooked rice to weight it down. Bake in the oven for 20 minutes. Remove the parchment paper with the pie weights and put back in the oven and bake for another 7 to 10 minutes or until the crust looks dry and the edges are golden brown. If the edges are browning too fast, cover the edges with aluminum foil. Once the pie crust is fully baked, remove from oven and let cool completely to room temperature on a wire rack.
4. Once the pie crust has cooled completely, make the filling by placing the cream, sugar, zest of Meyer lemon and sea salt the bowl of a standing mixer fitted with the wire attachment. Turn the mixer to medium high and whip until peaks form, being careful not to over whip the cream. Take 1 pint of the strawberries and destem and hull them. Slice into 1/2 inch slices and fold into the whipped cream.
5. Spread the filling into the cooled pie crust. Slice the top of the remaining pint of strawberries and place them (top down) all over the filling, covering the surface of the top of the pie. Drizzle the Meyer lemon juice over the strawberries and filling. Heat the apricot jam in a small pot on the stove until it melts. Brush the melted jam over the strawberries to give them a shiny glaze. Serve immediately.
Makes 1 pie, serves 8 to 10 people.