The kouign amann, a flaky buttery caramelized sugar filled pastry, is easy to make if you follow my step-by-step photo instructions!
I was in New York the first time I took a bite of a kouign amann, a yeasted buttery flakey caramelized sugar filled pastry who's origin came from the Brittany region of France. I had flown into the city for a few days as a quick layover before I headed up to Pennsylvania for the Big Summer Potluck, one of my favorite food blogging events. While hanging out with fellow East coast food bloggers at the Potluck, I asked them for suggestions of places to eat and things to check out while in New York. Of course, the laundry list of "must have" food items was immense (note to self, never ask food bloggers for restaurant suggestions, you'll get an immense list and you'll never be able to get to all of it). But the one item that kept on being mentioned by everyone was Dominique Ansel's kouign amann. Otherwise known as the DKA (Dominique's Kouign Amann) it was the it pastry to try at the time, until it ended up being eclipsed by his now even more famous creation, the Cronut®. (Jump directly to the recipe.)
Once I was back in the city after the blogging event, I headed over to meet my friend Gail of One Tough Cookie at Dominique Ansel. I adore that woman but we had actually never met in person. Gail turned out to be even more fabulous in real life that I imagined and we caught up talking person-to-person chatting about baking, about food blogging and about which food blogger's online and real life personalities were the same and which were vastly different. All the while, we nibbled on various different pastries, including the famed DKA. Turns out the pastry that literally translates to "buttery cake" lived up to it's hype.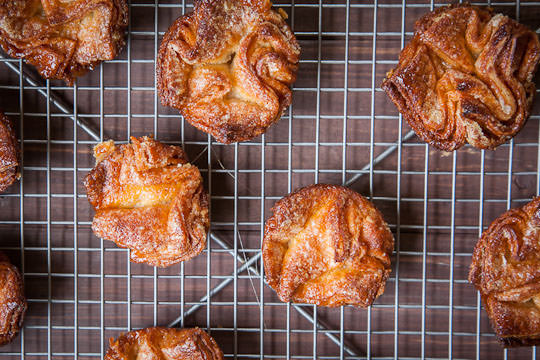 Of course, back in San Francisco I started to see kouign amanns popping up here and there. But it wasn't until I took my laminated dough pastry class at the San Francisco Cooking School that I made one for myself. Of the three different doughs that we worked on in the class (croissant dough, puff pastry dough, and kouign amann dough) it was by far the easiest. But in the back of my head, I knew that I wanted to make it even easier at home. With the confidence and skill set that I got from the class and a little help from the cookbook The Modern Baker by Nick Malgieri, I was able to come up with a recipe for the kouign amann that pretty much anyone could make. even if the idea of laminated dough scares you. If you can make a pie crust, you can make my kouign amann!

Kouign Amann Recipe, the easy and fast way
By Irvin Lin
A sweet and flaky pastry that originates from the Brittany region of France, the Kouign Amann (pronounced "kween-amahn") can be found in a lot of upscale pastry shops nowadays. But making it at home is fairly easy, even if you go the traditional route by making a butter block (it was one of the easier doughs we made in our laminated dough class). I decided to simplify and streamline the recipe even more by using a technique I learned from Nick Malgieri that combines blitz puff pastry and croissant dough. Basically, if you have a food processor and know how to make pie crust, you can make a kouign amann. But even if laminated dough freaks you out, don't worry, I've included step-by-step instructions and extensive photos on how to create this awesome pastry that will not only impress your friends but have your loved one clamoring for one more.
One thing to note, this recipe calls for salted butter. If you don't have salted butter and only have unsalted butter, just add an additional 1/2 teaspoon of sea salt to the recipe but I suggest just buying some good quality salted butter for the recipe as salted butter has a particular funky salty sweetness that really works well in the recipe.
Recipe drastically adapted from Nick Malgieri's The Modern Baker and Chef Nicole Plue of San Francisco Cooking School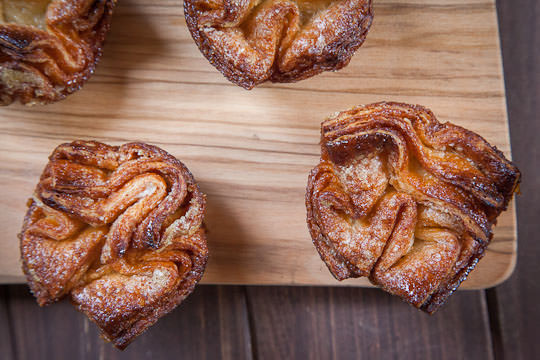 Ingredients
1 package (2 1/4 teaspoon or 7 grams) active yeast
1/2 cup (105 g) lukewarm water
1 3/4 cup (250 g) bread flour
1 teaspoon (5 g) sea salt
14 tablespoons (1 3/4 sticks or 190 g) cold salted butter, divided (see note above)
1/4 cup (35 g) cold water (from the tap)
3/4 to 1 cup (150 to 200 g) granulated white sugar
Special Equipment
Food Processor
Rolling Pin
Pastry Brush
Metal Ruler (optional but recommended)
Bench scraper (optional but recommended)
Standard 12-cup muffin tin
Wire cooling rack
Directions
1. In glass measuring cup or small bowl, dissolve the yeast into the warm water. Let sit for 5 minutes, until the liquid starts to bubble.
2. As the yeast liquid proofs, place the bread flour in the bowl of a food processor. Add salt and pulse the dry ingredients a few times to blend the salt in. Add 4 tablespoons (1/2 a stick or 57 g) of the butter, cut into 1/2 inch chunks, and pulse until the butter is chopped into small bits and mixed into the dry ingredients (it's OK if some of the butter is visible, but try to reduce them into small pebble size if possible).
3. Cut the remaining butter into 1/2 inch chunks and add them to the food processor bowl. Pulse 2 times (yeah, there'll totally be big fat chunks in the bowl, that's OK). Add the cold water to the warm yeast liquid and mix together. Pour it into the food processor and pulse 3 times. Again, there will still be big chunks of butter and a dough will NOT form. That's normal.
4. Empty the entire content of the food processor on a clean surface well floured with all-purpose and carefully (don't cut yourself) remove the blade. Gather the dough into a ball with your hands (forming the dough by pressing it all together firmly), then push it on the surface and shape it into a rough rectangle. Toss some more flour under the dough and, with a rolling pin, roll the dough into a 12 x 15 inch rectangle with the long side facing your (it should be in landscape orientation). Try to make the rectangle edges and corners as even and square as possible. You'll notice that there are streaks of butter in the dough. That's totally cool. If the butter gets warm and sticky, just dust it with flour.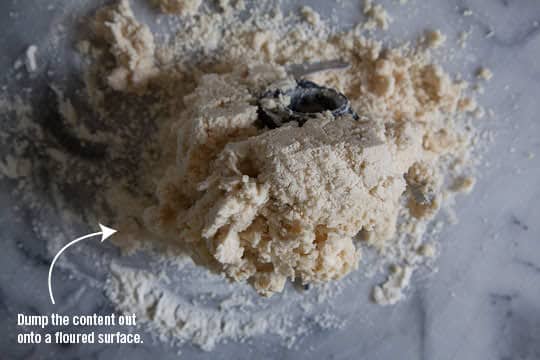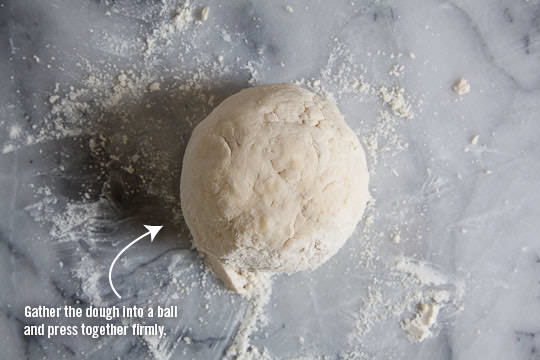 5. Brush as much of the flour off of the dough with a pastry brush (or just blow on it if you don't have a brush). The more dry flour that is on the dough, the harder it is for the dough to laminate. Fold the dough a third of the way DOWN into the center (this is where a bench scraper would be handy, but you can do it without). Brush off any flour from the bottom of the dough that you just folded over. Then fold the dough from the bottom side up and over your initial dough fold, as if folding a really long skinny letter. Brush off any flour that you can. You should have three layers and a really skinny 4 x 15 inch rectangle.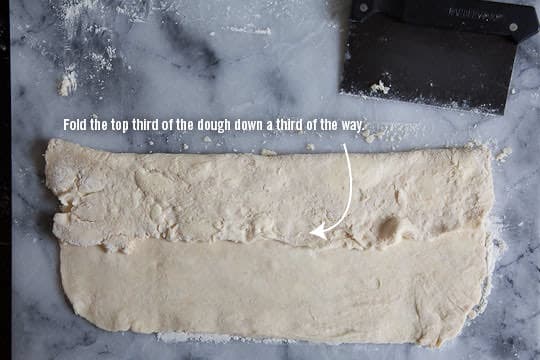 6. Now take one end and roll the dough, as if it you are forming a huge cinnamon bun. Brush the dough as you roll it, trying to get as much flour off the dough as possible as you roll. You should end up with a tall skinny roll. Flatten the roll from the top-side down, flattening all the layers, with the palm of your hand. Stick the flatten dough in a gallon ziplock bag and seal it. Let it rise for 30 minutes at room temperature. Once the 30 minutes are up, squish the dough down (it won't rise much but it will feel a little squishy) with your hand through the ziplock bag and place it in the refrigerator. Let rest in there for 1 hour or overnight (I did overnight because of time constraints).
7. Once the dough has rested and chilled, generously spray a standard 12-cup muffin tin with cooking oil. Place on a rimmed baking sheet. Sprinkle about 6 tablespoons of sugar on a clean surface and pull the dough out and place it on the sugar. Sprinkle 6 tablespoons of the sugar on top of the dough and roll the dough out into a 21 x 15 inch rectangle. Use the remaining 1/4 cup of sugar to roll the dough out if it starts to stick at all (basically, instead of using flour to roll the dough, you're using sugar). Try to get the rectangle edges and corners as square as possible.
8. Once you've formed the rectangle, fold 1/3 of the dough from the right side to the center. Fold the left side over the two layers of dough, forming three layers, and a 7 x 15 inch rectangle. Roll triple-layer dough out a bit, flattening it until you have a 13 x 15 inch rectangle. Now trim the edges of the rectangle by a 1/2 inch on all sides with a sharp knife. Use a metal ruler if you have one, or just free form it, cutting evenly in one smooth motion. Don't saw back and forth. You should have three layers of dough with no folded edges that is about 12 x 14 inches.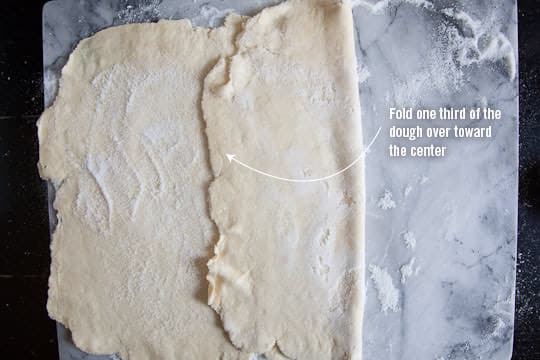 9. Now cut the dough into 3 x 3 1/2 inch squares; 3 rows and 4 columns. Take each square and "pinch" the dough inward with your fingers and place in the prepared muffin tin. Repeat with the remaining dough. Cover the muffin tin with plastic wrap and let sit at room temperature for 40 minutes. About 25 minutes into the rise, turn the oven on to 400˚F to preheat it. Once the 40 minutes are up, the kouign amann dough should look puffy (but it won't have risen much). Take the plastic wrap off and place in the oven. Reduce the heat to 350˚F and bake in the oven for 45-55 minutes, or until the edges of the kouign amann are nearly burnt black. Using two butter knives or forks immediately remove the kouign amanns from the muffin tin to a wire cooling rack. Do not let them sit very long in the muffin tin, as they caramelized sugar will start to cool and harden and stick to the pan. Let cool on wire rack and serve.
Makes 12 kouign amanns.
If you want to go the more traditional route with making the kouign amann, check out some of these other recipes for kouign amanns from around the web:
David Lebovitz' Kouign Amann Recipe
The Kitchn's How to Make Kouign Amann at Home
Use Real Butter's Kouign Amann Pastry Recipe
Desserts First Kouign Amann with Praline Noisette
Joe Pastry's Kouign Amann recipe