This roasted Delicata squash and Brussels sprouts dish has a pomegranate sweet and sour agrodolce making it an easy, sophisticated side dish.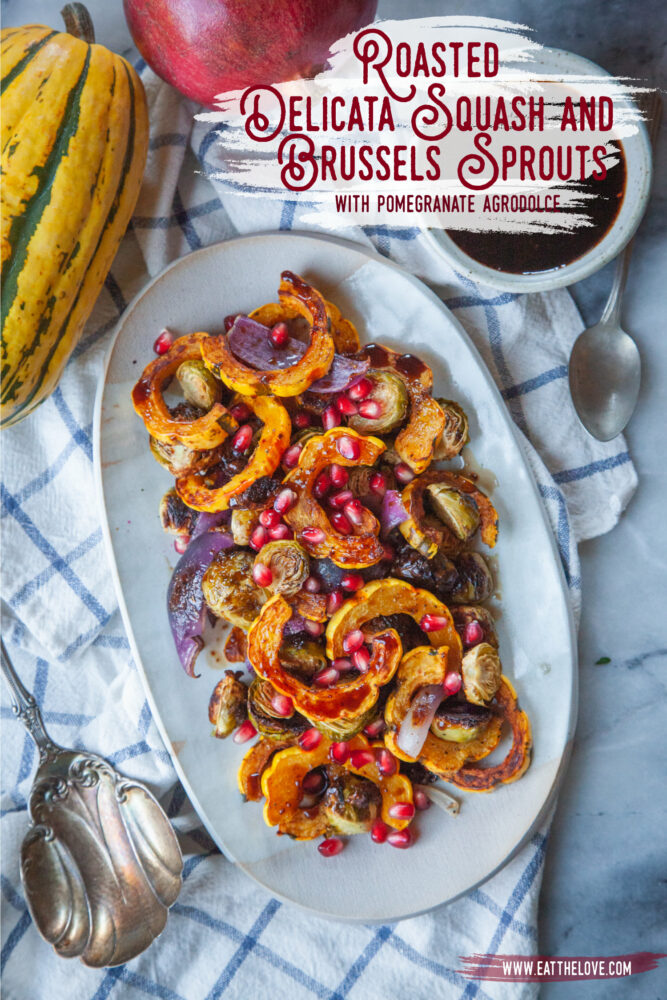 This post was sponsored by California Grown. I was compensated for this post and developing this recipe. However, all opinions below are my own.
Back in October, I was lucky to go on a tour with California Grown of California's San Joaquin Valley, an agriculturally rich area that grows over 250 different crops. We visited kiwi farms, watched fresh figs get packaged, rode a modified grape harvester to harvests dried-on-the-vine raisins, visited a winery and picked pumpkins at a pumpkin farm. And we ate SO. MUCH. FOOD. 
Our trip coincided with California Farmer and Farmerworker month and after watching the workers working the fields, I can 100% say, they deserve to be celebrated all year round! The food they harvested is distributed throughout the country but after a day of hanging out in the pumpkin field picking pumpkin squash and decorating gourds, we were lucky enough to dine on some local grown food at Trelio in Clovis, California. At dinner I had some amazing food, including some eggplant with agrodolce and a shaved fennel salad with pomegranate vinaigrette. Taking all that as inspiration, I created this roasted Delicata squash and Brussels sprout dish with pomegranate agrodolce, the perfect fall and winter side dish for your holiday table (or really any time of year).
How to make this dish
This recipe is surprisingly easy to make. Prep the Delicata squash by cutting it lengthwise and scooping out the seeds. Then cut the squash into half moon crescents. Cut the Brussels sprouts in half. Toss both with olive oil, salt and pepper. Then roast in the oven.
Halfway through the roasting, flip the Delicata squash, toss the Brussels sprouts, and add in some red onion slices also tossed with olive oil, salt and pepper. While the vegetables are roasting, make the agrodolce by combining red wine vinegar, balsamic vinegar, pomegranate molasses, maple syrup, some fresh thyme, and a piece of orange zest in a small pot. Simmer for 10 minutes.
Once the vegetables are done, move them to a serving plate and drizzle with the agrodolce. Sprinkle with some fresh pomegranate seeds and serve.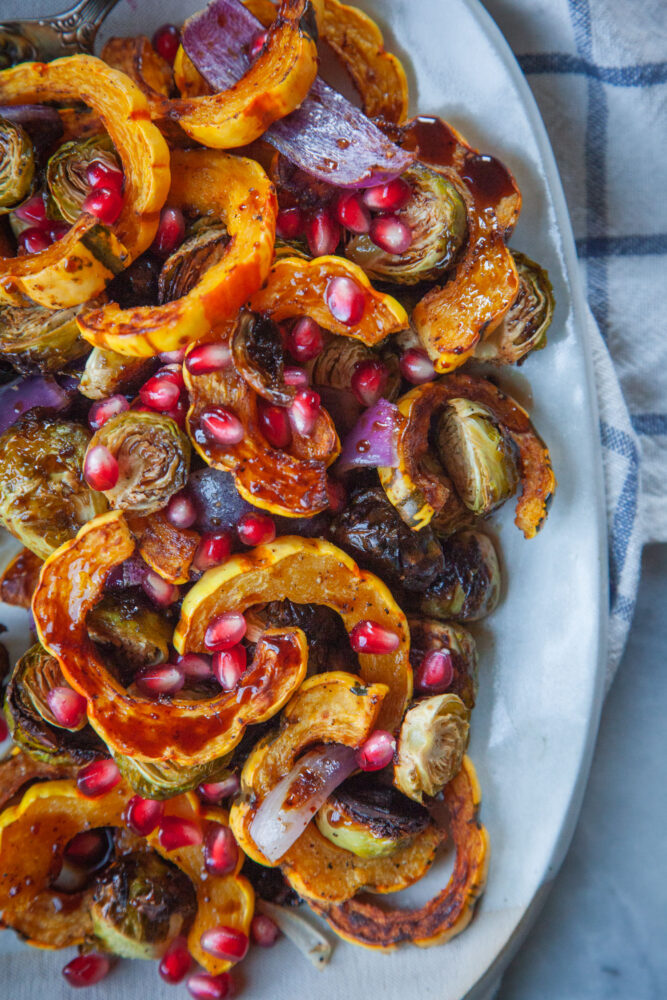 What is agrodolce?
Agrodolce is an Italian sweet and sour sauce. The word "agro" means sour and the word "dolce" means sweet. Often it is made by reducing vinegar and sugar together, but it's a super versatile condiment, with the sour acidity varying from white wine vinegar, sherry vinegar, apple cider vinegar or even citrus juice. Sweeteners can be honey, sugar, maple syrup, or brown sugar. And you can add in dried fruit or spicy peppers to give it a kick.
What is Delicata squash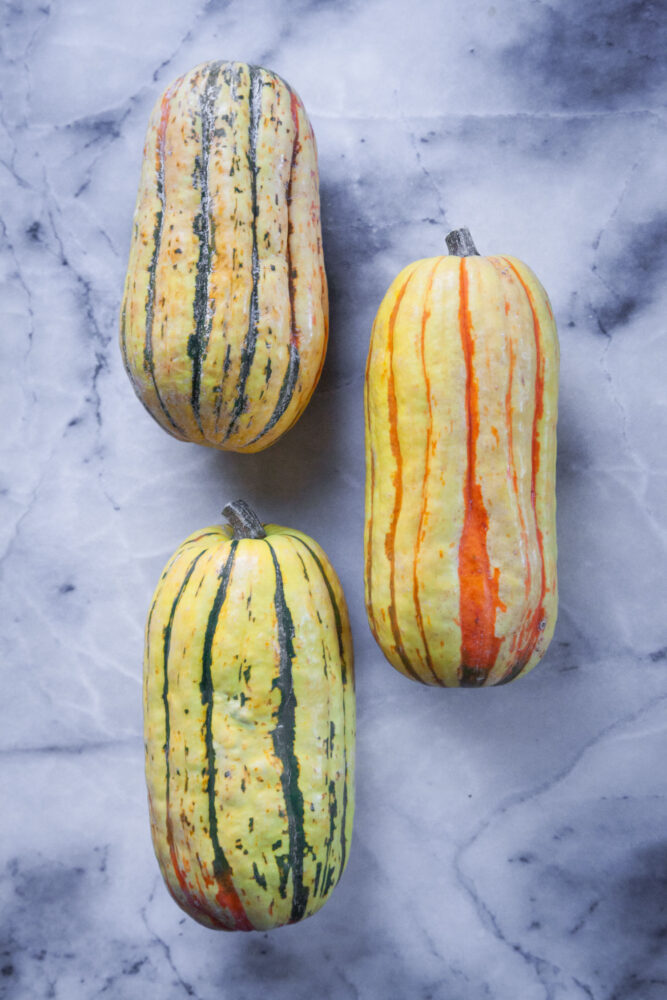 Delicata squash is my favorite winter squash because it requires very little prep work. A lot of winter squashes require you to peel or remove the rind of the squash, or they are very large and require a lot of time to cook. But the Delicata squash skin is thin and edible, and the orange interior is sweet and creamy, similar to a butternut squash.
It also tends to be easier to work with, as it has a long oblong shape, not too big, and isn't too unwieldy on the cutting board. It's a good source of fiber and potassium, though it doesn't have a lot of beta-carotene like other squashes do. And yes, the seeds are also edible, toast them up just like pumpkin seeds, then turn the roasted seeds into candied pumpkin seeds if you want!
How do you seed a pomegranate
You can buy pre-seeded pomegranates at the store, but seeding whole pomegranates, is easier than it looks. Just do a shallow cut around the top of the pomegranate and peel off the top.
Then slice down the sides of the pomegranate into the skin (it's a shallow cut, not too deep) with a knife. Cut on the "boxy" edges of the pomegranate, using them as as a guide. These boxy edges should also line up with the white member inside the pomegranate.
Once you've sliced down the sides, just pull apart the pomegranate, then gently push the seeds out into a bowl. Stored pomegranate seeds in the fridge for up to 5 days.
Can you make this ahead of time?
Yes! The roasted vegetables can totally be made ahead of time. Let them cool completely and don't add the agrodolce. Right before serving, heat them up again in a 350°F oven for 10 minutes, or in the microwave. Then drizzle the agrodolce over them, and sprinkle with the pomegranate seeds.
Leftovers can keep in the fridge for up to 3 days in an airtight container.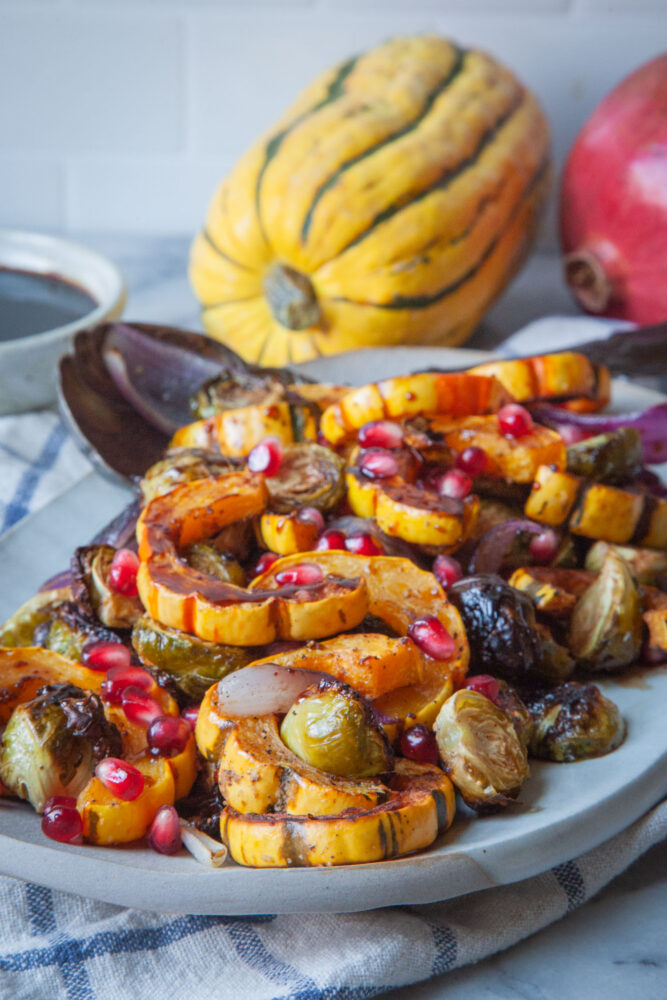 About the farm tour
California's San Joaquin Valley is one of the most prolific agricultural areas in the world. I was lucky enough to visit the area in the Autumn time to learn more about where my food came from. Here's some of the places and things I learned
Sweet Thistle Farms was a family-owned flower and pumpkin farm, where I picked a Long Cheese pumpkin off the vine (it looks like a wheel of cheese, but it has a buttery orange flesh like a regular pumpkin). The farms shares land with Rocky Oaks Goat Creamery, and we got to sample the fantastic goat cheese as we decorated mini pumpkins.
Quady Winery specializes in sweet dessert wines and vermouths. We did an extensive tasting and then saw them crush some of the last grapes of the season.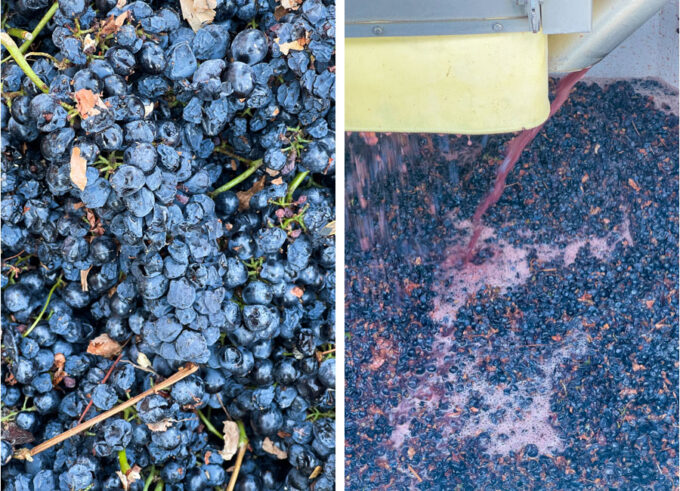 Catania Worldwide showed us how they grew kiwis, which grew like grapes on a trellis. I actually didn't even know that kiwis grew in California! Afterwards we went to the packaging plant and saw the kiwis being packaged which was fascinating. Those workers work fast!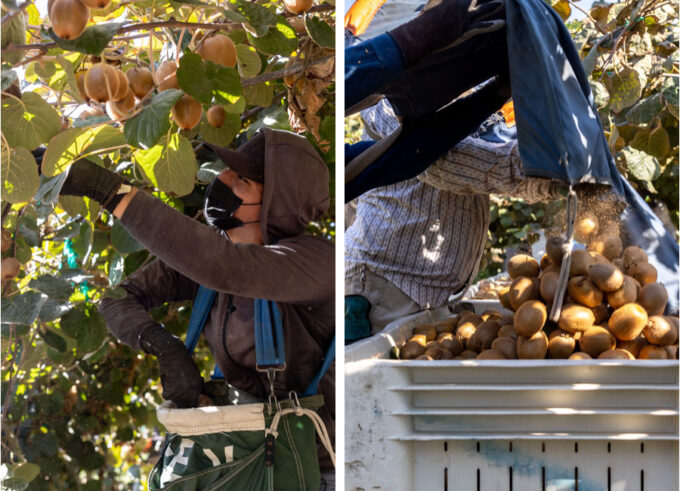 Our final famer tour was at River Ranch Raisins which had us actually climbing onto a modified grape harvester and going up and down the rows of grape vines, where the raisins were dried on the vine (DOV). The Selma Pete Raisins dry and the sugars caramelize slightly in the sun, making them super sweet, plump and juicy. Riding the harvester was surprisingly fun, watching the farmers carefully make sure they were driving between the rows, as the combine shakes the grapes and then lifts them up in a conveyor belt, then drops them into a separate tractor with giant bins. I'm still obsessed with those raisins and I think once pomegranate season is over, I might try adding some of the raisins into the agrodolce while it cooks down.
If you like this vegetable side dish, check out some other vegetable side dishes featuring California grown produce:
Roasted Delicata Squash and Brussel Sprouts with Pomegranate Agrodolce
This easy vegetable side dish requires very little work, as the vegetables roast in the hot oven. Make sure to cut the Delicata squash into the same size pieces so they cook evenly. Try to find medium to large Brussels sprouts for this dish and cut them in half. If you have smaller ones, just leave them whole. If the Brussels are too small, they'll overcook. You want them nicely charred but not black.
Ingredients
Roasted Vegetables
2

pounds

Delicata squash

about 2 medium-size

1

pound

Brussels sprouts

halved if they are large

3

tablespoons

olive oil

divided

1 1/2

teaspoon

kosher salt

divided

3/4

teaspoon

fresh ground pepper

divided

1

medium red onion
Agrodolce
1/4

cup

red wine vinegar

1/4

cup

balsamic vinegar

2

tablespoons

pomegranate molasses

1/4

cup

maple syrup

3

thyme sprigs

1/4

teaspoon

kosher salt

1/2

teaspoon

Aleppo pepper

or red pepper flakes (optional)

3-

inch

piece of orange zest

optional
To serve
3

tablespoons

pomegranate seeds
Instructions
Preheat the oven to 425°F and lightly spray a large, rimmed baking sheet with cooking oil.

Cut the ends of the Delicata squash off, then cut the squash lengthwise. Scoop out the seeds and discard or save them another purpose. Cut the squash into 1/2-inch thick half-moon pieces. Place the squash and Brussels sprouts in a large bowl and drizzle with 2 tablespoon of olive oil, 1 teaspoon of kosher salt, and 1/2 teaspoon of pepper, then toss to coat.

If they won't all fit in one bowl, toss and coat the squash first with 1 tablespoon of oil, 1/2 teaspoon of salt and 1/4 teaspoon of pepper, then repeat with the Brussels sprouts.

Carefully spread evenly onto the baking sheet. If the sheet is too crowded, you can spread it onto two baking sheets. You want to give them a little space to breathe, so they roast and not steam. The vegetables will shrink down though, as you roast them.

Roast the vegetables for 15 minutes. Meanwhile peel the onion, then cut off the ends, and cut the onions into 1-inch wide slices, root to tip. Toss the onion pieces with the remaining 1 tablespoon oil, salt and pepper (I used the same bowl, no need to wash it). Once the vegetables have roasted for 15 minutes, remove from oven, flip the squash and Brussels, then add the red onions to the pan. Return to the oven and roast for an additional 15 minutes.

While the vegetables are cooking, make the agrodolce by placing the red wine vinegar, balsamic vinegar, pomegranate molasses, maple syrup, thyme sprigs, salt, Aleppo pepper (if using) and orange zest (if using) in a small pot. Bring to a boil, then reduce the heat so simmering. Simmer for 10 minutes uncovered, stirring occasionally. Once cooked, remove from heat.

Once the vegetables are done roasting, move them to a serving plate or bowl. Drizzle the agrodolce over the vegetables and sprinkle with the fresh pomegranate seeds. Serve immediately.
Nutrition
Calories:
185
kcal
|
Carbohydrates:
27.1
g
|
Protein:
3.4
g
|
Fat:
7.4
g
|
Saturated Fat:
1.1
g
|
Sodium:
702
mg
|
Potassium:
464
mg
|
Fiber:
4
g
|
Sugar:
17.1
g
|
Calcium:
65
mg
|
Iron:
2
mg