These chewy mint chocolate chip cookies are reminiscent of a scoop of mint chocolate chip ice cream, only in cookie form! (Jump directly to the recipe.)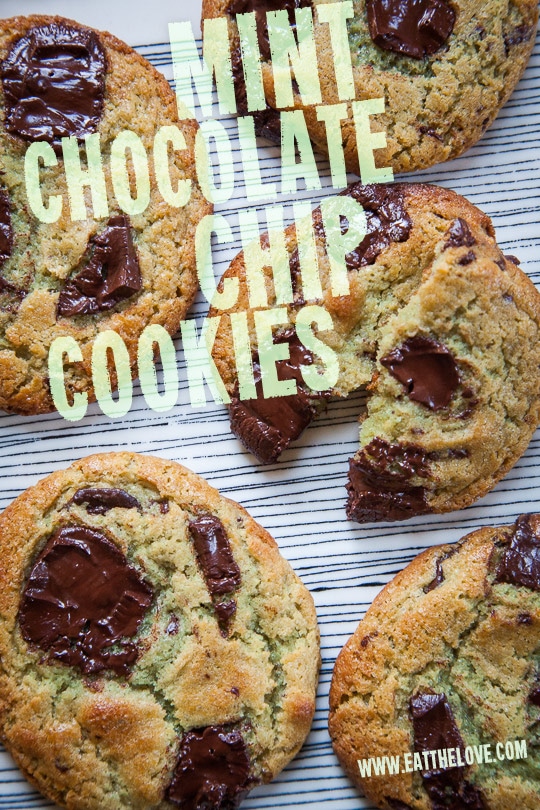 I moved to San Francisco 18 years ago and when I moved here, an acquaintance warned me within the first couple of months of my arrival that this wasn't a city most people stick around. "Your friends will come and go and you'll cycle through them pretty fast so don't get too attached…." I scoffed but that held true as all my closest friends, my adopted San Francisco family, drifted away within two or three years of my arrival. And though I still keep in casual contact with most of them (thank you social media), there are others that I am just as close or even closer to than when we both lived in San Francisco. My friend Rita is the perfect example of this.
Rita and her best friend both had a running joke that their respective significant others could never remember what their favorite ice cream was. One loved mint chocolate chip and the other regular chocolate chip. And inevitably, when one of their birthdays came around, their boyfriends/husbands would buy the wrong one. Turns out my friend Rita loved chocolate chip but not mint. Which made it all the more surprising that years later I was down in LA visiting and she told me how much she love Sweet Rose's Creamery's mint chip ice cream! The secret to the outstanding flavor was making it with fresh mint. The fresh mint lends a bright green flavor that doesn't quite have the harsh sharpness of mint extract. I completely understand, as fresh mint ice cream is world's different than the mint oil version. I loved it so much that have a recipe for my version of fresh mint chocolate chip ice cream here on my blog, as well as a version of it in my cookbook.
All that said, I've long wanted to make a mint chocolate chip cookie that simulated mint chocolate chip ice cream. Though I love the idea of using fresh mint in cookies, practically speaking, it's kind of pain. The amount of fresh mint that you need to flavor a chocolate chip is larger than you think, not to mention how the fresh herbaceous flavor gets muddled and dulled when you bake it in a harsh oven heat. But somehow the sharp angular flavor of mint extract mellows quite nicely in a cookie. As long as you don't add too much extract, the strong flavor blends well with butter, sugar and flour. This is a cookie that even my partner AJ who doesn't really care for mint chocolate desserts tells me he would eat.
Even though Rita moved away years ago, we're probably closer than we were when we lived in the same city right across the street from each other. I was in her wedding so many years ago and AJ and I visit Los Angeles probably more than we visit some of our friends that live here in San Francisco. I'm not sure how that worked out but I'm not complaining. I'm heading down to LA in a few weeks to meet AJ for the end of the AIDS Lifecycle (there's still time for you to donate if you want). And I'm going to make sure I have a batch of these to give to my friend Rita when I see her. I think these mint chocolate chip cookies with the big chunks of dark chocolate baked in, would be right up her alley.
Mint Chocolate Chip Cookies
By Irvin Lin
Most mint chocolate chip cookie recipes are basically just chocolate chip cookies that have a little bit of mint oil or extract add to it. I wanted a cookie that was more reminiscent of mint chocolate chip ice cream; one that has a creamy edge, with a soft chew and bite. To achieve that, I used cream cheese and powdered milk, which you can find at most grocery stores (if you can't find it in the baking section of the grocery store, look where you would normally find non-dairy milk like almond and soy milk. If not there, then look where the teas and coffees are). The powdered milk in particular really helps achieve not only the mellow creaminess that gives it a bit of an ice cream richness, but also helps the edges of the cookie brown a bit, letting you get that crispy edge but still soft chewy inside. The food coloring is totally optional and up to you but I personally love my mint flavored food to look green. Use more food coloring for a deeper color or less if you want just a faint hint of green.
Ingredients
3/4 cup (170 g or 1 1/2 sticks) unsalted butter, at room temperature
4 ounces (115 g or 1/2 brick) cream cheese (use the full fat stuff)
1 cup (220 g) brown sugar
1 cup (200 g) white granulated sugar
1 teaspoon baking soda
1 teaspoon kosher salt
1 1/2 teaspoon peppermint extract
1 large egg
1 large egg yolk
2 3/4 cups (375 g) all-purpose flour
3/4 cup (100 g) powdered milk
12 to 20 drops green food coloring (optional)
1 cup (150 g) 1/4-inch chopped dark chocolate chunks
Directions
1. Preheat the oven to 350ºF. Line a baking sheet with silpat or parchment paper.
2. Place the butter, cream cheese, both sugars, baking soda, salt and peppermint extract in the bowl of a stand mixer fitted with a paddle attachment. Cream the ingredients together until a uniform colored paste forms. Don't overbeat, you don't need it to become fluffy, just well blended. Scrape down the sides of the bowl.
2. Add the egg and beat until incorporated, then add the egg yolk and repeat. Add the flour and powdered milk and beat slowly until the dry ingredients are absorbed. Add the amount of food coloring you want (the more you add the more green the dough will become). Add the chocolate chunks and blend until the chocolate is well distributed. At this point you can let the dough rest in the refrigerator for 12 to 72 hours for a more traditional chocolate chip cookie flavor, it will develop more caramel and toffee undertones and the cookie will be chewier, or you can bake them as is, forming a softer more mild flavor.
3. Scoop out heaping tablespoons of the dough and roll each heap into a ball. The ball should be about 1 to 1 1/2 inch in diameter, slightly smaller than a golf ball, but larger than a walnut in a its shell. Repeat with the remaining dough, spacing the cookies out about 2 inches apart. Bake in the oven for 14 to 16 minutes, or until the edges of the cookies just starts to turn brown but the center is still green. Remove from the oven and let cool on the baking sheet for 5 minutes before moving them to a wire rack to cool completely.
Makes about 36 cookies.
If you like these mint chocolate chip cookies, checkout my other chocolate chip cookie recipes:
Crispy Chocolate Chip Cookies
Oatmeal Chocolate Chip Cookie
Chocolate Chip Oatmeal Cookies with Hazelnuts
Triple Chocolate Butterscotch Cookies
Chocolate Chocolate Chip Pistachio Cookies
Brown Butter Chocolate Chip Cookies
And check out these other awesome mint chocolate recipes from around the web:
Averie Cook's Mint and Chocolate Fudge Oreo Bars
Taste and Tell's Mint Chocolate Chip Cookie Dough Frosting
Sprinkle Bake's Mint Chocolate Cheesecake Buche de Noel
Simply Recipe's Mint Chocolate Pudding Cake
Crazy for Crust's Mint Chip Cake Roll
Reader Interactions