These red velvet s'mores with cream cheese marshmallows are a crazy fun weekend project to impress every single person you serve them to! (Jump directly to the recipe.)
"Red Velvet S'Mores would pimp slap slutty brownies…" read the text from my friend Shauna. I had messaged her about making cream cheese marshmallows and one thing led to another, as it often does when I'm chatting with her. I had originally had an idea for a different dessert, but as we texted back and forth about the merits of storebought marshmallows vs homemade (clearly the homemade wins) she told me that I had to make Red Velvet S'Mores with Cream Cheese Marshmallows. Who am I to argue with the woman who wrote the book on marshmallows?
The next day I decided I needed to share these sweets with my friend Megan and Erik and their children Brady and Rylan. After all, one of the best things about having friends with kids is getting their offspring all sugared up so we can play with them hyper. Then we get to leave the parents with the sugar-shocked children and not have to deal with the aftermath. I know it's not super responsible, but it sure makes for a fun afternoon.
Rylan was a bit young to be eating the s'mores, but Brady pretty much devoured his. Well he actually went to town more on the cream cheese marshmallow in the middle and left the graham cracker part behind, but that's OK. AJ and I finished the graham cracker parts and Megan and Erik finished theirs s'mores without a crumb left so apparently these were adult friendly treats too.
The rest of the afternoon had us playing with the kids, as we watched Brady and Rylan hit the t-ball, pull their stuffed animals along with their tricycle and giving Brady a lesson on how to ride a bike. Turns out Megan is way better at giving lessons on how to ride a bike than Erik. Which is amusing as Erik and AJ had just gone on a mountain biking ride that morning as AJ is in training for the AIDS Lifecycle where he'll be cycling from San Francisco to Los Angeles in less than a week! (ps. it's not too late to donate!)
Of course, after Brady got tired of riding the bike, he decided he wanted to push us on the same bike, so we all got our own lesson on how to ride a child size bike. All in all it was a pretty awesome afternoon, hanging out with friends and adorable kids, playing in the yard and the neighborhood streets and eating smores. Why can't all weekends be that way?
Red Velvet S'Mores with Cream Cheese Marshmallows
By Irvin Lin
Making cream cheese marshmallows isn't difficult, but you just need to make sure you allow plenty time for them (at least 6 hours) to cure in the baking pan. I made them in the afternoon and let them sit overnight in the fridge, uncovered. However, if making your marshmallows seems too daunting a task, you can always just use the large store bought ones. It won't taste as good and you won't get the tang of the cream cheese that works so well with the red velvet graham crackers, but no one will know the different if you don't tell them what they're missing.
As for the red food coloring in the red velvet graham crackers, I know that that artificial food dye is controversial, however I have yet to find a decent all natural dye that works as well as the artificial stuff (the closest I've been able to find is a brand called Color Garden which is plant based, but it still seems to be bake out). Clearly the dye is strictly for aesthetic reasons but if you want to get an actual red velvet graham cracker, you're probably going to have to use the artificial red food coloring. I used the standard liquid stuff that you find at the grocery store but if you have red food coloring gel or paste, make sure to adjust the amount accordingly as the gel and paste are way more potent.
Finally, you'll notice that I use graham flour for this recipe. After all they ARE graham crackers. Graham flour is a coarse ground whole wheat flour, where the wheat kernel is separated into bran, germ and endosperm and the endosperm is ground fine like regular white flour and the bran and germ are ground coarse and then all three parts are combined back together. I recommend getting graham flour if you want a true graham cracker texture, but if you can't find it or don't want to buy a specialty flour, you can try substituting regular whole wheat flour for it instead (though I haven't tested the recipe with whole wheat flour so let me know if it works!).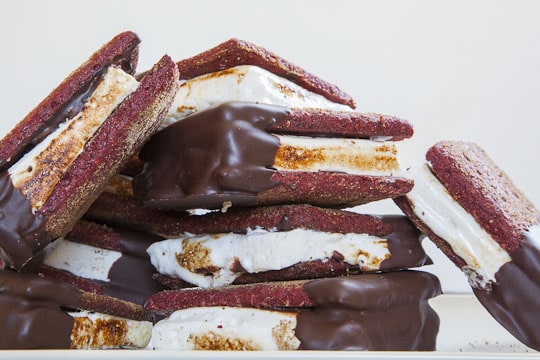 Ingredients
Cream Cheese Marshmallows
115 g (4 oz or 1/2 brick) cream cheese, at room temperature
1 teaspoon vanilla extract
1 vanilla bean
3/4 cup (180 mL) water, divided
4 1/2 teaspoon (2 packages) unflavored powdered gelatin
2 large egg whites, at room temperature
pinch of cream of tartar
200 g (1 cup) granulated sugar
1/2 cup (120 mL) light corn syrup
1/4 teaspoon sea salt (or kosher salt)
Plus to dust marshmallows
2-3 tablespoons confectioner's sugar
Red Velvet Graham Crackers
1 3/4 cup (255 g) graham flour or whole wheat flour
1/2 cup (85 g) white whole wheat flour
3/4 cup (165 g) dark brown sugar or sucanat
2 tablespoons (20 g) Dutch-processed cocoa
1 teaspoon baking soda
1 teaspoon sea or kosher salt
1/2 teaspoon cinnamon
1/4 teaspoon cardamom
1/8 teaspoon all spice
1/8 teaspoon cloves
6 tablespoons (3/4 stick) unsalted butter
1/4 cup honey
1/3 cup whole milk
1 tablespoon + 2 teaspoon red food coloring liquid
Plus to dust the top of cracker
1/4 cup (55 g) dark brown sugar or sucanat
1/2 teaspoon cinnamon
1/4 teaspoon cardamom
To Assemble
3 cups (450 g) chopped dark chocolate
Special Equipment
9 x 9 inch baking pan
Stand Mixer
Baking Sheet
Parchment Paper or Silpat
Crème Brulee Kitchen Torch
Directions
1. Lightly spray a 9 x 9 inch baking pan with neutral flavored cooking spray. Make the cream cheese marshmallows by placing the cream cheese in a clean, dry bowl of a standing mixer fitted with the wire whisk attachment. Turn the mixer to high and beat the cream cheese until it has fluffed up, about a minute. Add the vanilla extract and split the vanilla bean in half lengthwise and scrape the seeds into the bowl, reserving the vanilla pod for another use. Beat for an additional minute to incorporate. Scrape the entire vanilla cream cheese into a medium sized mixing bowl and clean the standing mixer bowl thoroughly and dry.
2. Place 1/2 cup of cold water (reserving 1/4 cup of water for later) in a small bowl and sprinkle the gelatin over it to let it soften. While the gelatin softens, place the egg whites in the mixing bowl of a standing mixer fitted with the wire whisk attachment. Sprinkle the cream of tartar over the egg whites and then whip on medium high speed until the whites are opaque and hold soft peaks, about 2 or 3 minutes. Stop the mixer while you prep the syrup.
3. Place the sugar, corn syrup, salt and the remaining 1/4 cup water in a small pot. Heat on medium high heat until the sugar has dissolved and it starts to boil. Bring the sugar syrup up to 240˚F (somewhere between the soft ball stage and firm ball stage). Take the sugar syrup off the heat, and quickly scrape the softened gelatin into the hot sugar syrup and stir with a whisk to incorporate and melt the gelatin.
4. Turn the standing mixer on to medium high speed, and slowly drizzle a little bit (couple of tablespoons) of the hot sugar syrup into the egg whites, warming them up. While the stand mixer it turned on to medium, continue to drizzle the remaining syrup into the egg whites in a slow stream, trying to get the syrup in the egg whites, and not on the side of the bowl. Be careful with this, as the sugar syrup is super hot, and if it hits the wire whisk, it can be flung out and burn you (it's not as scary as is sounds, just be alert). Keep drizzling and pour the syrup until all of it is incorporated into the egg whites (use a heatproof spatula to scrape it all out). Then continue to beat on medium high speed for five more minutes. Then increase the speed to high and beat for another 5 minutes or until the marshmallow fluff has tripled in volume.
5. Stop the mixer momentarily and scoop out about 1/4 of the mixture (don't worry about being too precise) and add it to the vanilla cream cheese bowl. Turn the mixer back on to medium high and then quickly stir and fold the cream cheese and marshmallow fluff together by hand with a large spatula. Once the cream cheese seems to be incorporated into the marshmallow fluff, scrape it into the mixing bowl, while the mixer is still on, and beat until just incorporated, about 15 seconds. Don't overbeat, or it will deflate the marshmallow fluff too much.
6. Quickly pour and scrape the cream cheese marshmallow fluff into the greased baking pan and smooth the marshmallow fluff out evenly and flat to the edges of the pan with an offset spatula or butter knife. Let sit overnight for 6 to 8 hours in a cool, dry place.
7. While the marshmallows are curing, make the graham crackers by putting the flours, brown sugar, cocoa, baking soda, salt and spices in large mixing bowl. Stir vigorously with a balloon whisk until all the ingredients are evenly distributed and uniform in color. Melt the butter in a heatproof bowl or glass measuring cup. Add the honey and milk to the butter. Add the red food coloring to the butter. Stir until the honey dissolves. Pour the liquid over the dry ingredients and stir with a wooden spoon or stiff spatula until all the wet liquid is incorporated and a dough forms. Pat into a large disc and wrap with plastic wrap. Chill in the fridge for an hour or overnight.
8. Once the graham cracker dough has chilled, preheat the oven to 350˚F and line a baking sheet with parchment paper or silpat. Combine the dusting dry ingredients (brown sugar, cinnamon, cardamom) together in a small bowl and whisk together with a fork. Roll the graham cracker dough out on a well floured surface to about 1/4 inch to 1/8 inch thick. Cut out 2.5 x 2.5 inch squares of the dough and lay on a lined baking sheet. Sprinkle and dust each square of dough with the sugar mixture and prick the top of each square with a fork. Bake for 15 to 16 minutes or until the edges of each cracker starts to darken. Let cool for 10 minutes on the baking sheet before moving to a wire rack to cool completely.
9. Once the marshmallows have cured, dust a cutting board with a tablespoon of confectioners' sugar. Invert the marshmallow onto the cutting board, using a butter knife to help loosen it. Lightly grease a sharp chef's knife with cooking oil and cut the marshmallow into 3 rows then turn 90˚ and cut each row into thirds making 9 large marshmallows. Turn the marshmallow on its thin side and slice down, splitting each marshmallow lengthwise as if you were splitting a sandwich bun. You should have 18 flat large 3 x 3 marshmallows.
10. To assemble the s'mores, line a baking sheet with a fresh piece of parchment paper or silpat. Melt the chopped dark chocolate in a heatproof glass bowl or measuring cup, 30 seconds at time, in the microwave, stirring between each time until melted and smooth. Using a butter knife or fork, smear some melted chocolate onto the bottom of one of the crackers. Place a marshmallow on top of the chocolate and smear some more melted chocolate on top of the marshmallow. Place another cracker on top of the chocolate (bottom side down), making a graham cracker sandwich with the marshmallow in the middle. Toast the sides of the marshmallow with a kitchen crème brulee torch.
11. Dip the entire graham cracker sandwich into the melted chocolate, covering one side of it, and then place onto the lined baking sheet. Continue with the rest of the crackers and marshmallows. Refrigerate until the chocolate hardens, about 15-20 minutes. Best served the day you make them.
Makes 15 S'mores