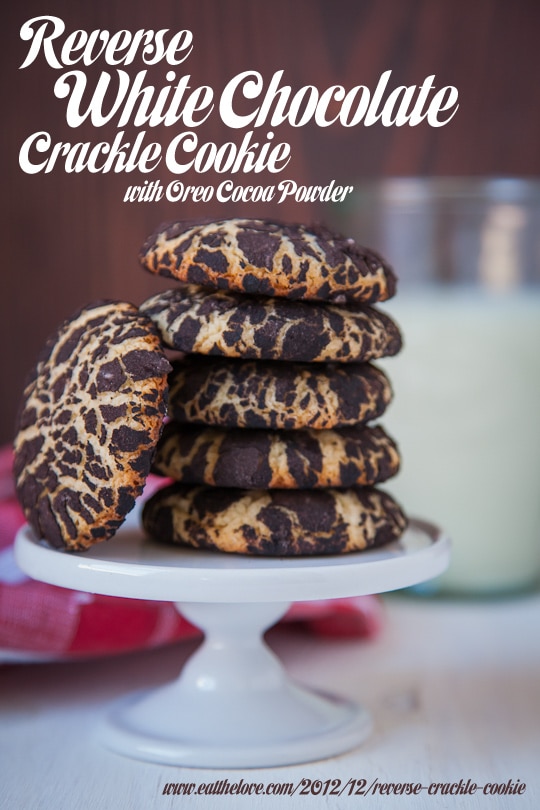 Since the weather has turned cooler here in San Francisco, I've looked forward to hosting the DIY Desserts event at 18 Reasons in December. Our annual cookie swap is one of those joyous occasions when people drop in with their homebaked cookies, check out what other people have made, sample a few, and then take home a whole slew of cookies to enjoy at home. I've co-hosted the event twice and this year it was a popular as ever, with people stopping by with fabulous creations for all to share. Feeling ever so "creative" (a term I usually hate) and inspired by watching too much science fiction television (damn you Fringe!), I created an alternative universe version of the classic Chocolate Crackle Cookie. The Reverse White Chocolate Crackle Cookie with Oreo Cocoa Powder was popular with everyone at the event, but more importantly tasted fabulous despite looking like the cap of a dried Shitake mushroom.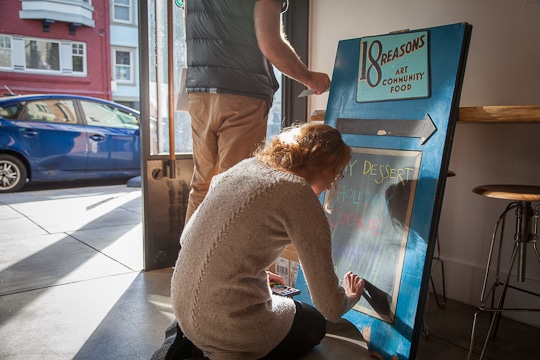 Sadly my friend and co-host Melanie couldn't make it to the event, as she wasn't feeling so great. But I wasn't alone, as the Executive Director Rosie was there with her family recipe Pfeffernüsse cookies. She wasn't the only one with those cookies though, as someone else showed up with Pfeffernüsse! The battle of the German spice cookies! Rosie had also showed up with some gorgeous Springerle cookies, an anise flavored cookie pressed into molds before baking. Of course, the two Pfeffernüsse cookies and the Springerle cookies weren't the only German cookies to show up. Someone brought Vanillekipferl with almonds and hazelnuts cookies as well. Apparently the Germans know how to celebrate the holidays!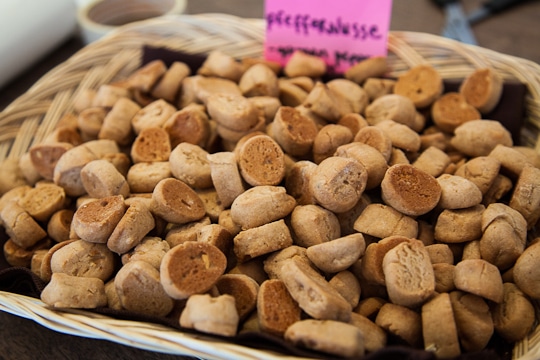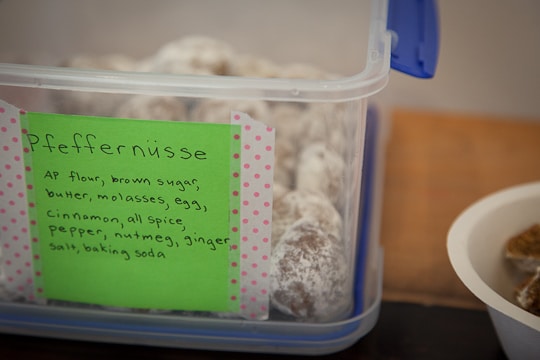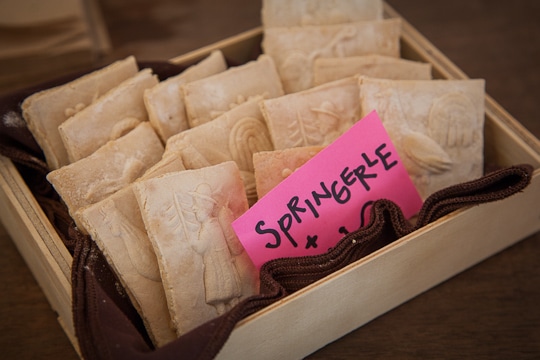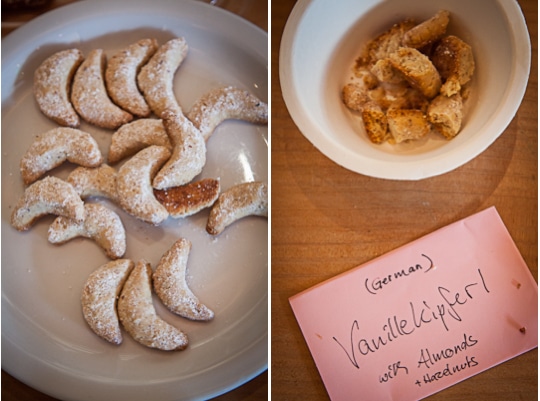 The selection of cookies there were varied and fantastic. Homemade Thomas Keller's Oreos were on display, as were the regular chocolate crackle cookies. Walnut cookies and white chocolate walnut butter cookies were nibbled on. Chocolate florentines were there, as were a Hawaiian chocolate chip cookie called Lailana's Return, with roasted Pineapples, ginger and coconut. There was even a cookie version of a Boston cream pie (Boston cream cookies! Genius!).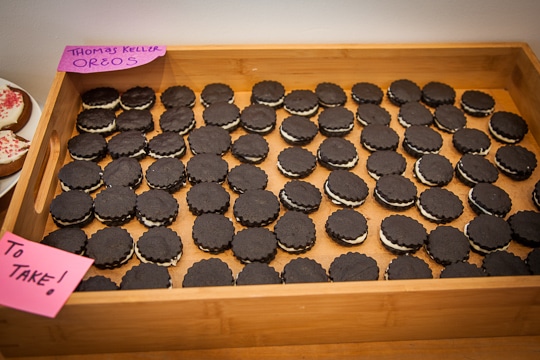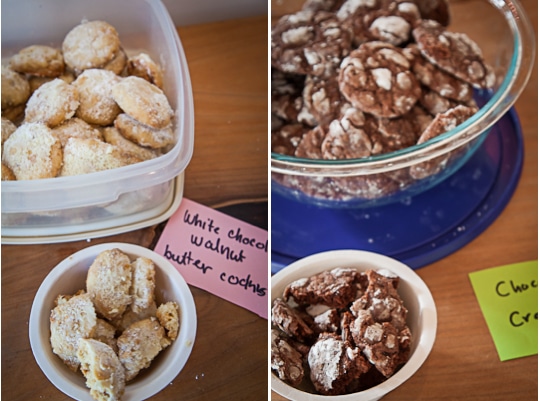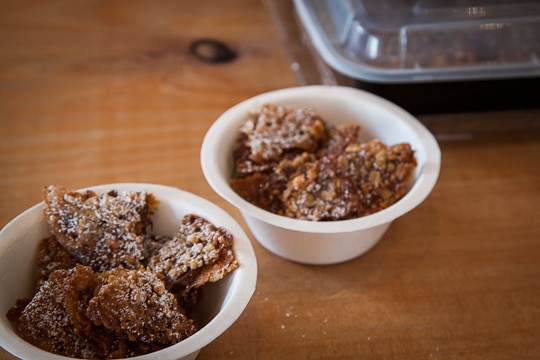 I was enamored with the various ginger cookies that people showed up with, all different, all fantastic. Ginger cookies with cream cheese frosting, molasses ginger butterscotch cookies, and chocolate ginger cookies were there for the taking. There was even a candied orange and spiced molasses cookie that I initially thought had ginger in it, before I realized it was the molasses that reminded me of ginger cookies.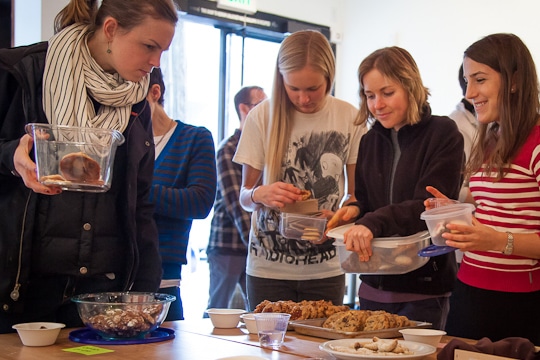 The familiar bacon showed up twice as well, once in a caramel, bacon and chocolate shortbread bar (I snagged four or five of those for home) and once in fake form on a Fakin' bacon peanut butter cookie with pretzels, milk chocolate, chips and candied bacon bits. Of course, there were a few unfamiliar (to me) cookies that showed up as well. Sicilian fig cookies tasted like a really (Really!) good Fig Newton. Anginetti Lemon cookies were nice and bright without being too sweet.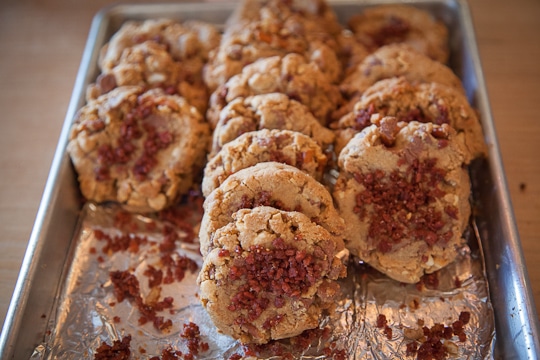 It seemed that everyone had a fantastic time hanging out, swapping cookies and just enjoying themselves on a mellow weekend afternoon. I left 18 Reasons with a variety box full of awesome cookies, a warm heart and full stomach. I can't wait for our next one in March. We're not sure what the theme is, but once we figure it out, I'll be sure to announce it to everyone! Happy holidays to all!
Reverse White Chocolate Crackle Cookie with Oreo Cocoa Powder
By Irvin Lin
I made these cookies up after having a dream about meeting my doppelganger double from a different alternative dimension. Apparently I have been watching too much Fringe, a sci-fi television show that involves a parallel universe, though this current and final season takes place in the future instead (don't ask, you have to go and watch the show from the beginning to understand it all). The cookie itself is similar to a chocolate crackle cookie, a baked treat that is coated in white confectioners' sugar before baking that cracks apart in the oven showing the dark chocolate dough inside. My version has a creamy white white chocolate vanilla dough and the coating is a dark midnight brown cocoa powder. Several of my friends said they looked like dried shitake mushrooms but don't let that deter you from making these, as they are quite tasty and don't have any umami flavor in them at all. 😉
I used a white chocolate vanilla bean cookie dough and rolled it in black onyx cocoa powder, the same cocoa powder that Oreos use to give it that distinctive flavor and color. If you don't have black onyx cocoa powder and don't want to order it, feel free to substitute regular or Dutch processed cocoa powder in its place. If you don't have a vanilla bean, just use 1 tablespoon of vanilla extract in place of all the vanilla. Finally, I used a whole milk powder in the recipe, which is powder fine. If you use nonfat milk powder (which is much more common to find in the grocery store) make sure to crush it to a fine powder before you use it (just place the powder in a ziplock bag and use a rolling pin to crush it).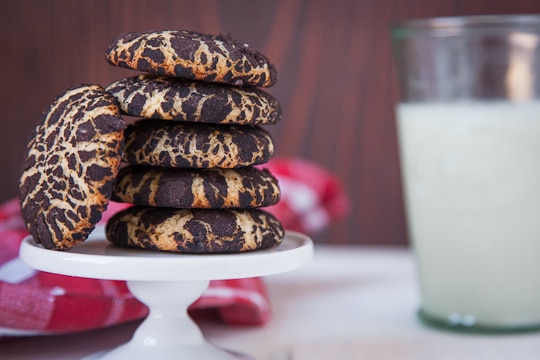 Ingredients
Cookie Dough
1/3 cup buttermilk, well shaken
1 tablespoon light corn syrup
1 teaspoon vanilla extract
2 tablespoon white rum
1 1/3 cups (8 oz or 225 g) chopped white chocolate (use one made with cocoa butter)
2 3/4 cups (385 g) all-purpose flour
1/2 cup (75 g) fine milk powder
2 teaspoon baking powder
1/2 teaspoon sea salt (or kosher salt)
1/2 cup (115 g or 1 stick) unsalted butter at room temperature
1 1/2 cups + 2 tablespoons (325 g) granulated white sugar
1 vanilla bean
2 large eggs
Coating
3/4 cup (100 g) Dutch-Processed cocoa powder (Black Onyx preferred or Hershey's Special Dark)
1/4 cup (45 g) confectioners' (powdered) sugar
1/2 cup (100 g) granulated white sugar
Directions
1. Preheat the oven to 350˚F and line a baking sheet with a silpat or piece of parchment paper. Melt the chopped white chocolate in a metal bowl placed over a pot of simmering water (making sure the metal bowl doesn't actually touch the hot water). Measure the buttermilk in a glass measuring cup and add the corn syrup, vanilla extract and rum. Stir to dissolve the corn syrup into the buttermilk.
2. Place the flour, milk powder, baking powder and salt in a medium bowl and stir vigorously with a balloon whisk. Place the butter and sugar in the bowl of a stand mixer fitted with the paddle attachment. Split the vanilla bean lengthwise and scrape the seeds out of the pod into the butter and sugar. Save the pod for another use. Cream the butter together with the sugar and vanilla seeds on medium speed until fluffy (one or two minutes, depending on how cold your butter is). Add the eggs, one at a time, to the butter, scraping down the sides of the bowl between additions. Add the melted white chocolate and beat to incorporate.
3. Add a third of the dry ingredients to the butter and beat to incorporate. Add half the buttermilk to the batter and beat to incorporate. Repeat with another third of the dry ingredients, the remaining buttermilk mixture and ending with the dry ingredients.
4. Mix the black onyx cocoa powder and confectioners' sugar together in a small bowl until uniform in color. Place the granulated sugar in another small bowl. Scoop a tablespoon of the dough out of the bowl and roll it into a ball, then roll it in the granulated sugar first then the cocoa powder mixture. Set on the lined baking sheet and repeat with the remaining dough, placing the cookies about two inches apart from each other. Bake in the oven for about 10 to 12 minutes or until the bottom edges of the cookie start to look golden brown. Try not to overbake. Let cool on the baking sheet for five minutes before moving the cookies to a wire cooling rack.
Makes 64 cookies.