"That one. That is my favorite of all the desserts!" proclaimed a friend of mine, waving his hand in the general vicinity of the table of desserts I had created for my annual holiday party. I laughed, as he seemed to be indicating ALL of my desserts, as opposed to singling one out. "No, no" he clarified, realizing my mistake "the one that is triple stacked with the holiday tasting frosting between the layers…" He meant the Triple Layer Holiday Spice Cake with Eggnog Frosting. Though I can't pick just one out of all my desserts as a favorite (I baked 19 desserts this time for my party, they're ALL my babies!) I can understand why one would pick that one out of the sea of sugar and butter. Just the smell alone screams CHRISTMAS to me, even while I was baking it.
Our annual holiday party is one of those events where we pack roughly 100 to 150 people into our tiny little San Francisco one-bedroom apartment. I've had friends ask me why I don't host the party somewhere else, at a café or a friend's place that is larger, but really, the logistics of moving 15-20 desserts to a remote location that I'm not familiar with sounds daunting. Plus I sort of like the intimacy of squeezing through the party, bumping into old friends and new, some of whom I haven't seen all year. It's something I look forward to every year and it always makes me happy to see everyone eating my desserts.
This year our savory spread was pretty awesome as well. AJ made his holiday ham (which everyone always asks about – trade secret, it's from Costco, shhhh….don't tell anyone). Kerrygold generously donated cheese for the party, aged Cheddar, aged Cheddar with Irish Whiskey, Dubliner and Cashel Blue cheese which is a farmhouse blue cheese. AJ's favorite was the aged Cheddar (claiming it was one of the best cheddars he's ever had) while I was partial to their Cashel Blue cheese, which was creamy and slightly funky (but not too much) as blue cheese should be. My friend Peter showed up with a fabulous spread of homemade pate (chicken liver and vegetarian mushroom), homemade dill & fennel gravalax (homemade) and roasted pork. He had just had a party the other day and told me that it was impossible to make small amounts of any of that, so he thought he'd bring it over for my guests to enjoy. I love my friends!
But it's the desserts that really started the whole tradition for me. Way before I started this here bloggity blog, I needed an excuse for me to bake a lot. A holiday party seemed like the perfect reason to bake three days non-stop, and the tradition has continued even though I'm baking up a storm throughout the year for Eat the Love. I guess baking is just part of who I am. This year, as always, I was fearful that I wouldn't have enough baked goods for everyone but it seems like there was plenty for all. Apparently 19 desserts is a lot of desserts. Those included the above spiced cake with eggnog frosting, a variant of my pomegranate chocolate tart, iced hermits, a sour cream cocoa filled bundt cake with Mascarpone frosting, a version of my citrus shaker pie, a dark chocolate cake with chocolate buttercream, an apple slab pie, a coconut red velvet cake with whipped cream cheese frosting, a sweet potato dark chocolate bread pudding, an apple cranberry cake with brown sugar glaze, a pumpkin bourbon cheesecake and a blackberry pear & dried blueberry cobbler with hazelnut biscuits.
Dang that seems like a lot of flour, sugar, butter and eggs. Of course those friends of mine who were gluten free weren't left wanting either. Every dessert I made and labeled with a "Charles Schulz inspired" illustration of me in the blue argyle shirt was gluten free as well. These included an adapted version of my almond triple chocolate congo bars, peppermint chocolate crinkle cookies based on my obscenely good crinkle cookies, extra virgin olive oil brownies, a gluten free version of my bourbon caramel bars, a Mediterranean extra virgin olive oil cake, and apple cranberry nut crumble and lemon & grape bars. You'd think that would be plenty, but sadly I was still paranoid that I hadn't baked enough for the crowd. That's just my lot in life.
In the end the holiday party was crazy fun. I got done early enough to actually enjoy myself, (though not early enough to take beauty shots of every item I made – the food blogger's curse, always wanting to take hero shots of everything). Nevertheless my guests enjoyed themselves, people proclaimed all my desserts delicious and I was thrilled to be able to actually talk to people and for a moment, forget the world troubles and just be in the moment. If that's not a holiday gift in this hectic season, I don't know what is. Happy holidays everyone!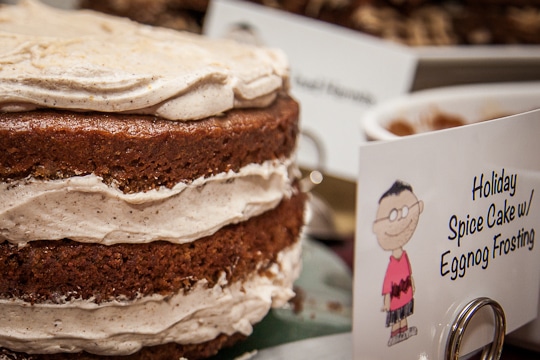 Special thanks to Kerrygold for generously providing me with cheese and butter to use for the our holiday party. Though they provided product for our party, they did not monetarily compensate me for this post and all opinions above are my own.
Triple Layer Holiday Spice Cake with Eggnog Frosting
By Irvin Lin
I'm not one to pull a recipe directly from a cookbook and not alter it significantly, but when I came across this recipe in the Baked Elements cookbook, one of my favorite cookbooks from 2012, I knew I had to make it for my party. It's a fairly straightforward adaptation of the recipe, though I did make a few adjustments in the recipe including using buttermilk. You'll also notice that this cake has shortening in the recipe You can certainly substitute in butter, but the shortening adds a nice "bounce" to the cake crumb that the butter doesn't. If you do use all butter, just keep in mind the cake will be a little more dense (but still super delish). This cake is best eaten next to a Christmas tree, feeding your significant other under the mistletoe, or toasting in a New Year with a glass of sparkling.
Adapted from Baked Elements by Matt Lewis and Renato Poliafito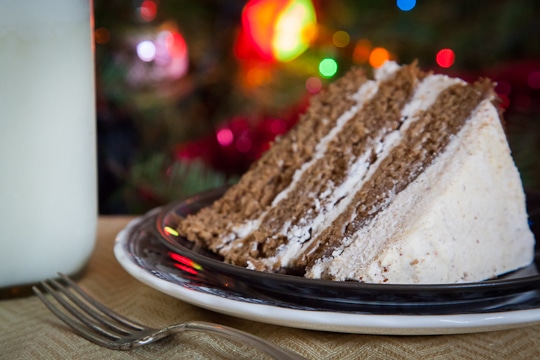 Ingredients
Cake Batter
2 1/4 cups (330 g) cake flour
3/4 cup (105 g) all-purpose flour
1 tablespoon baking powder
1 teaspoon baking soda
3/4 teaspoon sea salt
1/2 cup (115 g or 1 stick) unsalted butter at room temperature
1/2 cup trans-free shortening
2 cups (400 g) granulated white sugar
1 tablespoon vanilla extract
1 vanilla bean (optional)
1 tablespoon cinnamon
2 teaspoon all spice
1 teaspoon freshly grated ginger root (juice as well)
1 large egg
3 tablespoons molasses, robust (not blackstrap)
1 1/2 cups buttermilk, well shaken
3 large egg whites at room temperature
1/4 teaspoon cream of tartar
Frosting
1 1/2 cups (300 g) granulated white sugar
1/3 cup (50 g) all-purpose flour
1 1/2 cups whole milk
1/3 cup heavy cream
1/2 teaspoon salt
1 1/2 cups (340 g or 3 sticks) butter, unsalted at room temperature
3 tablespoons dark rum
1 teaspoon vanilla extract
1 tablespoon grated nutmeg
1 1/2 teaspoon cinnamon
Directions
1. Preheat the oven to 325˚F and spray three 9-inch round pans with neutral flavored cooking spray. Line the bottom of each pan with parchment paper rounds.
2. Place the flours, baking powdering, baking soda and salt in a medium bowl together. Using a balloon whisk, vigorously stir the dry ingredients together until they are uniform in color and evenly distributed. Place the butter, shortening, sugar and vanilla extract in the bowl of a stand mixer fitted with a paddle attachment. Split the vanilla bean (if using) lengthwise and scrape the beans out of the pod into the butter, reserving the bean pod for another use. Cream the sugar, butter, shortening and vanilla together until light and fluffy, about two minutes (depending on how cold the butter is). Scrape down the sides of the bowl and add the cinnamon, all spice and grated ginger to the butter and beat for 15 seconds to incorporate. Again scrape down the sides and add the egg and beat to incorporate. Scrape down one more time and add the molasses and beat to incorporate.
3. Combine 1/3 of the dry ingredients to the bowl and beat to incorporate. Add half the buttermilk and beat to incorporate. Repeat with the 1/3 of the dry ingredients again, then the buttermilk, then ending with the dry ingredients. In separate bowl, place the egg whites and cream of tartar and beat until stiff peaks form. You can do this by hand (it sounds harder than it is, just make sure the egg whites are at room temperature as it takes them longer to beat up if they are cold). Fold the eggs whites into the cake batter.
4. Divide the cake batter among the pans and bake in the oven for 20 to 25 minutes or until a toothpick inserted in the center of the pan comes out clean. Depending on your oven and its hot spots, you may want to rotate the pans halfway through the baking. Let cool on wire racks for about 15-20 minutes before turning the cakes out of the pan onto wire racks and peeling off the parchment paper. Cool completely before frosting.
5. Make the frosting by placing the sugar, flour, milk, cream and salt in a medium sized saucepan. Cook on medium heat, whisk frequently until it starts to thicken up and look almost like Elmer's glue about 5 minutes. Remove from pan and scrap into the clean bowl of a standing mixer, fitted with paddle attachment. Beat on high for 5 minutes or until the sugar mixture has cooled to room temperature. Once the sugar mixture has cooled, reduce the speed to low and start to add the butter, one tablespoon at a time, waiting for each pat of butter to incorporate before you add the next. Continue to beat the frosting until you have added all the butter. Add the rum, vanilla and spices and beat until incorporated. If the frosting seems to thin, place it in the fridge for 15 minutes to cool further. If it seems to thick, remove the bowl from the mixer stand and hand beat the frosting with a wooden spoon over a bowl of simmering water.
6. To assemble the cake, place the bottom cake layer on the serving platter. Place 1/3 of the frosting on top, evenly distributing the frosting to the very edge of the cake layer. Place the second layer of cake on top of the frosting, pressing down slightly to affix it to the frosting and pushing a bit of the frosting out the sides of the cake. Frost the top of the second layer with 1/3 more of the frosting to the edge of the cake layer. Repeat with the final cake layer and then the final 1/3 of frosting, decoratively swirling the top of the frosting on top of the cake. Serve immediately, or store at room temperature or in the refrigerator for 2 days. Bring to room temperature before serving however.
Makes one 9-inch round triple layer cake, serves 12 to 14 people.