FOR YOUR CONSIDERATION
COLD OPEN/TEASER
The San Francisco kitchen is surprisingly large and tidy for the amount of equipment stuffed into it. The large windows fill the room with warm gray light, typical of San Francisco. The oven is turned to 350˚F and the smells of wintery spices like ginger, cloves and allspice waft pleasantly through the one bedroom apartment. Irvin is busy at the counter, rolling dark brown dough on his new silicon pastry mat. His previous plastic one had accidentally melted when it somehow came to rest on the toaster oven when he had used it to make some frozen French fries. You can see the half melted pastry mat in the recycle bin behind him.
The timer goes off, and Irvin goes to the oven, opens it up and pulls out the first tray of the Gingerbread Toaster Oven Pastries with Bourbon Pear Filling. He looks down and frowns. Then Irvin looks over to the cookbook propped open on his table next to the stovetop. The fresh baked pastries look nothing like the picture in the cookbook.

FADE OUT
ONE YEAR AGO. INSIDE A TASTING PAVILION TENT AT THE PEBBLE BEACH FOOD & WINE EVENT. THERE ARE LOTS OF PEOPLE MILLING AROUND.
A wide-eyed Irvin (played by John Cho) is standing around with Sabrina (played by Zooey Deschanel) and as his head turns to looks around, he spots someone. In HAZY slow motion, you see Irvin whip his heard around and grab Sabrina by the arm.

IRVIN
Oh my God! You won't believe who's here!
SABRINA
Who?
Irvin freezes, like a deer caught in the spotlight.
SABRINA
Irvin? Hello. Irvin. Who?
Sabrina waves her hand in front of Irvin's face.
IRVIN
What? Oh Sorry. A totally hot guy just walked by. No, Sherry Yard! I LOVE her!
Sabrina gives Irvin a blank stare.
IRVIN
You know, Sherry Yard? Only my pastry idol? The one who wrote the book Secrets of Baking that basically changed the way I bake and think about baking? The one who I would totally stalk, except I'm way too lazy to stalk someone because that's too much work. She's the Executive Pastry Chef of the Wolfgang Puck restaurant group. She's responsible for the Grammy's and Emmy's and Academy Awards dessert courses. And clearly I know way too much about her because I'm rambling.
Sabrina continues to give Irvin a blank stare and pauses for Irvin to catch his breath.
SABRINA
Ok. Wanna go up and talk to her?
IRVIN
What? And have me go all fan boy on her? Gush and scare her off?
Irvin freezes. Just stares. A beat of silence.
IRVIN
Ok.
IRVIN hustles and quickly works his way through the crowd, knocking over a few slightly drunken people of indeterminable age (the plastic surgery they've had makes it hard to tell if they are in their 30s or 50s). Sabrina has a hard time keeping up. Irvin approaches Pastry Chef Sherry Yard (played by Melissa McCarthy) quickly while she has her back turned at her booth. She turns and is startled when she sees Irvin standing dangerously close to her and her cookies.
SHERRY
Oh. Hello.
Irvin pauses for a beat. He looks almost calm and reserve. Then…
IRVIN
Oh. Um. Hi. I'm Irvin. I just wanted to say that you are totally my pastry idol and I absolutely love you and your book Secrets of Baking changed my life and the way that I bake and I now have a food blog and you are fantastic and I'm sorry I'm going into fanboy mode, but I just love you.
Sherry looks taken aback. She physically steps back from Irvin, with a look of indeterminate emotion on her face. Is it fear? Is it confusion? A slow pause then…
SHERRY
Thank you!
There's a huge grin on Sherry's face.
SHERRY
I'm so glad you loved my book! Come here. Let's take a picture together.
Irvin hands the camera to Sabrina and poses with Sherry.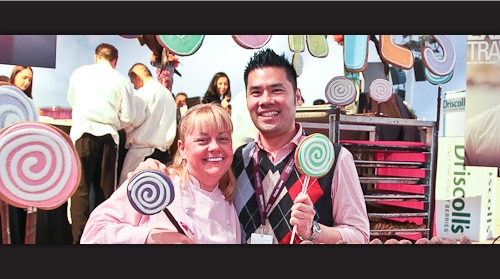 FADE TO BLACK
NINE MONTHS AGO. INSIDE A DIFFERENT TENT FOR A FOOD EVENT, THE MEALS ON WHEELS STAR CHEFS & VINTNERS GALA. IRVIN IS WITH AJ (PLAYED BY JAKE GYLLENHAAL WITH A BEARD AND GLASSES) THIS TIME IN TUXEDOS.
IRVIN
Oh crap.
Close up of Irvin. You can see a slight bead of sweat forming on his brow. He has a look of panic in his eyes and all of sudden the camera switches to Irvin POV for a moment and everything looks hyper saturated, slightly blurry around the edges and shaky. It's as if he's having a minor panic attack.
AJ
What?
A pause.
IRVIN
Um. Pastry Chef Sherry Yard is here. There's a slight chance that I might have frightened her last time I saw her. I kind of went into fanboy mode and gushed that she changed my life.
AJ
Sherry who? And Really? You never go into fanboy mode. Even when you met Jane Lynch you were super cool.
Quick cut flashback to Irvin paying papparazi of Jane Lynch (played by herself) with his camera and trying to play it cool, all the while taking photos of her in a overly deliberate nonchalant manner. He is definitely not playing it super cool, despite what he thinks.
IRVIN
Oh yeah. I WAS super cool when I met Jane Lynch. I dunno. I just kind of snapped when I saw Sherry Yard. I don't know what happened. Maybe I was dazzled by the fact that she does the Grammy's and Oscar party desserts or something. Well hopefully she won't remember me.
AJ
I'm sure it wasn't that bad.
IRVIN
It was bad.
Blurry fast forward through the night. Irvin and AJ eating a lot of fantastic food and drinking way too many glasses of wine from the different stations. The scene slows down for a moment when Irvin and AJ sit down to their three-course meal, zooming into close ups of the rare tuna, rabbit and hanger steak that is slowly going into their mouths. Then it speeds up again through the brightly colored desserts and live DJ set. It finally settles down to normal speed as we see that Irvin and AJ are one of the last people to leave.
IRVIN
Look. There's Sherry Yard! I'm going to play it cool and go talk to her. Stop me if I gush.
AJ
Ha!
IRVIN
Shut up.
Irvin approaches Sherry and she turns around and is startled again.
IRVIN
Hi! I don't know if you remember me, but we chatted at the Food & Wine Festival down at Pebble Beach. I promise I'm not stalking you.
Sherry looks at Irvin and initially is puzzled. Then a dawning look of recognition shows on her face.
SHERRY
Yes! Hi! I totally remember you. How are you?
IRVIN
I'm doing well. This is my partner AJ.
SHERRY
Hi! Nice to meet you. I'm glad Irvin has a partner, I was a little scared that he was stalking me.
IRVIN pauses dead in his tracks.
SHERRY
Kidding! Totally kidding. It's so nice to meet you. Did you enjoy yourself?
AJ
Of course, it's been a great evening!
SHERRY
Now, have you guys been to the restaurant?
AJ looks at Irvin. There's an exchange of looks, as AJ hasn't a clue what restaurant Sherry Yard works at. With a split second pause, Irvin slides in…
IRVIN
No. No, we actually haven't been yet!
SHERRY
Oh well you MUST! Let me know when you come down to LA and we'll totally treat you like kings there!
Irvin is starry eyed.
IRVIN
Of course! We'd love to! Actually we will be heading down there in a month because AJ does the AIDS Lifecycle from San Francisco to LA…
Sherry gets all excited and turns to AJ.
SHERRY
You do? That is so amazing! My friend Tom does that ride! Oh do you know him? I totally have a picture of him. Hold on. Let me find it on my phone.
Sherry whips out here iPhone and starts scrolling around, all the while mumbling under her breathe…
SHERRY
I know it's on here somewhere. I just got a text from him. Where is it?
After a few minutes, Sherry gives up and turns to us.
SHERRY
Hmmm… I can't find it, but you can't miss him. White guy, tall, brown hair, fit, super attractive. Gay….
Sherry's voice trails off, as she realizes that she is probably describing 70% of the riders on the AIDS lifecycle. She then starts to giggle.
AJ
Well, I'm not sure, but it's possible I have met him.
Sherry waves her arms completely dismissing the thought.
SHERRY
You two have to come to the restaurant when you're in LA. Here, I'll give you my cell phone, just text me when you are coming down and I'll set you up. I'll totally treat you guys like kings! The AIDS lifecycle. So cool!
Irvin is a shell shocked when Sherry starts to spout out digits and quickly whips out his phone and punched in her phone number. He looks at disbelief at his phone that he has his pastry idol's phone number in his cell.
SHERRY
Well, it was so great to meet you both!
AJ AND IRVIN IN UNISON
You too!
Sherry walks off, and as she does, AJ and Irvin bump into Yigit Pura (played by Alexander Skarsgård), winner of the first season of Top Chef Just Desserts holding flower arrangements as the event breaks down around him. He recognizes Irvin from meeting him and AJ earlier at the event.
YIGIT
Oh hey guys! You guys want some flowers?
IRVIN
Oh um. Thanks. No, we're ok.
YIGIT
Really? You guys are rejecting flowers from me?
IRVIN
Um… Sorry?
Yigit turns around hurt and immediately finds two other attractive gay men to give flowers to. They graciously accept them.
AJ and IRVIN exit the tent
FADE TO BLACK
PRESENT DAY. IRVIN IS IN HIS KITCHEN, STUDYING HIS VERSION OF THE GINGERBREAD TOASTER PASTRIES WITH BOURBON PEAR FILLING THAT WE SAW IN THE COLD OPEN. HE LOOKS DISMAYED. AJ WANDERS IN.
AJ
Whatcha doin'?
IRVIN
Well, the Oscars are this weekend and because Sherry Yard does the desserts for the award ceremony dinner and I was browsing her cookbook today I got inspired by one of her recipes for a post-Oscar blog post on Eat the Love. But sadly, it went sideways when I did my gingerbread dough. I think I got the wrong ratios when I rejiggered Sherry's recipe. I need more flour, less baking soda and should bake it on parchment paper for longer, instead of the silpat. Also totally different sugar on top.
Irvin frowns.
AJ
I'm sorry. Were you still talking? I started to zone out after "the Oscars"…
IRVIN
Whatever.
AJ
Well you know I have absolutely no interest in popular culture.
AJ keeps on eyeing the sad looking pastries
AJ
Can I have one? They smell really good even if you aren't happy with them.
IRVIN
Sure. They probably taste ok, they just don't look that great is all.
AJ is too busy taking a bite to reply, and then when he does, he talks with his mouth full.
AJ
Rurmhph rumphhhfur swrooryr.
IRVIN
Huh? I'm sorry I don't speak crazy talk.
AJ swallows with a big gulp. Close up of AJ's throat as his does a big gulp swallow. Then…
AJ
Whatever. They taste great.
IRVIN
Back to drawing board though. I gotta make them Oscar award worth. Sherry Yard worthy.
Quick cut to Irvin writing on his yellow pad of paper, reworking the formula for the recipe. In fast-forward you see Irvin dumping flours into a mixing bowl on a kitchen scale and mixing them in hyperfast speed with a balloon whisk, then creaming the butter and makes the dough, then refrigerates it, makes the filling, pulls out the dough, preheats the oven, rolls it and makes the pastries. He sticks the first round into the oven and then slumps into his kitchen chair.
AJ
How goes it?
IRVIN
Not bad. Pretty decent actually. I think I nailed it this time. We'll see.
AJ
It really smells gingerbread fantastic in here right now. Totally gingerbreadtastic.
IRVIN
Thanks.
Close up of the timer, as the dial clicks to ZERO and a piercingly loud sounds emits from it. AJ jumps up startled.
IRVIN
That's it. Moment of truth. Opening of the envelope. Let's see if these pastries wins the gold statue. I wanna make Sherry Yard proud. Even if she never did get back to me when I texted her while we were in LA last year to see if we could go to her restaurant and get treated like kings.
AJ
Honey, you have to let that go.
IRVIN
Whatever.
Close up of the oven door being pulled open. The pastries look beautiful. They are sugar coated to perfection. Irvin beams.
IRVIN
Now those. Those are Sherry Yard worthy.
Camera focuses on the pastries sitting on the wire cooling rack. Camera pulls back and you see AJ going in for a pastry, while Irvin slaps his hand and tells him to let them cool a bit longer. AJ ignores him and grabs one and takes a bit bite. Then he starts waving into his mouth that it was hot and starts speaking in mouth full talk.
AJ
Orrgumm Shhuuuu Horrrttt.
IRVIN
Remember? Don't speak crazy…
FADE TO BLACK
END OF SHOW
CREDITS ROLL
The 2012 Pebble Beach Food and Wine will be happening on April 12th to 15th at Pebble Beach, California. You can visit their website for more information.
The 2012 Meals on Wheel's Annual Star Chef & Vintners Gala is on April 22 in San Francisco. You can visit their website for more information.
Gingerbread Toaster Pastries with Bourbon Pear Filling
By
Irvin Lin
Think of these toaster pastries like Pop Tarts meets Gingerbread Houses. Deep with molasses and ginger bite, the autumn winter fruit of pears filling makes these pastries totally suitable for breakfast, after popping them in the toaster/toaster oven for 5 minutes or after dinner for dessert with a scoop of vanilla ice cream. Sherry Yard's original recipe called for a simple peach filling, and a different ratio of ingredients for the dough, using just all-purpose flour. I swapped it out some of the all-purpose for white whole wheat flour (an albino version of wheat) for nuttiness as well as teff flour for the malty flavor. Both of them add extra nutrients that you don't get for all-purpose flour, meaning I can totally self justify eating a pastry for breakfast. Feel free to substitute 455 g (3 1/4 cups) of all-purpose flour total for the flours and cornstarch though, if you don't have either specialty flour in the house.
This recipe makes more pear filling than necessary. Just use the leftover to spread over toast or stir into oatmeal. Or eat it by the spoonful, that's what I did. If you want to skip making the filling, feel free to use your favorite store bought preserve. I would recommend orange marmalade, apple butter, pumpkin butter, apricot preserves or strawberry rhubarb jam. Try to find one that is small batch produced, as the big companies that commercially make preserves in the grocery stores tend to have a lot of sugar in them, making these pastries super sweet.
Loosely adapted and inspired by Sherry Yard from her book Desserts by the Yard.
Pastry Dough
245 g (1 3/4 cup) all-purpose flour
150 g (1 cup) white whole wheat flour
60 g (1/4 cup plus 1 tablespoon) teff flour
40 g (1/4 cup) cornstarch
170 g (3/4 cup or 1 1/2 sticks) cold unsalted butter
165 g (3/4 cup) dark brown sugar
45 g (3 tablespoons) white granulated sugar
1 tablespoon + 2 teaspoon ground ginger
2 1/2 teaspoon ground cinnamon
3/4 teaspoon all spice
1/2 teaspoon fresh ground pepper
1/4 teaspoon cloves
1/2 teaspoon sea salt
1 teaspoon baking soda
2 large egg, 1 separated into yolk and white
1/4 cup blackstrap molasses
1 cup of granulated white sugar to sprinkle on top
Pear Filling
910 g (2 lbs about 4 medium) ripe pears, mixed varietals of Comice, Anjou & Bartlett
42 g (3 tablespoon) unsalted butter
50g (1/4 cup) white granulated sugar
1/2 teaspoon sea salt
1/4 teaspoon ground cinnamon
3 tablespoon bourbon (I used Maker's Mark)
2 tablespoon cornstarch
1. Place the flours and cornstarch in a medium sized mixing bowl. With a balloon whisk, vigorously stir the dry ingredients together until uniform in color.
2. Cut the cold butter into 1/2 inch cubes and place them in the bowl of a standing mixer. Add the sugars, spices, salt and baking soda. Cream the butter, sugar and spices until incorporated, about a minute on medium speed. Add 1 whole egg and beat until incorporated. Add 1 egg yolk (reserving the egg white for later) and beat until incorporated. Add the molasses and beat until incorporated.
3. Scrape the sides and bottom with a large spatula and add 1/3 of the flour mixture. Beat on slow speed until incorporated, turning the speed up to medium as the flour works into the dough. Add 1/3 more of the flour and repeat the process. Add the rest of the flour and beat until incorporated.
4. Split the dough into 2 lumps, then form each into flat 1-inch thick disks of dough. Wrap well with plastic wrap and put both disks in the freezer for 30 minutes.
5. While the dough is chilling, make the pear filling by peeling, coring and dicing the pears into 1/2 inch chunks. In a heavy skillet melt the butter until it starts to sizzle. Add the pear chunks and sprinkle the sugar, salt and cinnamon over the pears. Cook on medium heat until the pears start to disintegrate and the liquid starts to thicken slightly, about 5 or 6 minutes.
6. Meanwhile, in a small bowl, add the bourbon and cornstarch together, and mix to dissolve the cornstarch. Once the pears have soften and start to fall apart and the liquid has started to thicken a bit, pour the bourbon and cornstarch into the pear juice and stir with a whisk to blend. Cook the filling until it starts to thickens up even more, about 2 or 3 more minutes. Remove from the stove and pour into a heatproof bowl to let cool.
7. Once the filling has been made and the dough has chilled, preheat the oven to 350˚F and line a baking sheet with parchment paper (I tried a silpat with a batch, but it kept the gingerbread dough too soft, so I recommend parchment paper) .
8. On a flat surface dusted with flour, roll one disk into a 12 1/2 x 12 1/2 inch square, making sure that the dough doesn't stick to the surface. Trim the edges of the square to an even 12 inches, discarding the scraps. Cut the dough into sixteen 3 x 3 inch squares.
9. Beat the reserve egg white with 1 tablespoon of water. Place 1 tablespoon of the cooled pear filling in the middle of a 3 x 3 inch square of dough. Brush the edges of the dough with the egg white wash and place another 3 x 3 inch piece of dough on top. Press the edges of the dough together all the way around firmly, sealing the pastry. Place on the lined baking sheet and repeat with the rest of the dough, placing the pastries 2 inches from each other.
10. Bake the pastries for 20 to 22 minutes, or until the edges of the pastries are firm to the touch. Let cool on the baking sheet for 10 minutes and then move to a wire cooling rack. Warm up before serving by placing them in a toaster oven for 5 minutes on high.
Makes 16 toaster pastries.