Want to bake your own Biscoff cookies? Also known as Speculaas, Speculoos or Dutch Windmill Cookies, this easy recipe is perfect for the holidays! (Jump directly to the recipe.)
Back in 1989, when I was still a sophomore in high school and secretly listening to Debbie Gibson's Electric Youth (though I told everyone that I was listening to New Order's Technique) my parents dropped a bombshell on me. We were moving to The Netherlands for a year. My dad's a science professor and he was taking a sabbatical year to do research in a different city. The last time this happened was a move to Chicago when I was in second grade and couldn't verbalize my protests other than a temper tantrum or two. But as a sullen teenage, albeit one that listened to bubblegum pop, I was significantly more vocal about my displeasure of the move. However I didn't have much choice in the matter and went kicking and dragging to the land of windmills, tulips and wooden shoes. Thankfully it worked out in the end and I fell in love with the country, the people (a few I'm still friends to this day), and yes the food, including the crisp spicy cookies called speculaas (sometimes spelled speculoos) that were traditionally served during the holiday season. Here in the U.S. they are often sold under the brand name Biscoff cookies, or as Dutch windmill cookies, but in my heart I'll always call them speculaas.
In truth, I never really thought about making speculaas cookies for myself, until my friend Caitlin over at Cooking with Caitlin contacted me and said she was teaming up with Kroger for their iPad Holiday Around the World issue of their MyMagazine app. She asked if I wanted to contribute a recipe and I immediately knew I wanted to make speculaas cookies for the app. I'm joined with some other fantastic food bloggers, including Isabel From Family Foodie, Kris from Young Married Chic, Maggy from Three Many Cooks, Aran of Cannelle Vanille, and Coryanne from Kitchen Living with Coryanne who all created recipes inspired from different parts of the world, including Basque country, Africa and Portugal.
Making speculaas is super easy. Similar to American gingersnap cookies, the Dutch spice cookie is traditionally served over the holidays, specifically to celebrate St. Nicholas Eve, which is December 5th, though the cookies are sold year round. With the rise in popularity of Biscoff cookies, Biscoff Cookie Spread and all the various knockoffs (I believe even Trader Joe's sells a cookie spread version) I'm surprised that I don't see people baking speculaas cookies more; maybe because it's so easy to buy the store bought ones.
Either way, I'm pretty thrilled to have an excuse to walk down memory lane by baking these cookies. I haven't actually made it back to The Netherlands since I lived there over 20 years ago, but it's nice to know that I can revisit my past by just baking these cookies. And even if you've never been to Holland, the minute they started to bake, your whole house will start to smell like Christmas. That alone is worth the effort.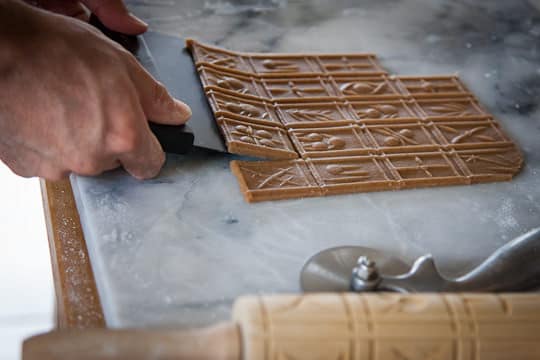 You can download the Kroger MyMagazine app for the iPad for free at the Kroger website, or view the online PDF edition if you don't own an iPad. Special thanks to Kroger and Caitlin for including me in this edition of the magazine.
And if you happen to live in the San Francisco Bay Area, feel free to stop by 18 Reasons Annual Holiday Cookie Swap on Saturday December 8th, from 2-4pm. I'll be there, co-hosting with my partner-in-crime Melanie and the 18 Reasons staff. All are welcome, with or without cookies!
DUTCH SPECULAAS COOKIES (SOMETIMES SPELLED SPECULOOS, OTHERWISE KNOWN AS DUTCH WINDMILL OR BISCOFF COOKIES)
In my formative youth, at the impressionable age of 15, I spent the year abroad in The Netherlands. There I learned that the Dutch did NOT live in windmills, wooden clog shoes are much more comfortable than you would think, and the Dutch ate a lot of cheese. I also learned that the major holiday that they celebrated at the end of the year was St. Nicholas Eve, December 5th and not Christmas. The Dutch Sinterklaas (and the basis of the North American Santa Claus) gave out holiday treats ranging from chocolate letters, to marzipan figures to one of my favorite cookies speculaas. Thin, spicy, crunchy shortcrust cookies, these treats are the Dutch equivalent to the American gingersnap. With a mix of spices, heavy on the cinnamon, speculaas have as much snap as their American counterpart, but with an added layer of multiple spices like nutmeg, cloves, ginger and cardamom. Traditionally speculaas are made by pressing the dough into a mold before baking in the oven. Using a
springerle rolling pin
(a rolling pin with a pattern carved into it) is an easy way to impress a shape into the cookies. If you don't have a speculaas mold or a springerle rolling pin (both of which can be found online or at a specialty baking shop), you can just use regular holiday cookie cutters to make festive shaped cookies instead or just roll them out, and cut them into squares with a sharp knife. They'll still taste great and make your house smell like the holidays.
Ingredients
1/2

cup

cold unsalted butter

115 g or 1 stick

6

tablespoons

white granulated sugar

75 g

3/4

cup

packed dark brown sugar

165 g

1/4

teaspoon

baking soda

1/2

teaspoon

kosher salt

2 1/2

teaspoon

ground cinnamon

3/4

teaspoon

ground nutmeg

3/4

teaspoon

ground cloves

1/2

teaspoon

ground ginger

1/4

teaspoon

ground white pepper

1/4

teaspoon

ground black pepper

1/4

teaspoon

ground cardamom

1 1/2

teaspoon

pure vanilla extract

1

large egg

1 3/4

cup

all-purpose flour

235 g
Instructions
Line a baking sheet with parchment paper of a silpat.

Cut the butter into 1/2 inch cubes. Place in the bowl of a standing mixer fitted with a paddle attachment. Add the sugars, baking soda, salt, and spices. Cream butter and dry ingredients together on medium speed for 30 seconds or until the batter is uniform in color. Scrape down the sides with a large spatula and add the vanilla extract and egg and beat on medium speed until incorporated (about 30 more seconds). Scrape down the sides again and add the flour. Beat on medium speed until incorporated (about 30 more seconds)

Split the cookie dough in half. If you using the springerle rolling pin, roll the dough out until 1/2 inch thick with a plain rolling pin. Liberally dust the springerle pin with flour then roll over the dough, pressing firmly to make a 1/4 inch thick cookie dough, with imprint. Cut the dough along the springerle grid lines with a sharp knife or pizza cutter. If using a cookie cutter, roll the dough out until 1/4 inch thick with a plain rolling pin and cut out cookies. If using a traditional speculaas cookie mold, roll the dough until 1/2 thick with a plain rolling pin. Lightly spray the mold with cooking oil, then liberally dust with all purpose flour (knocking out any loose flour once you've dusted it). Press the dough into the mold, remove excess dough of the back of the mold.

Carefully move or unmold the cookie onto the baking sheet. Place the baking sheet in the refrigerator for 30 minutes. 10 minutes before the time is up, preheat the oven to 375˚F. Bake the cookies in the oven 9-11 minutes or until the cookies look golden brown on the edges. Let cool on the baking sheet for 10 minutes before moving the cookies to a wire rack to cool to room temperature. The cookies will harden as they cool.

Notes
Special equipment
Baking sheet
Parchment paper or silpat
Stand mixer
Rolling pin
Springerle rolling pin, speculaas mold, cookie cutters or sharp knife
Nutrition