These chorizo deviled eggs use Spanish-style chorizo to give a smoky depth of flavor that brings deviled eggs to a sophisticated next level taste!
My love of deviled eggs is well documented. I've made pimiento cheese deviled eggs, I've made beet pickled deviled eggs with za'atar spice. I've even developed recipes for clients of mine like Anolon all fancy pants with lobster or versions like Green Goddess and corn, crab and old bay spiced deviled eggs for Simply Recipes. But I can't stop making variants of deviled eggs because they are really one of those perfect appetizers that are infinitely adaptable. Like my latest favorite version, these Spanish Chorizo Deviled Eggs!
If you've never made them with chorizo before, you're in for a treat. They're salty and slightly spicy, with a touch of smoky sweetness. Deviled eggs are also one of those super easy appetizers you can make for a party, one that you're hosting for yourself, or bringing them as a crowd-pleasing dish somewhere else! I've given simple instructions below on how to do that.
What's chorizo?
Chorizo is a highly seasoned pork sausage that comes in two varieties, Spanish and Mexican.
Mexican chorizo is made with uncooked raw pork and spices, and has vinegar and chile pepper in it. Spanish style chorizo is made with garlic and pimentón (Spanish smoked paprika), which gives a deep smoky flavor.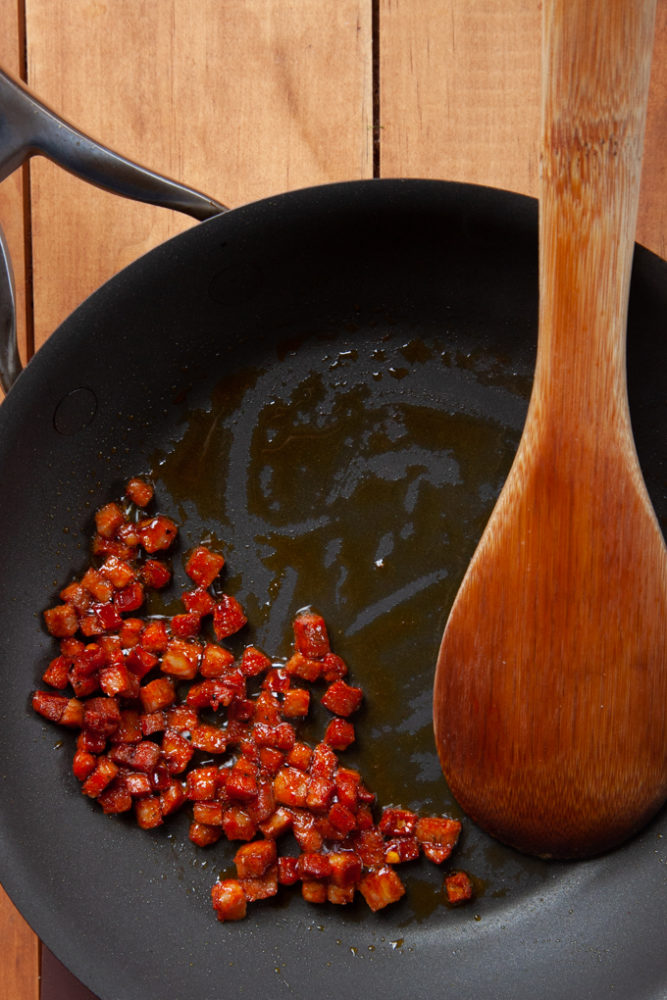 Further complicating things Spanish chorizo can come in two different versions, a fully cooked dried version that can be sliced and eaten like pepperoni or a fully cooked soft version that is semi-cured. For this deviled eggs, I use the soft version.
But, to be honest, you can use any version of chorizo on deviled eggs. Just keep in mind whatever version you use will make the deviled eggs taste different. If you use the Mexican version, remove the casing and make sure to cook the chorizo completely beforehand. If you use the Spanish version, fry the chorizo to warm it up, and to make it release some of the oils. But don't worry about frying it completely as it is already fully cooked.
What can you substitute for chorizo?
If you don't like Spanish chorizo or can't find it, you can omit or use other sausage in place! Try some of these substitutions. Keep in mind some of these sausages are raw and will need to cooked thoroughly before using. Also note that the resulting deviled eggs will taste different (but equally delicious) if you substitute!
Chinese sausage, a sweet Asian-style pork sausage
Hot Link, an American sausage
Kielbasa, a Polish sausage
Linguica, a smoked Portugese sausage
Merguez, a lamb or beef based Moroccan sausage
Pepperoni, a classic American-Italian sausage
Salami, an Italian style sausage
Soyrizo, a soy-based vegetarian Chorizo
Summer sausage, a cured American sausage
Can you make these vegetarian?
You can make these deviled eggs vegetarian by either omitting the chorizo (they'll still taste great without the sausage) or using a vegetarian chorizo. There's a popular brand vegetarian version called Soyrizo that would be a great addition to these eggs.
How do you make hard boiled eggs?
For this recipe you need to make hard boiled eggs. You can make hard boiled eggs in whatever method you like best. But I have a recipe for steaming eggs to the soft cooked stage. To hard boil them you just need to increase the steaming time to 12 to 14 minutes. Your eggs will be hard boiled instead of soft cooked.
How do you make these deviled eggs ahead of time?
I like to make the filling and then spoon it all in to a resealable Ziploc bag. Squeeze out as much air as you can in the bag, the refrigerate it. You can keep your egg filling in the bag, in the refrigerator, up to 24 hours in advance.
Then right before you serving, just cut a corner of the bag with scissors and pipe the egg filling into the egg white shells. Sprinkle the fried chorizo over the eggs and serve!
Of course, if you find the bag method too fussy, you can always just use a couple of spoons to fill the egg whites!
What's the best way to bring deviled eggs to a party?
The Ziploc method is also the best way to travel with deviled eggs! No need to worry about the deviled eggs flipping over. Just bring the empty egg whites, along with the bag full of filling. Then snip the corner and pipe them at the party in the kitchen. Fry the chorizo ahead of time at home and bring it in a small container and sprinkle over the eggs right before serving.
How long do these eggs keep?
Once piped, the eggs will keep at room temperature for up to 2 hours. Otherwise, you can keep them in the refrigerator for up to 8 hours.
What is Aleppo pepper?
Aleppo pepper is a common middle eastern seasoning, that is made from ground Halaby peppers. It's half as spicy as common red pepper flakes but much more flavorful in terms of complexity. But it also has a fruity tang and an earthy depth to it. It's a great addition to these eggs but if can't find it or don't want to buy it just for one recipe you can use 1/4 teaspoon of red pepper flakes instead. But I urge you to get some if you can source it! It's lovely and a great addition to your pantry.
If you like these Chorizo Deviled Eggs, check out some of my other egg recipes:
And check out some of these other easy appetizer recipes:
Spanish Chorizo Deviled Eggs
These chorizo deviled eggs have a smoky depth and spice that elevate them above the common deviled egg. I used Spanish chorizo but if you accidentally buy Mexican style chorizo instead, just make sure to cook the sausage thoroughly. I have sausage substitution section above about using either style of chorizo, along with other sausage suggestions if you'd like! The deviled eggs will taste slightly different with the Mexican sausage or other sausage but will still be delicious.
Ingredients
2 1/2

tablespoons

mayonnaise

1 1/2

teaspoon

Dijon mustard

1/2

teaspoon

smoked paprika

or regular paprika

3

tablespoons

chopped Italian parsley leaves

3

teaspoons

chopped chives

1/4

teaspoon

kosher salt

1/4

teaspoon

fresh ground pepper
To finish
1

ounce

Spanish chorizo

diced into 1/4-inch cubes

Extra salt and pepper to taste
Instructions
Cut the hard boiled eggs in half lengthwise. Scoop out the egg yolks and place in a bowl. Place all the egg whites onto a serving plate, cut side up.

Add the mayonnaise, mustard, paprika, Aleppo pepper (or red pepper flakes), parsley, chives, salt and pepper in the bowl with the egg yolks. Mash and stir with a fork until a smooth paste forms.

Scoop filling into a freezer style resealable Ziploc bag. Squeeze all the air out, then seal the bag.

Snip the corner of the bag. Pipe the filling from the bag into the egg whites.

(f you find the Ziploc method too fussy, you can also just fill the egg whites using spoons.)

Cut the chorizo into 1/4-inch cubes. Fry the chorizo in a small pan, until it releases oil. If you are using Mexican style chorizo, fry until the chorizo is completely brown. Sprinkle the chorizo over the deviled eggs, drizzling a little bit of the oil over each egg.

Sprinkle extra salt and pepper over the eggs to taste.
Notes
This recipe can be doubled.
Nutrition