These easy-to-make extra virgin olive oil chocolate chip cookies are a sophisticated upgrade made with vibrant extra virgin olive oil!
This post was sponsored by California Olive Oil Council. I was compensated for this post and for developing the recipe. However, all opinions below are completely my own.
Though this blog has no shortage of chocolate chip cookies. I've made bakery-style chocolate chip cookies,chunky shortbread chocolate chip cookies, sourdough chocolate chip cookie, and crispy chocolate chip cookies, not to mention a variety of different flavored chocolate chips cookies. But one chocolate chip cookie missing is the extra virgin olive oil chocolate chip cookies!
Extra virgin olive oil is a pretty robust flavored fat that is more often used in cooking than baking, but it also works really well in desserts and baked goods. It adds its own amazing flavor profile, one that really complements chocolate with its peppery, nutty and fruity undertones and lends a richness and moist texture that you can't get from butter. If you're looking for a sophisticated twist on the classic chocolate chip cookie, these cookies are for you!
How do you make this cookie?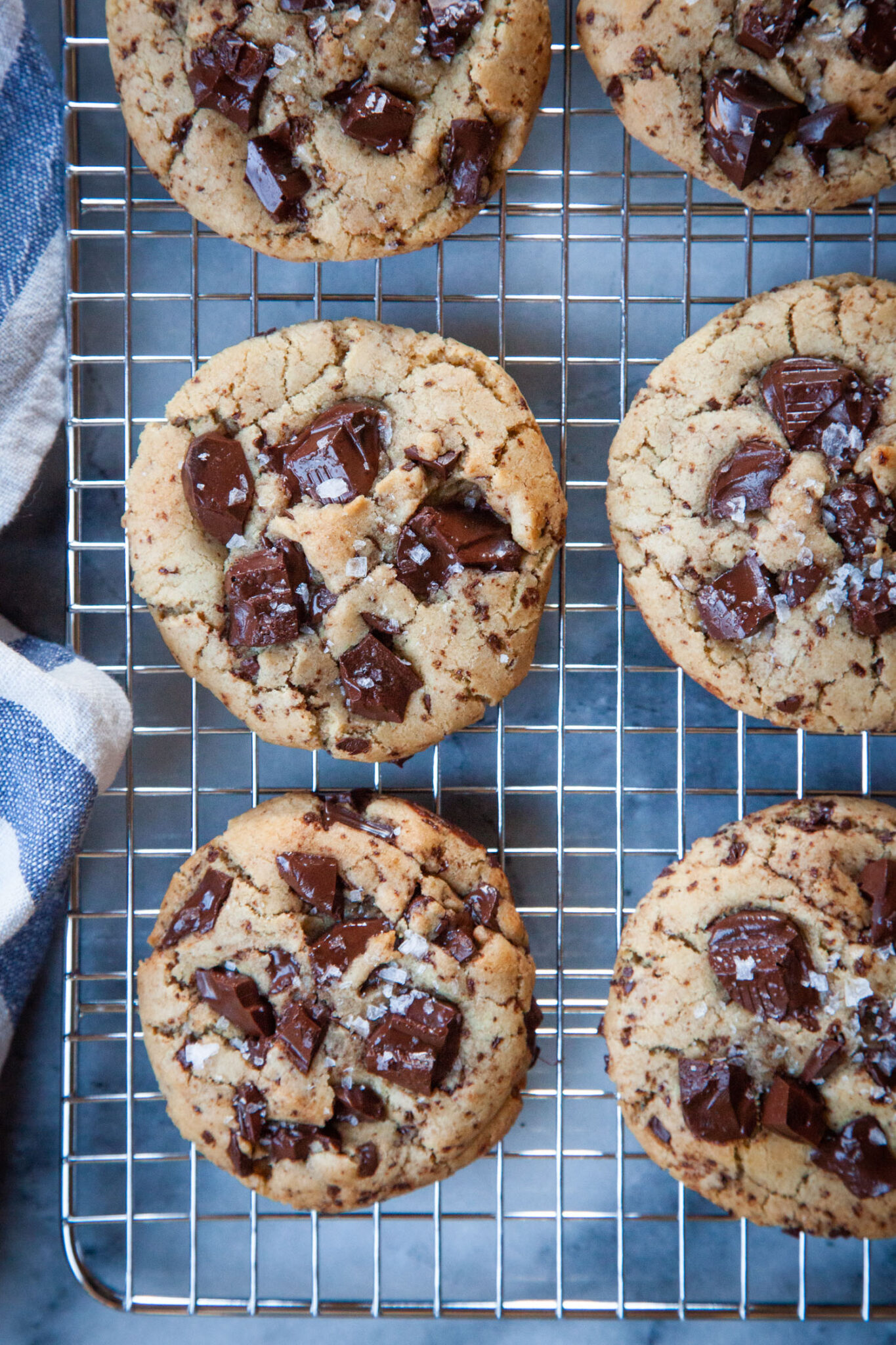 This extra virgin olive oil chocolate chip cookie is easy to make, easier than a more traditional chocolate chip cookie, as you don't have to wait for the butter to soften or need to cream it into the sugar.
Place brown sugar, white sugar, salt, baking powder and baking soda in the bowl of a stand mixer and mix together. Then whisk together the extra virgin olive oil with vanilla, fresh ground pepper, an egg and an egg yolk. Add the liquid and flour in batches, alternating, until a dough forms.
Stir in chopped chocolate, make balls of dough, sprinkle some flaky sea salt on top of each ball of dough and bake!
What sort of extra virgin olive oil should you use?
Taking a look at a typical grocery store, and you'll see an overwhelming number of olive oil choices. Though most folks are familiar with the grading of "extra virgin olive oil" which is an important denotation that the oil has met the highest international standards, I highly recommend looking for extra virgin olive oil with the California Olive Oil Council (COOC) label. 
The COOC seal of certification means the oil is not only truly extra virgin olive oil (counterfeit extra virgin olive oil is totally a thing!) but that the extra virgin olive oil meets a mandatory stringent chemical and sensory analysis of the oil that is HIGHER than the international standard. In fact, it's the highest standard in the world. And all extra virgin olive oil that has the COOC seal must pass this testing for each individual annual harvest to be allowed to use the seal. You can find a list of companies that have this label on the COOC website.
Beyond looking for the COOC seal, pick an olive oil that has a great flavor, one that you love. Extra virgin olive oils can vary in flavor depending on the olive used, the terrain it was grown on, and the date it was harvested. Flavors can range from mellow buttery to robust peppery, with notes of grassy, fruity, or citrusy. I like to use an extra virgin olive oil with a medium level of flavor, nothing too sharp, nor too mild, but with notes of pepper in it. I accentuate this pepperiness by adding a touch of fresh ground pepper into the dough but that's completely optional. Be sure to use extra virgin olive oil within 3 to 6 months of opening the bottle or tin, as the oil will start to oxidize the minute you open the bottle. Store the bottle or tin in a cool dry place, away from light, as light can shorten the shelf life of the oil.
Customize
These cookies are a super versatile cookie that can be adapted in a multitude of ways. Here are some ideas on how to put your own spin on them:
Coffee: Add in a teaspoon of instant coffee or espresso powder to the olive oil and egg mixture, to give an underlying coffee flavor and boost the chocolate flavor more in the cookies
Nuts: Swap 1 cup of the chocolate with chopped nuts of your choice. Pecans, walnuts, pistachios and almonds would all be awesome additions to this cookie.
Spices: Try 1/2 teaspoon (or more) of a warm wintry spice like cinnamon, nutmeg, ginger, cardamom or allspice to the olive oil and egg mixture along with or in place of the ground pepper.
Chocolate: use a variety of chocolate, from dark, milk to white chocolate. Or stick with dark chocolate, but use different types, from a super bitter 85% chocolate to a more mild, sweeter 54% dark chocolate. Mixing a couple of chocolates will give a little more complexity to the cookie. Or, if you're feeling like taking a shortcut, just use chocolate chips instead of the chopped chocolate.
Citrus: If you want to give these cookies a citrus twist, accentuating the citrus notes of extra virgin olive oil, omit the black pepper and add the zest of an orange, Meyer lemon or regular lemon in the extra virgin olive oil instead.
Storage
These cookies store well. Keep them in an airtight container or under a cake dome on a plate for up to 5 days at room temperature. You can also freeze them, though keep in mind the salt flakes on top will dissolve when you freeze and thaw them out. To freeze them, place them in a resealable freezer Ziploc bag and then freeze for up to 3 months.
If you like these chocolate chip cookies, check out these other chocolate chip cookies recipes
Extra Virgin Olive Oil Chocolate Chip Cookies
These chocolate chip cookies are super easy to make and don't require any chilling beforehand. Use a high-quality extra virgin olive oil with some nice peppery notes will accentuate the chocolate in the cookies. I use chopped chocolate in the cookie, making sure to add in the chocolate "dust" that comes from chopping the chocolate, as that distributes throughout the cookie giving it "freckles" of chocolate confetti throughout. But feel free to use chocolate chips if you don't feel like chopping chocolate.
Ingredients
1

cup

packed dark brown sugar

220 g

1/2

cup

white sugar

100 g

1 1/2

teaspoon

kosher salt

1/2

teaspoon

baking powder

1/4

teaspoon

baking soda

3/4

cup

extra virgin olive oil

150 g

2

teaspoon

vanilla extract

1/4

teaspoon

fresh ground black pepper

optional but recommended

1

large egg

1

large egg yolk

2

cups

all-purpose flour

280 g

2

cups

chopped chocolate chunks

340 g or 12 ounces (or substitute same amount of chocolate chips)
To finish
Flaky sea salt like Maldon

optional but recommended
Instructions
Preheat the oven to 375°F. Line a baking sheet with parchment paper.

Place the brown sugar, white sugar, salt, baking powder and baking soda in the bowl of stand mixer fitted with a paddle attachment. Mix on low speed to break up the brown sugar and blend the dry ingredients together.

Place the extra virgin olive oil, vanilla, and black pepper (if using), egg and egg yolk in a glass measuring cup and whisk together.

Drizzle half the egg oil liquid into the sugar mixture and mix until absorbed. Add 1 cup of the flour and mix. Repeat with the remaining egg oil liquid and the remaining flour. Mix until a dough forms.

Add the chopped chocolate, reserving and setting aside about 1/2 cup of the chocolate for later. Stir the dough until the chocolate is thoroughly distributed.

Make generous golf ball-sized dough balls, squeezing with your hand to make sure the dough sticks together. It will seem greasy but that's normal. If you have a scale, the dough should be roughly 70 grams. Place them on the baking sheet, keeping them about 2 inches apart.

Once the baking sheet is filled, take a few pieces of the reserve chocolate and place them on top of each ball of dough. Sprinkle the dough with the flaky salt (if using) and bake in the oven 10 to 13 minutes, or until the edges of the cookie start turning golden brown. Let cool on the baking pan for 4 to 5 minutes before moving to a wire cooling rack.
Notes
Note 1: Pick a high-quality extra virgin olive oil with pepper notes. I always look for the COOC label on the extra virgin olive oil bottle, as I know I'm getting quality extra virgin olive oil that has been grown in California and has the passed the highest standards in the world. Note 2: You'll notice I save some chocolate and tell you to stick it on top of the cookie dough before baking. But you can save some of the extra chocolate until AFTER the cookies have baked and stick a couple of chunks into the cookie where it's missing chocolate on top once the cookies are pulled out of the oven. The chocolate will melt from the heat of the cookie and meld into the cookie as if it was baked into it.
Nutrition
Calories:
318
kcal
|
Carbohydrates:
39.8
g
|
Protein:
3.8
g
|
Fat:
16.4
g
|
Saturated Fat:
5.9
g
|
Cholesterol:
30
mg
|
Sodium:
482
mg
|
Potassium:
130
mg
|
Fiber:
1.1
g
|
Sugar:
26
g
|
Calcium:
60
mg
|
Iron:
1
mg