This super easy crispy chocolate chip cookies recipe is the perfect cookie for those who love their treats snappy and crisp! (Jump directly to the recipe.)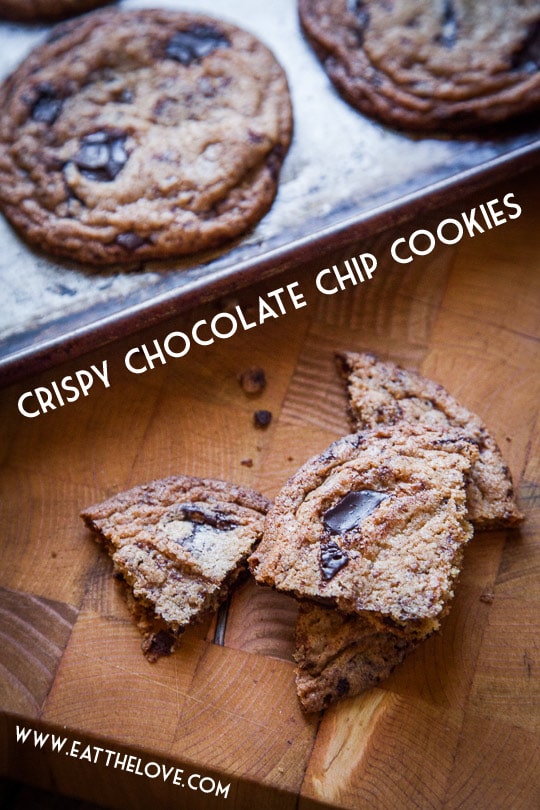 Butter and sugar was flying left and right and groups of people were crouching down on the floor working as hard as they can with the hand mixers that had just arrived the day before. The three tables that we had set up carefully with ingredients and giant metal mixing bowls were in shambles but everyone was laughing and shouting and having a great time. All I could do was marvel at the chaos that was happening in the middle of workshop I was leading at the Pinterest employee conference called KnitCon. I reached for a Crispy Chocolate Chip Cookie sample that I had made to nibble on and walked over to one of the Pinterest employees who seemed to be struggling with the rock hard cold butter that I had forgotten to pull out early enough to warm to room temperature. I showed her how to soften butter by taking a chunk of it out of the bowl and smashing it between two pieces of butter wrapper paper with the palm of her hands. She immediately brightened up and went to work. This was exactly the sort of madness that I love to be involved in.
A month or two ago my friend Enid over at Pinterest had invited me to lead a workshop on how to make the perfect chocolate chip cookie. Well actually, she had asked me to lead a workshop of my choice and that's the one I pitched to her, which she was super enthusiastic about. Because who doesn't love chocolate chip cookies? And when she told me in preparing for the workshop that I should have enough supplies for 15 people, I was dubious but took her word for it. I baked up 5 batches of different cookies for folks to see and taste, including a typical "homemade" cookie made  from the back of the chocolate chip bag recipe. I also brought enough baking supplies for 15 students to make cookie dough in the hands on class so they could take it home after the conference. 15 minutes before my session was scheduled to start, 45 peopled crammed into the room before they finally closed the door. I told folks they were going to have to do the hands-on part of the making of the dough in groups. They were all game. Let the chaos begin!
The conference itself was amazing. If you followed me over at Snapchat, you might have seen a few clips from the conference that I was able to get. Knitcon was a two day conference for ALL global Pinterest employees, it featured keynote speakers like David Chang of Momufoku restaurants, Joy Cho of the lifestyle blog Oh, Joy and Adam Steltzner who is one of the lead engineer at NASA for their Mars exploration program. I listened to a Lorrie Fair, 3-times Olympic athlete and Women's World Cup Soccer champion talk about her work with Charlize Theron foundation for youth HIV prevention in the sub-Sahara. I learned how to write a sitcom pilot and watched as Harold McGee and Peter Kim talked about food science and the launch of the New York Museum of Food and Drin (MOFAD). I got my mind blown away when an employee talked about black holes and what happens if you fall into one (spoiler alert, you die). And I learned how to escape from someone trying to grab and drag you into a white windowless van by using Brazilian Jiu Jitsu moves. (<— If someone tries to grab your arm and pull you into the van, instead of pulling again them, which is your automatic instinct, squat down with your legs and hips and lower your center of gravity, making it hard to pull you. Then use your other hand to leverage the arm they have a hold of and pull your arm toward the direction of their thumbs, which is the weak part of the hold. Your arm will pop right out! Once you escape, run like the dickens…). I was even able to get a short little interview with Enid about working at Pinterest on one of my new audio social media apps that I've been exploring called Anchor.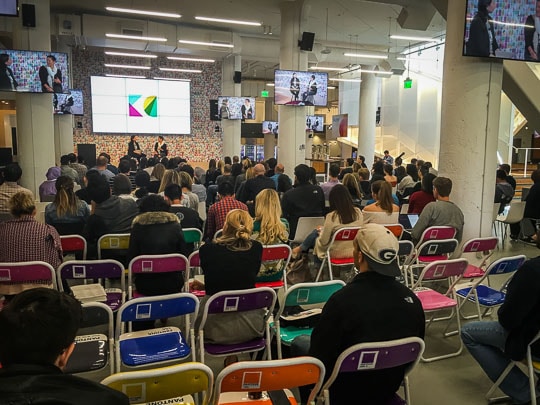 Of course the main reason I was there was to teach this hands-on workshop. And, since you most likely weren't at the session, here's my biggest takeaway and secret. There is no perfect chocolate chip cookie. That's because everyone likes different things. So don't believe it when you read about the perfect chocolate chip cookie recipe. In the workshop not only I talk about this falsehood but I also explained to folks how to tweak recipes to make them more to their liking. I showed how to make a cookie snappy and crispy or soft and chewy. I showed them how to how to used different types of chopped chocolate to give a more complex flavor to the cookie. And I showed them how letting the cookie dough rest in the refrigerator helps deepen the color and flavor of the cookie. Basically I tried to teach them how to make a bakery style cookie at home, or at least how to improve their home made cookies just a little bit to bring it from good to great or great to outstanding. All these tips and more are going to be in my upcoming cookbook but I was happy to share the information in person at the conference.
It seemed like everyone appreciated the madness of the workshop. I had numerous folks come up to me and tell me that it was their favorite session from the conference (which is saying a lot, considering there was so much great content). And despite the chaotic atmosphere, it really did seem like folks learned stuff. That's the best part of doing any workshop like that. Being able to teach folks little hints and tricks that hopefully will inspired them and help them at home. And as the Pinterest housekeeping clean came in and whipped the room back into useable shape for the next class, erasing nearly all traces of the mess in less than 10 minutes I just smiled, happy that it was over and could enjoy the rest of the conference. The classroom state might not have been the most pinworthy of scenes. But hopefully the lessons I taught will stay with the folks well past the conference.
Crispy Chocolate Chip Cookies
By Irvin Lin
I'm a huge fan of the chewy soft bakery style cookies with melty gooey chocolate. But every now and then I crave a crispy cookie, with snap and brittle bite. The secret to a crispy cookie is to use more white sugar and less brown sugar. Swapping out one of the eggs for 2 egg whites, lowering the fat from the egg yolk (which also helps with the soft chew of the cookie) and adding a little cornstarch to the dough gives the cookie more snap. Finally I bake the cookies either directly on the pan, on aluminum foil over the pan (for easy clean up) or on parchment paper. If you bake the cookie on a silicon baking mat, the silicon insulates the cookie dough every so slightly. You want to sharp high heat from the metal or the paper to help crisp the cookie!
Ingredients
1 1/4 cup (285 g or 2 1/2 sticks) unsalted butter at room temperature
3/4 cup (165 g) packed dark brown sugar
1 3/4 cups (350 g) white sugar
1 teaspoon kosher salt
2 teaspoons pure vanilla extract
1 large egg
2 large egg whites
1 teaspoon baking soda
3 cups (420 g) all-purpose unbleached flour
1/4 cup (35 g) cornstarch
1 1/2 cups (225 g) chopped 1/4-inch chunk semi-sweet (about 54% cacao) chocolate
1 1/2 cups (225 g) chopped 1/4-inch chunk bittersweet (about 70% cacao) chocolate
Flaky salt for sprinkling on top
Directions
1. Preheat the oven to 350ºF. Line a baking sheet with parchment paper or aluminum foil.
2. Place the butter, both sugars, salt and vanilla in the bowl of stand mixer. Cream until a paste forms and you can't see any more butter chunks. Do not overcream. Add the egg, mixing until incorporate. Add the egg whites and repeat. Add the baking soda and repeat.
2. Add the flour and cornstarch. Slowly mix until absorbed. Add the chocolate chunks and mix slowly until the chocolate is evenly distributed.
3. Scoop a 1 1/2-inch round ball (slightly larger than a golf ball). Place on the prepared baking sheet. Repeat, making sure to place the cookie dough balls 2 inches apart (I usually fit 6 per baking sheet). Stick a few chunks of chocolate into the ball on top. Sprinkle with a pinch of flaky salt. Bake for 15 to 18 minutes or until the edges are a deep golden brown and the center of the cookie starts to darken ever so slightly. Let cool on the pan completely. Store in an airtight container.
Makes 24 to 36 cookies.