This oatmeal chocolate chip cookie recipe is one of the absolute best ever because of a few special tips and tricks! Seriously. The best ever. (Jump directly to the recipe.)
AJ is always telling me that his favorite cookie is the oatmeal chocolate chip cookie. But surprisingly I almost never make them. It's funny because I went looking through my cookie archive here and it turns out I've never bothered to even post my recipe for my favorite oatmeal chocolate chip cookie. So when I was approached from Macy's San Francisco to participate in their Blogger and tastemaker event to do a baking demo, I knew exactly what I was going to do. This oatmeal chocolate chip cookie recipe is basically the traditional cookie on steroids!
My partner AJ is absolutely obsessed with oatmeal. He has steel cut oats pretty much every single day in the morning with my homemade granola along with his French press coffee. He's a man of habit, and he's also a bit of a snob when it comes to food. People are always scared to serve me food, but honestly I'm not picky about what I eat. AJ absolutely is. And that means when he says he loves something, he's LOVES it.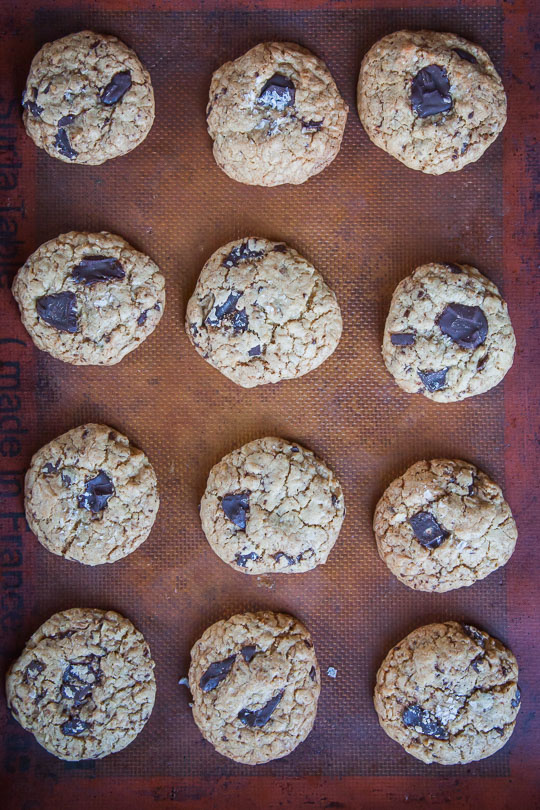 And these cookies, well they had AJ so excited when he saw them on the cooling rack. I had been in talks with Macy's about the baking demo and it came together pretty fast. So fast in fact, that they needed the recipe as soon as possible. I was leaving for Los Angeles the very next day (if you follow me on Snapchat – username @eatthelove – you probably saw all my Snaps of food and museums in L.A.) so I ended up staying up late to develop these morsel of goodness. And then I took photos, processed them right away and sent them off along with the recipe. Then we had cookies for the roadtrip! Lots and lots of cookies.
So if you are in the San Francisco Bay Area, stop by Macy's Union Square on January 30th, 2016 at 3pm and watch me bake these cookies. I'll be giving you all little hints and tips on how to elevate your cookie from ordinary to extraordinary. And stick around a little longer because after me, "Aom" Aphiradi will be doing a cocktail demo and Jordan Ferney, of Oh Happy Day will be showing you something awesomely DIY for decorating your home and kitchen. And yes I'll have cookie samples there for everyone! Hope to see you there.

Oatmeal Chocolate Chip Cookie

, the Best Ever!

By Irvin Lin

So this is the best oatmeal chocolate chip cookie recipe out there! Because I don't just use regular rolled oats, but I used a multigrain cereal that adds complexity to the cookie! You can find the multigrain cereal (a blend of rolled oats, barley flakes, rolled whole wheat, rye flakes and Triticale seeds) at health food stores or online, but if you can't track it down, just use the same amount of thick cut rolled oats instead, they'll still be the best oatmeal chocolate chip cookie you've ever had. Aromatic brown butter ups the wow factor while chunks of different chocolates help elevate this cookie from ordinary to extraordinary. Finally a light sprinkling of crunchy flake salt on top pulls the cookies in a slightly more adult direction making for the perfect treat.
Ingredients
1 1/2 cups (340 g or 3 sticks) salted butter
3 cups (340 g) multi-grain rolled cereal or thick cut rolled oats, divided
2 cups (280 g) all-purpose flour
1 teaspoon baking soda
3/4 cup (165 g) packed dark brown sugar
3/4 cup (150 g) white granulated sugar
1 tablespoon vanilla extract
1/2 teaspoon ground nutmeg
2 large eggs
2/3 cup (4 ounces) chopped semi-sweet chocolate (54% cacao)
2/3 cup (4 ounces) chopped bittersweet chocolate (72% cacao)
2 tablespoon Maldon salt flakes
Directions
1. Preheat the oven to 350ºF. Line baking sheets with parchment paper or a silicon baking mat.
2. Place the butter in a large saucepan and cook over medium high heat, stirring frequently until the butter starts to brown and smell fragrant. Remove the pan from the heat and continue stirring until the butterfat has all turned a reddish brown. Immediately pour the butter into the metal bowl of the KitchenAid stand mixer, fitted with the paddle attachment, making sure to scrape all the browned bits into the bowl as well. Turn the mixer on medium low and leave mixing to cool the butter.
3. Place 1/2 cup of the multi-grain cereal in the KitchenAid Diamond blender and pulse process the cereal until it has turned into a powder. Empty the powder into a large mixing bowl and add the remaining cereal, flour and baking soda into the bowl. Stir vigorously with a balloon whisk until the dry ingredients are mixed together and uniform in color.
4. Add both sugars, vanilla and nutmeg to the bowl with the butter. Increase the mix speed to medium until the side of the bowl is cool to the touch, an additional 2 to 3 minutes. Add the eggs, one at a time, beating and scraping down the sides between additions. Add the flour dry mix to the bowl and mix until incorporated and there are no dry patches. Add the chopped chocolate into the bowl and mix until the chocolate is distributed throughout the dough evenly.
5. Scoop the dough into heaping tablespoons onto the lined baking sheet, setting the cookie dough balls about 2 inches apart form each other. Sprinkle a small pinch of Maldon salt over the cookie dough and bake 12 to 14 minutes or until the edges of the cookies is golden brown. Let the cookies cool on the baking sheet for 2 to 3 minutes before moving them a wire rack to cool further.
Makes about 36 cookies.
If you like these awesome my best Oatmeal Cookie Recipe, check out some of these other oat and multigrain recipes from around the web:
Turntable Kitchen's Multigrain Pumpkin Donut
Sprouted Kitchen's Multigrain Maple Mini Muffins
101 Cookbooks' Multigrain Waffles
Completely Delcious' Honey Whole Wheat and Oat Sandwich Bread
I am Baker's Zucchini Banana Oat Bread