Looking for Oreo Recipes? These cookies and cream cookies are crispy on the edges and chewy in the center cookies with Oreos baked right into them! (Jump directly to the recipe.)
"It's the Inception of cookies." I explained to my friends when they asked me at the picnic what sort of cookies these were. They just looked at me confused and I had to explain to them that these cookies and cream cookies had crushed Oreo cookies in the batter, along with chunks of the sandwich cookies chopped up in the dough. Once my friends took a bite of the cookie, they were sold on the idea. With the crunchy caramelized edges and the soft chewy inside, these cookies were a hit with folks.
I had actually snapped these cookies a week or two ago on my Snapchat channel but I haven't had a chance to actually share the recipe because I was still developing it. Lately I've really been getting into Snapchat as a way to share bits of my life, as well as share recipes in real time. Of course, the drawback is if I haven't had a chance to publish the recipe yet on the blog, I'm viewed as a cookie tease! I guess there are worse things to be called.
But back to these cookies! If you didn't know this about me, I'm a fan of Oreos, those pre-packaged cookies and cream sandwich cookies. And yes, I know you can make them at home. In fact I have a pretty fantastic version of them in my cookbook coming up. But there's something to be said about opening up the package from the grocery store and pulling out that plastic tray and dunking a cookie straight out of the bag and into the milk and then your mouth. Nostalgia is a funny creature. So when I came across a cookie that uses those cookies and cream as a mix in, I was sold. Cookies and cream cookies? Why hadn't I thought of that before? I was always looking for Oreo recipes and this one just made so much sense. After there are recipes for cookies and cream ice cream and cookies and cream brownies. Why not a cookies and cream cookie? A cookie in a cookie. Like I said, the Inception of cookies.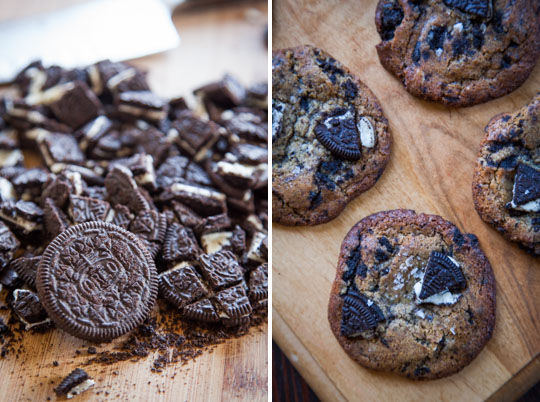 I had originally tasted cookies and cream cookies at a local cookie bakery called Anthony's Cookies. The next time you swing by San Francisco, stop by the shop. Anthony is an awesome guy and his cookies are top shelf. In a city full of amazing bakeries, Anthony's Cookies tends to get overlooked. Maybe it's because it's a shop dedicated to the everyday cookie, something that most other fantastic bakeries have at least a selection of one or two decent ones. But Anthony's cookies aren't everyday. They're a pretty special treat. If you're in SF and have a chance, pop your head in and score a cookie (or three) there. In the meanwhile, check out my version of his signature cookie.
Cookies and Cream Cookies
By Irvin Lin
These soft and chewy cookies are the ultimate Oreo recipe, with a crispy caramelized edge to them because they have ground cookie and cream sandwich cookies mixed in along with powdered milk. I use a blend of crushed Oreos as well as a chopped up chunks of the cookie to give it bite and texture. The addition of powdered milk adds a subtle creaminess to the cookie and helps promote the browning and caramelization around the edges of the cookie. The sprinkling of salt on top is optional but highly recommended. It adds a great counterpoint to the chewy and soft cookie. One thing to note, you need to let this dough rest overnight to firm up, so plan accordingly.
Inspired by a cookie at Anthony's Cookies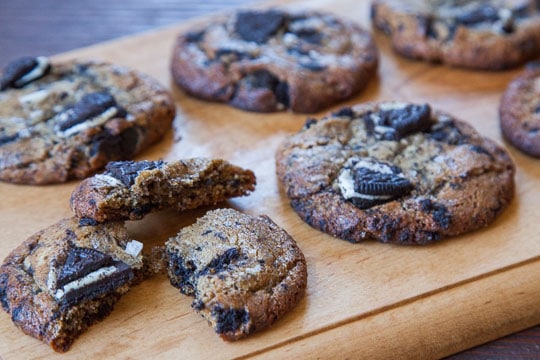 Ingredients
3 1/4 cups (455 g) all-purpose flour
3/4 cup (100 g) nonfat dry milk powder
1 1/2 teaspoon baking powder
1 1/4 teaspoon baking soda
14.3 ounces (405 g) Oreos (or other chocolate sandwich cookies), divided
1 1/4 cup (285 g or 2 1/2 sticks) unsalted butter at room temperature
1 1/4 cup (275 g) dark brown sugar
1 cup (200 g) white granulated sugar
1 teaspoon kosher salt
1 tablespoon vanilla extract
2 large eggs
flaky Maldon salt for finishing (optional)
Directions
1. Place the flour, milk powder, baking soda and baking powder in a large bowl. Using a balloon whisk, stir the dry ingredients together until well blended. Place 12 cookies (roughly 135 g or 1 row of a standard Oreo package) in a food processor and pulse until they are crushed to a powder. Chop the remaining 24 cookies (279 g or 2 rows of a standard Oreo package) roughly into chunks.
2. Place the butter, both sugars, salt and vanilla in the bowl of a stand mixer fitted with a paddle attachment. Cream together on medium speed until a paste form that is uniform in color. Add the eggs, one at a time, waiting for the first one to incorporate before adding the second one. Add the crushed Oreo powder to the bowl and mix on medium speed until blended in.
3. Add the blended dry ingredients to the dough and mix until it is absorbed. Remove the bowl from the mixer and add half the chopped Oreos to the dough, reserving the other half for later. Using a wooden spoon, carefully blend the chopped cookies into the dough, trying not to break the chocolate cookies too much. Wrap the dough tightly in plastic wrap and refrigerate overnight.
4. The next day, preheat the oven to 350ºF. Line a baking sheet with parchment paper or a Silipat. Take the dough out of the fridge and scoop out a round ball about the size of a golf ball. Place the dough on the baking sheet and slightly press down so a disk forms, about 1-inch thick. Press two or three pieces of the reserved chopped Oreos on to the cookie dough disk, and then sprinkle a little Maldon salt on top if using. Repeat, making sure the cookie dough is set 2 inches apart from each other (the dough will spread). Bake in the oven for 14-16 minutes or until the edges of the cookies start to turn a deep golden brown but the inside of the cookie is still a lighter brown. Let cool on the baking pan for 10 minutes before moving to a wire rack to cool completely.
Makes 36 cookies.
If you like these Cookies and Cream Cookies and are looking for more Oreo recipes, check out some of these from around the web:
She Wears Many Hat's Easy Oreo Pancakes
Tidy Mom's Easy Oreo Banana Cream Pie Cups
Sprinkle Bakes' Mini Oreo Sprinkle Cake
Crazy for Crust's Oreo Peppermint Bark Fudge
Jen's Favorite Cookie's Oreo Popcorn