This sophisticated take on a peach and nectarine cobbler has a flakey sage biscuit and a honey mead filling that is anything but ordinary! (Jump directly to the recipe.)
I came back to San Francisco to a fridge surprisingly full of food. My mom was staying at our place while we were in New York on vacation and we had done a pretty good job (I thought) of cleaning out the refrigerator. But my mom, being my mom went out and got us food to eat, knowing we were arriving home late at night. Asian tea eggs, Chinese takeout and a couple bags of fruit sat in the fridge. I actually did not realize until a couple days later that there were a sack of nectarines on the bottom shelf. Fearful they had been sitting in the cold fridge for too long I opted to use them for a peach and nectarine cobbler with sage biscuits and honey mead instead of eating them. I have no regrets.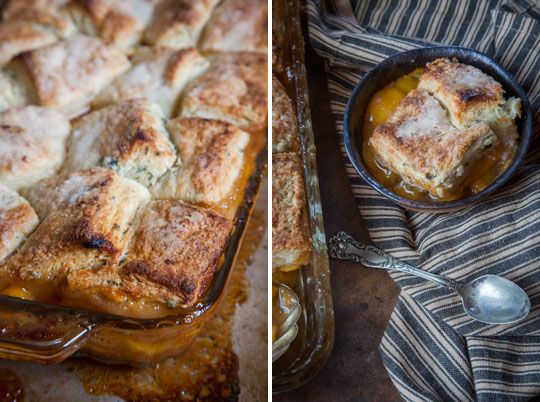 Our trip to New York was fairly traumatic for reasons I'll go into in a different blog post. We got to see and do a ton of stuff, including a stroll through Central Park, a trip to the Met and the MOMA, a Broadway show (Something Rotten, highly recommended if you love musicals), a walk along the High Line, and lots of hanging out with friends over coffee, lunch or dinner. On top of all that I got a chance to speak at the big BlogHer conference on the topic of branding for creatives along with my pal Shauna Sever. I also spent two days in the ER and doctor's office with AJ (don't worry, we're both fine) as well a mad dash scramble to figure out where we were going to stay as the initial place we had rented couldn't work out.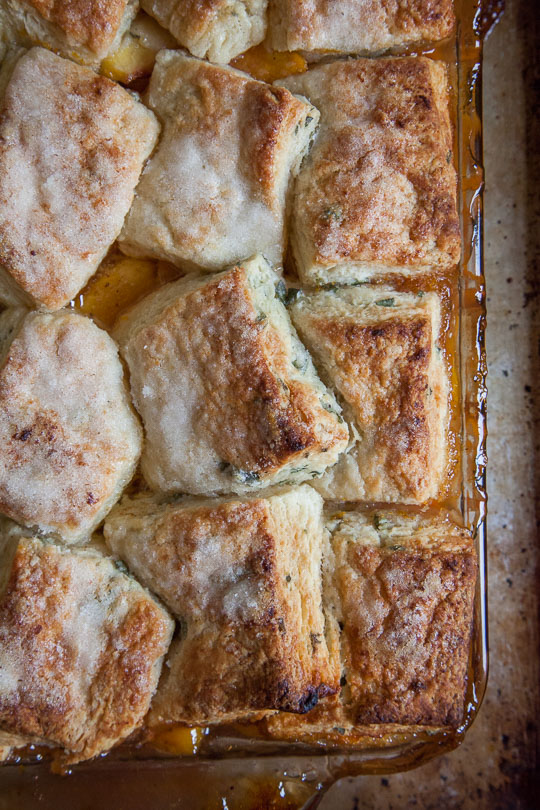 Thankfully it all did work out in the end. A friend of ours coincidentally was out of town so he let us stay at his apartment. The view was spectacular and we owe him so much for letting us use his apartment. We ate some fantastic meals with great friends and I even got to sample some pastries from some of my favorite places. And I got to meet the team that is helping publish my cookbook as well as my literary agent. Despite all the drama that went down, we were able to make the best of the trip. But we both arrived home from New York with a giant sigh and a huge sense of relief. There's nothing like being back in your own place, and with these nectarines to welcome us home, a comforting summer cobbler to settle in and nest a little bit here in San Francisco.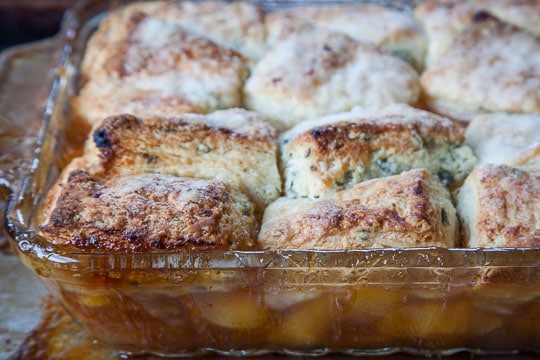 Peach and Nectarine Cobbler with Sage Biscuits and Honey Mead Filling
by Irvin Lin
I infused the biscuits with green herbal sage as a complement to the nectarines and peaches. It's an unusual choice but lately I've really loved the blend of savory sweet pungency in baked goods. The sage also gives a subtle hint of autumnal season right around the corner. A nice healthy serving of this cobbler will make you feel right at home, but the subtle aroma and sophisticated flavor profile keeps it from being too same-old same-old. If you can't find sweet mead, an alcoholic beverage made from fermenting honey, you can substitute Prosecco, Champagne or a dry white wine and add 2 tablespoons of honey to the filling as well.
Biscuit recipe adapted from Cook's Illustrated. Cobbler filling recipe adapted from Sherry Yard's Dessert by the Yard.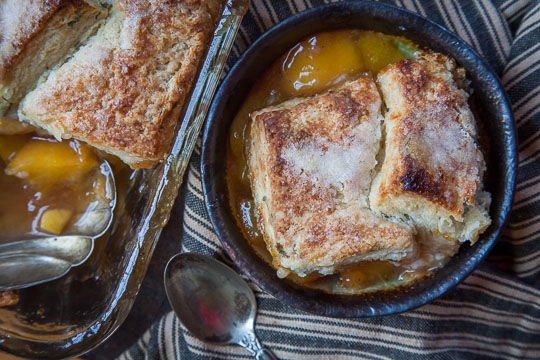 Ingredients
Sage Biscuits
1 cup (225 g or 2 sticks) unsalted butter, divided
3 cups (420 g) all-purpose flour
2 tablespoon white granulated sugar
3 tablespoon fresh chopped sage leaves
4 teaspoon baking powder
1/2 teaspoon baking soda
1 1/2 teaspoon kosher salt
1 1/4 cup cold buttermilk, well shaken
Cobbler Filling
1 1/2 pounds nectarines
1 1/2 pounds peaches
1 cup (200 g) white granulated sugar
1/4 cup (35 g) tapioca flour (sometimes called tapioca starch) or cornstarch
1/2 teaspoon nutmeg
zest of 1 orange
2 tablespoon balsamic vinegar
1 tablespoon vanilla extract
1 cup sweet honey mead (see headnote above)
To Assemble
2 tablespoon white granulated sugar
Directions
1. Place the butter in the freezer for 30 minutes. Place the flour, sugar, sage, baking powder, baking soda and salt in a large bowl. Using a whisk, stir the dry ingredients together vigorously until well blended. Once the butter has finished chilling in the freezer, grate 7 tablespoons of butter (7/8th of a stick), using the large hole of the box grater, into the bowl, reserving 1 tablespoon of butter for later. Repeat with the other stick of butter, grating 7 tablespoons of butter and reserving 1 tablespoon for later.
2. Toss the grated butter into the dry ingredients until the butter flakes are coated. Drizzle the buttermilk over the ingredients and toss with a spatula until it JUST starts to absorb the buttermilk. Liberally dust a surface with flour and pour the mixture onto the surface. It will be dry and crumbly! Don't panic. It's suppose to be that way.
3. Dust your hands with flour and press the dough into a 7-inch square. Using a well dusted rolling, pin, roll the dough into a 12 x 9 inch rectangle. Using a spatula or a pastry bench scraper, fold one side over 1/3 way, then fold the other side 1/3 over like a business letter. You should have a 4 x 9 inch rectangle with 3 layers. It will still be dry and crumbly.
4. Repeat this process, rolling the dough out into a rectangle and then folding it into thirds like a business letter, 4 more times, with a total of 5 times. By the 5th roll, the dough will come together and will firm up nicely. Roll the dough to a 10-inch square. Cover with plastic wrap and refrigerate for 30 minutes.
5. While the dough is chilling, preheat the oven to 375˚F. Make the filling by peeling the nectarines and peaches and slicing them into 8 pieces each. Place them in a bowl and add the sugar, flour, nutmeg, orange zest, balsamic vinegar and vanilla. Toss to coat. Add the mead and toss together. Pour into an 8 x 11 1/2 inch casserole dish (you can also use a 9 x 13 pan if that's all you have). 10 minutes before the biscuit has finished chilling, place the pan on a rimmed baking sheet to make sure it catches any drips then place in the oven, uncovered. Melt the reserve butter in a small bowl in the microwave or on the stovetop.
6. Once the biscuit dough has chilled, trim the square edges and discard the dough. Cut the remaining dough into 16 even pieces. Pull the pan out of the oven and place the dough over the filling, squeezing and layering any biscuits over each other if needed. Brush the melted butter over the biscuit topping then sprinkle the top of the biscuits with the 2 tablespoons of white sugar. Place back in the oven and bake for an additional 30 to 35 minutes or until the biscuits are golden brown and the filling is bubbling and thick. Cool at least 15 to 20 minutes before serving.
Makes enough cobbler for 8 people.
If you like this peach and nectarine cobbler, check out some of my other cobblers:
Sweet Cherry, Black Plum and Yellow Peach Cobbler
Apricot & Berry Cobbler
Apple Pear Cobbler
And check out some of these other cobblers from around the web!
Sprouted Kitchen's Blueberry Oat Biscuit Cobbler
Taste and Tell's Strawberries and Cream Skillet Cobbler
Lottie and Doof's Tomato Cobbler
Always Order Dessert's Chipotle Strawberry Cobbler
Spoon Fork Bacon's Blueberry Pineapple Cobbler