A Midwest Summer experience: learning to fire a gun, baking a peach and blackberry pie and how food brings us all together. (If you just want the recipe for the Peach and Blackberry Pie, jump directly there.)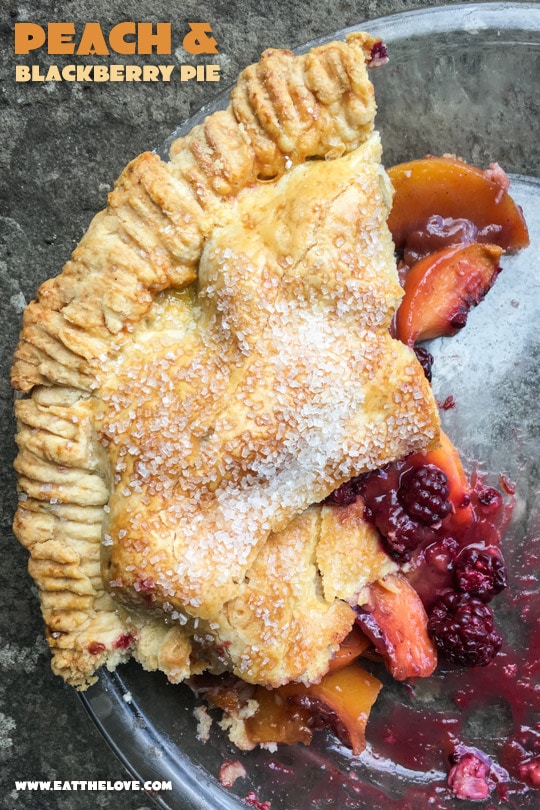 "If you at any point feel uncomfortable, you should yell out 'CEASE FIRE' and everyone will put their guns down." Said the man in the instruction video at the shooting range. We were watching an 8-minute safety video which was required before we could enter the shooting range and start learning how to fire. I turned to AJ and whispered "But I'm uncomfortable now and don't really expect NOT to be uncomfortable during this experience. Can I really just yell out 'Cease Fire' right now?" AJ just chuckled nervously under his breath.
We were visiting Indiana over the summertime and spend a couple of nights with AJ's brother, a man who shares AJ's love of cycling. AJ's brother, a man built like a former football player (which he happens to be, having gone to college on a football scholarship) also happens to go cycling with a small pistol in the back of his cycling jersey because "sometimes we bike through dicey neighborhoods." It's not that I don't believe him, but I also wonder as who would be foolish enough to try and mug him.
Nevertheless, AJ's brother has often offered to take AJ and me to the firing range and teach us how to shoot a gun. To be honest, I've always wanted to learn how to fire a gun. Not because I want to go hunting or because I want to own a gun. More because I watch way too much crime and procedural television shows and I don't want to be that helpless victim that the jogger stumbles upon in the first 10 minutes cold open of Bones. I also have a vague fear that the apocalypse (in it's myriad potential forms: viral, zombie, alien, nuclear, artificial intelligence or technological) is right around the corner. The ability to shoot a gun is probably a useful one to have, even if I have a healthy fear of them. So, swallowing my fear, I accompanied AJ and his brother to the firing range.
Walking into the gun range was a surreal experience; to be surrounded by firearms and bullets, all designed for one reason, to do maximum damage to whatever the gun is aimed at. When I was 18 I wrote the phrase "conscientious dissenter" on my voter registration card. I don't know if it actually meant anything to do that, but I felt teen punk rock doing it. I was a card carrying member of Amnesty International (because Bono and Tracey Chapman) and a pacifist! I wanted the government to know about it! Now at the age of 42 I was walking into a shooting range.
The gun felt exceptionally heavy in my hand. AJ's brother showed us how to load the bullets into the magazine. Once AJ did his first round, I stepped up. I loaded the magazine into the bottom of the handle of the gun and popped it in by jamming the palm of my hand on the bottom of the magazine so it clicked. It felt kind of badass, like in the movies. I took careful aim at the piece of paper 15 feet away with the body silhouette and pulled the trigger, tightly holding on the gun, fearful with the recoil would be so huge that I would be tossed off my feet, throwing the gun into the air like some bad French farce, but with real world dangerous consequences. The explosion was louder and shook harder in my hands than I expected, even though I was warned about both. My aim was off but not too bad. I corrected and started pulling the trigger again. This is what it felt like to fire a gun.
An automatic weapon is harder to aim than a revolver (AJ's brother had us use both) but the revolver only holds 6 bullets while the automatic had 13 bullets. It also turns out that I'm a slightly better shot than AJ. Only slightly. But as long as the zombies attacking us in the apocalypse are 15 feet away I think I could probably knock one or two of them down before having to run like mad. And sometimes one or two zombies can make all the difference. However, at 25 feet, I'm not the best. Aiming for the heart of the zombie meant I usually got the upper left lung or left shoulder. Sometimes I completely missed the piece of paper. I guess I'll have to work on that more or wait until the zombies get a little closer so as not to waste any precious bullets.
In the end, AJ and I are on the same page that we enjoyed ourselves at the gun range. More than we thought we would. But we also don't have any desire to own a gun. My friend Judi sent me a snap on Snapchat right before I went to the range that I shouldn't be surprised if I equally hated and loved firing a gun. And she wasn't wrong. And though I strongly feel we need to tighten gun control here in the US, I also now understand why people love their guns. There's a power (and yes, fun) in firing a gun and a safety and security of owning one, despite the dangers involved. For me, the danger outweighs the safety one might feel. But at least I now understand why people feel so passionately about their guns, even if I don't particular like them and kind of wish they would all go away. I think it's important to understand both sides of the argument.
Afterwards, AJ's brother packed up the guns in his bag and we drove home. He locked away his guns and ammo, and then we had dinner with his family, which included AJ's nieces and grandniece as well as AJ's brother's mother-in-law. 4 generations of family, all sharing a meal. AJ's family is pretty conservative and AJ and I are…well we definitely hold different opinions on pretty much everything when it comes to politics compared to the rest of his family. But food is always a common bridge and we do love each other, despite our individually staunchly held diametrically opposite beliefs. Food brings everyone together.
Dinner involved grilled burgers, tomato salad made from front yard garden tomatoes, homemade tomatillo salsa, sweet corn-on-the-cob and a peach and blackberry pie that I baked for everyone. At one point, in a rare moment when AJ and I were by ourselves, away from the large group of people, I turned to AJ and told him that I've now had the full Midwest experience. I've gone to the neighborhood butcher to buy locally raised meat, eaten sweet corn (there really isn't any better corn than the ones grown in the Midwest), baked a pie with seasonal peaches and berries, and shot guns at the range. He laughed knowingly and uncomfortably and as he tried to formulate an adequate response, we were interrupted by his 9-year old grandniece who wanted to face swap with him on Snapchat, something AJ hates. I laughed and wondered to myself, what makes him more uncomfortable, firing guns in a controlled environment or face swapping with a 9-year old? I watched AJ's niece squeal with delight as she swapped her face with AJ's bearded visage. I couldn't help laugh as well.
Peach and Blackberry Pie
By Irvin Lin
The issue with most fruit pies is that fruit is often exceedingly inconsistent. Depending on where you get the fruit, what the varietal is and how ripe the fruit is when you start, the filling of the pie can range from soupy to way too starchy and thick. I tend to err on the thicker side, just in case. But use your own judgement. If the fruit is juice and ripe, add more cornstarch. If it's firm and slightly underripe, less cornstarch is needed. Finally, I let the peach sit a bit in the sugar so the juices are pulled out and then I cook the resulting sugarly liquid on the stovetop. This sounds fussy but it gives the filling a headstart in the cooking process, thus making sure the crust doesn't burn and cuts the baking time down a bit. You can skip this step if you want but keep in mind you should increase the bake time for an additional 30 minutes or so and cover the edges of the pie crust to keep it from burning.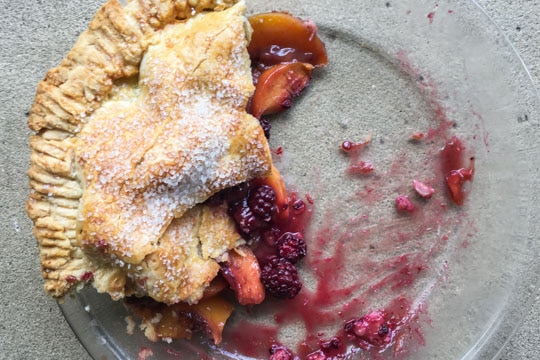 Ingredients
Crust
3 1/2 cups (490 g) all-purpose flour
2 tablespoon white granulated sugar
2 teaspoon kosher salt
1 1/4 cups (300 g or 2 1/2 sticks) cold unsalted butter
1/3 cup ice cold water
1/3 cup vodka
Filling
3 1/2 pounds (1585 grams) ripe but firm peaches
1/2 cup (100 g) white granulated sugar
1/3 cup (75 g) dark brown sugar
6 to 8 tablespoon cornstarch (see headnote above)
3 tablespoon chopped crystallized ginger (optional)
1 1/2 teaspoon ground cinnamon
1 teaspoon ground ginger
1/2 teaspoon ground nutmeg
12 ounces (340 g) blackberries
To Assemble
Extra flour for sprinkling on rolling surface
1 large egg yolk
2 tablespoon sparkling or granulated white sugar
Directions
1. Make the crust dough by placing the flour, sugar and salt in a large mixing bowl. Cut up the butter into 1/2 inch chunks, sprinkle over flour and toss to coat. Flatten the cubes of butter with your fingers until all the butter has been smashed. Start rubbing and squeezing the butter together with your fingers, until the ingredients start to clump together. Sprinkle the water and vodka over the mixture and toss with a fork until it forms a dough. If the dough seems too wet, add a little more flour and fold it in, but the dough is meant to be moist. Split the dough in half and gather one portion together and flatten into a large 1/2 inch thick disk. Wrap tightly with plastic wrap and repeat with the rest of the dough. Place in the refrigerator for an hour or overnight.
2. While the dough is chilling make the filling by peeling the peaches, then slice them over a large bowl into 1-inch thick slices, making sure the bowl catches any peach juice. Add both sugars, 6 tablespoons cornstarch, crystallized ginger (if using) and spices into the bowl. If the peaches are very ripe and juicy, add the additional 2 tablespoons of cornstarch.
3. Mix together gently with a large spatula and then set aside at room temperature for 30 minutes. Once the peaches have macerated for the time and have released juices, carefully pour the juice into a small saucepan. Cook on medium heat, stirring constantly with a heatproof spatula, for 5 to 10 minutes or until the liquid starts to thicken. Scrape the liquid into the bowl with the peaches and toss together to coat. Add the blackberries and gently fold in.
4. Once the dough has chilled, preheat the oven to 375˚F (190˚C, Gas Mark 5). Roll out one disk of the chilled dough on a generously floured surface. The nice thing about this dough is that you can use as much flour as you need. It's very forgiving. Roll it out to 10-inch round circle and then fit it into a 9-inch deep dish pie pan. Pour the peach and blackberry filling into the pie crust. Place the egg yolk in a small bowl and beat in one tablespoon of water. Brush the edges of the pie crust with the egg wash.
5. Take the second disk and repeat the process by rolling it into a 10 inch round circle. Fit the crust over the filled pie trim the edges of the pie crust. Press down with a fork dipped in flour all the way around the pie to make sure it is sealed. Cut some vents in the top of the crust with a knife then brush the top of the crust with the remaining egg wash. Sprinkle the sparkling or granulated sugar over the top of the crust.
6. Place the pie on a rimmed pizza pan or baking sheet (to catch any drips) and then place in the oven. Bake for 1 hour to 1 hour and 15 minutes or until the pie crust is golden brown and juices of the filling are bubbling up through the vent holes. If the edges of the pie crust start to brown too fast, cover with aluminum foil. Let cool a minimum 30 minutes for the filling to thicken before serving.
Makes 1 pie, serves 8 people.