This easy-to-make Ham and Cheese Toastie is a grilled sandwich made especially delightful with homemade Irish soda bread!
This post was sponsored by Judge Casey Irish Ketchup. I was compensated for this post and for developing the recipe. However, all opinions below are completely my own.
Though I've never had the pleasure of visiting Ireland (it's on my short list!) I have always loved the food from there. I've shared Irish inspired recipes like shepherd's pie, Guinness beef stew and Irish meatballs here on my blog. But one of the most standard classic Irish dishes is the Ham and Cheese toastie! It's a pub dish that is so easy to make that most folks don't even bother sharing recipes for it. Here in the US we often serve our grilled cheese with tomato soup, so I've adapted their popular grilled ham and cheese sandwich by making it with homemade Irish soda bread, and a touch of Irish country ketchup!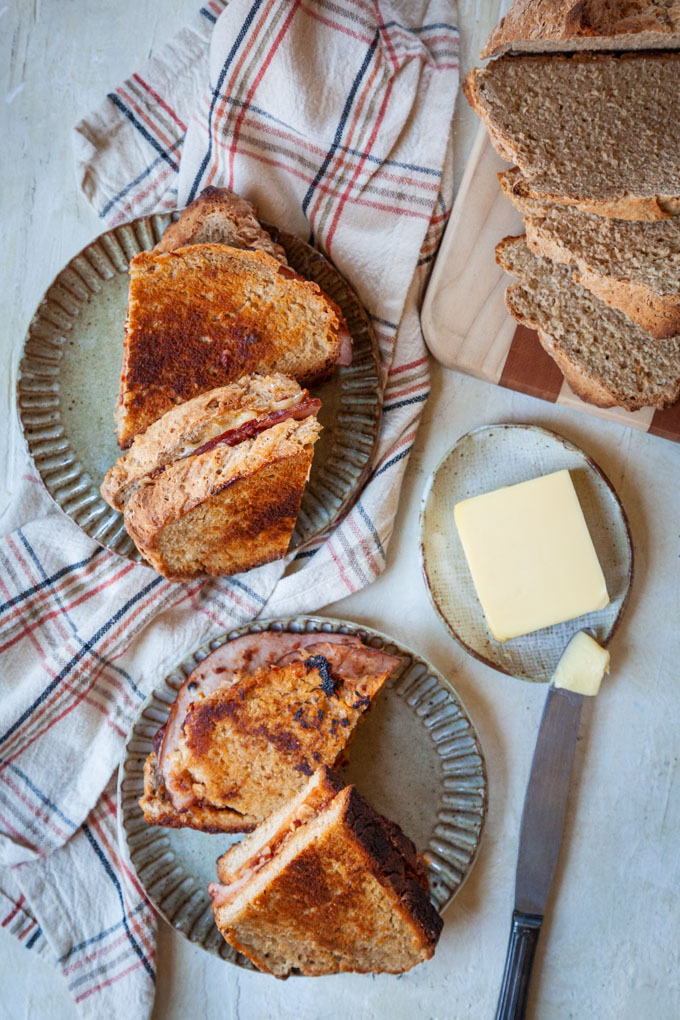 What is a ham and cheese toastie?
The Irish ham and cheese toastie is a grilled ham and cheese sandwich. Usually made on a waffle iron, panini press or a grill plate, the popular sandwich can be found at pubs all over Ireland. It's easy to make at home and completely satisfying as a lunch or a snack.
How do you make a toastie?
My version of the toastie starts with making fresh made Irish soda bread. The bread is cut thin, unlike when you serve Irish soda bread as an accompanying dish for a stew (where I like to serve it thick with butter).
The sturdy quick bread is buttered then layered with shredded cheddar cheese (Irish cheddar preferably), Irish ketchup, ham, more cheese and Irish ketchup, and then the second butterered bread slice.
Cook the sandwich slow and low to allow the bread to warm up and get golden brown and to have the cheese melt. Flip, repeat and serve!
Can I make this without making the Irish soda bread?
I love how sturdy the Irish soda bread is for this sandwich but you can totally make it with any bread you like. Classic ham and cheese toasties are made with a sturdy white or brown bread. Feel free to substitute your own choice of bread instead of making the Irish soda bread.
What is Judge Casey's Irish Country Ketchup?
Irish country ketchup is a condiment, much like regular ketchup, but more robust in flavor! It's a little more chunky and has an acidic, tangy complexity that is akin to barbecue sauce (but not quite as sweet). Some of the ingredients listed on the label that you won't find in regular ketchup include raisin paste, sun-dried tomatoes and ground mustard seeds.
What if I can't find Judge Casey's Irish Country Ketchup at my store?
Judge Casey's Irish Country Ketchup is fairly easy to find here in San Francisco and stores around California. It's slowly becoming more available across the US. But if you can't find it at the store, you can order it online or just ask your grocery store manager to start carrying it.
What else can I use Irish Country Ketchup for?
Irish country ketchup is a key ingredient in my Irish meatballs. But it can also be used as a side condiment for nearly everything you might use regular ketchup for! Dip my crispy oven-roasted potatoes, add them to scrambled eggs or use it on top of a cheeseburger. You can also try dipping my panisse (chickpea fries) or potato croquettes in them! The sky's the limit with this sauce.
What else can I put in a ham and cheese toastie?
Toasties come all sorts of types. I added Irish country ketchup to this ham and cheese toastie which is unorthodox but the tangy sweet ketchup plays well with the sharp cheddar and salty ham. For a more classic version of the dish, try omitting the Irish ketchup, just using cheese and ham. Or add these other additions to the toastie:
Stoneground mustard
Diced sautéed onions
Baked beans
Thin sliced pickles
Sliced tomatoes
Chopped herbs like parsley, thyme or oregano
Leftover sliced meatballs, instead of ham (like my Irish Meatballs!)
Sliced cooked sausage or crumbled sausage meat (instead of ham)
What other cheese can you use for a ham and cheese toastie?
My preference of choice is a sharp Irish cheddar cheese. But you can use any sort of melty cheese that you would like. Here are a few options:
Colby cheese, a softer, milder cheese with a sweet nutty flavor.
Havarti Cheese, a semi-soft buttery and melty cheese
Dubliner, an Irish cheese that has the sharpness of Cheddar, the salty bite of Parmesan and the nutty sweetness of Swiss.
Gruyere Cheese, fruity and earthy with a lot of savory umami without being overpowering.
Fontina Cheese, a mild and earthy cheese with hints of mushroom
Muenster cheese, mild and melty
Gouda, mild and smooth with a slight sweetness
Mozzarella, a mild stretchy cheese
Provolone, a slightly sweet mild and buttery cheese that melts well
Taleggio, a washed rind cheese that smells funky but is actually mildly nutty in flavor
If you like this Ham and Cheese Toastie recipe, check out some other pub food recipes!
Ham and Cheese Toastie on Irish Soda Bread with Irish Country Ketchup
This satisfying grilled sandwich is easy to make and is especially delightful with homemade Irish soda bread! I added Irish Country Ketchup which is a tangy sweet ketchup that works well with the salty ham and sharp cheese. Feel free to swap out your favorite store-bought bread instead of the Irish soda bread if you prefer.
Ingredients
Irish Soda Bread
2

cups

all-purpose flour

280 g

1

cup

whole wheat flour

150 g

1

teaspoon

kosher salt

3/4

teaspoon

baking soda

1 3/4

cup

buttermilk

well shaken
Toastie
4

slices

of Irish soda bread

2

tablespoons

salted butter

2

ounces

grated sharp cheddar cheese

57 g or about 1/2 cup

3

tablespoons

Irish Country Ketchup

4

slices

of ham
Instructions
Make the Irish Soda Bread
Preheat the oven to 450°F about 15 minutes before you make the bread.

Combine the flours, salt and baking soda in a large bowl. Use a balloon whisk and vigorously stir the dry ingredients together for 30 seconds to blend them. Make a well in the center of the ingredients and pour the buttermilk into it.

Stir and fold the ingredients together until a rough dough forms. Use your hands to knead in any loose flour or dry bits.

Line a 10-inch cast iron skillet or large baking sheet with parchment paper, then spray it with cooking oil. Form a rough round ball and place it on top of the greased parchment paper. Use a sharp knife and slice an "X" on top of the dough.

Bake in the oven for 15 minutes, then reduce the heat to 400°F and continue to bake for 25 to 30 minutes, or until the top of the bread is golden brown and it sounds hollow when you tap the top of it. If you have an instant read thermometer, the center should read 190 to 195°F. Cool the bread on a wire rack for 30 minutes.
Make the Toastie
Once cool (the bread will still be warm, and that's fine) slice it into 3/4-inch slices. Take 4 slices and generously butter each slice with 1/2 tablespoon of butter.

Place two pieces of bread, butter side down, in a large heavy skillet (like the one you baked the Irish soda bread in). Sprinkle 2 tablespoons of grated cheese on each slice of bread, then about 1 tablespoon of Irish Country Ketchup on the cheese.

Cover with ham and sprinkle 2 more tablespoons of cheese over the ham, then add another tablespoon of Irish Country Ketchup. Cover with the slices of bread, this time with the butter side facing up.

Heat the skillet up on medium low heat, until the underside of the bread starts to get golden brown and the cheese starts to melt. Flip the sandwiches over and fry them on the other side until the cheese has melted and the other side of the bread is golden brown.

Slice sandwich in half and serve immediately.
Notes
This post was sponsored by Judge Casey Irish Ketchup. I was sponsored for this post and for developing the recipe. However, all opinions below are completely my own.
Nutrition