This bacon, mushroom and peas spaghetti is super quick and easy to make but packed full of creamy rich flavor! (Jump directly to the recipe.)
This post was sponsored by Safeway. I was compensated for this post and for developing the recipe. However all opinions below are completely my own.
Working from home also means that I keep random strange hours. At 10pm, I'm writing a blog post, or editing a recipe. At 3pm I'm making a meal or baking so I can make sure to photograph it in existing daylight. And at midnight I'm running to the local Safeway grocery store to pick up ingredients that I need to test a recipe for the second or third time. Thankfully Safeway's Signature line has more than 4,000 products like coffee, juice, soup, cereal, and fresh produce, all with a 100% money back guarantee. Their Signature products are exclusive to Safeway and carried by all 18 of the Albertsons Companies family of stores, including my local Safeway stores. Of course, their Signature products are quality products with an awesome value. Safeway is one of those grocery stores that stocks everything I want and need, especially for those emergency meals when I am trying to hit a deadline but don't want take out!
Of course my favorite emergency meals are the ones I can whip up super fast. The perfect example is this quick pasta with bacon, mushrooms and peas and just a few extra ingredients from the cupboard. This is the sort of meal that I used to get at the local Italian-American restaurant back in St. Louis when I lived there (you know the type, with their red checkerboard vinyl tablecloths). Easy-to-make, but so comforting to eat, this is what I reach for when I don't want to think too much about prepping food.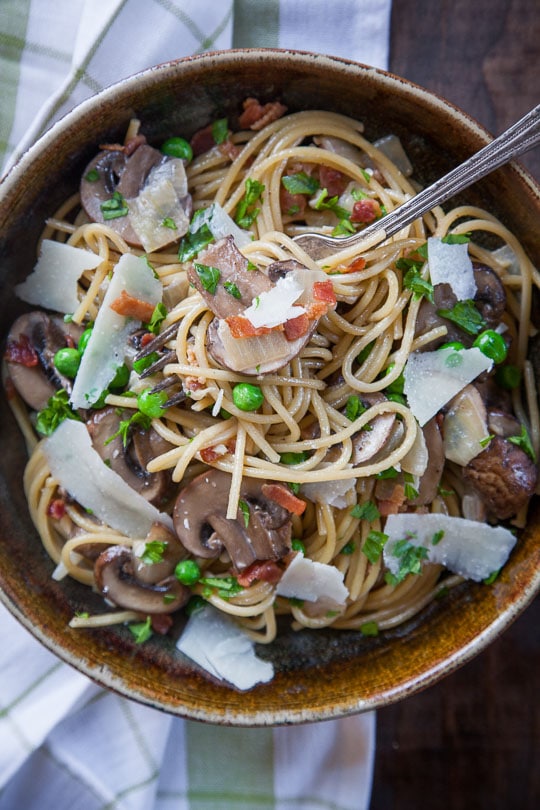 Living in San Francisco means I have plenty of options for cheap (as well as not so cheap) meals. But nothing beats an easy, homemade meal. The Safeway Signature brand includes products across six product sectors – Signature SELECT™, Signature Kitchens™, Signature Farms™, Signature Cafe®, Signature Home™, and Signature Care™ which have a wide range of pantry staples, prepared foods, produce and ingredients that allow me to cook at home without breaking the bank. And with such minimal effort and maximum flavor reward, this is the sort of dish that everyone needs in their repertoire!
Bacon, Mushroom and Peas Pasta
By Irvin Lin
I would say this is one of those "emergency" quick meals but it's definitely not a desperate sad meal. Cooking the spaghetti in the end with the sauce means it absorbs some of the mushroom flavor and gives an extra creamy feel because of the starch from the pasta. With just a slight kick from the mustard, this could even be sophisticated dinner party food with totally minimal effort! Serve with big shavings of Parmesan cheese to impress!
Ingredients
1/2 pound Signature Farms® hickory-smoked sliced bacon, chopped
5 medium cloves of garlic, minced
1 medium onion, chopped
1/2 pound mushrooms, sliced
1 cup chicken broth
3/4 cup heavy whipping cream
1 tablespoon Signature Kitchens® Dijon mustard
1 pound Signature Kitchens® spaghetti
1 cup frozen peas
2 tablespoons chopped flat Italian leaf parsley
Parmesan cheese for garnish
salt and pepper to taste
Directions
1. Place the bacon in a large sauté pan and cook on medium high heat, until all the fat has been rendered out and the bacon is crispy. Remove bacon from the pan to a bowl lined with a paper towel. Pour the fat into a heatproof cup and set aside.
2. Do not wipe out the pan. Add the garlic and return the heat to medium high. Cook for 15 seconds or until the garlic starts to turn fragrant. Add the onions, mushrooms and 1 tablespoon of the reserve bacon fat. Cook until the onions are translucent and the mushrooms are tender (about 5 to 10 minutes).
3. While the mushrooms and onions are cooking, bring a large pot of heavily salted water to a boil.
4. Once the mushrooms and onions are done, add the chicken broth, cream and mustard to the pan. Bring to a boil, then reduce heat so it barely simmers. The large pot of salted water should be boiling now too.
5. Add the spaghetti to the salted water and cook for 5 minutes. Make sure the liquid in the mushroom pan is simmering as well for the same time. Stir both the pasta and the sauce occasionally.
6. Once the spaghetti has cooked for 5 minutes, grab the pasta with tongs or a spaghetti ladle from the hot water and move it to the mushroom pan. Continue to cook the pasta in the mushroom pan, stirring frequently. It will cook and absorb the liquid. Cook until the spaghetti is al dente firm (about another 4 to 5 minutes) and all of the liquid has been absorbed. Add the frozen peas and bacon and cook, stirring to incorporate, for an addition 30 seconds. Season with salt and pepper to taste.
7. Plate the pasta then sprinkle with the parsley and shave some Parmesan over the top of the pasta. Serve immediately.
Serves 4 to 6 people.